Automated Fare Collection System Market Statistics - 2027
The global automated fare collection system market was valued at $6,639.10 million in 2019, and is projected to reach $12,753.75 million by 2027, registering a CAGR of 11.6%.
In the crisis of COVID-19, the major impact is experienced by the public mobility as people are suggested to stay at home and prefer the work from home wherever possible. After the post lockdown situation, completely or partially shut down public transportation are reopening gradually. However, passenger is decreased around 90% and it is expected to continue in the upcoming days. high health concern and penetration of digital technologies, contactless and automated payment system is going to gain momentum in the upcoming decade.
Changing payment outlook of the passengers eliminates the hard cash requirement and minimizes the transit time that helps eliminate the long ticket queues is a significant driving force for the automated fare collection system market. Automated fare collection system is a contactless, end-to-end solution for collecting fare payments and replacing traditional ticketing system with automated ticketing. It comprises automatic gate machines, ticket vending machines, recharging terminals, and ticket checking machines. This system facilitates efficiency in fare collection, improves the overall transaction rate, and saves extensive amount of time, thereby, minimizing waiting time in queues and searching for cash to buy tickets. In addition, it is an easy method for revenue collection. It offers travelers to carry one card to use for all transit modes.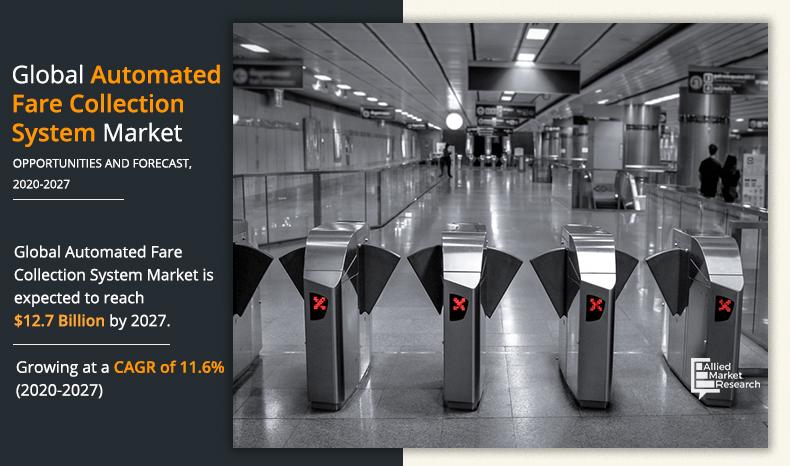 The major companies profiled in the automated fare collection system market share include Atos SE, Cubic Transportation Systems, Inc., dormakaba Holding, LECIP Group, LG CNS, NXP Semiconductors, OMRON Corporation, Samsung SDS, Scheidt&Bacchhan Gmbh, and Thales Group.
The automated fare collection system market report is segmented on the basis of component, application, technology platform, and region. On the basis of component, it is bifurcated into hardware and software. By application, it is divided into bus, toll, car rental, and train. On the basis of technology platform, it is categorized into smart cards, near-field communications, optical character recognition, and others (magnetic strips and bar codes).
Region-wise, it is analyzed across North America, Europe, Asia-Pacific, and LAMEA.
Top Impacting Factors
The significant impacting factors in the growth of the automated fare collection system market include contactless open payment, increased demand for smartphones, enhanced efficiency, low fraud rates, enhanced transport infrastructure and security system, and flexible fare plans. Further, factors such as increase in high speed of public transport, rise of technology payment, and global inter-operability show a positive impact on the market. Each of these factors is anticipated to have a definite impact on the automated fare collection system market during the forecast period (2020–2027). 
Contactless open payment
The need for convenient and user-friendly mode of fare payment has increased tremendously. Contactless open payment benefits customers, as their debit or credit cards act as a ticket office, thereby resulting in a hassle-free fare payment. By adopting an automated fare payment system that is based on the industry's open standards, transit agencies can enable riders to tap contactless open payment method for point-of-entry payments. Therefore, passengers need not carry cash or wait in long queues for purchasing tickets. Contactless open payment means agencies no longer need to support extensive fare media management and distribution systems. Contactless open payment only reduces the need for own custom built ticketing system and its associated costs, but often enables companies to aggregate small transactions with fewer charges. Transit operators accept contactless bank cards as a mode of payment for commuting. Bank cards systems can be layered on to most existing systems to allow customers to choose their preferred payment method. Thus, because of the reduction in operating cost and improved customer service, the contactless open payment will drive the market growth in near future. 
Owing to spread of the COVID-19 pandemic, reopening of the public places is focusing toward safety of the passenger during commute. The contactless payment is a way to pay for fares with maximum safety measures and reduced operational time. For instance: Visa has expanded contactless payment for the urban transportation service to around 500 cities across the globe as the COVID-19 health crisis continues to disrupt social activities. The company is expecting that around 65% cards in the market will be no-contact payment cards by the end of 2020 owing to safety concerns along with speed & convenience. 
Increasing demand for smartphones
Smartphones have become an essential tool for online ticketing thereby boosting the overall growth of the automated fare collection system market. Smartphones make purchasing of tickets easier and more convenient with standalone smartphone applications for travelling in buses and railways, which fuels the market growth. It allows customers to purchase any type of ticket and make cashless payment. 
Moreover, one of the biggest advantages of mobile application-based ticketing is that it lowers boarding time and reduces in cash-handling procedures. Nowadays, customers value the comfort of using preloaded cards for transactions to enhance transit experience of travelers.
Enhanced efficiency
Automated fare collection system eliminates cash payment and concerns associated with language barriers between drivers and passengers, thereby facilitating hassle-free payment using smartcards. With every swipe of card, valuable data is collected and instantly incorporated in a database to enable efficient handling of payments, faster transactions and less processing time. In addition, it enables merchants to manage records efficiently and handle large amount of transactions. Moreover, AFC systems allow quick service as well as self-service options, ensuring minimal or no waiting time for consumers, which reduces the overall operational time and improves efficiency of the entire process. Furthermore, faster validation of transactions allows the staff to generate fare tokens and tickets quickly. The Automatic Fare collection (AFC) system has improved the efficiency of fare box collection and made the journey convenient for the commuters and thereby, drives the market growth.
Low fraud rates 
Smartcard technology is preferred over paper tickets due to high data-storage capacity of these systems and high level of security encryption. Public transport providers incur financial losses due to fare or ticket evasions. Automated fare collection systems allow access to only those customers who have collected the token by making the payment or have sufficient fund balance in their smart cards. The implementation of this technology tends to reduce the number of frauds and prevent counterfeiting. 
AFC enables transit operators to improve their financial control and track media sales, transfers, and cash transactions. With fully automated fare collection, ticket fraud can be reduced and effective controls can be implemented owing to the powerful reporting capabilities of the platform. It also allows operators to reduce or restrict the cash handling responsibilities of staff, thereby reducing frauds and boosting the growth of the automated fare collection system market.
Enhanced transport infrastructure and security system 
The governments of Singapore, China, and others, have focused on improving the transportation structure and security system of their respective countries. The land transport authority (LTA) has deployed more than 4,800 public buses in Singapore. A multi-modal AFC solution for public transportation in Malaysia permits passengers to travel effortlessly by means of train, bus, light rail transit, or express rail to different cities using the same payment mechanism, which is a single contactless smart card. This increases the adoption rate of such systems, as these are appealing as well as convenient for travelers.
COVID-19 Impact Analysis
In the current COVID-19 health crisis, unprecedented times call for creative solutions, and the payments technology industry offers many different opportunities to people to support each other as well as the communities in a safe and effective manner with little to no physical contact. Due to COVID-19 impact analysis, the major impact is experienced by the public mobility as people are suggested to stay at home and prefer work from home wherever possible. From March 2020, public transport in majority of the big cities have been completely or partially shut down. Though, the restriction on public mobility has been lifted partially since the past two or three months, however, the world's major cities are experiencing 70% to 90% reduction in the public-transit ridership.
In the current scenario, payment environment has witnessed drastic change across the globe as passengers are inclining toward digital payment solutions to perform contactless payment operations. In the post COVID-19 situation in the near future, high health concern and penetration of digital technologies, contactless and automated payment system is going to gain momentum in the upcoming decade. Social distancing, lockdowns, and other restrictions imposed due to the COVID-19 crisis are enforcing people to increase the use of automated fare collection systems.
Key Benefits For Stakeholders
This study comprises analytical depiction of the automated fare collection system market trends with current trends and future estimations to depict the imminent investment pockets.
The overall potential is determined to understand the profitable trends to gain a stronger foothold.
The automated fare collection system market analysis report presents information related to key drivers, restraints, and opportunities with a detailed impact analysis.
The current growth and automated fare collection system market forecasts quantitatively analyzed from 2019 to 2027 to benchmark the financial competency.
Porter's five forces analysis illustrates the potency of the buyers and suppliers in the automated fare collection system market share.
The study also comprises the automated fare collection system market opportunity, which helps key players in decision making.
The leading players in the industry are expecting high revenue margin from automated fare collection system market returns.
Key Market Segments
By Application
By Component
By Technology Platform
Smart Card
Optical Character Recognition (OCR)
Near Field Communications
Others (Magnetic Strips and Bar Codes)
By Region
North America
Europe

UK
Germany
France
Spain
Russia
Rest of Europe

Asia-Pacific

China
India
Japan
South Korea 
Rest of Asia-Pacific

LAMEA

Latin America
Middle East
Africa
Key Market Players 
Atos SE
Cubic Transportation Systems, Inc.
dormakaba Holding
LECIP Group
LG CNS
NXP Semiconductors
OMRON Corporation
Samsung SDS
Scheidt&Bacchhan Gmbh
Thales Group