Automated Teller Machine (ATM) Market Outlook – 2027 
The global ATM market was valued at $20.58 billion in 2019, and is projected to reach $30.50 billion by 2027, growing at a CAGR of 5.2% from 2020 to 2027. An automated teller machine(ATM) is an electronic banking outlet that allows customers to access all basic transactions of bank such as deposits, withdrawals, view account balance, transfer balance between accounts, and clear check at ATM without the aid of branch representative or teller.   
ATM facilitates 24/7 availability of banking services to customers. Increase in installation base and maintenance activities has impacted the revenue generation drastically. To perform depositing and cash dispensing from ATM, it is necessary to have an efficient cash management solution. Cash recycling acts as an efficient cash management solution, which offers benefits to banks such as counterfeit detection, complete & total accuracy, and enhanced customer experience.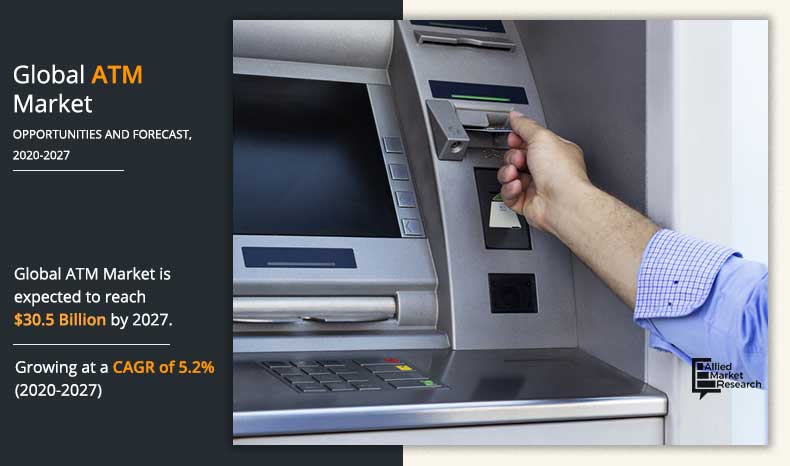 In many countries, customers prefer cash as their first choice of making payments due to the convenience factor. With the advancements in technology, customers are seeking for faster, reliable, secure, and convenient means of accessing cash, which is a key factor contributing toward the growth of the global ATM market. In addition, the growth of the market is driven by increase in demand for ATMs; rise in cost of managing, handling, transportation of ATM machines; and security related expenses of ATM.
Surge in need for automation in the banking sector in the emerging as well as the developed countries such as the U.S. Canada, Italy, and China is driving the ATM market growth. Moreover, the global banking sector has witnessed several technological advancements such as integration of IoT data analysis, digital convergence, and biometrics & cyber security over the last decades, which fuel the market growth. Apart from cash withdrawal and checking account, ATMs enable customers to open or withdraw FD, recharge phone bills, pay income tax, and apply for personal loans, thereby enhancing convenience. 
However, rise in digitization in developing countries is expected to adversely affect the automated teller machine (ATM) market revenue in the coming years. This is attributed to increase in preference of consumers toward digital payment solutions, such as online & mobile banking and digital wallets & Bitcoin transactions. These online banking channels provide convenient, fast, and secure transactions, thereby limiting the growth of the global ATM market.
On the contrary, improvement in security mechanisms, such as biometrics, fingerprints, EMV adoption, cash recycling, video banking, and two-factor authentication services to prevent fraudulent transactions is anticipated to offer lucrative opportunities for the market expansion. Banks are introducing new security features for verifying whether the physical card is a fake or duplicate. For instance, in January 2019, the Reserve Bank of India mandated banks to upgrade their older magnetic stripe cards to EMV chip cards, as they offer enhanced authentication and prevent scams and fraudulent activities. 
Furthermore, banks are focusing on developing additional security measures, such as the intelligent anti-ATM skimming devices, which help to monitor the system for illegally mounted intrusion mechanisms and help in safeguarding card & PIN data theft.
The report focuses on the growth prospects, restraints, and trends of the ATM market trends. The study provides Porter's five forces analysis to understand the impact of various factors such as bargaining power of suppliers, competitive intensity of competitors, threat of new entrants, threat of substitutes, and bargaining power of buyers on the ATM market share.
Automated Teller Machine Market

---
By Solution
Deployment Solution segment will dominate the market throughout the forecast period
Segmentation
The global ATM market is segmented on the basis of solution, type and region. In terms of solutions, it is segregated into deployment solutions, and managed services. Based on deployment solutions, it is further classified into onsite ATMs, offsite ATMs, worksite ATMs, and mobile ATMs. 
Automated Teller Machine Market

---
By Deployment Solution
Offsite ATM segment will secure the leading position during 2020 - 2027
Depending on type, it is categorized into conventional ATMs, brown label ATMs, white label ATMs, smart ATMs, and cash dispensers. Region wise, it is analyzed across North America, Europe, Asia-Pacific, and LAMEA.
Automated Teller Machine Market

---
By Type
Smart ATM segment would grow at a highest CAGR of 9.7% during the forecast period
The key players profiled in the ATM market analysis are Diebold Nixdorf, Incorporated NCR Corporation, Euronet Worldwide Incorporation, Fujitsu Ltd, GRG Banking Equipment Co. Ltd., Hess Cash Systems GmbH, NHAUSA, NCR Corporation, Source Technologies, and Triton Systems of Delaware LLC. These key players have adopted various strategies such as product portfolio expansion, mergers & acquisitions, agreements, geographical expansion, and collaborations to increase their market penetration and strengthen their position in the industry. 
Automated Teller Machine Market

---
By Region
Asia-Pacific region had a dominant position in 2019 and will maintain the lead during 2020 - 2027
Top Impacting Factors    
Increase in Demand for Automated Teller Machine
The standalone feature of 24*7 availability of transactional services provided by the banks across multiple locations increases the demand for ATM machines. With technological innovations in the banking & financial industry, ATMs are transforming from simple cash dispenser machine to more personalized and richer communication channel. This has helped to achieve customer loyalty by installing more integrated and value-added services. 
Furthermore, easy access of complex services such as bill transfer, transfer of money between accounts, and check clearance at ATM devices help financial institutions to increase the revenue of banks. Thus, increase in deployment of automated teller machines is expected to generate high revenue over the coming years.
Lack of Security Standards
Earlier, the risk of frauds was considerably low, as ATMs were considered secure due to PIN integrated with online authorization to authenticate the transactions. With increase in innovation in the fintech industry, fraudsters have been coming up with new frauds such as magnetic strip skimming and pinhole cameras, which hamper the market growth. However, to provide convenience and security to customers while handling financial transactions, financial institutions and ATM operators are focusing on requirements for EMV migration at ATM. EMV refers to Europay, MasterCard, and Visa, which are smart cards offering enhanced security. 
Key Benefits For Stakeholders:
The study provides an in-depth analysis of the global ATM market forecast along with the current & future trends to elucidate the imminent investment pockets.

Information about key drivers, restraints, and opportunities and their impact analysis on the global ATM market size is provided in the report.

Porter's five forces analysis illustrates the potency of the buyers and suppliers operating in the industry.

The quantitative analysis of the ATM market industry for the period 2019–2027 is provided to determine the market potential.
 Automated Teller Machine Market Report Highlights
Aspects
Details
By Solution

DEPLOYMENT
MANAGED SERVICES

By Deployment Solution Type

Onsite ATMs
Offsite ATMs
Worksite ATMs
Mobile ATMs

By Type

Conventional/Bank ATMs
Brown ATMs
White ATMs
Cash Dispenser ATM
Smart ATMs

By Region

NORTH AMERICA (US, CANADA)
EUROPE (UK, GERMANY, FRANCE, ITALY, SPAIN, REST OF EUROPE)
ASIA-PACIFIC (CHINA, JAPAN, INDIA, AUSTRALIA, ASEAN, REST OF ASIA-PACIFIC)
LAMEA (LATIN AMERICA, MIDDLE EAST, AFRICA)

Key Market Players
Diebold Nixdorf, Incorporated, Euronet Worldwide, Inc., Fujitsu Ltd, GRG Banking Equipment Co. Ltd., HESS Cash Systems GmbH, Hitachi-Omron Terminal Solutions, Corp., NHAUSA, NCR Corporation, Source Technologies, Triton Systems of Delaware, LLC