Automotive Cybersecurity Market Statistics 2030 -
The global automotive cybersecurity market valued at $7.23 billion in 2021 and is projected to reach $32.41 billion by 2030, registering a CAGR of 16.6% from 2021 to 2030.    
The COVID-19 outbreak forced governments across the globe to implement strict lockdowns and made social distancing mandatory to contain the spread of the virus. As a result, the demand for new vehicles dropped significantly. Moreover, the automotive industry also witnessed a slow production rate, reduction in the supply of raw materials, and disruption in supply chains globally. The losses witnessed by the automotive sector have impacted the adoption of innovative cybersecurity technologies. However, with the ongoing vaccination across the globe, the automotive industry is expected to come on track in some time and the adoption of automotive cybersecurity solutions, amid rising demand for connected cars is projected to increase over the years.
Preferences and desires of drivers are rapidly evolving. Consumers expect personalized experiences, so vehicles, and the industry as a whole, are adapting to meet those demands. More software, as a result of increased personalization and connectedness, means more vulnerability. Connected vehicles can function in the same way that smartphones and smart appliances do, sharing internet and wireless network access with other vehicles and external equipment. They have the ability to send and receive data. New software is already delivering greater features and capabilities to meet the needs and expectations of drivers. In such circumstances, automobile cybersecurity is critical, and it should be a part of the design process.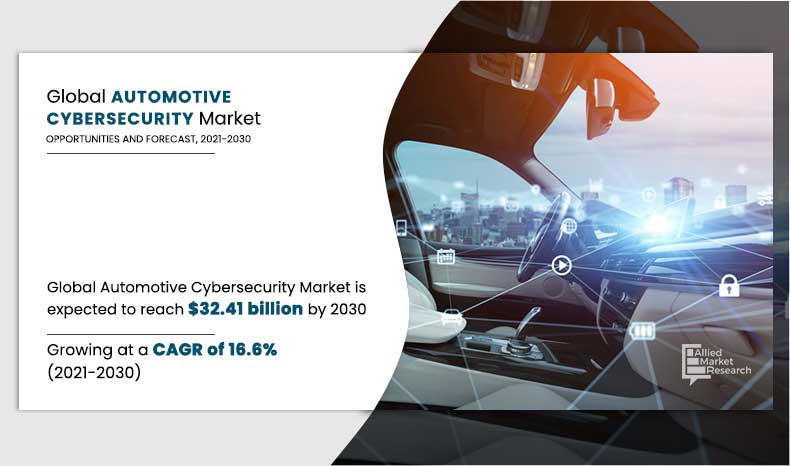 Factors, such as increase in need for automotive cybersecurity, government initiatives for implementing connected car technology, and cybersecurity standards becoming mandatory are expected to drive growth of the automotive cybersecurity market. However, rise in development of common platforms leading to higher risks and challenges in making secure applications restrains the market growth. Moreover, enhancing vehicle security using adaptive security and rise in complexity of car's electronic systems are projected to offer lucrative growth opportunities for the market players.
The market segmentation is based on offering, security type, application, form, and region. By offering, the market is divided into software and hardware. By security type, it is divided into application security, network security, and endpoint security. On the basis of application, it is classified into ADAS & safety, body control & comfort, infotainment, telematics, powertrain systems, and communication systems. By form, it is divided into in-vehicle and external cloud services. Region wise, the market is analyzed across North America, Europe, Asia-Pacific, and LAMEA. Key players operating in the global automotive cybersecurity market include Aptiv PLC, Arilou Automotive Cybersecurity, Continental AG, Denso Corporation, Guardknox, Harman International, Karamba Security, Robert Bosch GmbH, SafeRide Technologies, and Vector Informatik GmbH. 
Automotive Cybersecurity Market

---
By Offering
Software is projected as the most lucrative segment
Increase In Need For Automotive Cybersecurity
Vehicles are becoming increasingly connected to everything, including traffic signals, parking meters, other vehicles, and much more, thus transforming the automobile industry. It is all geared with advanced technologies such as advanced driver assistance systems (ADAS), shared mobility, self-driving cars, and electric automobiles (EV). While these technologies improve safety, comfort, and help to enhance safety on roads, they also expose this advanced and dynamic ecosystem to cyber-attacks. As the ecosystem gets more linked, attack points increase, exposing new vulnerabilities that hackers might employ to jeopardize vehicle safety, user privacy, and -integrity of automotive data. The Automotive Cybersecurity Report 2020 from Upstream Security (an Israeli cybersecurity firm) provided in-depth insights and statistics obtained from examining 633 publicly disclosed events since 2010, 207 of which occurred in 2020 as of November 25, 2020. Furthermore, the AV-TEST Institute (an independent organization that evaluates and rates antivirus and security suite software) estimates that the number of malicious cyber-attacks have increased intensely over the last decade, from roughly around 65 million in 2011 to approximately 1.1 billion in the last quarter of 2020. Increase in software security flaws as seen by the number of registered Common Vulnerabilities and Exposures (CVEs) has increased over the years: around 11,000 CVEs were filed in the first ten months of 2020. These statistics call for solutions that offer a security against rise in number of cyber-attacks in connected vehicles, which is expected to drive growth of the global automotive cybersecurity market during the forecast period.
Automotive Cybersecurity Market

---
By Security Type
Application Security is projected as the most lucrative segments
Government Initiatives For Implementing Connected Car Technology
The United States Department of Transportation (USDOT) is dedicated to developing a new way of transportation, innovation, and safety while ensuring the country's position as an automation leader. Hence, to assist the safe development, testing, and integration of connected vehicle technologies, the USDOT is acting as a convener and facilitator, engaging with a broad coalition of industry, academic, state and municipal, safety advocacy, and transportation partners. The Automated Vehicles Comprehensive Plan was produced by the USDOT in January 2021, with the purpose of enhancing the Department's efforts to prioritize safety while planning for the future of transportation. The plan specifies three aims to realize this vision for Automated Driving Systems (ADS): prepare the transportation system, update the regulatory environment, and promote collaboration and openness, all of which are based on the ideas articulated in the automated vehicle (AV) 4.0 programme. Furthermore, as part of an EU strategy on internet-connected vehicles, the European Commission instructed auto producers in 2016 to ensure that new models include a host of digital technology that helps reduce fuel consumption and make roads safer. Several companies, including Volkswagen, PSA, and Renault Nissan Alliance have launched their connected car models in the European markets. Such government initiatives are expected to expedite development of connected vehicles across the world. As cybersecurity ecosystem (software, hardware, and services) are of paramount importance to guard the connected vehicles against rising cyber-attacks, increase in demand for connected cars is expected to propel growth of the global automotive cybersecurity market during the forecast period.
Automotive Cybersecurity Market

---
By Application
ADAS and Safety is projected as the most lucrative segments
Rise In Development Of Common Platforms Leading To Higher Risks
Original equipment manufacturers (OEMs) have typically adopted Real-Time Operating Systems (RTOS) platforms over the years, which are multitasking operating systems designed for real-time applications such as QNX or iTron in the automotive sector. As they were highly specialized for the automobile sector, it was unlikely that someone without domain knowledge would obtain the ability or have access to the tools needed to carry out a cyber-attack on a vehicle. However, as more servers, desktop, and mobile platforms are repurposed for automotive use, the number of developers who are skilled to work on these platforms is growing. This pattern is linked to both positive and negative attributes. For instance, while OEMs can hire more developers to work on their projects, they are increasingly relying on platforms that are well-known among hackers and are frequently targeted by them.
Furthermore, while there are special Linux releases that focus on increased security, such as the SELinux Kernel upgrades, they do not address all elements of security and require extra hardening of the operating system. This factor is expected to limit growth the global automotive cybersecurity market during the forecast period.
Automotive Cybersecurity Market

---
By Form
External Cloud Services is projected as the most lucrative segments
Enhancing Vehicle Security Using Adaptive Security
Adaptive security is a cybersecurity technique that analyses behaviors and events to prevent and adapt to attacks before they occur. A business can use an adaptive security architecture to continuously analyze risk and deliver proportional enforcement that can be dialed up or down. Adaptive security, which many automobile businesses lack throughout their operations, makes it easier to protect a distributed workforce.
Adaptive security protects against opportunistic and targeted cyber-attacks as well as trusted insiders and other insider threats, using analytics and automation. Adaptive security also aids in protection of entry points throughout an automobile company's ecosystem, which is growing in size every day as a result of connected car activities. Hence, rise in adaptive security in the automotive industry is expected to propel growth of the global automotive cybersecurity market during the forecast period.
Automotive Cybersecurity Market

---
By Region
Europe would exhibit the highest CAGR of 19.2% during 2021-2030.
Covid-19 Impact Analysis 
The COVID-19 impact on the automotive cybersecurity market is unpredictable, and is expected to remain in force for a few years. 
The COVID-19 outbreak forced governments across the globe to implement stringent lockdown and ban import–export of raw materials items for most of 2020 & few months in 2021. This led to sudden fall in the availability of important raw materials for manufacturing automobiles.
Moreover, nationwide lockdown forced parts manufacturing facilities to partially or completely shut their operations.
Adverse impacts of the COVID-19 pandemic have resulted in delays in activities and initiatives regarding development and fitting of modern automotive cybersecurity systems in connected cars
globally.
Key Benefits For Stakeholders
This study presents analytical depiction of the global automotive cybersecurity market analysis along with the current trends and future estimations to depict imminent investment pockets.
The overall automotive cybersecurity market opportunity is determined by understanding profitable trends to gain a stronger foothold.
The report presents information related to key drivers, restraints, and opportunities of the global automotive cybersecurity market with a detailed impact analysis.
The current automotive cybersecurity market is quantitatively analyzed from 2020 to 2030 to benchmark the financial competency.
Porter's five forces analysis illustrates the potency of the buyers and suppliers in the industry.
 Automotive Cybersecurity Market Report Highlights
Aspects
Details
By Region

North America (US, Canada, Mexico)
Europe (UK, Germany, France, Russia, Italy, Rest of Europe)
Asia-Pacific (China, India, Japan, South Korea, Rest of Asia-Pacific)
LAMEA (Latin America, Middle East, Africa)

By OFFERING
By SECURITY TYPE

Application Security
Network Security
Endpoint Security

By APPLICATION

ADAS & Safety
Body control & Comfort
Infotainment
Telematics
Powertrain Systems
Communication Systems

By FORM

In Vehicle
External Cloud Services

Key Market Players
APTIV PLC, Arilou Automotive Cybersecurity, DENSO CORPORATION, Continental AG, Vector Informatik GmbH, HARMAN International, GUARDKNOX, Karamba Security, Robert Bosch GmbH, SafeRide Technologies