The global automotive power electronics market size was valued at $5 billion in 2022, and is projected to reach $8.1 billion by 2032, growing at a CAGR of 5.1% from 2023 to 2032.
Report Key Highlights:
The report covers a detailed analysis on the power electronic components used in the automotive industry.
The market has been analyzed from the year 2022 till the year 2032.
Latest developments have been mentioned in the research study.
Top companies operating in the industry has been profiled in the research study.
The research study includes different segments & regions across which the market has been analyzed.
Automotive power electronics refers to the application of electronic device and systems to control and manage the flow of electrical energy. Power electronics has a wider application in modern vehicles to increase safety, efficiency, and performance of the vehicle. Wider components used in automotive power electronics include inverters, converters, and voltage regulators. They are responsible for numerous functions of the vehicle, such as the battery charging system, electric power steering, regenerative braking & others.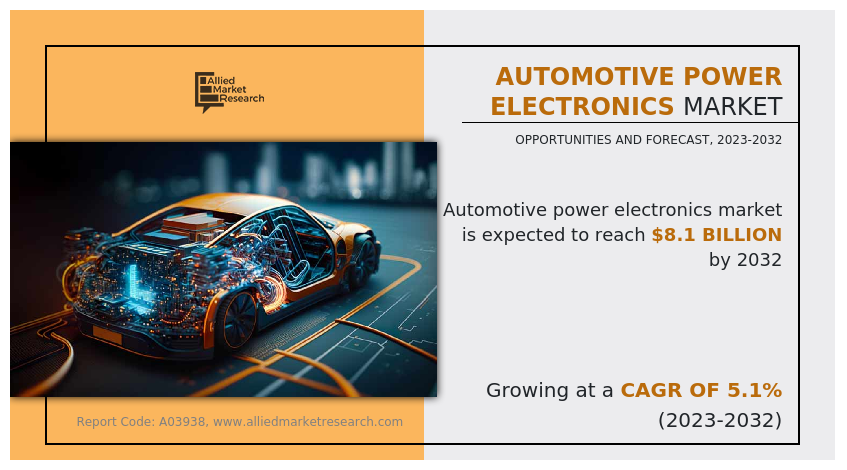 Automotive power electronics became an increasingly important as automotive industry is gradually shifting toward electric and hybrid vehicles. Advanced vehicles equipped with automotive power electronics rely heavily on them to power components and manage energy consumption. In addition, automotive power electronics are expected to play a critical role in the future of transportation.
The global automotive power electronics is registering a significant growth due to the increase in demand for electric vehicles followed by the increase in trend for electrification across the automotive industry. However, high investment costs and surge in requirement of infrastructure are some factors that hamper the growth of the market. On the other hand, rise in demand for high efficiency electronic components and rise in advancements in autonomous driving technologies are some factors that are expected to create numerous opportunities for the growth of the market in the future. The automotive power electronics market is segmented on the basis of device, application, drive type, and region. By device, the market is bifurcated into power IC and module/discrete.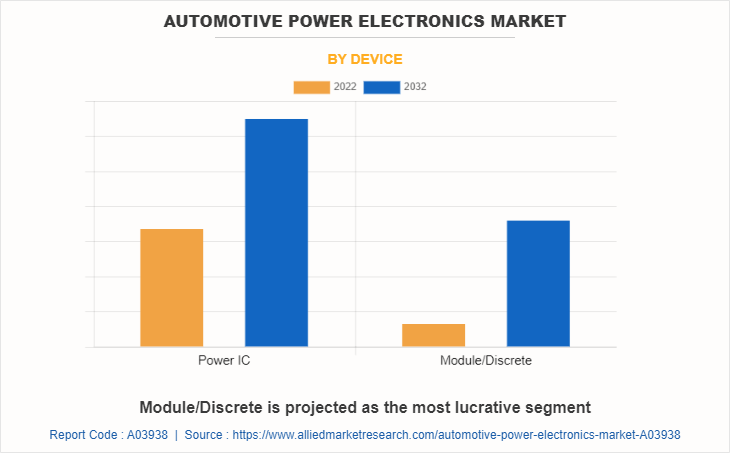 By application, the market is classified into chassis & powertrain, safety & security system, infotainment & telematics, body electronics, and others. By drive type, the market is categorized into ICE vehicle and electric vehicle. By region, it is analyzed across North America, Europe, Asia-Pacific, and LAMEA.
The key players operating in the automotive power electronics market report include BorgWarner Inc., Continental AG, Danfoss A/S, Denso Corporation, Infineon Technologies AG, Mitsubishi Electric Corporation, NXP Semiconductors, ON Semiconductors, Renesas Electronics Corporation and Robert Bosch. These companies hold a prominent share in the global automotive power electronics industry due to the wider range of products offered by them.
Rise in demands for electric vehicles
An increase has been witnessed in shift toward electric vehicles across the globe. Furthermore, there are hazardous impact of fossil fuel vehicles in terms of greenhouse gas emission and air pollution on environment. Electric vehicles are environment friendly and does not emit any pollutants and offers a sustainable alternative. There is an increase in the advancement of the electric and electronic components of electric vehicles such as battery systems and motors. All of these developments make electric vehicles a significant alternative to the IC engines. Due to such advancements the global demand of the electric vehicles has increased drastically. According to the data provided by IEA, the sales of electric vehicles in 2022 is 6.6 million.
Power electronics are crucial components of any electrical system, as they help in conditioning of power from the available source to the constrains as required by a component in the electrical loop. As a result, the power electronics sector is witnessing fast development and innovation as businesses strive to manufacture more efficient, and cost-effective components to fulfil the EV market's expectations. This is expected to result in the growth of the automotive power electronics market share.
Increasing trend for electrification across the automotive industry
A surge in trend has been witnessed in the shift toward electrification across the entire automotive industry. In the initial stages, electrification was mainly restricted to the consumer side of things, with developments and innovations being mainly restricted to consumer automobiles. However, in the recent years, the commercial sector has started the adoption of electric vehicles into their arsenal. For instance, in December 2022, Tesla delivered its first fully electric truck, the Tesla Semi to PepsiCo for use across their Frito-Lay plant in Modesto, California. The occurrence of such instances is expected to grow as the commercial sector gradually shifts toward electric vehicles.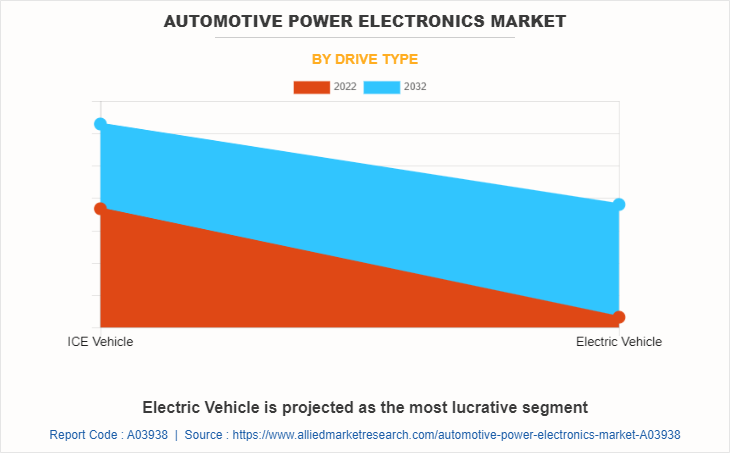 With the rise in trend for electrification, there would be greater need for power electronics components. Power electronics that can handle higher voltage and currents, withstand tough environmental situation, and can operate easily at higher frequencies are expected to drive development of power electronics component and is anticipated to result in the growth of the power electronics market in automotive industry.
High investment cost
The production of power electronics is an expensive venture. This is due to the complexity of power electronics components, which necessitates the use of specialized equipment, materials, and production methods. Furthermore, the manufacturing of power electronics requires cleanroom spaces. This is since power electronics components are often produced using semiconductor manufacturing procedures that need a clean environment to avoid contamination. Building cleanrooms are costly, as they are hard to maintain and require major competanace and specific equipment to operate efficiently.
Development, testing and verification of the power electronics components should be done with a proper routine to check their reliability and safety. As expenditures associated with the research and development and manufacturing of automotive power electronics are substantially high.
This necessitates a substantial investment in engineering and testing resources. Thus, the high requirement of investments in the manufacturing of power electronics is expected to restrain the growth of the automotive power electronics market.
Rise in demands for connected cars
The technology that allows vehicles to be connected to each other are called connected cars. There are various advantages of the technology such as enhanced convenience, advanced infotainment features such voice control, social media integration, streaming of music & video, and enhanced safety features in the vehicle. Owing to such wide range of advantages, connected cars are in demand in the current automotive scenario.
Such connected systems require several electronic systems to work, including infotainment systems, driver assistance systems, and connectivity modules, all of which require power electronics. All the electrical power inside the vehicle can be regulated with the help of the power electronics. Thus, the demand for the connected cars is directly proportional to demand of power electronics. As the system is required for the efficient operation of the connected cars. The development and advancement in connected cars is expected to create opportunities for the automotive power electronic market to grow.
Key Developments
In March, 2023, Infineon Technologies AG announced the acquisition of GaN Systems, which was a global leader in manufacturing of GaN-based solutions for power conversion. The acquisition was signed off for USD 830 million. This strengthened Infineon's position in the power systems market by improving the company's capabilities in power technologies, such as silicon, silicon carbide (SiC), and gallium nitride (GaN).
In March 2022, Danfoss A/S announced merger with Semikron, which was a manufacturer of power semiconductor components based in Germany. This created a joint business SEMIKRON-Danfoss that specialized in design and development of Power Electronics and power semiconductor modules. Moreover, this allowed Danfoss A/S to leverage the expertise of Semikron in power electronics to significantly innovate in the field.
In April, 2022, Denso Corporation collaborated with United Semiconductor Japan Co., Ltd. (USJC) on the production of power semiconductors at USJC's 300mm fabrication facility. This allowed Denso Corporation to serve the growing demand for power electronics in the automotive market, thereby strengthening its presence across auto applications, such as advanced driver assistance systems, infotainment, connectivity, and powertrain.
In September, 2021, BorgWarner Inc.'s subsidiary, Delphi Technologies announced the launch of their Power Electronics Programme, which offered complete training on the servicing of plug-in and hybrid electric vehicles. This improved the support for aftermarket repairs involving power electronics parts such as combined inverter and DC/ DC converters, and r inverter modules, which further strengthened the company's position in the automotive power electronics market.
The COVID-19 pandemic had a significant impact on the automotive power electronics industry. The industry faced challenges related to supply chain disruptions, manufacturing shutdowns, and reduced demand for vehicles. However, the post-pandemic timeframe has presented new opportunities for the industry, such as the growing demand for consumer and commercial electric vehicles and the acceleration of the transition toward electric and hybrid vehicles. As the world continues to recover from the pandemic, it is expected to be important for the industry to adapt to the changing landscape and continue to innovate to meet the needs of consumers and governments.
Key Benefits For Stakeholders
This report provides a quantitative analysis of the market segments, current trends, estimations, and dynamics of the automotive power electronics market analysis from 2022 to 2032 to identify the prevailing automotive power electronics market opportunities.
The market research is offered along with information related to key drivers, restraints, and opportunities.
Porter's five forces analysis highlights the potency of buyers and suppliers to enable stakeholders make profit-oriented business decisions and strengthen their supplier-buyer network.
In-depth analysis of the automotive power electronics market segmentation assists to determine the prevailing market opportunities.
Major countries in each region are mapped according to their revenue contribution to the global market.
Market player positioning facilitates benchmarking and provides a clear understanding of the present position of the market players.
The report includes the analysis of the regional as well as global automotive power electronics market trends, key players, market segments, application areas, and market growth strategies.
 Automotive Power Electronics Market Report Highlights
Aspects
Details
Market Size By 2032
USD 8.1 billion
Growth Rate
CAGR of 5.1%
Forecast period
2022 - 2032
Report Pages
283
By Device
By Application

Chassis and Powertrain
Safety and Security System
Infotainment and Telematics
Body Electronics
Others

By Drive Type

ICE Vehicle
Electric Vehicle

By Region

North America (U.S., Canada, Mexico)
Europe (UK, Germany, France, Italy, Rest of Europe)
Asia-Pacific (China, Japan, India, South Korea, Rest of Asia-Pacific)
LAMEA (Latin America, Middle East, Africa)

Key Market Players
Mitsubishi Electric Corporation, NXP Semiconductors, Danfoss A/S, Infineon Technologies AG., Denso Corporation, Semiconductor Components Industries, LLC., Renesas Electronics Corporation, Continental Aktiengesellschaft., Robert Bosch GmbH, BorgWarner Inc.