The global automotive relay market was valued at $15.58 billion in 2021, and is projected to reach $26.88 billion by 2031, growing at a CAGR of 5.8% from 2022 to 2031.
The COVID-19 impact on the automotive relay market is unpredictable, and is expected to remain in force for a few years. The COVID-19 outbreak forced governments across the globe to implement stringent lockdowns and ban import–export of essential raw material items for most of 2020, and few months in 2021. This led to sudden decline in availability of important raw materials for vehicle components. As a result of interrupted supply chains and production schedules caused by the COVID-19 pandemic, aviation production and sales suffered severely, which, in turn, negatively impacted the market for automotive relay market in 2020. To prevent the spread of the COVID-19 virus, governments across the globe implemented strict lockdowns and made social distancing mandatory. Consequently, several organizations began work from home programs as precautionary measure. This led to a sudden decline in global demand for traveling, which has affected the automotive relay market. However, vaccination enabled lowering of barriers to economic activity, as well as domestic and international travel. As the restrictions lifted, travel recovered quickly leading to increase in vehicle commutation, which is expected to boost the automotive relay market.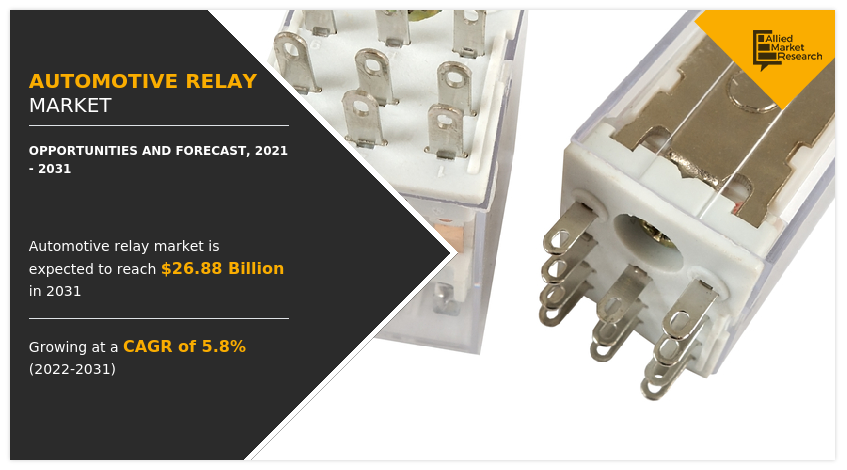 The automotive relay market is segmented into Propulsion, Vehicle Type, Application and Product.
Relays are referred as electronically operated switches. Automotive relays are common type of electromechanical relays that are used in all types of vehicles, such as car, trucks, vans, and trailers. They enable a small current flow circuit to control and operate a higher current circuit in vehicular applications. The number of relays in a vehicle may depend on features that are added to a vehicle. The number of relays installed in a vehicle has witnessed a significant growth in recent years, owing to increase in technological upgrades and rise in demand for installing advanced car applications.
Factors such as growth in increase in demand for electric and hybrid vehicles and rise in demand for safety features are anticipated to boost growth of the global automotive relay market during the forecast period. However, operational failures in extreme climatic conditions and high initial cost and complex structure are expected to hinder growth of the global market during the forecast period. Moreover, growth in implementation of electronic systems in vehicles and rise in demand for connected vehicles are expected to create opportunities for the market in the future.
Automotive Relay Market

---

By Propulsion
Electric and Hybrid is projected as the most lucrative segment
The automotive relay market is segmented on the basis of propulsion, vehicle type, application, product, and region. By propulsion, it is divided into ICE and electric & hybrid. By vehicle type, it is segmented into passenger cars, light commercial vehicles (LCVs), and heavy commercial vehicles (HCVs). By application, it is divided into powertrain system, body & chassis, convenience, safety & security, and others. By product, it is divided into PCB, plug-in relay, high voltage relay, and others.  By region, the market is analyzed across North America, Europe, Asia-Pacific, and LAMEA.
Key players that operate in this automotive relay market include American Electronic Components, American Zettler, Inc., Circuit Interruption Technology, Inc, Denso Corporation, Fujitsu, Goodsky Electric Co. Ltd., HELLA GmbH & CO. KGAA, Xiamen Hongfa Electroacoustic Co., Ltd, Littlefuse Inc, LS Automotive, Mitsuba Corporation, Omron Corporation, Panasonic Corporation, Robert Bosch Gmbh, Song Chuan Precision Company, TE Connectivity, and Xiamen Level King Keep Electronics.
Automotive Relay Market

---

By Vehicle Type
Passenger Cars is projected as the most lucrative segment
Increase in demand for electric vehicles
The electric vehicles market is growing exponentially, owing to factors such as climate change and efforts to achieve net zero emissions. Moreover, favorable incentives and policies introduced by governments of different countries to promote electric vehicles boost growth of the EV industry. For instance, in 2021, in California, Clean Vehicle Rebate Project (CVRP) promoted clean vehicle adoption in California by offering rebates ranging from $1,000 to $7,000 for purchases or leases of new zero-emission vehicles. In addition, in 2021, New Zealand proposed clean car discount in which new car buyers receive a $8,625 rebate for electric vehicles (EVs) less than $80,000, including GST and road costs. Rise in awareness regarding climate change and surge in demand for electric cars lead to increase in production of electric vehicles. For instance, according to a report by the IEA organization, 2022, EV vehicles globally reached 6.7 million units in 2021, a 3.7 million units over 2020, accounting for 4.1% of the market share. In 2020, the electrical percentage of automobile income was about 2.4%, increasing from about 2% in 2019. Moreover, some countries announced policies banning and phasing out gasoline and diesel cars. Such measures taken by various governments also encourage automakers and other market players to adopt new electric vehicle trend. For instance, in 2022, Ford Motor plans to invest $20 billion in an effort to expand electrification of its lineup with an investment of 20 billion dollars. In addition, in 2021, Xiaomi, a tech giant in China, officially confirmed its plans to enter smart electric vehicle business by investing RMB 10 billion (roughly $1.55 billion) in the first phase.  The market for automotive relay is directly related to growth of automotive production and sales of electric vehicles as these vehicles are equipped with large circuits, which requires relays and junction boxes for their operations. Owing to this, growth in the electric vehicles market is expected to propel the market for automotive relay in the future. 
Automotive Relay Market

---

By Application
Others is projected as the most lucrative segment
Rise in demand for safety features
Road accidents are a major cause of death globally and tremendous increase in death rates, owing to road accidents has been observed in last few years. For instance, according to the World Health Organization report published in 2021, nearly 1.3 million people died in road traffic crashes each year. Moreover, road traffic injuries leading to death are higher among teenagers. These factors are leading to surge in demand for safety features in vehicles. Companies operating in the automobile sector are developing and introducing the safety features to meet needs of customers. Demand for safety features, such as parking assistance, collision avoidance systems, lane departure warnings, traction control, electronic stability control, tire pressure monitors, and airbags is experiencing an upward trend, owing to increase in number of road accidents worldwide. Automotive semiconductors and relays are a major component used in numerous advance driver assistance systems (ADAS) technologies, which helps ADAS systems perform efficiently and can detect and classify objects on the path of vehicles and accordingly alert drivers of nearby surroundings and road conditions.
In addition, these systems can also automatically decelerate or stop vehicles depending on road conditions on the basis of calculations made through semiconductors & associated components. Automotive relay is a digital or electromechanical managed switch and it is designed for DC voltages in safety systems. Moreover, relays are used while software desires to interchange from excessive to low current (or vice versa) in a similar circuit.  Moreover, relays can also control multiple systems at once, such as activating headlights when windshield wipers are turned on or extending an antenna when radio is turned on. Hence, owing to these benefits automotive relays are widely used in safety features of vehicles. With increase in demand for safety features in vehicles, demand for automotive relays are expected to grow significantly during the forecast period.
Automotive Relay Market

---

By Product
High voltage relay is projected as the most lucrative segment
Operational failures in extreme climatic conditions
The major restraint of the automotive relays market is its operational failure in extreme climatic conditions such as extreme cold and extreme heat. In presence of extreme heat, relay tends to melt down or break, resistance increases, and it makes the signal too weak, which is why failures occur. Whereas, when it is moved to an optimal temperature, resistance is reduced, and it gets stable. Furthermore, extreme cold is also not favorable for relay, as they stop performing.
Its minimum operational temperature on an average is -25°C and maximum is +150°C. Therefore, countries such as Russia and Canada prefer vehicles with fewer semiconductors and relays. This has led to shift of consumers toward use of mechanical devices, thereby affecting growth of the automotive relay market.
Growth in implementation of electronic systems in vehicles
With rise in demand for more convenient and smart operability of different functions in an automobile, numerous manufacturers are installing more electronics in their vehicles. Use of electronics offers superior comfort, connectivity, efficiency, and safety in passenger cars and light & heavy commercial vehicles. In addition, electronics is anticipated to account for a major portion of the overall cost of cars in the future.
Furthermore, the ever-changing consumer preference for installation of car accessories have forced automotive manufacturers to provide superior safety and comfort features in their automobiles. One of the dominant trends in the automotive industry is increase in use of electronics in vehicles, which is expected to drive the automotive relay market growth during the forecast period. Growth in consumer demand for superior driving experience and product offerings by OEMs to offer more safety, comfort, higher performance, and stability is projected to propel the market growth in the future. It has resulted in intensification of demand for automotive relays across the globe.
Automotive Relay Market

---

By Region
Asia-Pacific would exhibit the highest CAGR of 6.6% during 2022-2031.
Key Benefits For Stakeholders
This report provides a quantitative analysis of the market segments, current trends, estimations, and dynamics of the automotive relay market analysis from 2021 to 2031 to identify the prevailing automotive relay market opportunities.
The market research is offered along with information related to key drivers, restraints, and opportunities.
Porter's five forces analysis highlights the potency of buyers and suppliers to enable stakeholders make profit-oriented business decisions and strengthen their supplier-buyer network.
In-depth analysis of the automotive relay market segmentation assists to determine the prevailing market opportunities.
Major countries in each region are mapped according to their revenue contribution to the global market.
Market player positioning facilitates benchmarking and provides a clear understanding of the present position of the market players.
The report includes the analysis of the regional as well as global automotive relay market trends, key players, market segments, application areas, and market growth strategies.
 Key Market Segments & Key Market Players
Segments
Sub-segments
Propulsion
Vehicle Type

Passenger Cars
Light Commercial Vehicles
Heavy Commercial Vehicles

Application

Powertrain System
Body and Chassis
Convenience
Safety and security
Others

Product

PCB
Plug-in relay
High voltage relay
Others

By Region

North America (U.S., Canada, Mexico)
Europe (Germany, France, Russia, U.K., Italy, Spain, Rest of Europe)
Asia-Pacific (China, India, Japan, South Korea, Asean, Rest of Asia-Pacific)
LAMEA (Brazil, UAE, Saudi Arabia, South Africa, Rest of LAMEA)

Key Market Players
Hella KGaA Hueck and Co., Fujitsu, Hongfa, Robert Bosch, Denso, LS Automotive, Littelfuse, Mitsuba Corporation, Song Chuan Precision Company, Goodsky, TE Connectivity, Omron Corporation, Panasonic, Xiamen Level King Keep Electronics, American Zettler, American Electronic Components, Cit Relay & Switch