Automotive Silicone Market Research, 2032
The global automotive silicone market size was valued at $2.7 billion in 2022, and is projected to reach $6.1 billion by 2032, growing at a CAGR of 8.5% from 2023 to 2032. Automotive silicones are high-performance polymers that display characteristics of both organic and inorganic substances. Heat resistance, cold resistance, weatherability, water repellency, defoaming capabilities, adhesiveness, releasability, and dielectric properties are just a few of the many traits that silicone possesses. Numerous applications of silicone materials are utilized to increase dependability and safety as well as to reduce the size, weight, and environmental impact of automobiles. The importance of silicones in the advancement of automotive technology is being recognized by manufacturers. This has progressed the usage of silicone in automotive applications.
The automotive industry saw a sharp fall in demand during the pandemic's early stages, due to lockdowns, travel bans, and economic unpredictability. Additionally, because of this, the production of the car industry was lowered, which decreased the need for automotive silicone and other related components. During the epidemic, numerous nations adopted stimulus plans to boost their economies. These actions are intended to ease financial burdens, promote liquidity, and support ongoing corporate operations. Governments have provided tax breaks and other assistance programs to encourage the automotive sector. For instance, China announced a package worth roughly $1.13 billion in 2020 to help the nation's auto industry.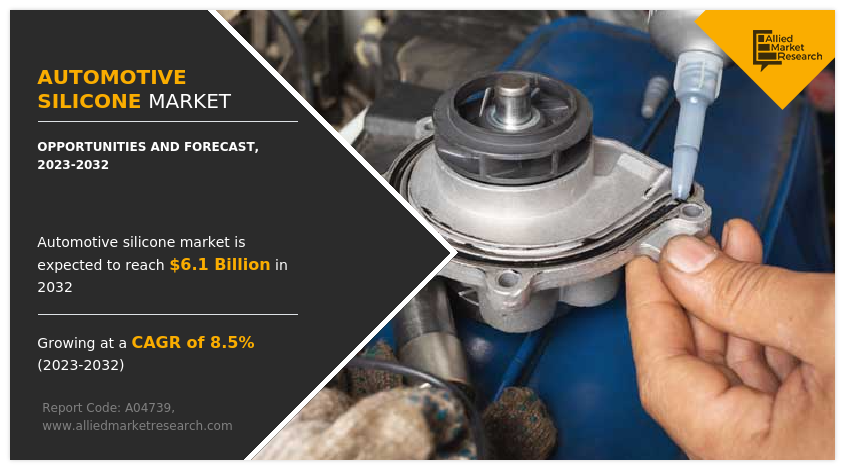 Silicone is renowned for its outstanding temperature resistance, electrical insulating capabilities, and durability. Silicone is widely used in the automobile sector because of its special qualities and advantages. The silicone's ability to survive extreme temperatures, both high and low, without losing its physical characteristics is known as temperature resistance. Applications in automobiles that are exposed to heat and cold, such as engine compartments and exhaust systems, can use it since it maintains its flexibility and stability over a broad temperature range. Silicone-based lubricants and greases are used in automotive applications to reduce friction and wear between moving parts. They are particularly beneficial in high-temperature environments such as engine components, where conventional lubricants may degrade or fail. In addition, the silicone materials utilized for interior applications provides comfort and safety. They are primarily employed in the manufacturing of flexible and resilient components such as seals, grommets, hoses, and weatherstrips, contributing to noise reduction, vibration damping, and occupant comfort. The surging importance of automotive silicone is driven by the need for improved performance, durability, and safety in vehicles.
There is a rising need for sustainable products as the automotive sector works to increase fuel economy and lower emissions. Although silicone has several advantages, like electrical insulation, heat resistance, and durability, it is not regarded as a sustainable material. Silicon is a non-renewable resource from which silicone is generated, and the techniques used to make it need a lot of energy. Furthermore, silicone products are difficult to recycle, which could lead to problems with waste management. Automobile manufacturers may suffer as a result of governments and regulatory agencies enforcing rigorous environmental standards, and they may decide to switch away from silicone in favor of more environmentally friendly materials. VOC emissions may be influenced by the manufacture and use of silicone-based products. VOCs are dangerous substances that can pollute the air and have a negative impact on health.
Powertrain components, such as engines, transmissions, and exhaust systems, use silicone-based sealants, adhesives, and gaskets to improve performance and decrease energy losses. In addition, with the popularity of electric vehicles, silicone materials are used in electrical insulation, thermal management, and battery pack sealing, advancing electrification, and extending the range of EVs. The automotive silicone industry has a sizable opportunity due to the rise in electric vehicle (EV) production across the globe. Due to their distinct characteristics and advantages, materials based on silicone are frequently utilized in a variety of automobile parts and applications. The battery and powertrain systems in particular produce heat while an electric car is in operation. Silicone-based thermal management products, such as adhesives, gels, and thermal interface materials, can efficiently manage and dissipate heat, assuring the best performance and security of EV parts. The ongoing advancement in automotive technology and rapid rise in electric and autonomous vehicle production is expected to similarly boost the demand for automotive silicone in the upcoming years.
The key players profiled in this report include Shin Etsu, Wacker Chemie, Siltech, Elkem Silicones, Momentive Performance Materials, Primasil Silicones, Dowdupont, Evonik, KCC Corporation, and Henkel AG & Co. Product launches and strategic partnership are common strategies followed by major market players. For instance, in March 2023, Shin-Etsu Chemical developed a silicone rubber for molding ideal for insulation covering material for onboard high-voltage cable in autos. The KE-5641-U, a new silicone rubber for molding product from Shin-Etsu Chemical, will aid in the resolution of these problems. The high withstand voltage properties of this innovative product ensure exceptional insulation performance even when the high-voltage cable's insulation system covering layers are reduced in thickness. In addition, the thinness of the covering layers results in a considerable improvement in the cable's flexibility, as well as the realization of a high-voltage cable with a smaller diameter and lower weight may increase the acceptance of the product in the automotive industry.
The automotive silicone market is segmented on the basis of type, application, and region. By type, the market is divided into elastomers, resins, gels, and others. By application, the market is classified into interior and exterior, engines, electrical systems, and others. By region, the market is analyzed across North America, Europe, Asia-Pacific, and LAMEA.
The automotive silicone market is segmented into Type and Application.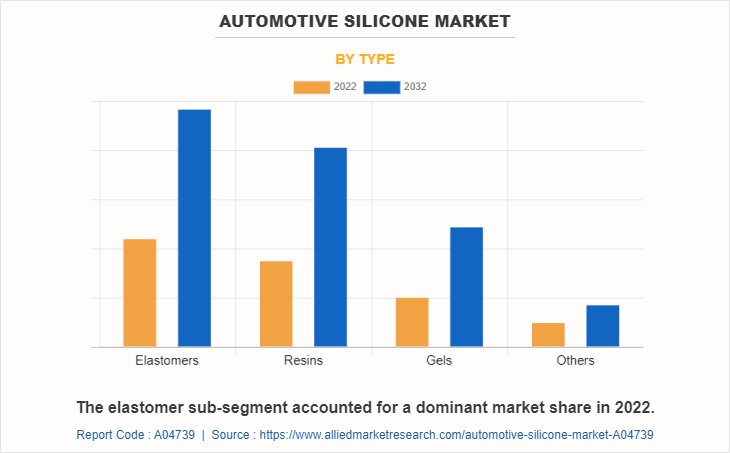 By type, the elastomer sub-segment dominated the global automotive silicone market in 2022. Elastomers are used in automotive applications to regulate thermal energy. They contribute to the overall effectiveness and dependability of automotive systems by being used in seals, gaskets, and thermal interface materials to effectively dissipate heat and insulate it. The silicone elastomers are also typically regarded as being more environmentally friendly than certain alternatives because they do not include any potentially dangerous materials, such as heavy metals or phthalates. In addition, for sealing and gasketing functions, silicone elastomers are frequently utilized in automotive applications. They offer exceptional resistance to a wide range of fluids, chemicals, and temperatures, which makes them perfect for constructing trustworthy seals in engines, transmissions, and other automotive parts. The benefit of absorbing sounds and dampening vibrations and noise is provided by elastic materials. Because of this, they are used in body mounts, suspension bushings, and engine mounts to lessen vibrations and enhance overall ride comfort. A significant degree of design freedom is also provided by elastomers, allowing for the fabrication of various shapes and sizes. This quality is especially useful in automotive applications, where parts frequently need to be shaped specifically to fit particular places and carry out specified tasks.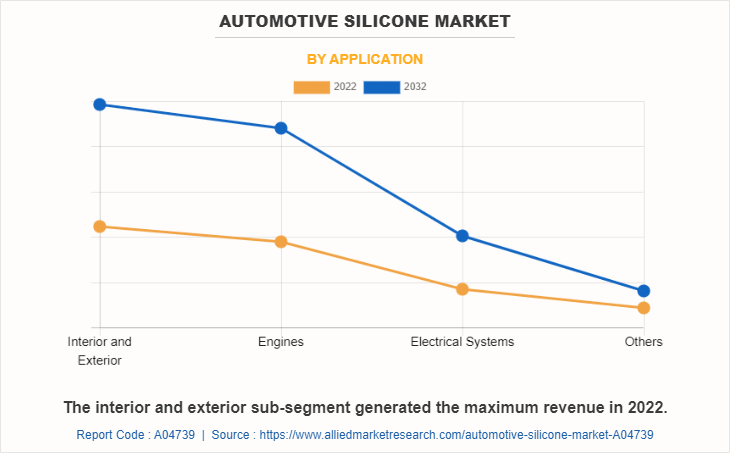 By application, the interior & exterior sub-segment dominated the global automotive silicone market share in 2022. Silicone is used in adhesives and sealants, trim and dashboard, and gaskets and sealing in interior applications. Soft-touch instrument panels, interior trim, and dashboard components are all made of silicone. It gives resistance to high temperatures, improves scratch resistance, and has a smooth and rich feel. Furthermore, silicone is widely utilized for exterior gaskets and seals, external trim and moldings, paint protection, and vehicle lighting in exterior applications. Weatherstrips are made of silicone and are used to close gaps between doors, windows, hoods, and trunks. In addition, they can be used in the installation of windshields and the bonding of glass as an adhesive and sealer. It offers excellent flexibility, adhesion, and resilience to UV rays and high temperatures. Moreover, the particular qualities of automotive silicone and the growing emphasis on comfort, safety, and aesthetics in automobiles can be credited for the rise in demand for it in interior & exterior applications. Automakers have also adopted lightweight materials like silicone, which help to reduce overall weight, in response to severe rules relating to environmental sustainability and fuel efficiency.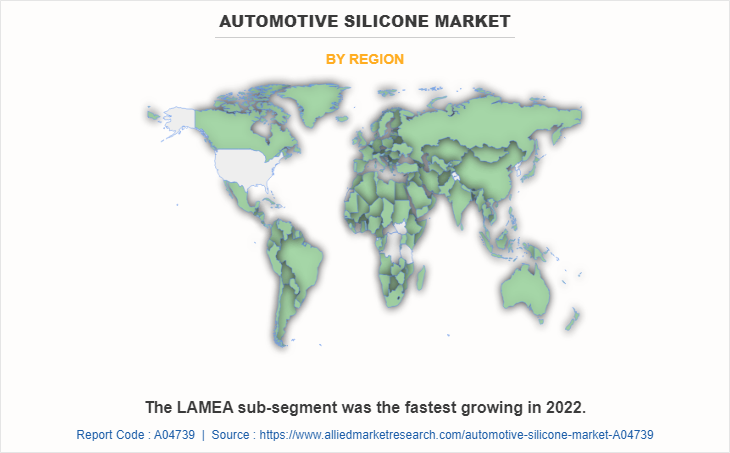 By region, Asia-Pacific dominated the global market in 2022. The automotive silicone market in Asia-Pacific is growing as the demand for high-performance automotive components has been boosted by the strict rules and standards relating to vehicle emissions and safety. The invention of self-healing and self-cleaning silicones is only one example of how advances in silicone technology have accelerated the regional market expansion. In order to meet the changing needs of the automobile sector, these cutting-edge formulas provide improved performance and durability. The demand for automobiles has increased owing to the rapidly expanding economy and population in Asia-Pacific. Countries like South Korea, Japan, China, and India have become a significant center for the production of automobiles. The manufacture and demand for automobiles in these countries have significantly increased, which has aided the expansion of the automotive silicone industry in the region.
Impact of COVID-19 on the Global Automotive Silicone Industry
The COVID-19 pandemic has had a significant impact on various industries, including the automotive industry. The pandemic led to disruptions in global supply chains, affecting the availability and delivery of automotive equipment, machinery, and raw materials. This disrupted the operations of automotive silicone companies, causing delays in project timelines and production.
Due to lockdowns, travel bans, and economic unpredictability, the automotive industry saw a sharp fall in demand during the pandemic's early stages. Additionally, because of this, the production of the automotive industry was lowered, which decreased the need for automotive silicone and other related components.
The economic uncertainty caused by COVID-19 made it difficult for automotive manufacturers to secure financing. Investors became more cautious, leading to a decrease in funding for new projects or expansion of existing ones. This limited the potential of the automotive silicone market growth. Governments around the world diverted resources and attention towards managing the health crisis, resulting in delays or changes in trade regulations and policies thus impacting the automotive sector. This uncertainty affected the long-term planning and investment decisions of automotive silicone companies.

During the pandemic, many governments put in place stimulus plans to boost their economies. These steps are intended to relieve financial strain, promote liquidity, and support ongoing operations. To help the automotive sector, governments have provided tax incentives and relief measures.
Key Benefits For Stakeholders
This report provides a quantitative analysis of the automotive silicone market forecast, segments, current trends, estimations, and dynamics of the automotive silicone market analysis from 2022 to 2032 to identify the prevailing automotive silicone market opportunities.
The market research is offered along with information related to key drivers, restraints, and opportunities.
Porter's five forces analysis highlights the potency of buyers and suppliers to enable stakeholders make profit-oriented business decisions and strengthen their supplier-buyer network.
In-depth analysis of the automotive silicone market segmentation assists to determine the prevailing market opportunities.
Major countries in each region are mapped according to their revenue contribution to the global market.
Market player positioning facilitates benchmarking and provides a clear understanding of the present position of the market players.
The report includes the analysis of the regional as well as global automotive silicone market trends, key players, market segments, application areas, and market growth strategies.
 Automotive Silicone Market Report Highlights
Aspects
Details
Market Size By 2032
USD 6.1 billion
Growth Rate
CAGR of 8.5%
Forecast period
2022 - 2032
Report Pages
290
By Type

Elastomers
Resins
Gels
Others

By Application

Interior and Exterior
Engines
Electrical Systems
Others

By Region

North America (U.S., Canada, Mexico)
Europe (France, Germany, Italy, Spain, UK, Rest of Europe)
Asia-Pacific (China, Japan, India, South Korea, Australia, Rest of Asia-Pacific)
LAMEA (Brazil, Morocco, South Africa, Argentina, Rest of LAMEA)

Key Market Players
Wacker Chemie, KCC Corporation, Dowdupont, Henkel AG & Co, Momentive, Evonik, Siltech Corporation, Elkem ASA, Shin Etsu, Primasil Silicones