The global Ayurvedic herbs market size was valued at $9.5 billion in 2020 and is anticipated to reach $21.6 billion by 2028, with a CAGR of 10.8% during the forecast period. Ayurvedic herbs are elements of the Ayurveda, also called as traditional practice of medicine. Ayurvedic herbs are an important component of the traditional Indian system of medicine. They're thought to protect the body from disease and offer a variety of health benefits, including improved digestion and mental health, diabetes, infectious diseases, and cardiovascular diseases, among others. 
Ayurveda is a system of medicine that has its origination roots in the Indian subcontinent. It uses natural healing practices to cure clinical conditions such as sinusitis, cough, depression, and insomnia. Ayurveda therapies have been integrated in general wellness and in some cases in medical use worldwide. In addition, Ayurvedic ingredients are extensively used in personal care products and health supplements along with drugs.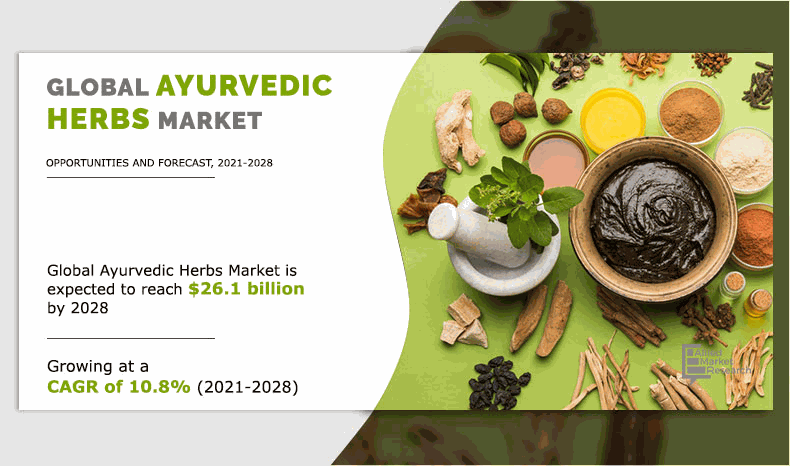 Factors driving consumer preference for Ayurvedic herbs products are rising awareness regarding their benefits, increasing cognizance about ill-effects of allopathy, easy availability, and growing disposable income. Lack of R&D for high yielding varieties, irregular supply of raw material, and safety regulations are major challenges faced by the market players. Increase in knowledge about natural ingredients in health and personal care products in developed countries, namely the U.S., Canada, Australia, Singapore, and Japan, offers Ayurvedic herbs market growth opportunity for manufacturers.
COVID-19 pandemic creates both opportunities and challenges for exporters of natural ingredients for health products. Consumer behavior and attitudes are changing because of COVID-19 and this is expected to continue in the coming years as consumers continue seeking products that help prevent disease. Since the outbreak of COVID-19, consumers have been paying more attention to their health and diets as they try to strengthen their immunity. As a result, consumers are turning to vitamins and supplements, a trend that is expected to continue.
Consumer demand for health products, particularly supplements that boost immunity has been increasing since the first few months of 2020. This is seen as a long-term trend. Thus, as an exporter of herbal ingredients for health products are taking advantage of this development. The global COVID-19 pandemic is driving this trend as consumers are seeking to boost their levels of immunity. A number of herbal ingredients for health products contain beneficial health properties that can help improve and strengthen immune system function. For instance, baobab's high vitamin C content helps the body fight infections.
The players in the industry are continuously working to introduce new launches with the herbal ingredients in order to increase the customer base. All these factors can create lucrative opportunities in the Ayurvedic herbs market.
Globally, Ayurveda-based products saw surge in demand in the wake of the Covid-19 pandemic even as scientists' are referring to Ayurvedic products. In terms of time almost a year has passed to find the vaccine to curb the increased curve of the unprecedented COVID-19 pandemic. The situation has been acclaimed globally that strengthening the immune system will work wonders in combating the pandemic.
Allopathic companies are trying to find out an all-time well tested mantra to stay safe and healthy.
Ashwagandha, Brahmi, Cumin, Turmeric, Licorice root, Gotu kola, Bitter melon, and Pepper, are entering households like never before. Indians are continuing to put a united front against the novel coronavirus; people are returning to herbal ways to boost their immune systems. Ayurveda and natural segment products are increasingly being preferred by consumers across the globe and especially in India. One of the prime reasons for this is that Ayurveda and any other medicine, which is not allopath are considered 'safe' by a large number of people.
The Ayurvedic herbs market is segmented on the basis of herb type, form, disease indication, distribution channel and region. By herb type, it is categorized into Withania Somnifera (Ashwagandha), Frankincense (Boswellia), Indian Gooseberry (Triphala), Bacopa Monnieri (Brahmi), turmeric, cumin, bitter melon, and others. By form, it is categorized into raw, capsule/tablets and extracts. By disease indication, it is divided into cardiovascular diseases, inflammatory diseases, diabetes, infectious diseases, auto-immune diseases, skin diseases, and others. Based on distribution channel, the market is segmented into business to business and business to consumer. Region wise, it is analyzed across North America, Europe, Asia-Pacific, and LAMEA.     
Ayurvedic Herbs Market

---
By Herb Type
The Bitter melon segment would witness the fastest growth, registering a CAGR of 12.3% during the forecast period.
According to the Ayurvedic herbs market analysis on the basis of herb type, the Withania somnifera (Ashwagandha) segment accounted for the maximum Ayurvedic herbs market share in the 2020. This is attributed to evolving lifestyle and changing trends in the food & beverage industry, which boosts the demand for herbal and healthy food ingredients. Furthermore, several brands have introduced their range of ashwagandha. Consumers have become conscious about the ingredients they consume with the knowledge and awareness about the benefits of products. 
Ayurvedic Herbs Market

---
By Form
Raw Segment witnssed a major growth rate of 11.4%
Based on form, the capsules/tablets segments is expected to gain a major demand from the consumer during the forecast period. This is due to the rise in consumer demand for healthy and clean-label herbal products. The known health benefits of Ayurvedic herbs capsules/tablets include support to manage heart disease, cancer, diabetes and many diseases and improve immunity.
Ayurvedic Herbs Market

---
By Disease Indication
Skin diseases held the major share of 23.4% in 2020
Based on disease indication, skin diseases segment held the major share in the market and is likely to remain dominant throughout the Ayurvedic herbs market forecast period. Skin disorders can be caused by allergies, allergens, genetic composition, specific diseases, and immune system issues. Furthermore, any sickness or ailment that affects the human skin is referred to as a skin disease. Skin abnormalities are often indicative of metabolic, neoplastic, and glandular illnesses.
Ayurvedic Herbs Market

---
By Distribution Channel
B2B witnessed a major annual grwoth rate of 11.6%
By distribution channel, business to consumer segment are gaining popularity due to the availability of broad range of consumer goods under a single roof, in addition to ample parking space and convenient operation timings. Business to consumer involves the sale of manufacturers' product and services to retailers, which are further sold to consumers. Moreover, increase in government expenditure on retail channels along with pricing concession in medicines is augmenting the growth of the Ayurvedic herbs industry.
Ayurvedic Herbs Market

---
By Region
Asia-Pacific held the major share of 48.8% in 2020
Region wise, Asia-Pacific held the major share of 48.8% in the Ayurvedic herbs market in 2020, owing to positive economic trends, rise in import, and increase in consumption of Ayurvedic herbs products. The Asia-Pacific is the fastest region in the Ayurvedic herbs market and is expected to remain dominant during the forecast period owing to increase in healthcare expenditure, rise in awareness about early diagnosis, and availability of effective herbal treatment in emerging countries, such as China and India. Asia-Pacific has leading innovation in the Ayurvedic treatments by developing and providing transformational treatments that extend and enhance lives.
The key players profiled in this report include are Colgate-Palmolive Company, Dabur India Ltd., Emami Limited, Kairali Ayurvedic Group, P&G, Patanjali Ayurved Limited, Shahnaz Ayurveda Pvt. Ltd, Shree Baidyanath Ayurveda Bhawan Pvt. Ltd, The Himalaya Drug Company, and Unilever.
Key Benefits For Stakeholders
The report provides a quantitative analysis of the current Ayurvedic herbs market trends, estimations, and dynamics of the market size from 2020 to 2028 to identify the prevailing opportunities.     
Porter's five forces analysis highlights the potency of buyers and suppliers to enable stakeholders to make profit-oriented business decisions and strengthen their supplier–buyer network.
In-depth analysis and the market size and segmentation assist to determine the prevailing Ayurvedic herbs market opportunities.   
Drivers and restraints are analyzed depending on type in the Ayurvedic herbs industry. 
Key Market Segments 
By Herb type
Withania Somnifera (Ashwagandha)
Frankincense (Boswellia)
Indian Gooseberry (Triphala)
Bacopa Monnieri (Brahmi)
Turmeric
Cumin
Bitter Melon
Others
By Form
Raw
Capsules/Tablets
Extracts 
By Disease Indication 
Cardiovascular Diseases
Inflammatory Diseases
Diabetes
Infectious Diseases
Auto-Immune Diseases
Skin Diseases
Others
By Distribution Channel
Business to Business 
Business to Consumer 

Hypermarket/Supermarket
Specialty Stores
Pharmacies & Drug stores
Online sales channel
Others
By Region
North America
Europe

Germany
France
UK
Italy
Spain
Rest of Europe

Asia-Pacific

China
Japan
India 
Australia & New Zealand
South Korea
Rest of Asia-Pacific

LAMEA

Brazil
South Africa
Saudi Arabia
Turkey
Rest of LAMEA
 Ayurvedic Herbs Market Report Highlights
Aspects
Details
By Herb type

Withania Somnifera (Ashwagandha)
Frankincense (Boswellia)
Indian Gooseberry (Triphala)
Bacopa Monnieri (Brahmi)
Turmeric
Cumin
Bitter Melon
Others

By Form

Raw
Capsules/Tablets
Extracts

By Disease Indication

Cardiovascular Diseases
Inflammatory Diseases
Diabetes
Infectious Diseases
Auto-Immune Diseases
Skin Diseases
Others

By Distribution Channel

Business to Business
Business to Consumer

Supermarket/hypermarket
Specialty store
Pharmacies and Drug Stores
Online Sales Channel
Others

By Region

North America (U.S., Canada, Mexico)
Europe (France, Germany, Italy, Spain, UK, Russia, Rest of Europe)
Asia-Pacific (China, Japan, India, South Korea, Australia, Thailand, Malaysia, Indonesia, Rest of Asia-Pacific)
LAMEA (Brazil, South Africa, Saudi Arabia, UAE, Argentina, Rest of LAMEA)

Key Market Players
EMAMI LIMITED, UNILEVER, PATANJALI AYURVED LIMITED, KAIRALI AYURVEDIC GROUP, SHREE BAIDYANATH AYURVEDA BHAWAN PVT. LTD., COLGATE-PALMOLIVE COMPANY, SHAHNAZ AYURVEDA PVT. LTD., DABUR INDIA LTD. (INDIA), THE HIMALAYA DRUG COMPANY, P&G