Bahrain Alcoholic Beverages Market Overview:
The Bahrain alcoholic beverages market revenue was $25,580 thousand in 2018 and is projected to grow at a CAGR of 2.5% to reach $30,405 thousand by 2025.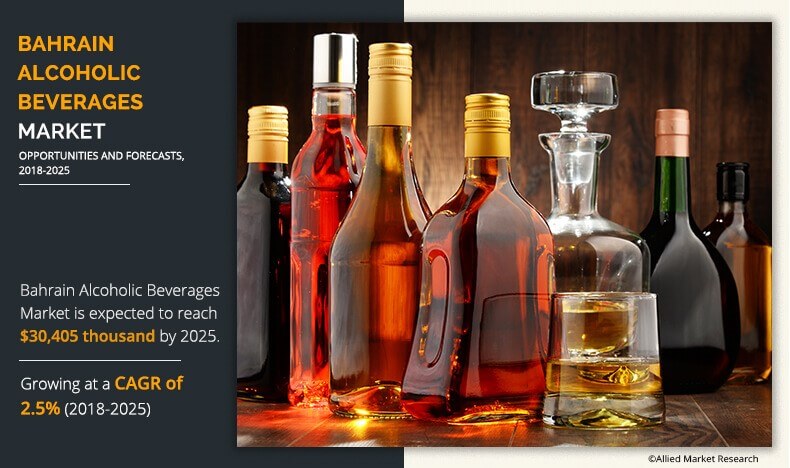 The Bahrain Alcoholic Beverages market is expected to witness significant growth during the forecast period, owing to high disposable income, increase in number of on premise (bars, cafes, restaurants) distribution channels, and surge in demand for premium products. However, high cost of premium/super premium products and increase in demand for nonalcoholic beverages owing to health concerns majorly restrict the Bahrain Alcoholic Beverages market growth.
The Bahrain alcoholic beverages market is segmented based on type, and distribution channel. Based on type, the market is categorized into beer, distilled spirits, wine, and others. Based on distribution channel, it is divided into convenience stores, on premises, liquor stores, internet retailing, and supermarkets.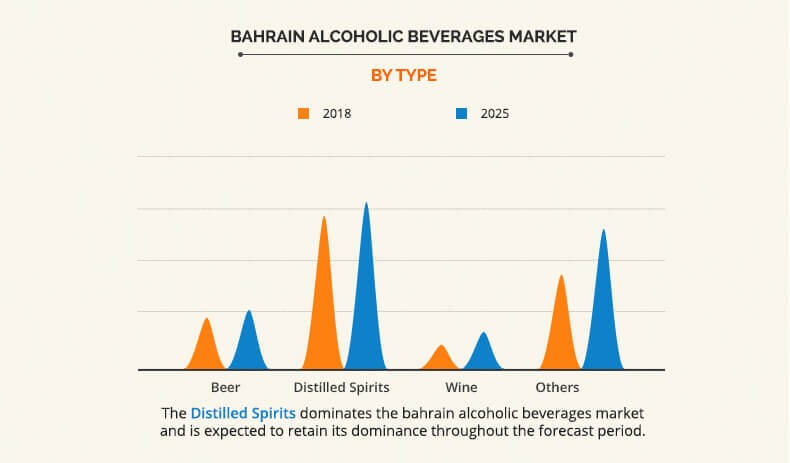 Increase in number of younger population and rise in disposable income majorly drive the distilled spirits segment in the market. Additionally, the cocktails available in the market contain distilled spirits and are characterized by unique tastes and experiences. These spirits suit the consumer interest and preferences and with local distilleries driving the modernization of the states. Also, the discovery of new technologies in the distillation process made by the Arabian countries lead to the production of higher alcoholic content in distillation spirits. Furthermore, the others segment includes alcoholic beverages with low alcohol content, hence, it is preferred by consumers who are less fond of alcohol. In addition to it, the low cost majorly drives the demand for such alcoholic beverages in the market. Renowned global market leaders Anheuser-Busch InBev (AB InBev), BAVARIA N.V., Heineken N.V., and others, adopt various growth strategies to enhance their product portfolios and strengthen their presence in the Bahrain Alcoholic beverages market. The market is witnessing significant opportunities owing to the demand for healthier alcoholic drinks with better taste, thereby boosting the demand for alcoholic beverages. However, stringent government rules and laws coupled with high cost of premium/super premium products hamper the market growth.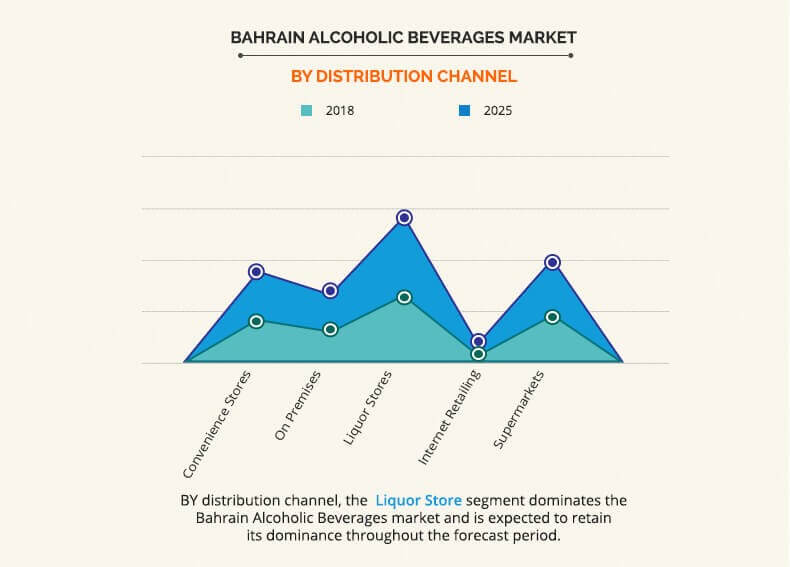 Based on distribution channel, the liquors stores segment dominated the Bahrain alcoholic beverages market in 2017, in terms of both value and volume. There is an increase in the number of liquor stores in the country, owing to rise in demand for such products. Furthermore, the availability of well-known branded beverages from low to premium range along with large presence and easy accessibility to these stores may drive the market. In addition, change in consumers taste preferences from popular global beer brands toward local craft styles owing to high-quality ingredients and a variety of unique flavors are expected to boost the sale of alcoholic beverages through such stores, eventually driving the alcoholic beverages market in Bahrain. On the other hand, the internet retailing segment is anticipated to grow with the highest growth rate during the forecast period owing to rise in internet penetration, high spending potential owing to a high per capita income, developed transport logistics networks, and surge in tech-savvy youth population in Bahrain. Moreover, ease of obtaining licenses and improved infrastructure are estimated to result in strong growth for internet retailing distribution channel, which is expected to eventually drive the Bahrain alcoholic beverages market.
The key leading players operating in the Bahrain alcoholic beverages industry include Anheuser-Busch InBev (AB InBev), BAVARIA N.V., Brown-Forman, Carlsberg Group (Carlsberg), Diageo PLC (Diageo), Glen Moray, Heineken N.V., Bacardi Global Brands Limited, Chivas Holdings Limited, and United Dutch Breweries B.V.
Key Benefits for Bahrain Alcoholic Beverages Market:
The report provides an extensive analysis of the Bahrain alcoholic beverages market size and trends from 2017 to 2025 to determine the prevailing opportunities.
A comprehensive analysis of the factors that drive and restrict the Bahrain alcoholic beverages market growth is provided.
Extensive analysis of is conducted by following product benchmarking, positioning, and monitoring the top competitors within the market.
The report provides extensive and qualitative Bahrain alcoholic beverages trends on the significant segments or regions along with Bahrain alcoholic beverages market forecast factors
The report provides key insights on strategic industry analysis of various companies and the value chain analysis of Bahrain alcoholic beverages industry.
 Bahrain Alcoholic Beverages Market Report Highlights
Aspects
Details
By Type

Beer
Distilled Spirits
Wine
Others

By Distribution Channel

Convenience Stores
On Premises
Liquor Stores
Internet Retailing
Supermarket

Key Market Players
ANHEUSER-BUSCH INBEV (AB INBEV), BACARDI LIMITED, BAVARIA N.V. (SWINKELS FAMILY BREWERS), BROWN-FORMAN CORPORATION (BROWN-FORMAN), CARLSBERG GROUP, CHIVAS BROTHERS LTD. (PERNOD RICARD), DIAGEO PLC (DIAGEO), GLEN MORAY, HEINEKEN HOLDING NV. (HEINEKEN N.V.), UNITED DUTCH BREWERIES B.V.