Bamboo Toothbrush Market Research, 2031
The globalBamboo Toothbrush Market Size was at $30.2 million in 2021, and is projected to reach $81.1 million by 2031, growing at a CAGR of 10.6% from 2022 to 2031.
In the midst of the spread of Covid-19 pandemic the interest for sustainably sourced products increased abruptly. The COVID pandemic resulted in negative impact on the global bamboo toothbrush market. The bamboo toothbrush manufacturers faced production constrained due to the production facility shutdown and limited availability of skilled workforce. Apart from that, limited availability of raw materials due to the restrictions on transportation has also affected the supply chain badly. Such situations have caused a circumstance of unpredictability in the business sectors and further the supply chain and logistics restrictions were acted as a barrier for bamboo toothbrush business However, as the restrictions eased off the demand for bamboo toothbrush normalized. The prices associated with the raw materials, transportation, energy, and production increased as the lockdown eased it also affected the end products. Thus, manufacturers increased prices of end products to maintain their profit margins.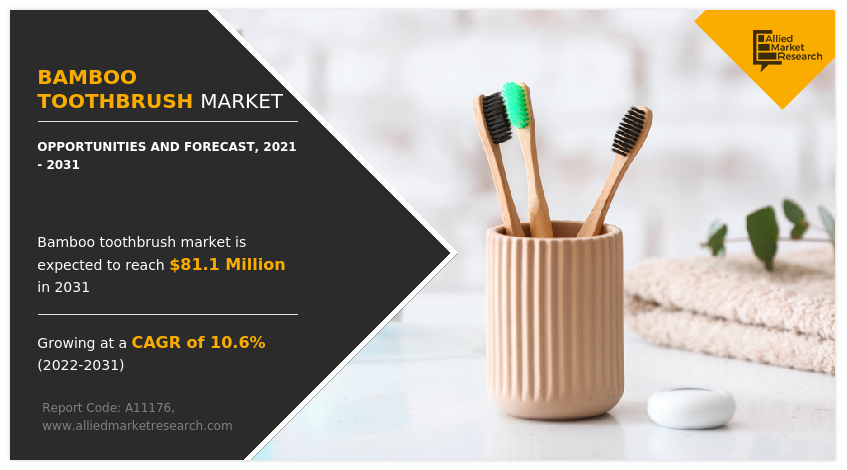 The bamboo toothbrush market is segmented into End-use and Bristle Type.
Bamboo is sustainable and environmentally friendly material. It easily grows after harvesting also, it is easily harvested. It naturally grows without any fertilizers which makes it an organic material. Plus, it is highly durable and has impressive strength-to-weight ratio. Because of its eco friendly nature, it is becoming more popular among consumers. The first use of bamboo toothbrush has been found in ancient China at the end of 15th century. They were made with boar hair fastened to a piece of bamboo.
Poor oral hygiene can lead to various health related concerns such as cavities, gum diseases, tooth loss, oral cancer, periodontitis, gingivitis, and chronic disease. Poor oral hygiene generates formation of dental plague. This leads to gingivitis. Gingivitis, if not treated, can distract the tissues supporting to teeth which further leads to periodontitis. Hence, oral hygiene is an important factor to reserve periodontic health as well as mechanical or chemotherapeutic elimination of dental plaque to minimize disease activity. According to Center for Disease Control and Prevention (CDC), in the US 46% adult population aged 30 years or older shows signs of gum diseases, among 9% of them suffers from severe gum disease. The good oral hygiene habits help in maintaining the clean teeth as well as it supports the overall health. Thus, the adoption of oral hygiene to maintain better oral health will drive the demand for Bamboo Toothbrush Market Size during the estimated period.As a number of bacteria grow and thrive in the oral cavity, poor oral hygiene can result in oral issues such as gingivitis, halitosis, xerostomia, plaque accumulation, and dental caries. Furthermore, a number of recent research have demonstrated the connection between poor dental hygiene and chest infections and pneumonia. Gum disorders and tooth decay are brought on by an increase in oral problems such as plaque and calculus. As a result, keeping proper oral and dental hygiene is important for preserving healthy teeth. The usage of a bamboo toothbrush has also increased due to the rise in oral hygiene awareness among young people worldwide since it effectively removes plaque from the oral cavity when compared to a manual toothbrush. Dental caries is another significant oral issue that is common in the U.S. As a result, the majority of dentists advise using bamboo toothbrushes for better oral hygiene, which further fuels market expansion. 
The population of middle-income groups has witnessed an upsurge, owing to economic growth as a result of increase in disposable incomes and decline in poverty levels. In 2020, the middle-income group consisted about 5.8 billion population. Developing economies with a large populace, such as, China, India, and Indonesia in Asia-Pacific, as well as in Africa, the Middle East, and Latin America, are expected to witness a surge in middle-income groups. The middle-class population in developed economies, such as U.S., Japan, and European countries, is expected to grow at an annual growth rate of 0.5%, as compared to the developing economies such as China and India, which is projected to grow at 6.0% or more per annum. As the income of middle-class population increased above basic needs, consumers can have discretionary funds to spend on the goods & which can improve their lives. Thus, growth in middle-class population is projected to lead to expansion of consumer base of the bamboo toothbrush market.
As conscious consumerism gains traction and media coverage of global environmental issues broadens, purchasing habits shift and corporate sustainability takes central stage. In recent years, an increasing number of customers have expressed a desire for eco-friendly products, with a particular interest in cruelty-free and vegan items. According to a recent consumer survey done by Allied Market Research, one in every three consumers prefers eco-friendly options when purchasing products. Indeed, 35% are willing to spend more money on such products, and 56% are "slightly likely" to pay a higher price. Such shifting consumer focus manufacturers across the globe are also making efforts to make innovative products that are environmentally sustainable.
Apart from that, naturally sourced products offers better guarantee of safety. Also, they do not contain any harmful chemicals. Instead of using materials such as plastic containing BPA, which will have a potential health issue, naturally derived materials are often used such as bamboo. Naturally sourced materials such as bamboo is environmentally friendly as well as it is easy to recycle thus, ensuring sustainability. Thus, these factors collectively drive the demand for bamboo toothbrush market.
Key Bamboo Toothbrush Industry players are committed to developing products that are eco-friendly alternatives to single-plastic products. Also, to produce the bamboo toothbrush manufacturers source the raw materials from local farmers. Once the bamboo is cultivated, the land is cleared and the new are harvested on the same land. Thus, keeping a balance on both the social and biological aspects. This move also helps in providing employment opportunities to the local people. Apart from these the manufacturers are also collaborating with NGOs who are working towards the environment and sustainability in order to set campaigns and clean up drives. These types of initiatives will create an awareness among consumers for bamboo toothbrush products.
However, high cost of bamboo toothbrush compared to plastic toothbrush acts as a major restraining factor for market growth. Plastic toothbrush has tongue scrapers and are available in wide variety of designs to attract more consumers. While bamboo toothbrushes come in a simple design and doesn't have tongue scraper which can be a disadvantage over plastic toothbrush. Also, most of the bamboo toothbrush have nylon bristle which is not eco-friendly. Thus, these factors are likely to hamper the market growth. Due to its biodegradability, the popularity of bamboo toothbrushes has increased all over the world. A bamboo toothbrush includes a bamboo handle and nylon fibers that are just as effective as plastic or electric. Furthermore, there are some problems with using a bamboo toothbrush. The majority of bamboo brushes sold now still have nylon bristles, so at least that component of the brush needs to be discarded. Only truly biodegradable toothbrushes have natural bristles made of pig or badger hair, which dentists contend are excessively harsh and abrasive on gums that are still developing. Natural bristles can harbor bacteria because they hold onto moisture. All these factors hamper the market growth of the bamboo toothbrush market.
In bamboo toothbrush market, is segmented into end-use, bristle type, and region as a scope of study. On the basis of end-use the market is divided into adult and kids. On the basis of bristle type the market is classified as soft, medium, and firm. On the basis of region, the market is categorized into North America, Europe, Asia-Pacific and LAMEA.
Bamboo Toothbrush Market

---
By End-use
Adults segment dominated the market in 2021, and is expected to dominate the market during the forecast period.
On the basis of end-use, adult segment garners a largest Bamboo Toothbrush Market Share in 2021. Factors such as eco-friendly, organic, and natural features of the products are attracting adult population to shift their spending on bamboo toothbrush. Apart from that, the high awareness about maintaining proper oral hygiene among adult population will further drive the market demand among this segment. However, kids segment will grow at a highest CAGR during the Bamboo Toothbrush Market Forecast period. Children having habits to brush their teeth daily have low susceptibility toward cavities. According to Center for Disease Control and Prevention (CDC), more than half of children aged between 6 to 8 have had cavities in at least one of their baby teeth. Moreover, the increasing consumption of sugary foods and beverages such as soft drinks between meals also created a risk for cavities. Thus, poor oral health and unhealthy eating habits can lead to the risks of cavities; this factor will create Bamboo Toothbrush Market Demand.
Bamboo Toothbrush Market

---
By Bristle Type
Soft segment dominated the market in 2021, and is expected to dominate the market during the forecast period.
On the basis of bristle type, soft segment dominated the market in 2021 with a Bamboo Toothbrush Market Share of more than 67.9% for the same year. Soft bristles are preferred over other types by consumers as it provides gentle cleaning of teeth a well as gums. Soft-bristle brushes are gentle on the gum line and effective at removing plaque from teeth. According to, the American Dental Association (ADA) use of soft bristles ensures healthy teeth. Hard bristles bristle put much pressure while brushing which can negatively impact the enamel and gums.
Bamboo Toothbrush Market

---
By Region
North America region dominated the market in 2021, and is expected to dominate the market during the forecast period.
Region wise, North America was a highest revenue contributor and is estimated to reach $ 29,355.75 thousands by 2031, with a highest CAGR of 10.9%. Europe is likely to grow at a fastest Bamboo Toothbrush Market Growth rate during the estimated period. According to Plastic Ocean, European Union (EU) put new legislation on plastic use to reduce waste. EU produce over 28 million tons of plastic every year this has created an urgent need to curb this endless waste generation. Also, to discourage companies from using single use plastic EU put legislation as the producer will be solely responsible for the recycling and disposable of plastic waste. Such regulations imposed by government of various regions and countries will reduce the use of plastic and will create a need to develop or look for alternate materials. This factor will push the Bamboo Toothbrush Industry players of toothbrush to invest into alternate raw materials.
Key Benefits For Stakeholders
This report provides a quantitative analysis of the market segments, current trends, estimations, and dynamics of the bamboo toothbrush market analysis from 2021 to 2031 to identify the prevailing Bamboo Toothbrush Market Opportunity.
The market research is offered along with information related to key drivers, restraints, and opportunities.
Porter's five forces analysis highlights the potency of buyers and suppliers to enable stakeholders make profit-oriented business decisions and strengthen their supplier-buyer network.
In-depth analysis of the bamboo toothbrush market segmentation assists to determine the prevailing market opportunities.
Major countries in each region are mapped according to their revenue contribution to the global market.
Market player positioning facilitates benchmarking and provides a clear understanding of the present position of the market players.
The report includes the analysis of the regional as well as global bamboo toothbrush market trends, key players, market segments, application areas, and market growth strategies.
 Bamboo Toothbrush Market Report Highlights
Aspects
Details
Market Size By 2031
USD 81.1 million
Growth Rate
CAGR of 10.6%
Forecast period
2021 - 2031
Report Pages
295
End-use

Adults

Sales channel

Supermarkets and Hypermarkets
Specialty Stores
E-commerce
Others

Children

Sales channel

Supermarkets and Hypermarkets
Specialty Stores
E-commerce
Others

Bristle Type
By Region

North America (U.S., Canada, Mexico)
Europe (UK, Italy, Germany, France, Spain, The Netherlands, Switzerland, Rest Of Europe)
Asia-Pacific (China, Japan, India, South Korea, Australia, Indonesia, Thailand, Rest Of Asia-Pacific)
LAMEA (Latin America, Middle East, Africa)

Key Market Players
Bamboo India, Brush with Bamboo, Colgate Palmotive Company, My Humble Earth, Humble Group AB, BAMKIKI, Bam&Boo, Big Little Brush, Enviromental toothbrush, Paivi enterprise, Mabboo, ecoheart, s.r.o., Boobam, Bamboos World, The Bamboo Brush Society