The global cable management market size was valued at $18.31 billion in 2019, and is projected to reach $35.02 billion by 2027, registering a CAGR of 7.9% from 2020 to 2027. 
Cable management plays an important role in electricity and data transmission. The insulation and installation of cables in electronic devices or communication systems to avoid detrimental situations is referred as cable management. The design of present cable management systems is quality oriented as well as functional. Varieties such as cable trays, conduits, raceways, optical fiber channels, and others, with different features, are available in the new-generation cable management solutions.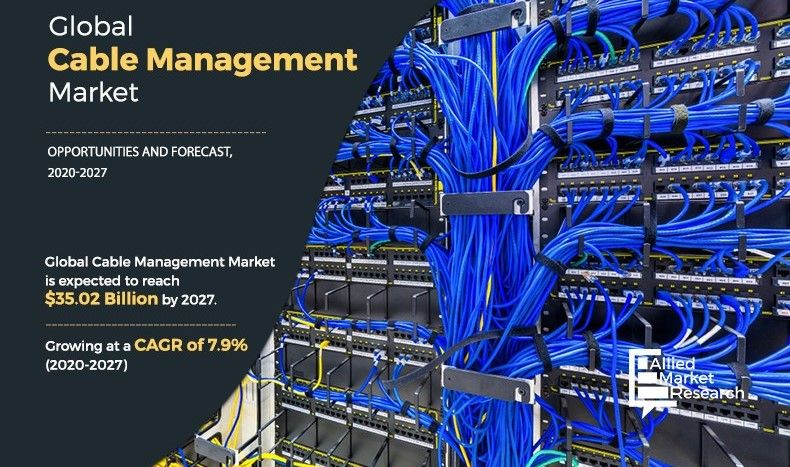 Ongoing developments in infrastructure, telecommunication, and the need for repair and maintenance of the existing technology foster the growth of the cable management market. However, intense competition among the domestic players and fluctuating raw material prices create a gap in standardizing the quality of the products. This market offers lucrative opportunities for investments and development in the future.
The cable management market share is expected to garner a significantly during the forecast period. Increase in demand due to technological advancements, commercialization of renewable energy, and widespread of various industrial verticals drives the cable management market growth in this segment. However, lack of standardization for price of raw material hinders the cable management market growth. On the contrary, surge in investment in the Asia-Pacific region, and growth of IT & telecom sector offers lucrative opportunities to the market.
The types of conduit popular amongst end users are steel conduits, rigid metal conduits, flexible metallic conduits, and PVC conduits. Steel conduits protect electrical conductors and wiring system. More than 50.0% of the manufacturing and industrial facilities in the U.S. use steel conduits including areas with hazardous and corrosive conditions either indoors, outdoors, or underground. Rigid Metal Conduit (RMC) possesses the thickest wall among other steel conduits and is the heaviest amongst all. RMC is resistant to corrosion owing to zinc coatings in its interior and exterior. It is used in indoor, outdoor applications, as well as applications that are exposed or concealed. Therefore, the cable management market trends influences the growth.
The report focuses on the growth prospects, restraints, and trends of the cable management market analysis. The study provides Porter's five forces analysis to understand the impact of various factors such as bargaining power of suppliers, competitive intensity of competitors, threat of new entrants, threat of substitutes, and bargaining power of buyers on the cable management market.
Segment Overview
The cable management market is segmented into type, end user, and region. By type, it is divided into cable trays, cable raceways, cable glands, conduits, cable connectors and glands, cable carriers, cable lugs, junction box, and others. By end user, it is classified into IT & telecommunication, healthcare, marine, mining, manufacturing & automation, aerospace, commercial construction, and others, including transportation, residential construction and government. By region, it is analyzed across North America, Europe, Asia-Pacific, and LAMEA.
Top Impacting Factors
Commercialization of renewable energy
Renewable energy is generation of energy through natural resources. Biomass, geothermal power, hydroelectricity, solar energy, and wind power are some of the forms of renewable energy. The developments regarding commercialization of renewable energy boost the growth of the cable management market. Companies such as HellermannTyton, Legrand, and others have taken initiative in solar energy management, hydroelectric power generation, and wind turbines. Products such as UV resistance for durable solar plants, metal ties for wind turbines, SA47-HT heat shrinkable tubing for offshore wind turbines, and Cablofil wire mesh tray for renewable power application have been launched. Even though the cost of investment is high, the need for healthy environment and reduction of dependency on conventional resources has made 144 countries to be committed toward renewable energy. The overall scenario facilitates the growth of the cable management market.
Cable Management Market

---
By Type
Cable Lugs segment is projected as one of the most lucrative segments.
Surge in investment in Asia-Pacific
Huge investments are made in infrastructure and construction by industries in the BRIC countries, which has resulted into boosting their economy. Brazil, Russia, India, and China are the developing countries that are expected to experience growth. The BRIC countries are anticipated to account for 41.0% of the world's market capitalization by 2030. India is attracting world leaders as it has low tax on investments and is also a potential market due to its increasing population. These developments have attracted key market players to invest in the cable management market. For instance, Nexans and Prysmian are expanding their boundaries in India and China.
Cable Management Market

---
By End Use
IT & Telecommunication segment generated the highest revenue in 2019.
Competitive Analysis
The key players profiled in the cable management market include Eaton, Chatsworth Products, ABB Group, Schneider Electric, Legrand, Atkore International, Leviton Manufacturing Co., Inc, Panduit, Nexans, Prysmian Group, and among others. These key players have adopted strategies, such as product portfolio expansion, mergers & acquisitions, agreements, geographical expansion, and collaborations, to enhance their market penetration.
Cable Management Market

---
By Geography
Asia-Pacific region would exhibit the highest CAGR of 9.5% during 2020-2027
Key Benefits for Stakeholders 
The study provides an in-depth analysis of the global cable management market forecast along with the current & future trends to elucidate the imminent investment pockets.

Information about key drivers, restraints, and opportunities and their impact analysis on the global cable management market size is provided in the report.

Porter's five forces analysis illustrates the potency of the buyers and suppliers operating in the industry.

The quantitative analysis of the market from 2019 to 2027 is provided to determine the market potential.
 Cable Management Market Report Highlights
Aspects
Details
By Type

Cable Trays
Cable Raceways
Cable conduits
Cable connectors and glands
Cable Carriers
Cable lugs
Cable junction box
Others

By End User

IT & Telecommunication
Construction
Healthcare
Energy
Manufacturing & automation industry
Marine industry
Mining Industry
Others

By Region

North America (U.S., Canada, Mexico)
Europe (UK, Germany, France, Rest of Europe)
Asia-Pacific (China, Japan, India, Rest of Asia-Pacific)
LAMEA (Latin America, Middle East, Africa)

Key Market Players
Atkore International, ABB, Chatsworth Products, Eaton, LEGRAND, LLC., Leviton Manufacturing Co., Inc., PANDUIT, Nexan, PRYSMIAN GROUP, SCHNEIDER ELECTRIC