Caffeine Market Research, 2031
The global caffeine market size was valued at $715.2 million in 2021 and is projected to reach $1.2 billion by 2031, growing at a CAGR of 5.2% from 2022 to 2031.
The supply chain breakdown has made it even more difficult for people to consume food and beverages outside the home. Although the out-of-house consumption of food & beverages witnessed a standstill, the at-home consumption of food has significantly increased, thereby observing a significant share in the global food & beverages market.
The global caffeine industry is impacted profoundly by the outbreak of the coronavirus. The outbreak was first witnessed in China resulting in a lockdown and the ceasing of production activities across the country. The demand for caffeine is expected to slightly taper across the world, owing to supply chain disruptions and the implementation of stringent restrictions to follow social distancing & consistent lockdowns across the globe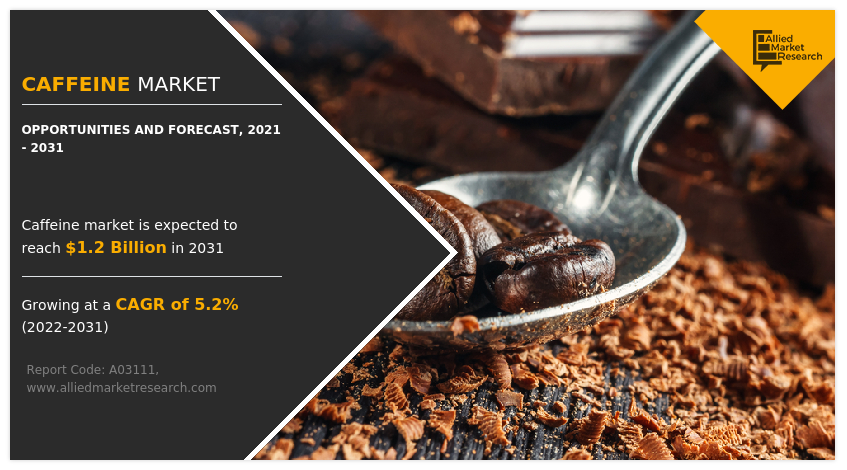 Caffeine is the most widely consumed psychoactive drug that acts as a stimulant for the central nervous system (CNC). Caffeine is white crystalline purine, mostly methylxanthine alkaloid with a bitter taste. It is a naturally occurring active compound present in coffee beans, tea leaves, cocoa beans, guarana, and other plant species.
The global caffeine market is projected to witness significant growth during the forecast period, owing to a decrease in its costs, an increase in investment & product approval by regulatory authorities, and an increase in its demand for the pharmaceutical and nutraceutical industry. In addition, developed economies have discovered new growth opportunities by shifting their focus to natural caffeine. Conversely, Asia-Pacific is expected to witness increased demand for synthetic caffeine during the forecast period.
Caffeine is widely utilized in the nutraceutical industry as an active ingredient that helps to stimulate different body functions. Caffeine is utilized as an ingredient in several supplements, including dietary supplements and health supplements which include pre-workout powders, protein supplements, pills, and others. Caffeine has become popular over the years as a supplement for weight loss and improved athletic performance. Caffeine supplement contains an adequate amount of caffeine which help to fulfill the requirement of nutritional requirement of the body without consuming large quantities of tea or coffee. nutraceutical industry held a significant caffeine market share. Caffeine is also used in combination with other chemicals for the production of health supplements. Some of the combinations include caffeine citrate, decaffeinate malate, caffeine pterostilbene, and others, which are used for medicinal purposes and supplementation. Certain products such as energy bars and caffeinated chewing gum also contain caffeine as the active ingredient. As such, the growing popularity of caffeine as a health supplement is expected to propel the market growth of the caffeine market.
The demand for functional food and beverages is on the rise in most parts of the world owing to their health benefits. Functional beverages categorize into non-alcoholic beverages, with ingredients such as herbs, caffeine, vitamins, minerals, amino acids, and additional raw fruit or vegetables. Energy drinks, sports drinks, and nutraceutical drinks account for the major growth of functional beverages. Major manufacturers of the food industry thus follow the growth in consumer demand for caffeine in their food & beverages. Owing to this, primary grocers have replaced different beverage products with caffeinated drinks.
This is mainly due to an increase in the number of people choosing active lifestyles and being involved in some kind of sports or physical activity.  The caffeine market demand for caffeinated beverages is increasing in developing countries such as India and China, which is expected to propel the growth of the caffeine market in the Asia-Pacific region.
With the rise in the number of people suffering from food allergies, it has become imperative for food and beverage manufacturers to produce products using allergen-free ingredients. An increase in the number of allergic conditions, owing to artificial synthetic caffeine and other additives generates demand for natural ingredients. Synthetic caffeine can cause hives, itching, red bumps, swelling of the lips and tongue, and an itchy mouth, lips, and tongue. Demand for allergen-free food solutions has gained momentum, especially in developed regions such as the U.S. and Europe. Moreover, an increase in health consciousness among consumers has led to rising demand for allergen-free ingredients such as natural caffeine, thereby boosting the growth during the caffeine market forecast. Furthermore, ingredients sourced from plants require no allergen labeling and are suitable for all animal-friendly and vegan claims. Thus, these factors boost the demand for natural caffeine, thereby augmenting the growth of the market.
Most sports persons and athletes prefer consuming the energy drink, as it gives them an extra boost in energy, aids in sleep deprivation, maintains alertness, promotes wakefulness, and provides cognitive & mood enhancement. In addition, energy drinks and supplements are used by athletes to enhance the effects of alcohol using the central nervous stimulation of energy supplements to counteract the depressant effects of alcohol. Athletes consume such drinks to replenish lost energy after training in a competition. Moreover, these drinks provide energy and fluids to the body to reduce fatigue and improve performance.
The key players operating in this market such as Red Bull, and Monster Beverages Corporation, mostly target sports persons and athletes, as they consume energy drinks and supplements on a regular basis. Furthermore, aggressive marketing of energy supplements and the association of brands with sporting events & athletes have led to increased consumption of energy supplements by many athletes before the competition to enhance their performance. The increase in the consumption of energy drinks is expected to propel the growth of the caffeine industry in the upcoming years.
The regulations associated with caffeine are related to various ingredients used in the process, food hygiene labeling & packaging, health claims, and others. For instance, according to the Food and Drug Administration (FDA) regulations on menu labeling, the label must have information, such as nutrition facts, ingredients used, the common name of the products, name & address of manufacturers, and others, for food products that are sold in various supermarkets, retail stores, and online stores. Therefore, these regulations regarding various ingredients and the quality of ingredients used in the products are expected to hamper the market growth.
According to the market analysis, the global caffeine market is segmented into type, application, and region. Based on type, the market is divided into synthesized caffeine and natural caffeine. By application, the market is divided into food, beverages, pharmaceutical, cosmetics and personal care, and nutraceutical. Region-wise, the market is analyzed across North America (the U.S., Canada, and Mexico), Europe (Germany, France, Italy, Spain, UK, Russia, and rest of Europe), Asia-Pacific (China, Japan, India, Australia, South Korea, Indonesia, Thailand, and rest of Asia-Pacific), and LAMEA (Brazil, South Africa, Saudi Arabia, UAE, Argentina, and rest of LAMEA).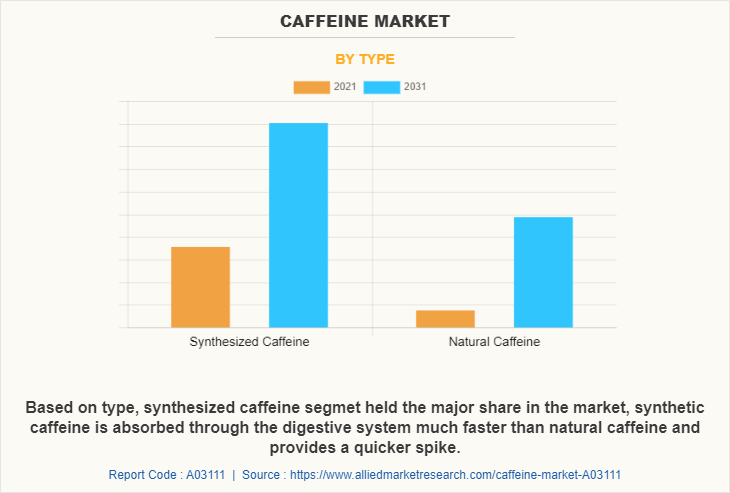 Synthesized caffeine accounted for more than 59% of the caffeine market share, in terms of revenue, in 2021 as it is being widely consumed & popular among consumers. Synthetic caffeine is derived from chemicals and other synthetic substances. The two main synthetic substances used to make synthetic caffeine are urea and cyanoacetic acid. The major sectors where synthetic caffeine is used in food and beverage, cosmetics, nutritional supplements, and other end-use industries. The manufacturers offer different grades of synthetic caffeine such as pharmaceutical grade, food grade, and others. Synthetic caffeine is absorbed through the digestive system much faster than natural caffeine and provides a quicker spike. The growing trend of caffeinated beverages has a positive impact on the caffeine market growth. The increasing demand for energy drinks, soda, and other caffeinated products is expected to propel the growth of synthesized caffeine during the forecast period.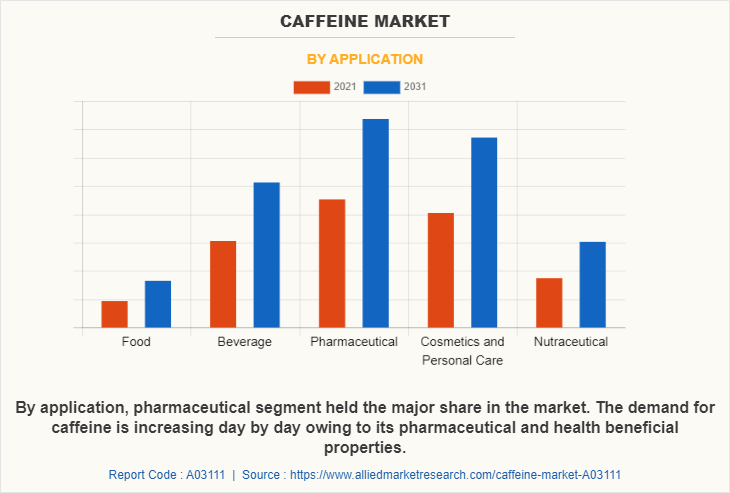 By application, the caffeine market is categorized into food, beverage, pharmaceutical, cosmetics & personal care, and nutraceutical. The pharmaceutical segment led the market and accounted for 31.7% of the market share in 2021 and is expected to maintain its dominance during the forecast period. Caffeine has a variety of applications in pharmaceutical products. Caffeine is used to treat various headache conditions, respiratory depression in neonates, postprandial hypotension, and obesity, and to enhance seizure duration in electroconvulsive therapy. It is also used in over-the-counter (OTC) medicines to treat tiredness and drowsiness and to improve the effect of some pain relievers. It belongs to a group of medicines called central nervous system (CNS) stimulants. The demand for caffeine is increasing day by day owing to its pharmaceutical and health-beneficial properties. Nowadays, most people are suffering from mood disorders depression, dysthymia (dysthymic disorder), and bipolar disorder, and the demand for psychoactive stimulant drugs is increasing in different countries. The increasing demand for psychoactive stimulant drugs is expected to propel the growth of the caffeine market in the upcoming years.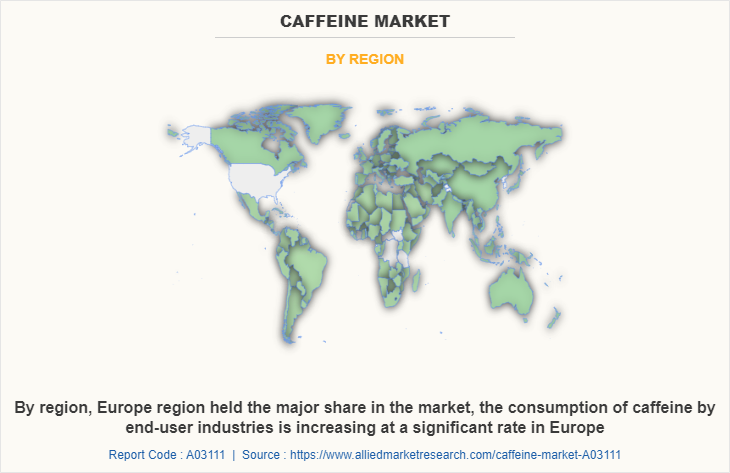 Region-wise, Europe was the largest market in 2021 and had the highest market share of 31.2%. The consumption of caffeine by end-user industries is increasing at a significant rate in Europe, owing to a rise in awareness regarding the health benefits of caffeine among consumers. Europe operates as a single market with 28 countries and is tagged as the major trading power and held a major share of Europe caffeine market size. According to surveys covered by EFSA's Food Consumption Database, coffee was the predominant source of caffeine for adults, contributing between 40% and 94% of total intake. In Ireland and the UK, tea is the main source, contributing 59% and 57% of total caffeine intake respectively. In most countries, chocolate (Including cocoa drinks) was the predominant source of caffeine for children aged 3 to 10 years, followed by tea and cola drinks. Furthermore, an increase in product diversification in the category of food & beverages and the development of natural caffeine are expected to propel the demand for caffeine in the upcoming years.
The players in the caffeine market have adopted acquisition, business expansion, partnership, collaboration, and product launch as their key development strategies to increase profitability and improve their position in the caffeine market.
Some of the key players profiled in the caffeine market analysis include Aarti Industries Limited, BASF SE, Caesar & Loretz GmbH, CSPC Pharmaceutical Group Limited., Jilin Province Synthetic Pharmaceutical Co., Ltd., JoinTown Pharmaceutical Group Co., Ltd., Ravago Group, Shandong Xinhua Pharmaceutical Co., Ltd., Spectrum Laboratory Products, Inc., and Taj Pharma Group
Key Benefits For Stakeholders
This report provides a quantitative analysis of the market segments, current trends, estimations, and dynamics of the caffeine market analysis from 2021 to 2031 to identify the prevailing caffeine market opportunities.
The market research is offered along with information related to key drivers, restraints, and opportunities.
Porter's five forces analysis highlights the potency of buyers and suppliers to enable stakeholders make profit-oriented business decisions and strengthen their supplier-buyer network.
In-depth analysis of the caffeine market segmentation assists to determine the prevailing market opportunities.
Major countries in each region are mapped according to their revenue contribution to the global market.
Market player positioning facilitates benchmarking and provides a clear understanding of the present position of the market players.
The report includes the analysis of the regional as well as global caffeine market trends, key players, market segments, application areas, and market growth strategies.
 Caffeine Market Report Highlights
Aspects
Details
Market Size By 2031
USD 1.2 billion
Growth Rate
CAGR of 5.2%
Forecast period
2021 - 2031
Report Pages
210
By Application

Food
Beverage
Pharmaceutical
Cosmetics and Personal Care
Nutraceutical

By Type

Synthesized Caffeine
Natural Caffeine

By Region

North America (U.S., Canada, Mexico)
Europe (Germany, France, Italy, Spain, UK, Russia, Rest of Europe)
Asia-Pacific (China, Japan, India, Australia, South Korea, Indonesia, Thailand, Rest of Asia-Pacific)
LAMEA (Brazil, South Africa, Saudi Arabia, UAE, Argentina, Rest of LAMEA)

Key Market Players
Aarti Industries Limited, Spectrum Laboratory Products, Inc., CSPC Pharmaceutical Group Limited., Caesar & Loretz GmbH, Taj Pharma Group, Shandong Xinhua Pharmaceutical Co., Ltd., JoinTown Pharmaceutical Group Co., Ltd., Jilin Province Synthetic Pharmaceutical Co., Ltd., Ravago Group, BASF SE