Cashew Milk Market Research, 2032
The global cashew milk market was valued at $61.9 million in 2022, and is projected to reach $154.9 million by 2032, growing at a CAGR of 10.1% from 2023 to 2032. Cashew milk provides a range of nutritional advantages and is specifically popular amongst people who are lactose intolerant or prefer a plant-based lifestyle. One of the major benefits of cashew milk is its absence of lactose, making it an appropriate choice for those with lactose intolerance or dairy allergies. Unlike dairy milk, cashew milk does not contain cholesterol and is naturally low in saturated fats. Instead, it is rich in heart-healthy unsaturated fats, especially oleic acid, which is also found in olive oil. This composition makes cashew milk a favorable alternative for people concerned about maintaining cardiovascular health and lowering the danger of stroke and coronary heart disease. Cashew milk is additionally an excellent source of vital nutrients. It consists of significant amounts of B vitamins, such as thiamine, riboflavin, and niacin, which play crucial roles in energy production and preserving overall well-being. In addition, cashew milk offers minerals like copper and magnesium, which contribute to a variety of bodily functions such as enzyme activity, bone health, and nerve function.
The COVID-19 pandemic has contributed to an overall rise in the demand for plant-based food & beverages. The pandemic of COVID-19 has accelerated the shift toward better lifestyles and plant-based diets. People are becoming more health-conscious and seeking alternatives to traditional dairy products, which has increased demand for plant-based milk, especially cashew milk. This rise in demand is expected to benefit the cashew milk market in the post-pandemic phase as well.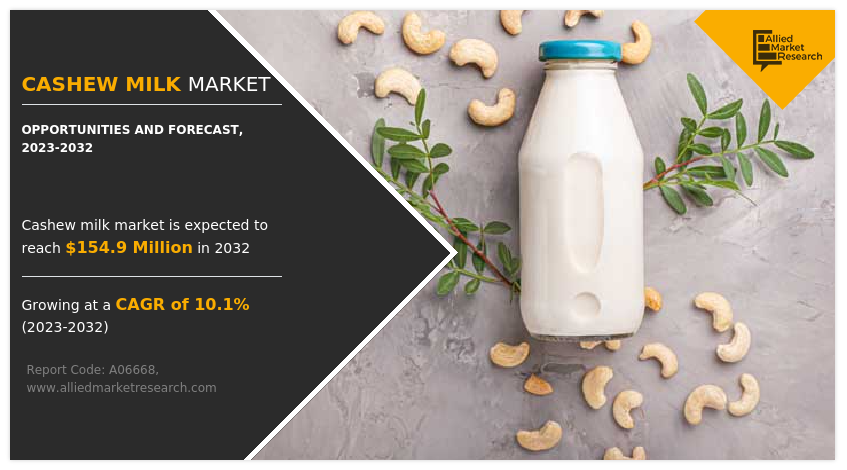 Plant-based or non-dairy milk substitutes are a rapidly developing segment in the emerging food product development category of functional and specialty beverages around the world. Many people throughout the world have cow milk allergies, calorie concerns, lactose intolerance, and an increasing preference for vegan diets, which has encouraged consumers to pick milk alternatives such as cashew milk, almond milk, soy milk, and others. Plant-based milk substitute demand is increasing globally because it can provide a cost-effective option to low-income groups in developing countries and locations where cow's milk availability is limited. Plant-based dairy has recently gained popularity among people, who are switching towards vegan foods. The rise of plant-based dairy replacements may be linked to a variety of factors, which includes lactose intolerance, sensitivity to milk protein, hypercholesterolemia, and calorie consumption. Plant-based milk may be obtained from various sources such as oats, almonds, cashew, coconut, and rice, which have proper sources of lipids, proteins, and oils. As a result of its dietary, physiological, and sensory characteristics, plant-based cashew milk is often used as a substitute for animal milk. Also, cashew milk incorporates a considerable quantity of protein, important fatty acids, carbohydrates, unsaturated fats, and minerals. Cashew milk is gaining popularity due to its numerous health benefits. These benefits include antioxidant activity, diabetes management, promoting bone health, reducing blood cholesterol levels, and helping to prevent high blood pressure. These factors are anticipated to boost the cashew milk market demand.
However, the cashew business relies on a harsh production process that includes forced labor. According to the International Workers Organization and Human Rights Watch, rising demand for the nut has compelled manufacturers to use cheap workers, including many youngsters, in order to keep prices down. Cashews are shelled by hand, which can result in significant hand and finger injuries. During the deshelling process, the nuts create a caustic liquid that burns the skin. Although bandages and rubber gloves can assist protect the hands and alkaline pot ash can neutralize the acid, these materials are not always available or workers need to pay for them and cannot afford them in certain circumstances. These are the major factors anticipated to hamper the cashew milk market growth in the upcoming years.
The market for cashew milk has a sizable opportunity due to increasing demand for plant-based milk alternatives. As consumers become more health-conscious and environmentally aware, they are actively seeking out plant-based alternatives to dairy milk. Cashew milk, being a natural and nutritious option, has the potential to capture a significant share of this expanding market. Cashew milk is known for its rich nutritional profile. It is low in calories, contains healthy fats, and is a good source of vitamins, minerals, and antioxidants. These qualities make cashew milk an attractive choice for individuals looking for a nutritious milk alternative. Cashew milk offers a creamy texture and a subtle nutty flavor, making it a versatile ingredient for various applications. The unique sensory experience of cashew milk can contribute to its growing popularity. Cashew milk is naturally free from lactose, making it suitable for individuals with lactose intolerance or milk allergies. As the number of people with these dietary restrictions increases, the demand for non-dairy alternatives like cashew milk is likely to rise. Cashew milk can be used in a wide range of culinary applications, including cooking, baking, and as a base for sauces and soups. Its creamy texture and mild flavor make it an excellent substitute for dairy milk in various recipes, catering to the needs of vegan and lactose-intolerant consumers. These are the major factors to create excellent opportunities for market players during the forecast period.
The cashew milk market forecast key players profiled in this report include WhiteWave Foods Company LLC, Blue Diamond Growers, Edward & Sons Trading Co., Earth's Own Food Company Inc., Nutty life, LLC., Cashew Dream, Danone SA, Alpro, Proveg International, and TheGentleNut. Investment and agreement are common strategies followed by major market players. For instance, in September 2019, Z Natural Foods Company introduced its new product –cashew milk powder. This initiative stood as a break from conventional milk to enable consumers to use mild cashew-flavored milk. The powder is convenient to use and mess-free.
The cashew milk market is segmented on the basis of product type, distribution channel, and region. By product type, the market is divided into flavored and plain. By distribution channel, the market is classified into online, supermarket, and convenience stores. By region, the market is analyzed across North America, Europe, Asia-Pacific, and LAMEA.
The cashew milk market is segmented into Product Type and Distribution Channel.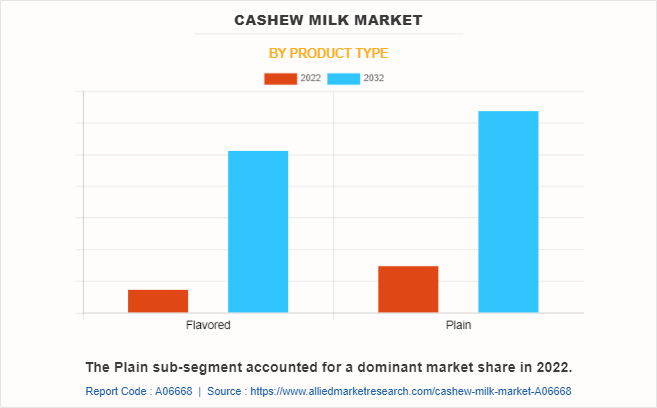 By product type, the plain sub-segment dominated the market in 2022. Increasing consumer awareness about the health benefits of plant-based milk alternatives has driven the demand for plain cashew milk. Plain cashew milk is often considered as a healthier option due to its natural and minimally processed ingredients. Plain cashew milk aligns with the clean label trend as it is typically made with only a few ingredients, such as cashews, water, and sometimes a natural sweetener like dates or maple syrup. The rising adoption of dairy-free and vegan diets has significantly contributed to the demand for plant-based milk alternatives, including plain cashew milk. Plain cashew milk offers a suitable substitute for individuals who are lactose intolerant, have milk allergies, or follow a vegan lifestyle. The plain segment caters to consumers who prefer the natural taste and texture of cashew milk without added flavors or sweeteners. Plain cashew milk has gained popularity among consumers who value its versatility in various culinary applications. It can be used as a base for smoothies, coffee, tea, cereal, baking, and cooking, making it a desirable ingredient for both sweet and savory recipes. These are predicted to be the major factors affecting the cashew milk market size during the forecast period.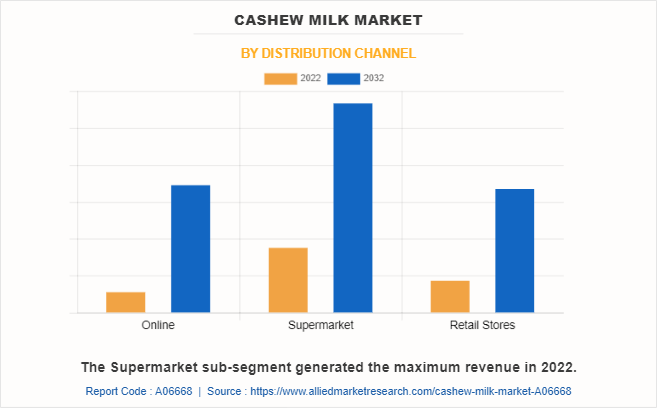 By distribution channel, the supermarket sub-segment dominated the global cashew milk market share in 2022. Supermarkets play a crucial role in making cashew milk widely available to consumers. They have the infrastructure and distribution networks to ensure that cashew milk is easily accessible, making it convenient for buyers to purchase this product during their regular grocery trips. Supermarkets often engage in marketing and promotional activities to highlight the benefits and versatility of products. This includes in-store promotions, product demonstrations, and collaborations with manufacturers or influencers, which help to create awareness and drive consumer interest. All these factors are projected to contribute to the segment growth in the upcoming years.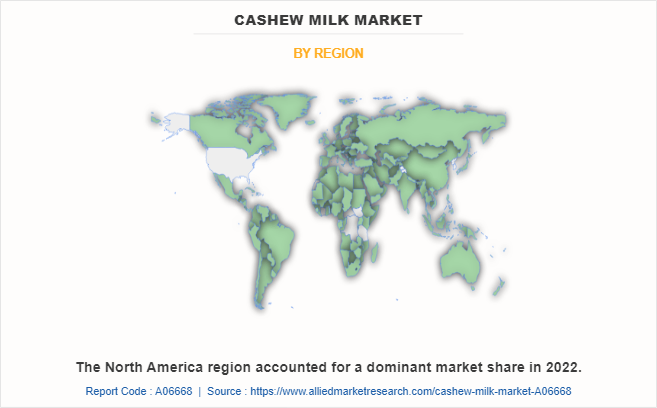 By region, North America dominated the global market in 2022. Consumers in North America are becoming more health-conscious and are seeking alternatives to dairy products. Cashew milk, which is plant-based and lactose-free, is considered a healthier option compared to traditional dairy milk. The demand for plant-based milk alternatives, including cashew milk, has been rising as consumers look for products that align with their dietary preferences and health goals. The popularity of vegan and dairy-free diets is on the rise in North America. Many people are choosing to follow these diets due to ethical, environmental, or health reasons. Cashew milk, being a non-dairy alternative, has gained traction among individuals following these dietary choices in the region. Cashew milk offers a wide range of flavors and varieties, appealing to consumers' preferences. Manufacturers are introducing flavored cashew milk options, such as vanilla, chocolate, and unsweetened varieties, catering to diverse taste preferences. Companies operating in the cashew milk market in North America are investing in product innovation and effective marketing strategies. They are developing new formulations, improving taste and texture, and introducing innovative packaging to enhance consumer appeal. In addition, companies in the region are actively promoting the benefits of cashew milk through social media campaigns, influencer marketing, and partnerships with health and wellness organizations.
Impact of COVID-19 on the Global Cashew Milk Industry
The COVID-19 pandemic has had a significant impact on the cashew milk market. The pandemic led to a rise in demand for plant-based products as people became more health-conscious and sought alternatives to traditional dairy. This benefited the cashew milk market, as consumers sought out plant-based milk options.
COVID-19 caused disruptions in global supply chains, affecting various industries, including food production and distribution. These disruptions impacted the availability of cashew milk products, potentially leading to supply shortages or production challenges. This decline in the foodservice sector had a negative impact on the demand for cashew milk products typically used in commercial food preparation.

With lockdowns and restrictions in place, many people shifted to online shopping and home delivery services. This change in consumer behavior influenced the purchasing habits of cashew milk consumers, with increased dependence on e-commerce platforms and direct-to-consumer models. Therefore, many cashew milk brands and retailers expanded their online presence to meet the increased demand for home-delivered plant-based products.
Key Benefits For Stakeholders
This report provides a quantitative analysis of the market segments, current trends, estimations, and dynamics of the cashew milk market analysis from 2022 to 2032 to identify the prevailing cashew milk market opportunities.
The market research is offered along with information related to key drivers, restraints, and opportunities.
Porter's five forces analysis highlights the potency of buyers and suppliers to enable stakeholders make profit-oriented business decisions and strengthen their supplier-buyer network.
In-depth analysis of the cashew milk market segmentation assists to determine the prevailing market opportunities.
Major countries in each region are mapped according to their revenue contribution to the global market.
Market player positioning facilitates benchmarking and provides a clear understanding of the present position of the market players.
The report includes the analysis of the regional as well as global cashew milk market trends, key players, market segments, application areas, and market growth strategies.
 Cashew Milk Market Report Highlights
Aspects
Details
Market Size By 2032
USD 154.9 million
Growth Rate
CAGR of 10.1%
Forecast period
2022 - 2032
Report Pages
296
By Product Type
By Distribution Channel

Online
Supermarket
Retail Stores

By Region

North America (U.S., Canada, Mexico)
Europe (Germany, UK, France, Spain, Italy, Rest of Europe)
Asia-Pacific (China, Japan, India, South Korea, Australia, Rest of Asia-Pacific)
LAMEA (Brazil, UAE, Saudi Arabia, South Africa, Rest of LAMEA)

Key Market Players
Alpro, Nutty life, LLC., earth's own food company inc., Blue Diamond Growers, proveg international, Edward & Sons Trading Co., TheGentleNut, Danone SA, WhiteWave Foods Company, LLC, Cashew Dream