The global cat food market size was valued at $27,789.5 million in 2020, and is projected to reach $41,924.6 million by 2030, registering a CAGR of 4.4% from 2021 to 2030.
Some of the major factors driving the global cat food market growth include increase in per capita disposable income, rise in the trend of nuclear families, and rapid increase in humanization. Pet parents prefer to feed packaged nutritional food to their pets to provide adequate nutrition.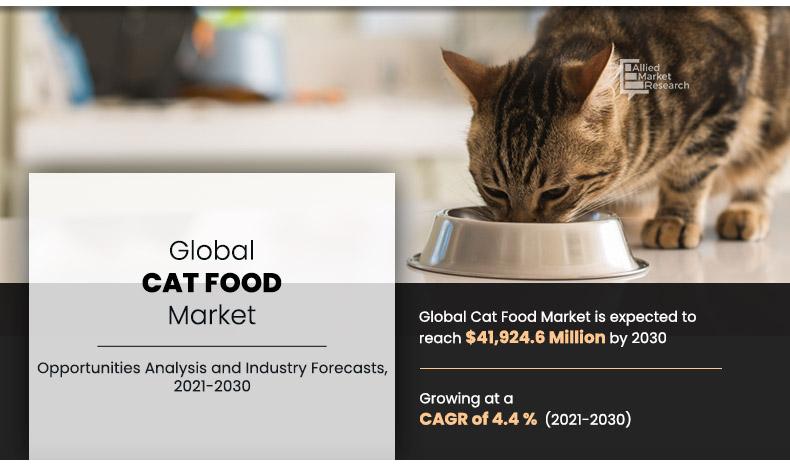 The majority of people consider their pets to be family members, and cats account for the majority of pet ownership after dogs. Smaller pets are best suited to the customers' lifestyle in many areas where people live in small apartments. The majority of the population chooses not to have children, and there has been a trend toward using pets as a substitute, resulting in a pampered pet industry.
Increase in number of old-age couples and dual income and no kid families, and rise in disposable income are the key factors driving cat adoption globally. There has been a significant growth in separation rate among few people which is also a major factor driving the demand for cat food in the country.
Due to ongoing concerns about pet health, consumers have increased their demand for transparency when purchasing cat food products. As a result, the Food and Drug Administration (FDA) ensures that the ingredients used in cat foods are listed on labels based on weight. For this, continuous research and development is being carried out on a large scale.
The COVID-19 pandemic had an impact on the global cat food market, both positively and negatively, due to supply chain disruptions. However, the removal of lockdowns is expected to expand the market in the coming years.
The significant impacting factors for the global cat food market include rise in trend of nuclear families, rapid humanization of pets, increase in awareness about pet health, regulatory constraints for food manufacturing, and increase in pet obesity. The above-mentioned factors collectively create scenarios that can drive or restraint the cat food market growth. Each of these factors are poised to have definitive impact on the market during the forecast period.
According to cat food market analysis, the market is segmented on the basis of nature, food type, sales channel, and region. By nature, the market is fragmented into organic and conventional. In 2020, the conventional segment accounted for the largest share in the global market, owing to the conventionally produced cat food products serving as a strong ingredient in improving health.
Cat Food Market

---
By Seat Type
Organic segment is expected to grow at highest CAGR of 5.0% during the forecast period
By food type, the market is segregated into dry food, wet food, treats & snacks, and others. In 2020, the wet food segment accounted for the largest share in the global market. This is because these products have various benefits, which include minimizing intestinal problems, urinary tract issues and other digestion problems.  
By sales channel, the market is categorized into supermarkets & hypermarkets, specialized pet shops, online sales channel, and others. In 2020, the specialized pet shops segment accounted for the largest share in the global market, owing to the availability of all kinds of pet food, from dry food to nutritional food and diet formula, which caters to the needs of pet parents.
Cat Food Market

---
By Food Type
Treats and Snacks segment is expected to grow at highest CAGR of 5.0% during the forecast period.
By region, the market is analyzed across North America, Europe, Asia-Pacific, and LAMEA. The North American cat food market had a dominant cat food market share in the world in 2020, and is expected to maintain its dominance during the cat food market forecast period.
Increase in retail sales penetration has aided the growth of the cat food market. Similarly, the availability of cat food on e-commerce platforms has resulted in consumers' ability to purchase goods without any physical constraints. Not only does e-commerce provide customers with convenience and comfort, but it also allows them to do a deep dive for product information, price and benefit comparison, and comprehensive value evaluation before committing to a purchase.
Cat Food Market

---
By Sales Channel
Online sales channel segment is expected to grow at highest CAGR of 4.9% during the forecast period.
The prominent cat food industry players include Affinity Petcare SA, Evanger's Dog and Cat Food Company Inc., Fromm Family Foods LLC, Hill's Pet Nutrition, Mars Incorporated, Nestle Purina, Nutro Products Inc., Party Animal Inc., Rollover Premium Pet Food Ltd., and The J.M. Smucker Company.
The key market players have adopted different kind of marketing strategies to expand their business in new geographic locations. Similarly, product launch is the most important growth strategy employed by major market players, followed by collaboration and agreement, expansion, and acquisition. Several companies have developed innovative products to diversify their product offerings. Product launches are used by a variety of companies to broaden their market reach and serve global customers.
Cat Food Market

---
By Regions
Asia-Pacific dominates the market and is expected to grow at highest CAGR of 4.9% during the forecast period.
Key Benefits For Stakeholders
This report provides a quantitative analysis of current cat food market trends, estimations, and dynamics of the global cat food market from 2021 to 2030 to identify the prevailing cat food market opportunities.
Porter's five forces analysis highlights the potency of the buyers and suppliers to enable stakeholders to make profit-oriented business decisions and strengthen their supplier–buyer network.
In-depth analysis of the market segmentation assists to determine the prevailing market opportunities.
Major countries in each region are mapped according to their revenue contribution to the global industry. The market player positioning segment facilitates benchmarking while providing a clear understanding of the present position of the key market players.
The report includes analyses of the regional as well as global market, key players, market segments, application areas, and growth strategies.
 Cat Food Market Report Highlights
Aspects
Details
By Nature
By Food Type

Dry Food
Wet Food
Treats & Snacks
Others

By Sales Channel

Supermarkets & Hypermarkets
Specialized Pet Shops
Online Sales Channel
Others

By Region

North America (U.S., Canada, Mexico)
Europe (UK, France, Netherlands, Germany, Turkey, Rest of Europe)
Asia-Pacific (China, Japan, India, South Korea, Australia, Rest of Asia-Pacific)
LAMEA (Brazil, South Africa, UAE, Rest of LAMEA)