The global catamaran market size was valued at $1.6 billion in 2021, and is projected to reach $2.7 billion by 2031, growing at a CAGR of 5.5% from 2022 to 2031.
A catamaran is a type of watercraft that features two parallel hulls of equal size, typically made of fiberglass, wood, or aluminum, which are joined together by a frame. It is designed for use in various water activities such as sailing, racing, cruising, and fishing. Catamarans can be propelled by sails or engines and they are known for their stability, speed, and comfort, making them popular among sailors and water enthusiasts. They come in various sizes, from small recreational boats to large commercial vessels.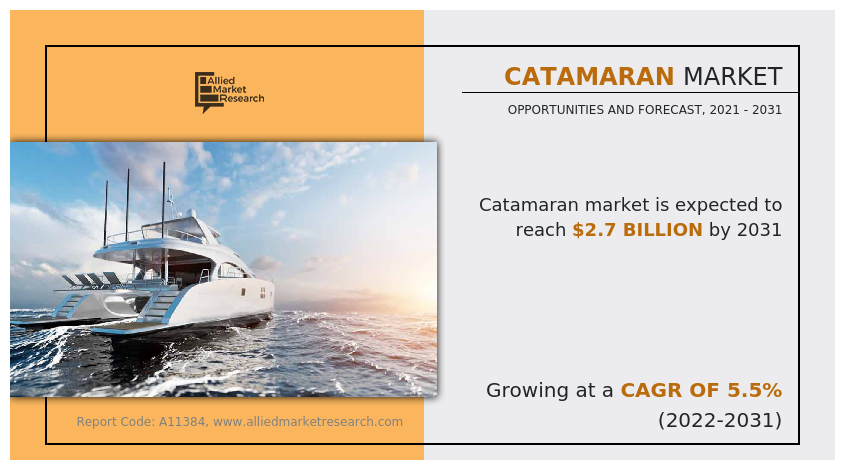 Growth in demand for leisure and recreational activities
The catamaran market is driven by the increasing demand for leisure and recreational activities such as yacht chartering, island hopping, and cruising. The surge in popularity of boating as a leisure activity fuels the demand for catamarans, as they offer more space, comfort, and stability compared to traditional monohull boats. The demand for leisure and recreational activities has been steadily growing in recent years, driven by factors such as increase in disposable income, change in consumer preferences, and a growth in focus on health & wellness. One of the fastest-growing segments within the leisure industry is outdoor recreation, which includes activities such as camping, hiking, and water sports.
For instance, according to the Outdoor Industry Association, outdoor recreation in the U.S. generated $459.8 billion in consumer spending in 2019, supporting 5.2 million jobs and contributing $788 billion to the nation's gross output. Therefore, the growing demand for leisure and recreational activities are projected to drive the market growth during the forecast period.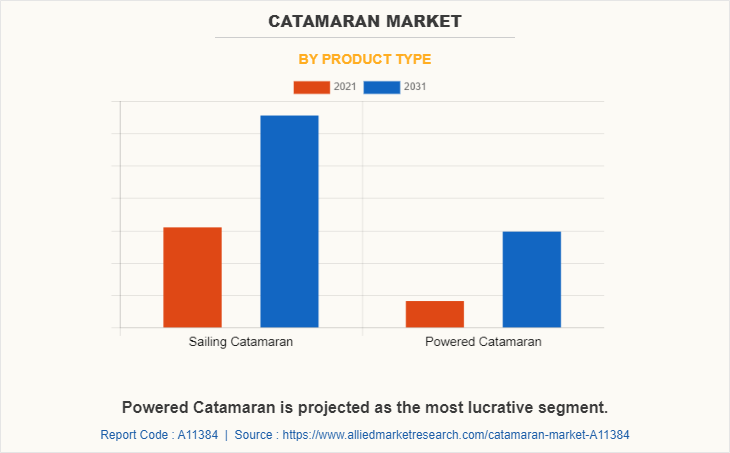 Advantages of catamarans over monohull boats
Catamarans have several advantages over monohull boats that have contributed to their increase in popularity and market growth. Primarily, catamarans offer greater stability and safety compared to monohulls, thanks to their wider beam and twin-hull design. This makes them less prone to capsizing, even in rough waters. In addition, catamarans are faster and more efficient than monohulls due to their reduced drag and increased buoyancy. This means they can travel further and faster on less fuel, making them more cost-effective and environmentally friendly.
The comfort level of catamarans is also a key advantage. The two hulls provide a stable platform that minimizes rocking and rolling, making them ideal for those who suffer from seasickness. The spacious decks, cabins, and saloons also provide plenty of room for passengers to move around and relax, making them perfect for extended trips and liveaboard use.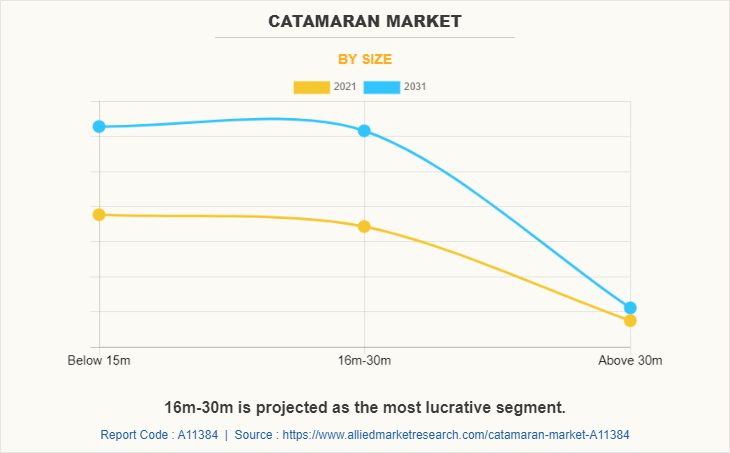 Several companies have developed innovative catamaran designs and technologies to meet the growing demand for these vessels. For instance, Lagoon, Fountaine Pajot, and Leopard Catamarans are leading manufacturers of luxury catamarans, while Sunreef Yachts specialize in custom-built catamarans. Other companies, such as Gunboat and HH Catamarans, focus on high-performance catamarans for racing and offshore sailing. Overall, the advantages of catamarans over monohulls have helped to drive market growth and innovation in this sector.
High initial costs
One of the main challenges faced by the catamarans market is the high initial costs associated with these vessels. Catamarans are typically larger and more complex than monohull boats, which means they require more materials and labor to build. In addition, the specialized design and features of catamarans can also add to their costs. This can make catamarans a more expensive investment compared to traditional boats, which can be a barrier for some potential buyers.
For instance, a basic 40-foot catamaran can cost around $250,000 to $500,000, while larger models can cost well over $1 million. This cost can be even higher for custom-built or luxury catamarans. As a result, many people may opt for a more affordable monohull boat instead of a catamaran. Moreover, the high initial cost of catamarans is anticipated to hamper the market growth during the forecast period.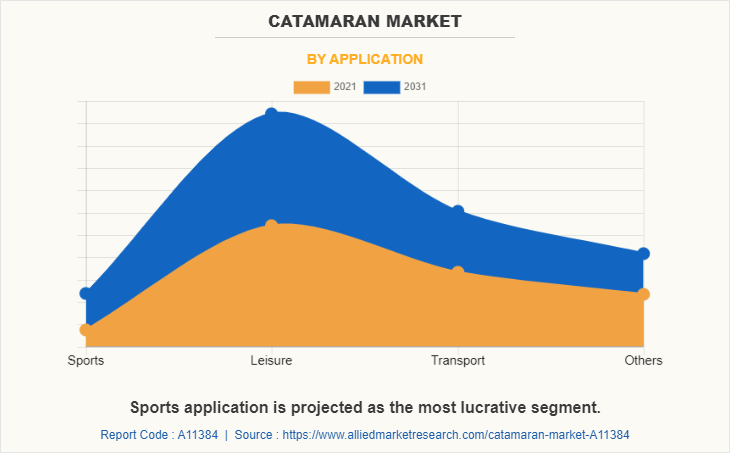 Technological advancements in Catamarans
One area of advancement is in propulsion systems. Some catamaran manufacturers have developed hybrid and electric propulsion systems that are more efficient and environmentally friendly than traditional diesel engines. For instance, Sunreef Yachts offers a range of electric and hybrid catamarans that can run solely on electric power or a combination of electric and diesel power, depending on the conditions.
Another area of advancement is in design and materials. Catamaran manufacturers are exploring new materials such as carbon fiber, which is lighter and stronger than traditional fiberglass. This allows for the construction of lighter and more fuel-efficient vessels. In addition, advances in computer-aided design (CAD) software and simulation tools are allowing designers to optimize the hull shape and improve the hydrodynamics of the vessel, resulting in improved speed and fuel efficiency.
Therefore, advancements in navigation and communication technology are making catamarans safer and easier to operate. This includes the integration of satellite navigation systems, radar, and sonar technology to improve situational awareness and collision avoidance, as well as advanced communication systems that allow remote monitoring and control of the vessel. These technological advancements are creating new opportunities for the catamarans market to develop more efficient, high-performance, and technologically advanced vessels.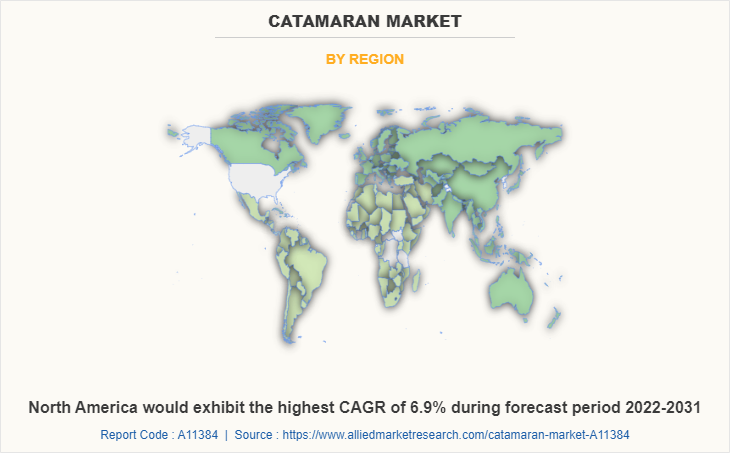 The catamaran market is segmented on the basis of size, application, product type, and region. By size, the market is divided into below 15m, 16m-30m, and above 31m. By application, it is fragmented into sports, leisure, transport, and others. By product type, it is bifurcated into sailing catamaran and power catamaran. By region, it is analyzed across North America, Europe, Asia-Pacific, and LAMEA.
The leading players operating in the catamaran market are Leopard Catamarans, Outremer catamarans, Beneteau/Lagoon, Fountaine Pajot, Catana Catamarans, Nautitech Catamaran, Privilege Catamarans, Antares Catamarans, Gemini Catamarans, and Seawind Cats.
The COVID-19 pandemic had a significant impact on the catamaran industry, with reduced demand, disrupted supply chains, and increased costs affecting manufacturers and operators. However, organizations in the industry have demonstrated resilience by adapting to changing circumstances and exploring new business models, which support the company's growth during the forecast period.
Key Benefits For Stakeholders
This report provides a quantitative analysis of the market segments, current trends, estimations, and dynamics of the catamaran market share analysis from 2021 to 2031 to identify the prevailing catamaran market opportunities.
The market research is offered along with information related to key drivers, restraints, and opportunities.
Porter's five forces analysis highlights the potency of buyers and suppliers to enable stakeholders make profit-oriented business decisions and strengthen their supplier-buyer network.
In-depth analysis of the catamaran market segmentation assists to determine the prevailing market opportunities.
Major countries in each region are mapped according to their revenue contribution to the global market.
Market player positioning facilitates benchmarking and provides a clear understanding of the present position of the market players.
The report includes the analysis of the regional as well as global catamaran market trends, key players, market segments, application areas, and market growth strategies.
 Catamaran Market Report Highlights
Aspects
Details
Market Size By 2031
USD 2.7 billion
Growth Rate
CAGR of 5.5%
Forecast period
2021 - 2031
Report Pages
330
By Product Type

Sailing Catamaran
Powered Catamaran

By Size

Below 15m
16m-30m
Above 30m

By Application

Sports
Leisure
Transport
Others

By Region

North America (U.S., Canada, Mexico)
Europe (France, Italy, Netherlands, Germany, Rest of Europe)
Asia-Pacific (China, Australia, Singapore, Japan, Rest of Asia-Pacific)
LAMEA (Latin America, Middle East, Africa)

Key Market Players
CATANAGROUP, Privilege Catamarans America, Grand Large Yachting group, Lagoon Catamarans, Seawind Group Holdings, Pty Ltd, Travelopia, Bavaria Yachtbau GmbH, Gemini Catamarans., Fountaine Pajot, Kinetic Catamarans