The cattle feed market size was valued at $73.5 billion in 2019, and is projected to reach $78.3 billion by 2027, growing at a CAGR of 4.4% from 2021 to 2027.
Animal feed is the food given to domestic animals, especially those in the livestock. Cattle feed is a very important factor in animal agriculture and it contributes to the majority cost of the raising animals. Farmers usually try to reduce cost for this food by supplementing expensive feeds with substitutes, such as food waste like spent grain from beer brewing. Animal wellbeing is one of the prime factors that decide the future of livestock industry. Wellbeing of animals is highly dependent on well balanced nutritional feed. The cattle feed industry is expanding into the market of feed-acidifiers, feed-enzymes, feed-antibiotics, and feed-microbial. The demand  for these trends goes parallel with the increase in consumption of meat protein and increased importance on the quality of the ingredients used in the animal feed.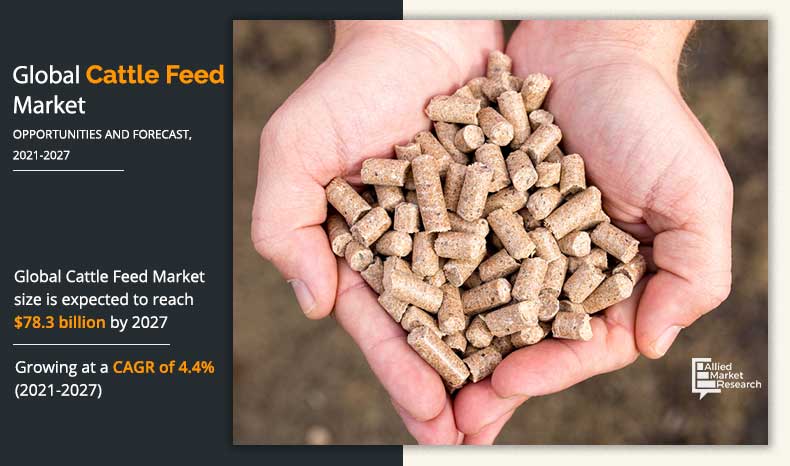 There are typically two types of cattle—beef and dairy. Their feeds are specifically made as beef cattle feed and dairy cattle feed. Globally, beef feed increased by 1% in 2019. The highest growth was seen in the Oceania region at 13%, or 95,000 metric tons. This was primarily caused by droughts in the region, which reduced forages and forced beef producers to rely on finishing their herds in feedlots. Dairy feed estimations for 2019 saw very minimal declines globally. The sale in Latin America and Oceania regions decreased by 3% and 12%, respectively. Argentina's dairy feed is estimated to be down 870,000 metric tons; other countries in Latin America, such as Venezuela and Costa Rica, also saw declines. The dairy industry faced challenges in Oceania, including in New Zealand, where the government has set new, lowered target emissions.
The cattle feed business is experiencing rapid growth as the milk producers have started replacing the traditional cattle feed with more nutritionally balanced compound feed, as they have realized the tangible benefits of nutritional feed in terms of yield improvement. In Asia, the livestock industry is the most crucial part of agricultural development and has been growing at an unprecedented pace in the last few decades. Livestock products contribute for around 40% of the total agricultural output in global sales, and are experiencing growth faster as compared to any other agricultural sub-sector. Due to population growth and increased living standards, rapid growth in consumption of animal products has also forced the livestock industry to adapt and expand to satisfy the expectations of the society by feeding nutritious animal feed to the livestock animals. Hence, this factor proves beneficial for the growth of the cattle feed market. 
Cattle Feed Market

---
By Cattle Type
Dairy segment is expected to dominate the market throughout the forecast period.
Asia-Pacific is known to be the dominant region in the cattle feed market share. Asian countries have witnessed higher rate of traction for dairy products, owing to its increased demand from vegan consumers. Some key macroeconomic factors such as rise in social media usage and surge in per-capita income also play an important role in contributing toward the overall growth of the cattle feed market. However, LAMEA is expected to exhibit significant growth in the future, owing to rise in demand for meat and dairy products in child nutrition. In addition, the region has witnessed considerable surge in number of millennials, who are forefront consumers of new food & meat products. Therefore, rise in millennial population is anticipated to offer remunerative cattle feed market opportunities.
Some key companies profiled in the report include Archer Daniel Midland Company, BASF SE, Beijing Goke Agriculture Machinery Co., Ltd., Cargill, Inc., Charoen Pokphand Foods, J. R. Simplot Company, Kemin Industries, Land O' Lakes Inc., Nutreco NV, and Provita Eurotech Ltd.
Cattle Feed Market

---
By Distribution Channel
Online segment is expected to grow at a highest CAGR of 6.4% during the forecast period.
Covid-19 Impact On Cattle Feed Market
Even though the demand for animal feed has been relatively stable in 2020, the supply has been greatly hit by the coronavirus crisis. To control the spread of the disease, many countries have taken various measures for people, industries, businesses, factories, and even for consumers. Researchers are predicting reduction in use of soybean, corn, and wheat in animal feed. The worldwide consumption of fish and meat has declined drastically. Hence, the demand for Grain and Oilseed (G&O) has reduced considerably as well. Animal feed researchers estimate about 6% decline in soybean, corn, and wheat demand for animal feed in countries such as Vietnam, Thailand, Malaysia, and the Philippines in 2020. Approximately 65% of net annual production of soybean, corn and wheat is consumed in animal feed industry, while the remaining 35% for food consumption. Therefore, even though the home consumption of G&O has increased, it is greatly outweighed by the reduced consumption in animal feed industry. Some of the impacts of
COVID-19 disease can be seen below:
Countries such as Romania have banned the export to Non-EU countries which created severe demand-supply problems in the animal feed industry. Amongst the banned grain exports include soybeans, bakery ware, flour, maize, barley, and wheat
In the Asia-Pacific region, China, a major supplier of soybean and maize has caused disruptions for global feed producers in view of its draconian measures imposed to curb Covid-19 pandemic. 
The supply of containers and vessels has also been affected along with transport of certain micro-ingredients due to China's logistics issues. 
The Indian Government has ordered partial closure of its international ports promoting further disruptions in the animal feed supply chain.
Many economies in Southeast Asia are sustained by migrant workers. In view of stringent lockdown protocols, these migrant workers began returning to their native lands, leaving the distribution, supply chains, and production severely shattered. Hence, major manufacturers in animal feed industry are left with a significantly reduced workforce. 
Cattle Feed Market

---
By Region
Asia-Pacific dominates the market in 2019 and is expected to grow with a CAGR of 5.0% during the forecast period
Key Benefits For Stakeholders
The report provides an extensive analysis of the current and emerging cattle feed market trends and opportunities for the cattle feed market growth.
The report provides detailed qualitative and quantitative Cattle Feed Market analysis of current trends and future estimations that help evaluate the prevailing market opportunities.
A comprehensive analysis of the factors that drive and restrict the growth of the market is provided.
An extensive analysis of the cattle feed market forecast is conducted by following key product positioning and monitoring the top competitors within the market framework.
The report provides extensive qualitative insights on the potential segments or regions exhibiting favorable growth.
 Cattle Feed Market Report Highlights
Aspects
Details
By Cattle Type
By Distribution Channel
By Region

North America (U.S., Canada, Mexico)
Europe (Germany, France, UK, Italy, Rest of Europe)
Asia-Pacific (China, India, Japan, Australia, Rest of Asia-Pacific)
LAMEA (Brazil, Argentina, Africa, Rest of LAMEA)

Key Market Players
ARCHER DANIEL MIDLAND COMPAN, BASF SE, BEIJING GOKE AGRICULTURE MACHINERY CO., LTD, CARGILL, INC., HAROEN POKPHAND FOODS., J. R. SIMPLOT COMPANY., KEMIN INDUSTRIES., LAND O' LAKES INC., NUTRECO NV., PROVITA EUROTECH LTD.