The global chaga mushroom market was valued at $712.6 million in 2021, and is projected to reach $1.4 billion by 2031, growing at a CAGR of 7.2% from 2022 to 2031.
The chaga plant originated in the colder northern regions. In locations like northern Canada, Russia, and the Scandinavian regions of Europe, chaga mushrooms are raised on a particular kind of birch trees. The mushrooms have an amorphous appearance, and you can tell them apart by the tops, which strongly resemble burned charcoal. It takes three to five years for wild chaga to be ready for harvest, and many of the unique chemicals, such as betulin and betulinic acid, are derived from birch trees. None of these significant birch chemicals will be present if no birch trees are involved, as would be the case with a lab-grown process. No melanin, no outer black layer. Not to mention that since lab-grown Chaga has myceliated grain, the finished product will have a lot more grain than actual Chaga canker. Thus, wild chaga has gained more popularity than chaga mushroom grown in artificial environment.
Chaga is a nutritional powerhouse since it is rich with antioxidants, vitamins, and minerals. It has been demonstrated to maintain a robust immune system, offer anti-inflammatory properties, improve heart health, promote excellent digestion, and perhaps even aid in the prevention of cancer. Chaga is thought to include a variety of healthy substances that may have evolved as a result of the plant's defensive mechanisms against the chilly, hostile environment in which it flourishes.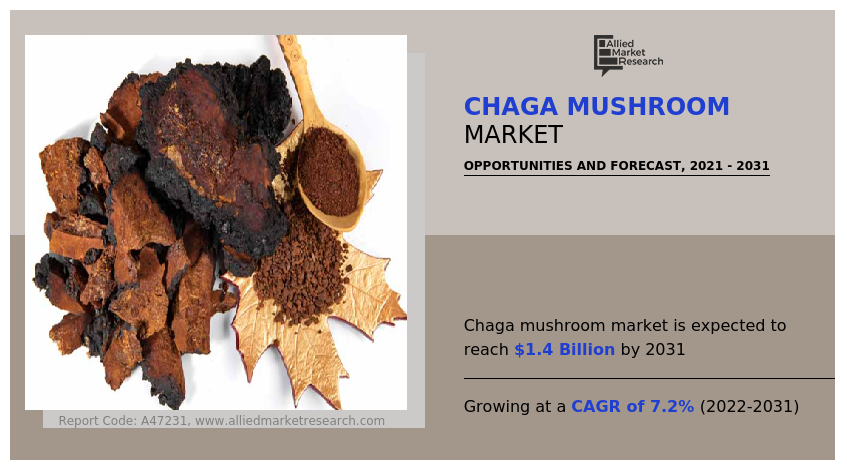 Chaga mushroom has been gaining considerable popularity in various end use industries including food and beverages, dietary supplement, and pharmaceutical industry. Long-term clinical studies and animal experiments have demonstrated that it has anticancer, anti-inflammatory, antiviral, antioxidant, hypoglycemic, and hypolipidemic activity without obvious side-effects due to a variety of chemical components including polysaccharides, triterpenoids, polyphenols, and melanin. Thus, the chaga mushroom has also received attention because of its therapeutic qualities, which has helped to expand the global chaga mushroom market size. The increased desire for healthy and organic products among customers is anticipated to be favorable for the worldwide chaga mushroom market growth.
Health-conscious people prefer low fat and low calorie food. Mushrooms are low in calories and contain high vitamins and nutrients including zinc, copper, magnesium, selenium and potassium, along with vitamins B, C and E. Chaga mushrooms help the body to strengthen itself and fight with diseases as they contain a large number of antioxidants. Hence, owing to these nutritional properties, demand of chaga mushrooms is expected to rise during the forecast period, which is intended to drive the market growth for chaga mushrooms. In addition to that, the expanding need for improved supplements including nutrients, proteins, minerals, and filaments as well as the rising acceptance of plant-based personal care and cosmetic goods are likely to generate more demand for chaga mushroom during the forecast period.
Chaga mushrooms are being increasingly used in the pharmaceutical and nutritional supplement industries owing to its medicinal and therapeutic properties. The market for chaga mushrooms is expected to expand quickly due to the rise in demand for dietary supplements, high-nutrient food and beverage items, and the use of chaga extract to add minerals and nutritional value to such goods. 
Chaga cultivation has a variety of challenges as it grows in limited part of the world, with the environment where it grows ranking as the main obstacle. In the cold environment of the  northern hemisphere, chaga is frequently found growing on birch trees. It cannot flourish in warmer climates because it either prevents the fungus from growing or kills it completely. Chaga mushrooms can only be used for human food if they are harvested in very cold regions. If chaga is grown in unsuitable climatic circumstances, many of its essential nutritional ingredients will be lost, making the process worthless. Thus, it is anticipated that a limited area with optimal climatic conditions and a dearth of birch trees will restrict chaga mushroom production, which will in turn, hinder market expansion.
According to the chaga mushroom market analysis, the chaga mushroom market is segmented into nature, form, end use, and region. As per nature, the market is categorized into organic and conventional. According to form, it is segregated into powder and liquid. Depending on end use, it is segmented into food and beverage industry, cosmetics and personal care, pharmaceuticals, and dietary supplements. Region wise, it is analyzed across North America (the U.S., Canada, and Mexico), Europe (UK, France, Spain, Italy, Russia, Germany, and Rest of Europe), Asia-Pacific (China, Japan, India, South Korea, Australia, and Rest of Asia-Pacific), and LAMEA (Latin America, Middle East, and Africa).
Chaga Mushroom Market

---
By Nature
The conventional segment dominates the global market and is expected to sustain its dominance throughout the forecast period.
On the basis of nature, the organic segment accounted for around 45.4% of global chaga mushroom market share in 2021, and is expected to sustain its share during the forecast period.  Wild chaga mushrooms are used to make organic chaga mushrooms. It absorbs white birch tree bark which contains as useful compound known as betulin. It is beneficial component that people eat from fungus. This may also be the reason why conventional, grown chaga mushrooms haven't been able to replicate the therapeutic properties of wild chaga. Chaga has not been generated using mycelium on grain in the same quantity or with the same balance of chemicals as mushrooms found in the wild. As a result, the organic food and beverage business, dietary supplement sector, and other end use industries have all seen significant growth in the use of organic chaga.
Chaga Mushroom Market

---
By Form
The powder segment was the highest revenue contributor and is estimated to grow at CAGR of 6.9%.
On the basis of form, the powder segment was valued at $475.6  million in 2021, and is expected to reach $910.2  million by 2031, with a CAGR of 6.9%. The market for chaga mushrooms has seen significant growth in the powder form, which is anticipated to maintain its position over the forecast period. This is majorly attributed to various characteristics such as low bulk weight; ease of storage, transport, and usage; variety of applications of chaga in powder form; relatively high stability; and the potential for a high production rate, powdered form of chaga gained the most traction among end use industries, including the food and beverage and cosmetics industries. Furthermore, chaga mushroom powder does not require any specific storage systems unlike chaga mushroom liquid, which needs insulated tanker lots.
According to the chaga mushroom industry trends, depending on end use, the pharmaceutical segment is expected to reach $228.6  million by 2031, with a CAGR of 7.8%. Chaga mushroom extract is being used more frequently in medicinal applications as it contains bioactive compounds that assist to limit the growth of tumor cells. Medical professionals have learned a lot about the main advantages of chaga mushrooms according to numerous in vitro and animal investigations. For instance, a group of Japanese researchers used chaga as a method of treatment for mice with Lewis lung carcinoma, a particular type of lung cancer. After giving the mice 6 mg of chaga daily for a three-week trial period, the doctors evaluated the results. The results revealed a 60% decrease in tumor size in tumor-bearing mice and a 25% decrease in nodules in mice with metastatic tumors. As a result, the above mentioned important factors assist in determining that chaga mushroom market demand is likely to increase due to growing R&D on the medical benefits of chaga mushroom and its expanding uses in the pharmaceutical and nutraceutical industries during forecast period.
Chaga Mushroom Market

---
By End Use
The pharmaceuticals segment is estimated to reach $228.6 million by 2031, at a significant CAGR of 7.8% during the forecast period.
According to chaga mushroom market opportunity, region wise, Europe dominated the chaga mushroom market size in 2021, and is expected to sustain its dominance throughout the chaga mushroom market forecast period.  Europe consumes a significant volume of chaga mushrooms owing to increased knowledge of the medical properties of chaga and the popularity of chaga tea. Furthermore, Europe accounts for a larger portion of the world's production of wild chaga mushrooms due to the region's high production of chaga mushrooms, particularly in Russia and Finland. Therefore, these factors are offering lucrative opportunities for those involved in the European chaga business.
Chaga Mushroom Market

---
By Region
North America and Europe collectively accounted for around 63.3% share in 2021. North America and Europe are expected to witness considerable CAGRs of 7.6% and 6.7%, respectively, during the forecast period.
The players operating in the global chaga mushroom industry have adopted various developmental strategies to expand their market share, increase profitability, and remain competitive in the market. Launching new products and making acquisitions are the main development methods used by major players in the global chaga mushroom market to meet rising client demand. Acquisitions help companies to share technological requirement for their existing and new products. The market leaders would ultimately benefit from this because it would allow them to expand their product portfolio for comparatively lower costs and thereby increasing their market share. The key players profiled in this report include Baikal Herbs Ltd., Fungi Perfecti LLC, Annanda Chaga Mushrooms, Bioway (Xi'an) Organic Ingredients Co. Ltd., Sayan Health, Inc., Eartherbs L.L.C., Aloha Medicinals, Oregon Mushrooms Co., Mahogany Organics Private Limited, The Chaga Company LLC., NutraCap Labs, L.L.C., Canadian Pine Pollen Company, The Brainfood Mushroom Company, Touchwood Mushrooms, FreshCap Mushrooms Ltd., and Om Mushroom Superfood.
Key Benefits For Stakeholders
This report provides a quantitative analysis of the market segments, current trends, estimations, and dynamics of the chaga mushroom market analysis from 2021 to 2031 to identify the prevailing chaga mushroom market opportunities.
The market research is offered along with information related to key drivers, restraints, and opportunities.
Porter's five forces analysis highlights the potency of buyers and suppliers to enable stakeholders make profit-oriented business decisions and strengthen their supplier-buyer network.
In-depth analysis of the chaga mushroom market segmentation assists to determine the prevailing market opportunities.
Major countries in each region are mapped according to their revenue contribution to the global market.
Market player positioning facilitates benchmarking and provides a clear understanding of the present position of the market players.
The report includes the analysis of the regional as well as global chaga mushroom market trends, key players, market segments, application areas, and market growth strategies.
 Chaga Mushroom Market Report Highlights
Aspects
Details
Market Size By 2031
USD 1.4 billion
Growth Rate
CAGR of 7.2%
Forecast period
2021 - 2031
Report Pages
245
Nature
Form
End Use

Pharmaceuticals
Dietary Supplements
Food and Beverage Industry
Cosmetics and Personal Care

By Region

North America (U.S., Canada, Mexico)
Europe (UK, France, Spain, Italy, Russia, Germany, Rest of Europe)
Asia-Pacific (China, Japan, India, South Korea, Australia, Rest of Asia-Pacific)
LAMEA (Latin America, Middle East, Africa)

Key Market Players
The Brainfood Mushroom Company, Annanda Chaga Mushrooms, Touchwood Mushrooms, Naturalin Bio-Resources Co., Ltd, Hangzhou Muhua Bio-Tech Co., Ltd, White Mountain Mushrooms, LLC., Baikal Herbs Ltd., Sayan Health, Inc., Aloha Medicinals, Oregon Mushrooms Co., NutraCapLabs, L.L.C., Om Mushroom Superfood, Xiamen Boten Biological Technology Co., Ltd, Bioway (Xi'an) Organic Ingredients Co. Ltd., Xi'an Yuensun Biological Technology Co., Ltd., Fungi Perfecti LLC