The global citrus fiber market size was valued at $390.6 million in 2020, and is projected to reach $659.2 million by 2030, registering a CAGR of 5.5%. The global citrus fiber market is experiencing a significant growth, and is expected to grow considerably in next few years owing to the intensifying need for naturally derived dietary fibers to prevent various diseases. Citrus fiber is a mixture of soluble and insoluble fiber that is derived from pulp or peel or fruit. This is high in antioxidants and serves as dietary fiber. Insoluble citrus fiber contains bioactive compounds, carotene, polyphenols, and notable flavonoids that increase its demand in the processed food industry. It is one of the nutritional fibers which provide many health benefits such as lower risk of obesity, coronary heart disease, stroke, various gastrointestinal (GI) diseases, hypertension, and diabetes. Citrus fiber extracted from orange peel contains a considerable amount of insoluble dietary fiber. It has many health benefits including reducing adsorption of glucose, and starch digestion.
Usage of citrus fiber is gaining traction among processed and packaged food manufacturers due to several functional advantages, which influence the final products. Citrus fibers are neutral in flavor, taste, and fragrance and their inclusion enhances finished product texture and aroma. In certain cases, adding citrus fiber to foods like meat and cheese is cost-effective, as it is possible to reduce the cost of formulating by replacing expensive ingredients with citrus fibers. In addition, citrus fiber-added refined food is easier to cook.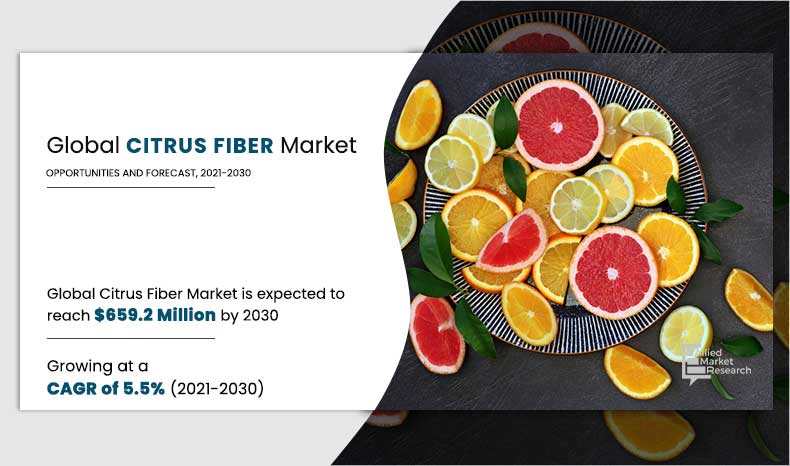 Get more information on this report : Request Sample Pages
Recent years of competition for natural food ingredients in processed food items have also increased demand for citrus fiber. Producers prefer to include citrus fibers in different food items, as it enables them to go for a clean label without worrying about the e-number. The growing health awareness among people is also helping the citrus fiber market to remain profitable.
Busy and hectic lifestyle of consumers is a major factor that boosts demand for fiber supplements across the globe. Presently, people often do not get enough time to properly take care of their diet, owing to their hectic schedule. This results in less intake of fiber, which gives rise to various diseases related to intestine, blood sugar, obesity, and heart. Adequate amount of fiber consumption not only prevents these health risks but also helps to build strong immunity. Therefore, to fulfil necessary requirements of dietary fiber, consumers opt for fiber supplements. This is one of the key factors that propels demand for fiber supplements among the global population, hence, propels growth of the citrus fibers market.
The citrus fibers market is segmented on the basis of application, source, and region. On the basis of application, the market is categorized into bakery, sauces & seasonings, meat & egg replacement, desserts & ice-creams, beverages, flavorings, and coatings, snacks & meals, and others. According to source, it is fragmented into orange, tangerines/mandarins, grapefruit, lemon, lime, and others. Region-wise, the market is analyzed across North America (the U.S., Canada, and Mexico), Europe (the UK, Spain, Germany, France, Italy, Russia, and rest of Europe), Asia-Pacific (China, Japan, India, South Korea, Australia, and rest of Asia-Pacific), and LAMEA (Brazil, Argentina, the United Emirates Arab, South Africa, Saudi Arabia, and rest of LAMEA).
Citrus Fiber Market

---
By Application
Others segment would witness the fastest growth, registering a CAGR of 6.3% during the forecast.
Get more information on this report : Request Sample Pages
Bakery segment in the market held the major share and is likely to remain same throughout the citrus fiber market forecast period. Citrus fibers in the bakery industry increases bread product freshness over time by binding accessible water, particularly water released by starch gluten in wheat to minimize staling. Moreover, this natural ingredient has advantages in baked goods, including moisture retention, oil or fat reduction, emulsification, and shelf-life freshness. Hence, citrus fiber is predicted to grow during the forecast period.
Citrus Fiber Market

---
By Type
Grapefruit segment would witness the fastest growth, registering a CAGR of 6.5% during the forecast period.
Get more information on this report : Request Sample Pages
 Orange segment held the major share in the market. Oranges are low-calorie and high-nutrient citrus fruits. It is popular because of its inherent sweetness, range of varieties available, and variety of uses. Vitamin C content of this famous citrus fruit is particularly well-known. Oranges include a variety of different plant compounds and antioxidants that may help to reduce inflammation and fight diseases. Nutrients in oranges offer a range of health benefits such as antioxidant vitamin C aid to prevent development of cancer-causing free radicals. It is also high in fiber and potassium, both of which are beneficial for heart health.
Citrus Fiber Market

---
By Region
Asia-Pacific would witness the fastest growth, registering a CAGR of 6.3% during the forecast period.
Get more information on this report : Request Sample Pages
By region, North America has the highest citrus fiber market share in 2020. Surge in demand for fortified foods & beverages in countries such as the U.S., Canada, and Mexico is leading new path for development of the citrus fibers market in North America. Change in dietary patterns among consumers, combined with growing population of urban people drive growth of the citrus fibers market. Rise in consumption of such fibers in North America lead the citrus fiber market growth.
The players in the citrus fiber market have adopted acquisition as their key development strategy to increase profitability and improve their position in the citrus fiber market.
The key players profiled in the report include AMC Group, Cargill Incorporated, Carolina Ingredients, CEAMSA, Citrus Extracts LLC, CP Kelco, DuPont de Nemours, Inc., Edge Ingredients, FGF Trapani, Fiberstar, Inc., Golden Health, Hebei Lemont Biotechnology Co., Ltd., Herbafood Ingredients GmbH, Ingredients by Nature, JRS Silvateam Ingredients S.r.l., Lucid Colloids Ltd., Nans Products, Naturex SA, Quadra Chemicals Ltd, and Royal DSM.
Key Benefits For Stakeholders
This report presents a quantitative analysis of the current Citrus Fiber market trends, estimations, and dynamics of the global citrus fiber market from 2020 to 2030 to identify the prevailing citrus fiber market opportunity.
The key countries in all the major regions are mapped based on their market share.
Porter's five forces analysis highlights the potency of buyers and suppliers to enable stakeholders to make profit-oriented business decisions and strengthen their supplier–buyer network.
In-depth citrus fiber market analysis of the market segmentation assists in determining the prevailing market opportunities.   
Major countries in each region are mapped according to their revenue contribution to the global citrus fiber industry. Market player positioning segment facilitates benchmarking and provides a clear understanding of the present position of the market players.
The report includes the analysis of regional as well as global market, key players, market segments, application areas, and growth strategies.
 Key Market Segments & Key Market Players
Segments
Sub-segments
By Application

Bakery
Sauces & Seasonings
Meat & Egg Replacement
Desserts & Ice-Creams
Beverages, Flavorings, & Coatings
Snacks & Meals
Others



By Type

Orange
Tangerines/Mandarins
Grapefruit
Lemon
Lime
Others



By Region

North America
Europe

Germany
France
UK
Italy
Spain
Russia
Rest of Europe

Asia-Pacific

China
Japan
India
Australia
South Korea
Rest of Asia-Pacific

LAMEA

Brazil
Argentina
United Arab Emirates
South Africa
Saudi Arabia
Rest of LAMEA