Clean Label Ingredients Market Outlook: 2026
The clean label ingredients market size was valued at $38.8 billion in 2018, and is projected to reach $64.1 billion by 2026, growing at a CAGR of 6.8% from 2019 to 2026. Clean label is a consumer driven term which means making a food product which is natural, organic, and free from preservatives/additives. Although majority of the clean label ingredients are organic and natural, the food items which have very few ingredients are also included in clean label ingredients. All the products made by fully organic ingredients such as plant based, natural, no synthetic mixing, and no chemical addition are recognized as clean label products.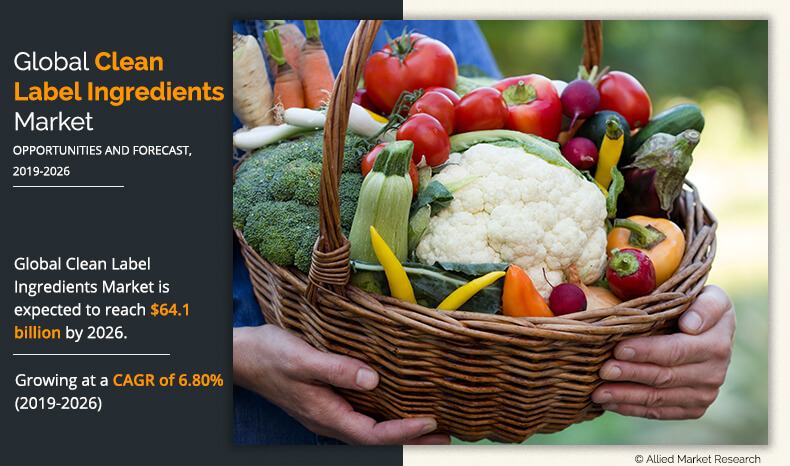 The consumer preference toward organic food is on a constant rise owing to increase in health consciousness among consumers. Further, surge in disposable income, improvement in living standard, rise in health expenditure, and large scale promotion of organic food owing to its benefits, such as chemical free and natural, supplement growth of organic food products. Increase in disposable income leads to requirement of high standard of living. Further, there is an increase in the demand for nutritional and quality food due to rise in urbanization, and increase in working population. Products such as instant noodles, frozen meals, packaged snacks, dairy products, soft drinks, energy drinks, and baked food are integral part of daily life. The demand for food ingredients is also expected to rise due the rise in food & beverage products as these foods contain various ingredients and preservations to increase shelf life of the products, maintain the quality, and reduce the spoilage by various microorganisms. Consumers are demanding addition of clean label ingredients in these daily life products. It is proving to be a driving factor for the clean label ingredients market.
Clean Label Ingredients Market

---
By Products
Natural Flavor segment segment would exhibit the highest CAGR of 8.3% during 2019-2026.
In a global marketplace, regional attitudes can have major implications, making it a challenge to establish a universal set of standards for clean label ingredients. All natural/cleaner ingredients are more expensive, and they potentially shorten the shelf life of the product. They also increase inventory of products to meet the needs of more restrictions; this increases the overall cost of production as well as the cost of the product.
The countries in Asia-Pacific and LAMEA have gone through substantial economic growth over the past few years. This has increased the number of working people. This has affected the number of people who invest times in cooking food, thus boosting the demand from consumption of organic and clean label foods & snacks.
Clean Label Ingredients Market

---
By Application
Dairy and frozen dessert segment would exhibit the highest CAGR of 9.2% during 2019-2026.
The global clean label ingredients market is segmented into type, application, form, and region. Deepening on type, the market is categorized into natural color, natural flavor, starch & sweetener, natural preservative, and others. Among these, the starch & sweetener segment accounted for a higher clean label ingredients market share in 2018 owing to surge in demand for organic starch & sweeteners from various food manufacturers. By application type, it is divided into beverage, bakery & confectionary, sauce & condiment, dairy & frozen dessert, and other processed foods. The beverage segment accounted for a higher value share in 2018 owing to the rise in sales of beverage, which in turn increased the demand for organic additives.
Clean Label Ingredients Market

---
By Form
Liquid segment would exhibit the highest CAGR of 7.0% during 2019-2026.
North America and Europe are known to be the dominant regions in the clean label ingredients market. North America has witnessed higher rate of traction for different types of organic ingredients owing to their increased demand from the food & beverage industry. Some of the key macroeconomic factors such as rise in internet penetration rate, surge in per-capita income also play an important role in contributing to the clean label ingredients market growth.
Clean Label Ingredients Market

---
By Region
Asia-Pacific segment would exhibit the highest CAGR of 8.7% during 2019-2026.
However, Asia-Pacific is expected to exhibit significant growth in the future, owing to rise in demand for different types of clean label ingredients and food items made by clean label ingredients. In addition, the region has witnessed considerable surge in the number of millennials, who are the forefront consumers of food. Therefore, rise in millennial population is anticipated to offer remunerative opportunity for the market growth.
Some of the key companies operating in the clean label ingredients industry include Cargill Inc., Archer Daniels Midland, company, Corbion Inc., Kerry Group PLC, Ingredion Incorporated, Tate & Lyle, Sensient technologies, Frutarom, koninklijke DSM N.V., Chr Hasen A/S, and Dupont.
Key Benefits for Clean Label Ingredients Market:
The report provides an extensive analysis of the current and clean label ingredients market trends and clean label ingredients market opportunities.
The report provides detailed qualitative and quantitative analysis of current trends and future estimations that help evaluate the prevailing clean label ingredients market forecast.
A comprehensive analysis of the factors that drive and restrict the growth of the clean label ingredient market is provided.
An extensive clean label ingredients market analysis is conducted by following key product positioning and monitoring the top competitors within the market framework.
The report provides extensive qualitative insights on the potential segments or regions exhibiting favorable growth.
 Clean Label Ingredients Market Report Highlights
Aspects
Details
By Type

Natural Color
Natural Flavor
Starch & Sweetener
Natural Preservative
Others

By Application

Beverage
Bakery & Confectionary
Sauce & Condiment
Dairy & Frozen Dessert
Other Processed Foods

By Form
By Region

North America (U.S., Canada, Mexico)
Europe (Germany, Italy, Russia, Spain, UK, Rest Of Europe)
Asia-Pacific (China, Japan, India, South Korea, Australia, Rest of Asia-Pacific)
LAMEA (Brazil, South Africa, Argentina, Turkey, Rest of LAMEA)

Key Market Players
Archer Daniels Midland Company, Cargill Inc., Chr Hasen A/S, Corbion Inc., Frutarom, Ingredion Incorporated, Kerry Group PLC, koninklijke DSM N.V., Sensient Technologies, Tate & Lyle