Clickstream Analytics Market Statistics - 2026
Global clickstream analytics market size was valued at $868.8 million in 2018, and is projected to reach $2561.6 million by 2026, growing at a CAGR of 14.8% from 2019 to 2026. Rise in elusive clickstream data due to diversified platforms such as Facebook, Twitter, Snapchat, and Google fuels the demand for clickstream analytics at a high rate. Clickstream analytics have ability to refine data by processing, cleaning, and transforming the raw data into convenient structure that make analysis of data easy and more accurate. This ability has proliferated the adoption of clickstream analytics among major social media players such as Facebook and Google.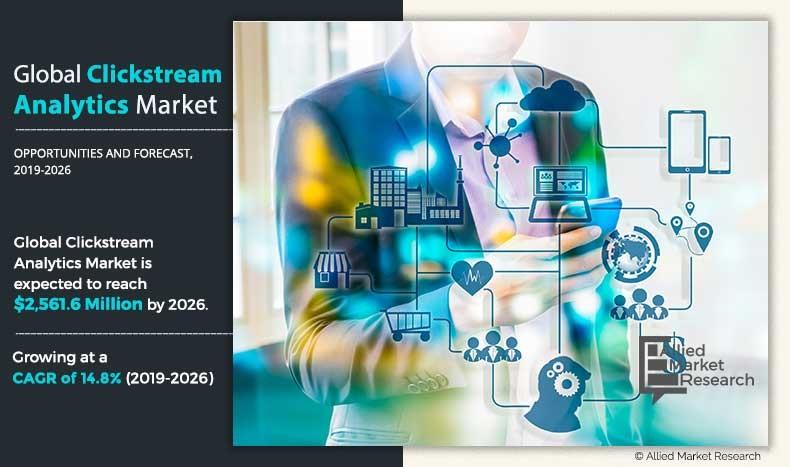 Clickstream analytics is a set of processes that collect, analyze, and provide visualized results of aggregated clickstream data. Clickstream data is information trail that a web surfing user leaves behind while visiting a website. The clickstream data is typically captured in semi-structured website log files. These website log files contain data elements such as a date and time stamp, the visitor's IP address, the URLs of the pages visited, and a user ID that uniquely identifies the user. Thus, business that operate through online applications benefit from clickstream analytics by analyzing the clickstream data. Owing to aforementioned factors the clickstream analytics market is expected to grow at a significant rate during the forecast period.
Clickstream Analytics Market

---
By Component
Software is projected as one of the most lucrative segments.
Businesses that market their products online are thriving to get a 360-degree view of consumers, which in turn is propelling the growth of the market. This is attributed to growing need to know what a consumer is clicking and interested into, which in turn is expected to be a major improvement factor in both one's products and customers' experience. Majorly, advent of digitalization has proliferated the clickstream analytics tools demand as it generates valuable business insights from the data logs collected from the online platforms. Thus, growing need to gain revenue growth opportunities by gathering customer interest and feedback is a major factor that drives the clickstream analytics market growth.
Clickstream Analytics Market

---
By Deployment
On-premise is projected as one of the most significant segments.
The clickstream analytics market in North America was dominated in terms of revenue share in 2018 as players operating from this region have huge silos of gathered clickstream data as countries in the region have adopted digitization at a fairly early stage. In addition, North America market is expected to remain dominant during the forecast period due to the region's well-developed infrastructure. 
Clickstream Analytics Market

---
By Application
Click path optimization is projected as one of the most significant segments.
The report focuses on the growth prospects, restraints, and market analysis. The study provides Porter's five forces analysis of the clickstream analytics industry to understand the impact of various factors such as bargaining power of suppliers, competitive intensity of competitors, threat of new entrants, threat of substitutes, and bargaining power of buyers on the clickstream analytics market.
Clickstream Analytics Market

---
By Industry Vertical
IT and Telecommunications is projected as one of the most significant segments.
Segment review
The clickstream analytics market is segmented on the basis of component, deployment, application, industry vertical, and region. By component, it is categorized into software and services. On the basis of deployment, it is bifurcated into on-premise and cloud. On the basis of application, it is divided into click path optimization, website/application optimization, customer analysis, basket analysis & personalization, traffic analysis, and others. Depending on industry vertical, it is categorized into BFSI, telecommunications & IT, travel & hospitality, retail & ecommerce, government, energy & utilities, media & entertainment, transportation & logistics, and others. Based on region, the market is analyzed across North America, Europe, Asia-Pacific, and LAMEA.
Clickstream Analytics Market

---
By Region
Asia-Pacific would exhibit the highest CAGR of 17.2% during 2019-2026.
The key players operating in the global clickstream analytics market forecast include Adobe Systems Incorporated, Google LLC, Hewlett Packard Enterprise, IBM Corporation, Microsoft Corporation, Oracle Corporation, SAP SE, Splunk Inc., Talend, and Verto Analytics Inc.
Top Impacting Factors    
Consumerization of technology has propelled the growth of ecommerce from the recent past. In addition, high penetration of smartphones has bolstered the adoption of mobile technology, which in turn is expected to drive growth of the market. However, concerns associated with data gathering policies, security, and privacy are factors that could restraint the market growth to a certain extent. Furthermore, increase in demand for clickstream analytics and its related services among developing economies provides revenue growth opportunity for the market growth. 
Rise in e-commerce
e-Commerce set for global domination in terms of online retailing. Advent of analytics in e-commerce trading is transforming online retailing and is creating the dominance for e-commerce businesses. With rise in consumer preferences toward e-commerce or virtual shopping experiences, the adoption of clickstream analytics is expected to rise significantly. As clickstream analysis benefits an online retailer to improve conversion rate through personalization and optimize marketing campaigns, the growth of the market is expected to boost at a significant rate.
Adoption of mobile technology
High penetration of mobile devices that generate tremendous amount of data of all types is expected to drive the growth of the market. This is attributed to mobile technology that provides in-depth insights into consumer behavior with its activities on the internet. Moreover, consumers across the globe are primarily using smartphones due to easy accessibility benefit, this is also one of the factors that boost the growth of clickstream analytics market analysis. 
Impact of COVID-19 on Clickstream Analytics Market:
The global lockdown has not impacted the IT and telecom industry. And, as a result, the use of clickstream in the sector has continued in the coronavirus pandemic.
On the other hand, the clickstream is a set of process which helps to analyze and collect the data to deliver visualized results. The IT and telecom industries are the major application areas of clickstream analytics and its operations are carried out regularly during the coronavirus outbreak.
Key Benefits for Stakeholders
This study includes the clickstream analytics market trends, opportunity, analysis, and future estimations to determine the imminent investment pockets.
The report presents information related to key drivers, restraints, and opportunities of the clickstream analytics industry.
The clickstream analytics market share is quantitatively analyzed from 2018 to 2026 to highlight the financial competency of the industry.
Porter's five forces analysis illustrates the potency of the buyers & suppliers in the clickstream analytics market.
 Clickstream Analytics Market Report Highlights
Aspects
Details
By Component
By Deployment
By Application

Click Path Optimization
Website/Application Optimization
Customer Analysis
Basket Analysis & Personalization
Traffic Analysis
Others

By Industry Vertical

BFSI
Telecommunications and IT
Travel & Hospitality
Retail & eCommerce
Government
Energy and Utilities
Media and Entertainment
Transportation and Logistics
Others

By Region

North America (U.S., Canada)
Europe (Germany, UK, France, Rest of Europe)
Asia-Pacific (Japan, China, India, Rest of Asia-Pacific)
LAMEA (Latin America, Middle East, Africa)

Key Market Players
MICROSOFT CORPORATION, ORACLE CORPORATION, TALEND S.A., HEWLETT PACKARD ENTERPRISE DEVELOPMENT LP, INTERNATIONAL BUSINESS MACHINES CORPORATION, SAP SE, SPLUNK INC., VERTO ANALYTICS INC.