Cloud Artificial Intelligence Market Research, 2032
The global cloud artificial intelligence market was valued at $42.7 billion in 2022, and is projected to reach $887 billion by 2032, growing at a CAGR of 35.8% from 2023 to 2032.
Cloud artificial intelligence provides technology for every phase of the AI lifecycle, including developing features, models, and applications, running and maintaining them, and disseminating them inside the organization. AI platforms are a category of technologies that support all aspects of the AI lifecycle. In addition, the user can operate the cloud artificial intelligence solutions on their infrastructure of choice, either on-premises, private cloud, hybrid cloud, or public cloud. Users manage the infrastructure, scale, elasticity, reliability, and security of the environment.
Moreover, advanced cloud artificial intelligence solutions help organizations rapidly make, operate, and innovate with AI to solve business issues. Cloud artificial intelligence systems may assist enterprises in increasing productivity and efficiency while lowering expenses. Additionally, it can provide customers with greater ease and superior user experience. In addition, the increasing demand for seamless data accessibility in several businesses for handling vast amounts of data is another driver boosts the global market growth. Such enhanced factors are expected to provide lucrative opportunities for market growth during the forecast period.
Also, the growing trend of cognitive computing in organizations is one of the major factors driving the global market growth. Cognitive computing uses digital simulations of human mental processes to assess ambiguous circumstances and uncertainty. By combining this capability with AI and cloud computing, organizations may advance their operations. The major advancement in artificial intelligence (AI) is cloud computing, which has the potential to mimic human thought and improve decision-making in challenging circumstances. These numerous beneficial factors are expected to fuel the cloud artificial intelligence market trends.
Furthermore, increasing availability of cloud-based AI services, the growing usage of mobile devices are the factors driving the growth of global Cloud Artificial Intelligence market. In addition, there is a surge in technological advancements, which in turn is expected to create numerous opportunities for the growth of the market. However, data privacy and security concerns and costs and budget constraints hamper the growth of the market. Furthermore, rise in integration of industry 4.0, which creates opportunities for cloud artificial intelligence solutions to optimize business operations.
With the advent of the pandemic and various social distancing measures and lockdowns being imposed, most individuals increased their dependence on digital and online resources for their various needs from entertainment to essential goods and service procurement. Such consumer trends helped businesses operating across various industry verticals to increase their digital presence and expand their consumer base after the period. This resulted in increased demand for cloud-based AI solutions.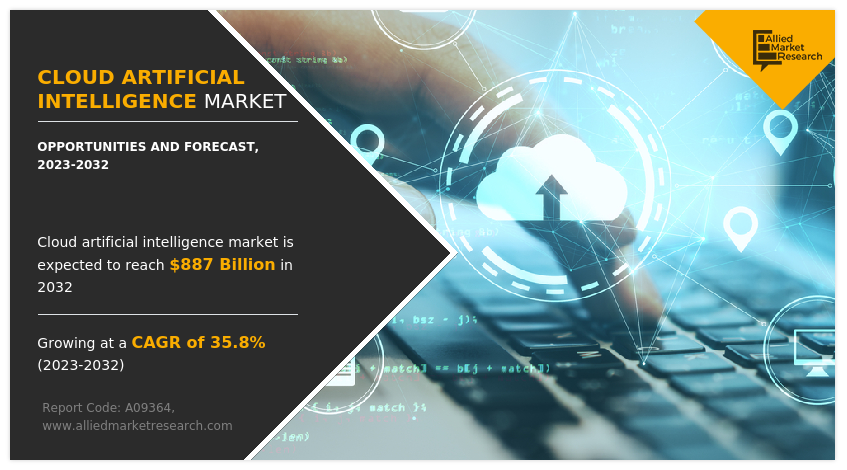 The cloud artificial intelligence market is segmented into Component, Technology and Industry Vertical.
Segment Review
The cloud artificial intelligence market is segmented into component, technology, industry vertical, and region. The report provides information on various components including solutions and service. In addition, it is categorized by different solution technology deep learning, machine learning (ML), natural language processing (NLP) and others. The details of the industry vertical namely BFSI, retail and e-commerce, healthcare, automotive & transportation, government and defense and others are also provided in the report. In addition, it analyzes the current market trends across different regions such as North America, Europe, Asia-Pacific, and LAMEA.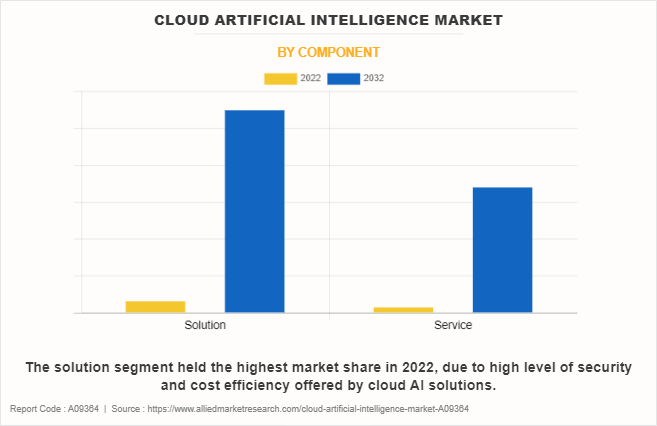 On the basis of component, the solution segment dominated the global cloud artificial intelligence market share in 2022 and is expected to maintain its dominance in the upcoming years, owing to advances in technologies enabling cloud artificial intelligence to transform several industries globally. However, the service segment is expected to witness the highest growth, as cloud artificial intelligence services help to reduce the time and costs associated with optimizing systems in the initial phase of deployment.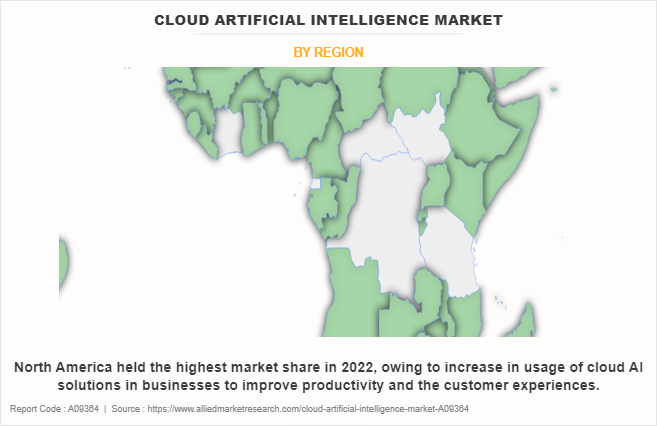 By region, North America dominated the cloud AI market share in 2022. This is due to the increase in investment in advanced technologies such as cloud-based services, AI, ML, business analytics solution and IoT to improve businesses and the customer experience are anticipated to propel the growth of the cloud artificial intelligence market. However, Asia-Pacific is expected to exhibit the highest growth during the forecast period. This is attributed to the increase in penetration of digitalization and higher adoption of advanced technology are expected to provide lucrative growth opportunities for the market in this region.
COVID-19 Impact Analysis
The cloud AI market has witnessed significant growth in the past few years; due to the outbreak of the COVID-19 pandemic, the market witnessed a sudden increase in demand during the period. This was attributed to the fact that there was an increase in demand for healthcare services, as businesses were moving to capitalize on the increased automation and digitalization in the healthcare sector. Furthermore, the rise in the number of COVID-19 cases influenced governments and local authorities to enforce strict measures such as social distancing and self-isolation policies to the closing of physical shops and businesses. This was intended to help slow the spread of COVID-19 cases, which further caused a growing number of businesses to depend on digital technologies. Such trends accelerated the digital transformation of physical businesses during the period of the pandemic. On the other hand, the economic uncertainties caused by the pandemic prompted organizations to seek cost-efficient solutions. Consequently, organizations could quickly scale up their business solutions deployments in the cloud to accommodate a large number of remote users without the need for significant infrastructure investments. According to Citrix statistics, in 2022, nearly 81% of IT leaders plan to increase their Desktop as a Service (DaaS) budget, with around 71% stating that DaaS is a critical component of business strategy to secure hybrid working. This will boost the demand for cloud AI industry.
Top Impacting Factors    
Increasing availability of cloud-based AI services:
The surge in the expansion of cloud-based AI services is a key driver for the cloud artificial intelligence market growth. Cloud computing provides underlying infrastructure and resources needed to deliver digitalization to end users, making it an essential enabler for businesses. This is attributed to the rise in number of countries committing to adopt cloud-based AI solutions. Furthermore, government policies have undertaken increased initiatives to embrace advanced technology, with plans for integrating a new digital solution. For instance, in April 2023, the Japanese government raised $31.7 million (4.2 billion yen) in funding to develop shared quantum computing using a business-friendly cloud platform. The Japanese government intends to broaden quantum computing's accessibility so that businesses take advantage of its benefits. Therefore, cloud-based AI solutions gained wider traction among end users, taking advantage of cloud computing solutions in several industries.  
Moreover, cloud-based AI solutions leverage the economies of scale provided by cloud computing. Organizations avoid the upfront costs associated with purchasing and maintaining on-premises hardware infrastructure. Consequently, regional governments and private and public businesses invest in cloud-based AI solutions. For instance, in April 2023, Ericsson partnered with the Government of Canada to raise $352.40 million (CAD 470 million) in funding to enhance the presence of the global leaders in advanced 5G, 6G, AI, cloud RAN, and core network technologies. Investments and advancements in cloud-based AI solutions will eventually contribute to the growth of the cloud artificial intelligence industry.
The growing usage of mobile devices:
The increase in adoption of internet and mobile devices propels growth opportunities for the global cloud AI market. The rise in connectivity and proliferation of mobile devices have created a demand for advanced technological services, which in turn has surged the demand for cloud AI solutions among end users. As per the Pew Research Centre, in June 2021, smartphone ownership has increased by nearly 85% and home broadband subscriptions by nearly 77% among American adults since 2019. The growing adoption of the internet and mobile devices enables organizations to increase their cloud AI solution adoption. Cloud-based AI solutions allow users to access applications, and data securely from their own devices. This flexibility empowers organizations to support a business operation efficiently, improving productivity and work-life balance. These aforementioned factors significantly contribute to the huge potential for the growth and development of the cloud artificial intelligence market forecast. 
In addition, the emerging trend of mobile devices has fueled the Bring Your Own Device (BYOD) shift. In corporate organizations, cloud AI solutions accommodate BYOD policies by enabling users to access virtual desktops and corporate resources securely from their personal devices. This reduces the need for organizations to provide company-owned devices, saving costs and increasing employee satisfaction. It increases the quality of life of the entire organization by responding to the comprehensive challenges of sustainability. Thus, the public and private sectors significantly use and implement cloud AI solutions. For instance, in August 2023, VMware launched modern AI integrations to the Anywhere Workspace platform, part of the VMware Cross-Cloud services portfolio, that automatically optimize employee experience, drive new vulnerability management use cases, and simplify application lifecycle management. Therefore, such development strategies further pave the way for the deployment of cloud AI, which eventually drives market growth.
Key Benefits for Stakeholders
The study provides an in-depth cloud artificial intelligence market analysis along with the current trends and future estimations to elucidate the imminent investment pockets.

Information about key drivers, restraints, and opportunities and their impact analysis on the cloud artificial intelligence market size is provided in the report.

The Porter's five forces analysis illustrates the potency of buyers and suppliers operating in the cloud artificial intelligence industry.

The quantitative analysis of the global cloud artificial intelligence market for the period 2022–2032 is provided to determine the cloud artificial intelligence market potential.
 Cloud Artificial Intelligence Market Report Highlights
Aspects
Details
Market Size By 2032
USD 887 billion
Growth Rate
CAGR of 35.8%
Forecast period
2022 - 2032
Report Pages
289
By Component
By Technology

Deep Learning
Machine Learning (ML)
Natural Language Processing (NLP)
Others

By Industry Vertical

IT and Telecommunication
BFSI
Retail and E-commerce
Healthcare
Automotive and Transportation
Government and Defense
Others

By Region

North America (U.S., Canada)
Europe (UK, Germany, France, Italy, Spain, Rest of Europe)
Asia-Pacific (China, Japan, India, Australia, South Korea, Rest of Asia-Pacific)
LAMEA (Latin America, Middle East, Africa)

Key Market Players
Salesforce Inc.,, Intel Corporation, QlikTech International AB., NVIDIA Corporation, Google LLC, Infosys Limited, IBM Corporation, Microsoft Corporation, Apple Inc., Amazon Web Services Inc.
Analyst Review
As the cloud artificial intelligence industry continues to evolve, CXOs evaluate the opportunities and challenges regarding this emerging technology. Decision-making is an important aspect of every organization. A combination of AI in the cloud provide the best result in achieving better decision-making. In addition, IT infrastructure transformation is one of the main advantages of AI in cloud computing. Such factors are expected to provide lucrative opportunities for market growth during the forecast period.   
Furthermore, using AI in cloud reduces the need for human labor, which is ultimately expected to be profitable for several industries including manufacturing. The combination of AI and cloud computing provides cost effective solutions to the businesses.. However, businesses recognize the challenges associated with the cloud AI market. One significant challenge is the connectivity concern, as AI in cloud computing needs constant communication. The benefits of cloud-based AI tools might be hampered by insufficient internet connectivity, which makes it challenging for organizations to adopt cloud artificial intelligence solutions. In addition, cloud artificial intelligence solutions require significant investment in infrastructure, data analytics capabilities, and expertise, which limit the growth of the market. 
Furthermore, sensitive data used by businesses is frequently targeted by hackers for data breaches. Therefore, while utilizing AI in cloud computing, businesses need to establish privacy rules and safeguard all data. By addressing these challenges, CXOs unlock the full potential of cloud AI to transform their operations, create value, and gain a competitive advantage in their industry. For instance, in March 2022, Google LLC launched Google Cloud Contact Center AI Platform, an expansion to Contact Center AI that offers an end-to-end solution for the contact center. It brings together the advantages of AI, cloud scalability, multi-experience capabilities, and tight integration with customer relationship management (CRM) platforms to unify sales, marketing, and support teams around data across the customer journey.