Cloud Services Market Research, 2031
The global cloud services market was valued at $551.8 billion in 2021, and is projected to reach $2.5 trillion by 2031, growing at a CAGR of 16.6% from 2022 to 2031.
The COVID-19 outbreak has considerably boosted growth of the cloud services market, owing to the accelerating demand for the cloud to support several crucial applications in e-commerce and remote work culture for efficient business operations.
Cloud services are a range of IT applications and resources that include software, infrastructure, and platforms hosted by third-party providers and delivered on-demand to organizations and individual customers through the internet. They can also be referred to as cloud computing; hence the words can be used interchangeably. Furthermore, the use of cloud services allows customers to access software, cloud storage, computing power, IT infrastructure, and other services without the need for incurring maintenance costs or carrying out software and hardware updates. Cloud service providers use various billing models to charge customers, which is dependent on the resources consumed.  
The most important factor, which is driving the global cloud services market, is cost-effectiveness. With the deployment of cloud services organizations can save more than 35% of their annual operating costs. The other factor includes all the functional capabilities which boost the business performances of the organizations. However, data security is the key restrain for the growth of the cloud services market as organizations believe that their data is more secure in in-house data centers as compared to a virtual cloud network. The other limiting factors are the data location and data administration, which need to be properly worked out in order to increase the revenue of the market. The opportunity for cloud services market lies in the developing economies as they have gradually grown to become the hub for IT services, one of the largest target segments for cloud services. In addition, substantial increase in the number of small and medium enterprises will eventually lead to the increased adoption of cloud services in such regions.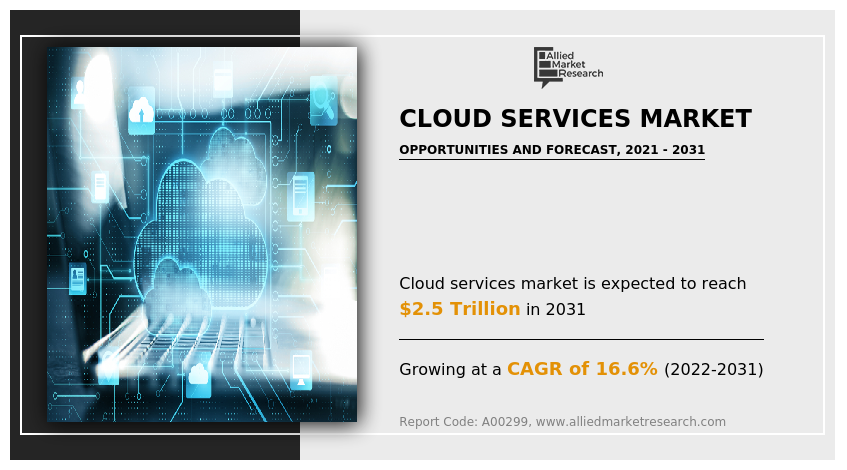 The cloud services market is segmented into Industry Vertical, Component, Type, Deployment Model, Enterprise Size and Application.
Segment review
The cloud services market is segmented into component, type, deployment model, enterprise size, application, industry vertical, and region. By component, the market is bifurcated into solution and services. By type, the market is divided into infrastructure as a service, platform as a service, software as a service, and others. Depending on deployment model, it is fragmented into private cloud, public cloud, and hybrid. By enterprise size, the market is classified into large enterprises and small & medium enterprises. By application, the market is categorized into asset management, customer relationship management, enterprise resource management, supply chain management, project and portfolio management, business intelligence, and others. Depending on industry vertical, it is segregated into BFSI, IT & telecom, government, media & entertainment, healthcare, manufacturing, oil & gas, metal & mining, petrochemicals, energy & utilities, pulp & paper, agriculture, and others. Region wise, the market is analyzed across North America, Europe, Asia-Pacific, and LAMEA.
Cloud Services Market

---

By Deployment Model
The public cloud segment garnered the highest market share in 2021 due to increase in demand for public cloud usage to support several crucial digital solutions such as e-commerce and remote work.
Get more information on this report :
Request Sample Pages
By deployment mode, the global cloud services market share was dominated by the public cloud segment in 2021 and is expected to maintain its dominance in the upcoming years. This is mainly attributed to the fact that the public deployment mode is the most accepted deployment model due to the easy access and low costs. However, hybrid cloud segment is expected to witness the highest growth rate during the forecast period due to increasing use of cloud-based solutions to increase productivity and reduce operational costs.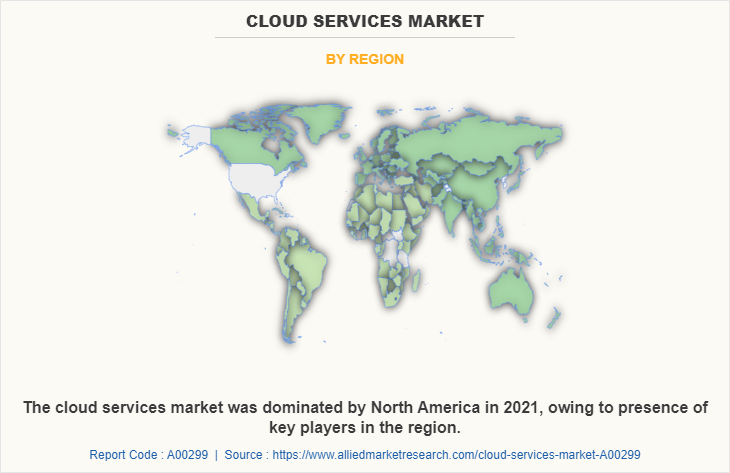 North America dominates the cloud services market. North America has been the early adaptor of the cloud computing services. In addition, this region has showed its willingness to embrace cloud services technology in every sector. The IT sector has already adopted this technology. The emerging sector for cloud computing services in the North America region is the healthcare sector. The cloud computing services are adopted mainly in the data recording and keeping in both clinical as well as non-clinical information. However, Asia-Pacific is expected to observe highest growth rate during the cloud services market forecast. The region has come up with Asia Cloud Computing Association (ACCA), which a member driven association set up for to accelerate the adoption of cloud computing services. Its member includes cloud service providers, governments and cloud consumers. China is expected to invest billions in infrastructure as a service. Moreover, competitive scenario of the Asia-Pacific region is very attractive.
Country Specific Statistics & Information
The growth of cloud services is accelerated due to the increasing deployment of cloud services to simplify complex procedure that is highly confidential. The rise in demand for migration services for enterprise applications is the latest trend in the market. Migration services enable end-to-end consulting to help businesses efficiently migrate from on-premises applications to virtualized cloud infrastructure without disrupting system performance. Furthermore, many cloud platform vendors offer these services to cater to changing requirements of end users in verticals such as education, BFSI, media & advertising, IT & telecom, and others. Therefore, the rise in the adoption of migration services across verticals such as IT & telecom is the latest trend in the cloud services market. These are some of the trends flourishing the market growth.
Furthermore, the introduction of new and innovative products in the market by key players is expected to boost the growth of the cloud services market during the forecast period. For instance, in March 2022, Microsoft announced advancements in cloud technologies for healthcare and life sciences with the general availability of Azure Health Data Services and updates to Microsoft Cloud for Healthcare. With this announcement, Microsoft continues to deliver on its healthcare strategy with solutions that help enhance patient engagement and clinician experiences, empower health team collaboration, and improve clinical and operational insights. Microsoft Cloud for Healthcare threads together innovative solutions from across the company to deliver a powerful, integrated, comprehensive cloud offering.
The COVID-19 pandemic forced companies to rapidly adopt remote working practices. The outbreak considerably boosted the growth of the cloud services market, owing to the accelerating demand for the cloud to support several crucial applications in e-commerce and remote work culture for efficient business operations. Furthermore, the surge in remote work trends across enterprises due to COVID-19 is one of the key opportunities for cloud services market growth due to the mobile or remote accessibility capabilities of cloud solutions.
Top Impacting Factors
Increasing acceptance of cloud platform services
The cloud platform is helping business organizations to develop and deploy applications in the existing software infrastructure quickly. The software is helping legacy businesses to stay ahead of evolving start-ups by building profitable revenue streams with minimal investment. Furthermore, cloud platforms also allow companies to quickly extend and personalize their applications while creating opportunities for businesses to grow and transform digitally. To leverage these benefits, business organizations are significantly utilizing cloud platform services. Moreover, businesses use strategy, consulting, and integration services to understand which applications should be deployed on the cloud and how existing infrastructure can be integrated with the cloud.
In addition, enterprises are also collaborating with cloud platform service providers to leverage the full benefits of the platform. For instance, in February 2023, STC Group, the national digital enabler, announced a collaboration with Oracle to modernize its database technologies and accelerate its transition to the cloud. Under its agreement with Oracle, STC migrated its database systems to Oracle Exadata Cloud Customer, a high-performance cloud database platform delivered as a managed infrastructure service in STC's own data centers. The Oracle platform enables STC to support and scale mission-critical OSS an BSS systems while retaining control of its data governance and meeting data security and locality regulations. Therefore, these factors drive the cloud services industry.
Surge in adoption of cloud among SMEs
Legacy businesses are under pressure and lagging because of their inability to cope with the introduction of disruptive business models. To stay ahead with digital transformation, these companies require flexible software to help them adapt and rethink critical business processes. In today's digitalized world, SME businesses are focusing on adopting a cloud-based application that helps them increase flexibility and scalability in business processes. Therefore, the cloud platform offers deployment of applications without any disruption in the existing software landscape and provides integrated and optimized enterprise solution that helps business in digital transformation and the cost benefits of migration to the cloud. Hence, with the rapidly changing needs due to disruptive technologies, small and medium-sized organizations are adopting agile applications that give access to relevant and real-time business data, which in turn is expected to increase the growth of the cloud services industry.
In addition, to provide better and improved cloud services and increase the adoption of cloud among SMEs, major market players are acquiring cloud service providers for expanding the breadth and depth of their cloud offerings to manage complex integrations of technologies, people, and processes. For instance, in December 2020, IBM announced that it has acquired Nordcloud, a European leader in cloud implementation, application transformation, and managed services that further advances IBM's cloud migration and transformation capabilities, an important aspect of its hybrid cloud platform growth strategy.  
Rise in cloud services adoption in developing regions
Advanced countries are the first to explore and utilize the opportunities provided by technological breakthroughs such as cloud and cloud computing services. As a result of higher information and communications technology (ICT) penetration rates in affluent markets, the adoption of breakthroughs in shared computing is relatively fast, especially by the private sector. In addition, the public sector of wealthier economies is showing a positive trajectory in the adoption of cloud-based solutions. The adoption of cloud services has been accelerated by the availability of infrastructure, robust regulatory frameworks, increased capital investment appetite, and the continuous focus on lowering service delivery costs.
On-demand access to scalable data and computing resources can enhance productivity, boost innovation, and improve service delivery in both the public and private sectors of emerging economies. The cloud provides an attractive opportunity for the fiscally constrained governments of developing regions to improve access to health care, education, commerce, and finance through initiatives such as mobile health care, mobile education, e-commerce, and mobile banking. The availability of shared computing services and the surge in demand for global ICT skills provides lucrative growth prospects for business communities operating in emerging regions. Therefore, these factors are expected to provide major growth opportunities for the cloud services market.
KEY BENEFITS FOR STAKEHOLDERS
This report provides a quantitative analysis of the market segments, current trends, estimations, and dynamics of the cloud services market analysis from 2021 to 2031 to identify the prevailing cloud services market share.

The market research is offered along with information related to key drivers, restraints, and opportunities.

Porter's five forces analysis highlights the potency of buyers and suppliers to enable stakeholders make profit-oriented business decisions and strengthen their supplier-buyer network.

In-depth analysis of the cloud services market size segmentation assists to determine the prevailing cloud services market opportunity.

Major countries in each region are mapped according to their revenue contribution to the global market.

Market player positioning facilitates benchmarking and provides a clear understanding of the present position of the market players.

The report includes the analysis of the regional as well as global cloud services market trends, key players, market segments, application areas, and market growth strategies.
 Cloud Services Market Report Highlights
Aspects
Details
Market Size By 2031
USD 2.5 trillion
Growth Rate
CAGR of 16.6%
Forecast period
2021 - 2031
Report Pages
477
By Industry Vertical

BFSI
IT and Telecom
Government
Media and Entertainment
Healthcare
Manufacturing
Oil and Gas
Metals and Mining
Petrochemicals
Energy and Utilities
Pulp and Paper
Agriculture
Others

By Component
By Type

Infrastructure as a Service (IaaS)
Platform as a Service (PaaS)
Software as a Service (SaaS)
Others

By Deployment Model

Private Cloud
Public Cloud
Hybrid

By Enterprise Size

Large Enterprises
Small and Medium Enterprises

By Application

Asset Management
Customer Relationship Management (CRM)
Enterprise Resource Management (ERP)
Supply Chain Management (SCM)
Project and Portfolio Management
Business Intelligence
Others

By Region

North America (U.S., Canada)
Europe (UK, Germany, France, Italy, Spain, Netherlands, Rest of Europe)
Asia-Pacific (China, Japan, India, South Korea, Australia, Singapore, Rest of Asia-Pacific)
LAMEA (Latin America, Middle East, Africa)

Key Market Players
RACKSPACE TECHNOLOGY, Dell Inc., International Business Machines Corporation, Google LLC, Hewlett Packard Enterprise Development LP, Amazon Web Services, Oracle, Alibaba Group Holding Limited, Microsoft, Cisco Systems Inc.
Analyst Review
According to the CXOs of leading companies, the cloud services market is going through enormous transformation and growth. As customer demand and expectations are evolving with rapid pace of digitalization, legacy infrastructures are making it difficult to accommodate these customer needs. This has compelled industries to adopt emerging technological change in its operating environment. Cloud has evolved to be the dominant technology in the race of technological changes. Hence, increase in adoption of cloud-based products is expected to grow the global market at an exponentially high rate in the coming years.
Next-generation digital business are leveraging cloud capabilities and preparing for a future of integrated solutions. These include vendor selection, migration tactics, process optimization, cloud security, multi-cloud environments, hybrid & digital infrastructures, data center outsourcing strategies, cloud optimization, cloud computing, PaaS, IaaS, SaaS and others. Furthermore, extreme agility and accessibility capabilities of a cloud dominate the cloud services market. For the security, cloud provides the reliability it offers, and the performance it boasts of, the cost-efficient benefit of cloud makes it an incredible opportunity for corporations and individuals alike.
In addition, major cloud providers around the globe experienced year-over-year revenue growth due to the COVID-19 pandemic during 2020. The pandemic-driven restrictions accelerated demand for the cloud services to support crucial digital solutions such as remote work and e-commerce, as well as entertainment platforms such as online gaming and video streaming.