The global coconut milk market size was valued at $1.1 billion in 2019, and is anticipated to reach $2.9 billion by 2027, with a CAGR of 17.1% during the forecast period. In 2019, the conventional segment accounted for more than half of the total coconut milk market share.  Coconut milk is the oil-protein-water mixture, which is produced from fresh grated coconut kernels. The diluted form is called coconut milk while the concentrated form of mixture is called coconut cream. Coconut cream/milk is used to make various recipes such as fish & meat dishes and curries. It is also used in the preparation of bakery products, desserts, sweets, and for coconut milk flavoring. Skimmed coconut milk is also used as a protein supplement. Coconut milk/cream is also used in beverages, cocktails, and alcoholic drinks. Coconut milk/cream also has moisturizing and nourishing properties making it useful for skin care.  
Coconut milk/cream is processed and preserved in different ready to use forms, such as canned products, pouches, and dehydrated form. Coconut milk and cream are used mainly in food and bakery industry. In addition, it has also been used in cosmetics and personal care industries in the recent past and is expected to experience incremental demand in the near future.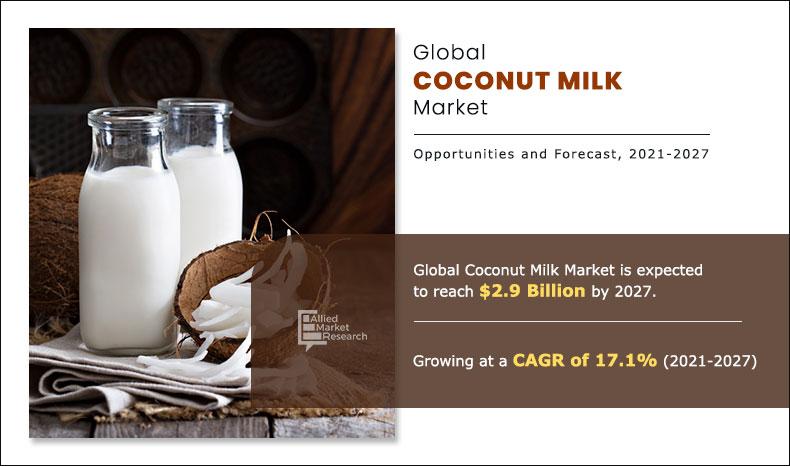 The retail industry is the economy sector that includes companies and individuals involved in selling of finished products and goods to end users. Low unemployment rate and stable electricity prices in the U.S. led to the growth of the U.S. retail market in 2019. Wide range of coconut milk and related products are vended through various retail channels such as hypermarkets/supermarkets, convenience stores, discounters, and grocery stores. Internet retailing, discounters, and convenience stores are the fastest growing retailers in the industry.  
Coconut milk is widely used as an ingredient in a variety of processed food products such as cookies, cakes, pies, soups, milkshakes, and ice cream. Products like copra, coconut chips, coconut squash, and coconut vinegar, find application mainly in the food & beverages industry worldwide. With growth in consumption of processed food products, owing to rise in urban population, the demand for coconut milk is expected to grow at a significant rate in the future.
Moreover, due to difficulty in scaling up the production of coconut trees, production is expected to not expand significantly in the near future. Hence, producers have to rely on innovative solutions to utilize the current production and capitalize from this surge in demand. These factors are anticipated to hinder the growth of the coconut milk market. 
Furthermore, the outbreak of the novel coronavirus has normally affected the coconut milk market growth. This decline in the growth can be attributed to disruption in the supply chain. Moreover, halt in the production of coconut and coconut milk and its processing due to lockdown and social distancing being practiced all around the world have adversely affected the growth of this industry. 
According to the global coconut milk market analysis, the market is segmented into packaging type, category, end user, distribution channel, and region. By packaging type, it is categorized into plastic bottles, tetra packs, and cans. Based on category, it is segmented into organic and conventional. The end users studied in the report are household, food services, catering services, and others. On the basis of distribution channel, it is segregated into direct distribution and retail distribution. Region wise, it is analyzed across North America (the U.S., Canada, and Mexico), Europe (Germany, France, the UK, Spain, Italy, Russia, and rest of Europe), Asia-Pacific (China, Japan, India, Australia, South Korea, Indonesia, Sri Lanka, and rest of Asia-Pacific), and LAMEA (Brazil, Argentina, United Arab Emirates, Nigeria, Turkey, South Africa, and rest of LAMEA). 
On the basis of packaging type, the tetra pack segment accounted for the maximum share in the global coconut milk market in 2019, and is expected to remain dominant during the forecast period. This type of packaging enhances the shelf life and minimalizes the loss of aroma of the packed products. It keeps coconut products pure and safe from exposure to contaminants, preserving freshness, and quality with extended shelf life. Thus, this packaging format is gaining prominence among products manufacturers and suppliers. Tetra packs packaging is more dominant in the market. It tends to remain as the foremost choice for the market players such as Vita Coco, O.N.E owing to their sustainable nature and on-the-go convenience. 
On the basis of category, the conventional segment accounted for the maximum share in the global coconut milk market in 2019. Conventional coconut milk is much more economical in comparison to organic coconut milk and it is one of the major growth factors in this segment. All these factors open various lucrative opportunities for the key players in the market to innovate and launch various products to generate profitable revenue in the forecast years.
On the basis of end user, the food services segment held a significant market share in 2019 in coconut milk market. Popularity of coconut milk in the food & beverage service sector is increasing, as they can be stored and used over a long period, which saves operational costs. Moreover, as they require less time to get prepared and reduce customer-waiting time, fast food chains and quick service restaurants have adopted them as substitutes to fresh ingredients.  
On the basis of distribution channel, the retail distribution segment held a significant coconut milk market share in 2019. These channels offer various goods and often act as a one-stop solution for shopping for all everyday requirements. Thus, retail distribution includes supermarket/hypermarket, and convenience store among others, which are preferred while shopping for groceries and everyday edibles.  
On the basis of region, Asia-Pacific dominated the market in 2019, and accounted for a maximum share in the coconut milk market and is likely to remain dominant throughout the coconut milk market forecast period. Asian countries are major producers and exporters of coconut milk and cream. Indonesia is the leading exporter of coconut milk and cream followed by Sri Lanka, Thailand, and the Philippines. India is the major consumer of coconut and its products in Asia-Pacific followed by Indonesia and the Philippines. These countries also export largely to developed markets such as the U.S., Germany, France, and the Netherlands. 
The key players profiled in this report include are McCormick & Company Inc. (US), Goya Foods Inc. (New Jersey), Celebes Coconut Corp. (Philippines), Vita Coco (US.) Celebes Coconut Corp. (Philippines), Thai Agri Foods Public Co. Ltd (Thailand), Danone SA (France), Pureharvest  (Australia), Thai Coconut Public Company (Thailand), and Dabur India Ltd (India). These players are introducing new products in the market to increase the customer base and product sale.  
Key benefits for stakeholders  
The report provides quantitative analysis of the current coconut milk market trends, estimations, and dynamics of the market size from 2019 to 2027 to identify the prevailing coconut milk market opportunities. 
Porter's five forces analysis highlights the potency of buyers and suppliers to enable stakeholders to make profit-oriented business decisions and strengthen their supplier–buyer network.
The coconut milk market demand is rising in the Western countries. 
In-depth analysis and the market size & coconut milk market segment assist to determine the market potential.
The major countries in each region are mapped according to their revenue contribution to the market.    
The market player positioning segment facilitates benchmarking and provides a clear understanding of the present position of the market players in the coconut milk industry. 
Key market segments
By Packaging type 
Plastic Bottles
Tetra Packs
Cans
Category
End User
Household
Food Services
Catering Services
Others
By Distribution Channel
Direct Distribution
Retail Distribution

Hypermarket/supermarket
Convenience Stores
Retail Pharmacies
E-commerce 
Others
By Region
North America
Europe

Germany 
France
UK
Italy
Spain 
Russia
Rest of Europe

Asia-Pacific

China
Japan
Australia
South Korea
Indonesia
Sri Lanka 
Rest of Asia-Pacific 

LAMEA 

Brazil
Argentina
UAE
Turkey
Nigeria
South Africa
Rest of LAMEA