Satellite Communication Market Statistics - 2027
The global satellite communication market was valued at $56,016.2 million in 2019, and is projected to reach $99,588.02 million in 2027, registering a CAGR of 9.2%.    
The rapid spread of COVID-19 had a significant impact on the global satellite communication industry in 2020, owing to the disruption in the supply chain of essential raw materials. COVID-19 pandemic led to several challenges for the satellite industry such as lowered production, non-availability of materials, logistics challenges, and others. Maritime, aviation, and communication were one of the most severely affected industries by the pandemic and observed a decline of investments initially. Although many challenges lie ahead, coronavirus accelerated some positive developments for the market. For instance, several countries such as China implemented the use of satellite communication services for the identification of demographics of vulnerable and highly contagious COVID-19 areas through connecting the database of local geographic information and COVID-19 infected persons. The increasing rate of COVID-19 vaccination across the world is expected to alleviate the pandemic's impact on the global satellite communication business.
Artificial or man-made satellites orbit the Earth or other celestial objects for analyzing and predicting solar system and universe. The satellites are also utilized for communication applications such as television signals, phone calls, positioning technology, military, and others. Satellite communication is achieved through transmission of radio waves from satellite, and capturing & processing of information from antennas and transponders installed at different locations on Earth. The space organizations are increasing satellite launches globally to overcome the maximum distance signal transmission constraint associated with the conventional signal communication system. The satellites relay digital and analog signals for transmitting voice, video, and data across several locations worldwide.
The rise in demand for the satellite communication system by the US defense department is one of the major factors driving for the growth of the satellite communication market in North America. The presence of big satellite communication providers namely EchoStar Corporation, Telesat, and Viasat, Inc. in the region is anticipated to propel the growth of the satellite communication market in North America during the forecast period.
The US is the global technological leader. Presence of a robust framework for manufacturing and designing customized satellite communication systems for several applications such as remote monitoring, intelligence operations, and defense missions increases the domination of the U.S. in the satellite communication market.  U.S. government and defense agencies have increased the adoption of satellite communication equipment to strengthen their defense capabilities. For instance, in February 2021, US Air Force inducted new AT-6E Wolverine attack aircraft developed by Beechcraft.  The aircraft features a circular antenna on the top of its nose to support satellite communications for enhanced intelligence, surveillance, and reconnaissance (ISR) and light attack missions. Integration of satellite communication technology by defense agencies and cellular industries for augmented information sharing are the factors that fuel the growth of the U.S. satellite communication market.
Moreover, the Chinese and Indian governments have increased satellite launches to increase the satellite communication capability of the region. For instance, in March 2021, China launched Yaogan 31-series satellites through the Long March-4C rocket. The Yaogan satellites will augment the territory monitoring capability of China. The Chinese government has increased satellite launches to provide connectivity solutions across China and worldwide. The Chinese government organizations such as China Aerospace Science and Technology Corporation (CASC) facilitate the deployment of satellite communication technology in the region. For instance, in December 2018, China launched the first satellite of the Hongyan Low Earth Orbit (LEO) communications constellation using the Long March 11 light launch vehicle. The satellite will provide IoT and mobile connectivity within China. Increase in the adoption of satellite communication to provide a wide area coverage network is expected to drive the growth of the satellite communication market in China.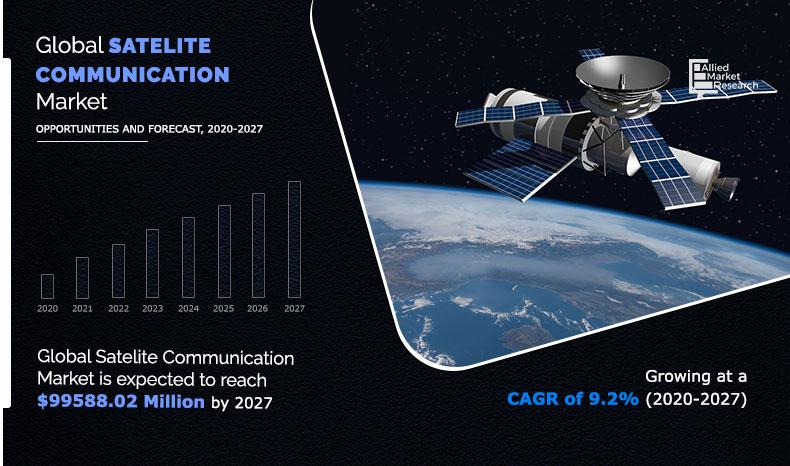 The increase in development of new satellite technologies is anticipated to fuel the growth of the global satellite communication market during the forecast period. For instance, in April 2021, Northrop Grumman announced successful docking of its Mission Extension Vehicle 2 to Intelsat 10-02 a commercial satellite. Mission Extension Vehicle 2 is a robot spacecraft that extends the life of satellites.
The satellite communication market is segmented into application, component, end-use industry, and region. Based on application, the market is segmented into voice communication, broadcasting, and data communication. Based on component, it is further divided into equipment and services. Based on end-use industry, the market is classified into maritime, aerospace & defense, industrial, government, transportation and logistics, and media. Region wise, the market is analyzed across North America, Europe, Asia-Pacific, and LAMEA.
The key players operating in the global satellite communication market include Al Yah Satellite Communication Company PJSC (Yahsat), Cobham Ltd, EchoStar Corporation, General Dynamics Corporation, Gilat Satellite Networks Ltd., Inmarsat Global Limited, L3Harris Technologies, Inc., SES S.A., SKY Perfect JSAT Holdings Inc., Telesat Canada, and Viasat, Inc.
Increase in Internet of Things (IoT) and autonomous systems
Robust IoT, Artificial Intelligence (AI), and autonomous technologies are being increasingly implemented throughout several industries namely automobile, defense, and healthcare. These technical tools are employed to increase the efficiency and effectiveness of the new installation or existing infrastructure. For instance, in September 2020, Microsoft announced the development of a healthcare cloud service. The healthcare cloud service is a digital health technology aimed to provide seamless interactions among various IoT devices, sensors, and users. Multiple tech giants have started developing smart technologies to support the growth and adoption of autonomous systems in real-world applications. Moreover, autonomous systems provide extended safety and comfort for their users by analyzing real-time data to facilitate overall user experience. For instance, Samsung Electronics is developing an autonomous driving chip to be installed in vehicles for providing central control and obtain autonomous driving by further exchanging information in real-time through the data centers of Google. Furthermore, smart technologies such as IoT and autonomous systems need extensive and secure network connections for their operation. Satellite communication is being increasingly utilized to provide these systems with the required communication channel. For instance, in March 2021, SpaceX filed for approval from the US Federal Communications Commission (FCC) to enable broadband capabilities in moving autonomous vehicles which will further ensure connectivity in remote areas through SpaceX's satellite system.
An increase in the adoption of the satellite communication system to enhance the potential of IoT and autonomous technologies is anticipated to propel the growth of the global satellite communication market during the forecast period.
Satellite Communication Market

---
By Application
Data Communication is projected as the most lucrative segments
Rise in demand for military & defense satellite communication solutions
Military & defense forces around the world require flexible, secure, and reliable communications networks to facilitate information sharing for critical missions. Military and defense users work with private organizations for developing mission-specific satellite communication (SATCOM) solutions. For instance, in February 2021, the French defense procurement agency (DGA) chose Thales Alenia Space for developing the satellite communications system Syracuse IV for the French armed forces. Syracuse IV will be a highly resilient SATCOM system and will possess the quality to be operated in highly contested environments. Moreover, military and defense forces around the world are upgrading their existing infrastructure to enhance them in battle and defense efficacy. For instance, in February 2021, Hanwha Systems, a defense contractor in South Korea announced the development of an on-the-move military satellite communication terminal in partnership with Intellian Technologies. The terminal will enable support for real-time command and control for the ground forces on the battlefield. Commercial players have further increased the development of advanced hardware and services, owing to an increase in demand for SATCOM solutions from the defense industry. For instance, ThinKom Solutions, Inc. developed a new version of Aero Satellite Communication Antennas in March 2021. The new product variant enables embedded phased-array applications and allows flexibility in the installation for military beyond-line-of-sight (BLOS) missions.
Satellite communications augment military and defense communication, which is expected to be a major driver for the growth of the satellite communication market during the forecast period.   
Satellite Communication Market

---
By Component
Equipment is projected as the most lucrative segments
Cybersecurity threats to satellite communication
Rapid increase in operational in-orbit satellites further increases concerns and security risks associated with satellite communication. Satellite systems are responsible for global bandwidth communication and are at risk of exploitation by cyber criminals. Government and private organizations are dependent on satellites for critical services and operations namely meteorological and weather monitoring, remote sensing, communications, navigation, and imaging. Critical systems and infrastructure such as electrical grids, mobile networks, and Global Positioning System (GPS) technologies are also reliant on satellites. Moreover, satellites are operated from ground systems, which provide cyber criminals to take advantage of security loopholes and hack in the satellite system. Disruption in satellite communication service creates economic and impending losses for these crucial and vital frameworks. In addition, the downlink and uplink transmission carried out by satellites with open telecom networks can be intercepted and altered by hackers. The long-range telemetry utilized for satellite communications is also susceptible to cyberattacks.
These security threats restrain the growth of the satellite communication market.
Satellite Communication Market

---
By End Use Industry
Aerospace and Defense is projected as the most lucrative segments
Interference in satellite data transmission
Satellite communication systems are designed for transmitting and receiving signals on the internet, telephony, backhaul, and other services. Interference in the satellite communication operations severely impacts the performance of the satellite and result in a significant loss of income for the operators. Moreover, additional costs have to be spent on fixing and debugging the problems in communication to further enable normal communications. Interference in SATCOM occurs due to various factors such as interference from high-power radar, intentional jammers, unauthorized transmissions namely piracy, adjacent satellite interference (ASI), interference from broadcast FM transmitters, aircraft interference, and adjacent frequency emissions from other signals, among others. For instance, in February 2021, Dish demonstrated interference in the 12GHz spectrum between Starlink's satellite internet service and Dish's terminals. Moreover, intentional hindrance created by terrorists and criminals to manipulate the SATCOM operations further creates an obstacle in satellite data transmission.
Furthermore, the proliferation of satellites in space also increases interference in the transmission of data between the ground station and the satellite. Factors such as the increase in the number of satellites and adjacent frequency emissions generate interference in data transmission through satellite, which further acts as a restraint for satellite communication market's growth. 
Satellite Communication Market

---
By Region
Asia Pacific would exhibit the highest CAGR of 10.1% during 2020-2027.
COVID-19 Impact Analysis 
The COVID impact on the satellite communication market is unpredictable and it is expected to remain in force till the second quarter of 2021. 
The COVID-19 outbreak forced the governments across the globe to implement strict lockdowns and made the social distancing mandatory to contain the spread of the virus. Consequently, several organizations started the work from home programs as safety measures. This led to sudden increase in demand for internet service, which further promotes rise in demand for satellite communication across the world. 
Moreover, the nationwide lockdown forced the satellite manufacturing facilities to partially or completely shut their operations.
The adverse impacts of the COVID-19 pandemic have resulted in the delays in the activities and initiatives regarding the development of innovative satellite communication solutions.
Key Benefits For Stakeholders
This study presents the analytical depiction of the global satellite communication market analysis along with the current trends and future estimations to depict imminent investment pockets.
The overall satellite communication market opportunity is determined by understanding profitable trends to gain a stronger foothold.
The report presents information related to the key drivers, restraints, and opportunities of the global satellite communication market with a detailed impact analysis.
The current satellite communication market is quantitatively analyzed from 2019 to 2027 to benchmark the financial competency.
Porter's five forces analysis illustrates the potency of the buyers and suppliers in the industry.
Key Market Segments
By Application
Voice communication
Broadcasting
Data Communication
By Component
By End-Use Industry
Maritime
Aerospace and Defense
Industrial
Government
Transportation and Logistics
Media
Others
By Region
North America
Europe

Germany
France
Spain
UK
Rest of Europe

Asia-Pacific

China
Japan
India
South Korea
Rest of Asia-Pacific

LAMEA

Latin America
Middle East
Africa
KEY PLAYERS
Al Yah Satellite Communication Company PJSC (Yahsat)
Cobham Ltd
EchoStar Corporation
General Dynamics Corporation
Gilat Satellite Networks Ltd.
Inmarsat Global Limited
L3Harris Technologies, Inc.
SES S.A.
SKY Perfect JSAT Holdings Inc.
Telesat Canada 
Viasat, Inc.
 Satellite Communication Market Report Highlights
Aspects
Details
By COMPONENT
By APPLICATION

Voice communication
Broadcasting
Broadcasting

By END-USE INDUSTRY

Maritime
Aerospace and Defense
Industrial
Government
Transportation and logistics
Media
Others

By Region

North America (U.S., Canada, Mexico)
Europe (France, Germany, Italy, Spain, UK, Russia, Rest of Europe)
Asia-Pacific (China, Japan, India, South Korea, Australia, Thailand, Malaysia, Indonesia, Rest of Asia-Pacific)
LAMEA (Brazil, South Africa, Saudi Arabia, UAE, Argentina, Rest of LAMEA)

Key Market Players
GILAT SATELLITE NETWORKS LTD., GENERAL DYNAMICS CORPORATIO, TELESAT CANADA, VIASAT, INC., EchoStar Corporation, COBHAM LTD, SES S.A., L3HARRIS TECHNOLOGIES, INC., .AL YAH SATELLITE COMMUNICATION COMPANY PJSC (YAHSAT), SKY PERFECT JSAT HOLDINGS INC., INMARSAT GLOBAL LIMITED