Communication Software Market Research, 2031
The global communication software market size was valued at $1 billion in 2021, and is projected to reach $2.6 billion by 2031, growing at a CAGR of 10.3% from 2022 to 2031. Communication software refers to computer programs and applications that facilitate communication between individuals or groups through electronic means. These software solutions enable users to exchange messages, share files, make audio or video calls, and collaborate in real-time from different locations, using a range of devices.
The COVID-19 pandemic has had a positive impact on the employee communication software market, since it has pushed the adoption of remote work and virtual communication solutions. Increased demand for video conferencing tools like Zoom, Microsoft Teams, and Google Meet has been the pandemic's biggest effect on the market for communications software. These platforms have become important resources for virtual meetings and collaboration as individuals have shifted to remote working. The increased adoption of cloud-based communication solutions is another trend that has developed during the epidemic.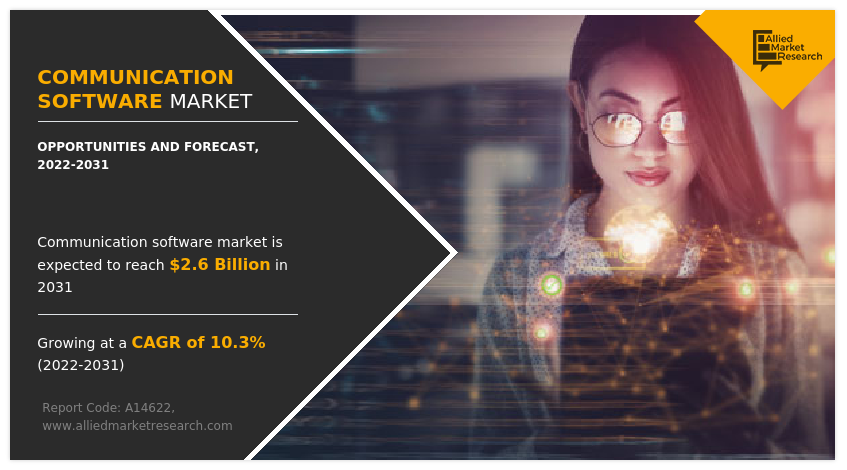 The market for communication software is in fact influenced by the increasing use of cloud-based software solutions. Businesses may benefit from a number of benefits from cloud-based communication software solutions, including cost savings, scalability, and user-friendliness. Software solutions for cloud-based communications do away with the requirement for enterprises to spend money on expensive hardware and infrastructure. Instead, the software is accessible online and housed on faraway servers, letting companies only pay for what they really use and lowering their initial outlay. The highly scalable cloud-based communication software solutions enable organizations to simply grow or decrease their usage in accordance with their demands. Businesses may avoid overspending on software they don't use due to this flexibility, which also guarantees they always have access to the resources they require.
The market for communication software may be significantly limited by security concerns. Organizations must make sure that their sensitive data and conversations are protected from unauthorized access due to the growing reliance on digital communication technologies in modern workplaces. Communication software suppliers must put strong security measures in place to safeguard the data of their clients in order to satisfy these concerns. End-to-end encryption, two-factor authentication, and secure login protocols are a few examples of such features. To reassure consumers of their security procedures, software suppliers can also submit to independent security audits and earn industry-standard certifications.
The market for communication software has a sizable opportunity due to the growth of the Internet of Things (IoT). The demand for communication software that can enable smooth communication across various devices is increasingly urgent as more gadgets are linked to the internet. In this sector, there are several prospects for companies. Businesses, for instance, may create software tools for communication that let devices talk to each other in real time, independent of their location or operating system. To guarantee smooth communication between devices made by various manufacturers, compatible protocols and standards must be developed. The developing communication software solutions that provide robust security features to protect the privacy and integrity of the data transmitted between devices. With the increasing number of connected devices, there is a need for software that can protect against cyber-attacks and ensure data confidentiality.
The key players profiled in this report include Nudge Rewards Inc., GuideSpark, Beekeeper AG, Sociabble, Inc., SocialChorus. Inc., Poppulo, OurPeople, Smarp, theemployeeapp, and Workvivo Limited.
The global communication software market is segmented on the basis of deployment model, enterprise size, industry vertical, and region. By deployment model, the market is sub-segmented into cloud and on-premises. By enterprise size, the market is classified into large enterprises and small & medium enterprises. By industry vertical, the market is classified into BFSI, manufacturing, retail, healthcare, IT & Telecom and others. By region, the market is analyzed across North America, Europe, Asia-Pacific, and LAMEA.
The communication software market is segmented into Deployment Model, Enterprise Size and Industry Vertical.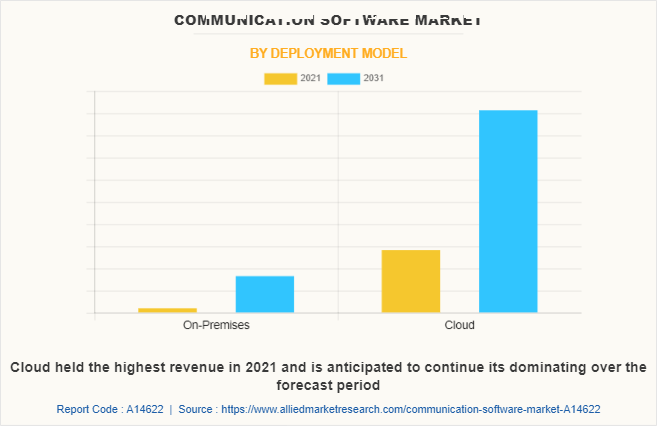 By deployment model, the cloud sub-segment dominated the market in 2021. The expanding need for cloud-based platforms for efficient team collaboration across enterprises might be attributed to the increased number of employees working remotely. Furthermore, these cloud platforms enable users to access teamwork tools via smartphones. They have also upgraded features such as the ability to record occurrences for later review. The COVID-19 outbreak has substantially encouraged the proliferation of cloud-based communication technology, such as instant messaging software and video conferencing applications, to enable efficient communication between organizations while employees work remotely. Cloud-based tools allow remote teams to manage projects of any size while also streamlining company operations. These are predicted to be the major factors affecting the communication software market forecast period too.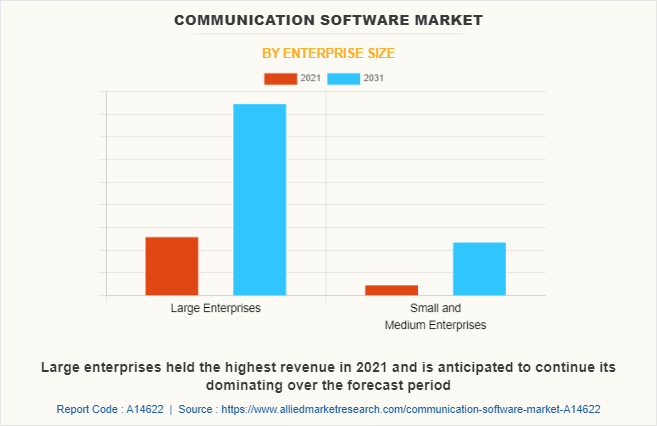 By enterprise size, the large enterprises sub-segment dominated the global communication software market share in 2021. The market for communication software has a large range of competitors working across several categories, making it a very competitive and continually changing business. Several factors are influencing the growth and direction of the market for communication software among large enterprises. As more major businesses move their operations to the cloud, they are searching for communication software that can allow smooth communication across many platforms and devices and be simple to connect with their current systems.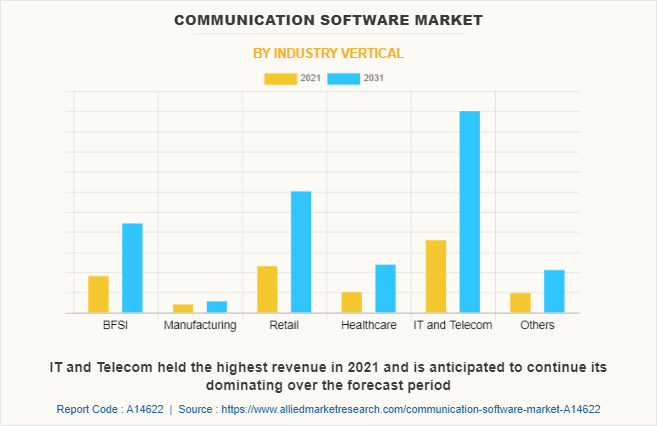 By industry vertical, the IT & telecom sub-segment dominated the global communication software market share in 2021. There is an increasing demand for communication software that can help organizations as they continue to rely on technology to run their operations. The IT & telecom industry is leading this trend since businesses in this sector need reliable communication technologies to run their operations. As opposed to conventional on-premises systems, cloud-based communication software provides better flexibility, scalability, and cost-effectiveness, which has led to its rising popularity in recent years. This has increased demand in the IT & telecom industries for cloud-based communication software. New prospects for communication software suppliers in the IT & telecom sectors have emerged with the introduction of 5G technology. Greater bandwidth, lower latency, and faster speeds provided by 5G networks enable the support of more complex communication applications.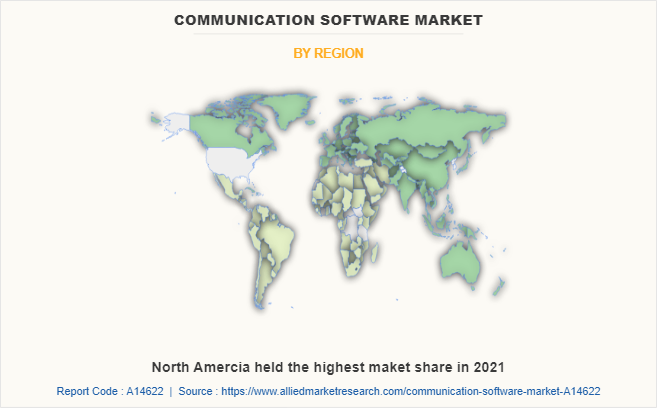 By region, North America dominated the global market in 2021 and is projected to be the fastest-growing sub-segment during the forecast period. The growing usage of mobile devices has boosted the North American market for communication software. Many businesses are implementing mobile communication solutions to allow their staff to communicate and collaborate while on the go in response to the widespread use of smartphones and tablets. As a result, several mobile communication tools have been created, such as messaging applications, video conferencing apps, and mobile unified communication tools. The need for communication tools that support remote collaboration has greatly expanded as more individuals choose to work from home or other remote places. As a result, many businesses are using remote collaboration-supporting communication systems including video conferencing, online collaboration tools, and software for virtual meetings.
Impact of COVID-19 on the Global Communication Software Industry
The COVID-19 pandemic has had a significant impact on the communication software industry. The need for communication software and solutions has increased dramatically because of lockdowns and social distance policies forcing millions of individuals to work remotely.
Communication software has become an essential tool for cooperation and productivity as more businesses transition to remote working. Slack, Asana, Trello, and Monday.com all experienced a spike in demand as consumers sought for methods to stay connected and organised while working from home.
During the pandemic, cloud-based communication tools like Microsoft Teams, Zoom, and Slack gained popularity because they made it possible for remote workers to collaborate and communicate from any location with an internet connection. Software that is hosted in the cloud is flexible and scalable, making it the perfect choice for businesses with remote employees.
Many businesses used digital communication software to take the role of in-person meetings and events. As a result, there was a large rise in the demand for communication software, including messaging platforms, social media management tools, and email marketing software.
Key Benefits For Stakeholders
This report provides a quantitative analysis of the market segments, current trends, estimations, and dynamics of the communication software market analysis from 2021 to 2031 to identify the prevailing communication software market opportunities.
The market research is offered along with information related to key drivers, restraints, and opportunities.
Porter's five forces analysis highlights the potency of buyers and suppliers to enable stakeholders make profit-oriented business decisions and strengthen their supplier-buyer network.
In-depth analysis of the communication software market segmentation assists to determine the prevailing market opportunities.
Major countries in each region are mapped according to their revenue contribution to the global market.
Market player positioning facilitates benchmarking and provides a clear understanding of the present position of the market players.
The report includes the analysis of the regional as well as global communication software market trends, key players, market segments, application areas, and communication software market growth strategies.
 Communication Software Market Report Highlights
Aspects
Details
Market Size By 2031
USD 2.6 billion
Growth Rate
CAGR of 10.3%
Forecast period
2021 - 2031
Report Pages
280
By Deployment Model
By Enterprise Size

Large Enterprises
Small and Medium Enterprises

By Industry Vertical

BFSI
Manufacturing
Retail
Healthcare
IT and Telecom
Others

By Region

North America (U.S., Canada, Mexico)
Europe (Germany, UK, France, Spain, Italy, Rest of Europe)
Asia-Pacific (China, Japan, India, South Korea, Australia, Rest of Asia-Pacific)
LAMEA (Brazil, Saudi Arabia, United Arab Emirates, South Africa, Rest of LAMEA)

Key Market Players
OurPeople, Sociabble, Inc., Poppulo, Nudge Rewards Inc., Beekeeper AG, GuideSpark, Smarp, Workvivo Limited, SocialChorus. Inc., theemployeeapp