Computer Vision Market Research, 2032
The global computer vision market was valued at $15 billion in 2022, and is projected to reach $82.1 billion by 2032, growing at a CAGR of 18.7% from 2023 to 2032.
A computer vision system acquires, processes, and analyses real-world images in order to produce numerical or symbolic information, often in the form of a decision. Each application requires a specialized adaptation and enhancement to the computer vision algorithm, although several fundamental blocks of algorithms are common. Computer vision is the enterprise of automating and integrating a wide range of processes and representations used for visual perception. It includes many techniques that are useful by themselves, such as image processing (transforming, encoding, and transmitting images) and statistical pattern classification (statistical decision theory applied to general patterns, visual or otherwise). Following the current trend of automation and 3D imaging in all major industries, the market for computer vision and also in AI vision market is expected to witness growth at a high rate in the near future. 
Surge in increased processing and better accuracy coupled with economic advantage of computer vision system are one of the major factors that is striking the market growth during the forecast period. However, intense requirement of highly skilled and experienced professional and user data privacy and safety concerns is primarily restraining the market growth. Moreover, growing application of computer vision in non-industrial applications and advancements in the field of computer vision and AI vision market is expected to create a lucrative opportunity for the market growth during the forecast period. 
[ COVIDIMPACTSTATEMENT]
The computer vision market is segmented on the basis of components, product, application, end user and region. On the basis of component, it is divided into hardware, software and services. On the basis of product, it is bifurcated into PC based and smart camera based computer vision system. On the basis of application, it is divided into quality assurance & inspection, positioning & guidance, measurement, identification, predictive maintenance. On the basis of end user, it is fragmented into industrial and non-industrial. On the basis of region, it is analyzed across North America, Europe, Asia-Pacific, and LAMEA.
The market players operating in the computer vision industry are Intel Corporation, Texas Instruments Incorporated, Cognex Corporation, Keyence Corporation, Sony Corporation, Basler AG, Omron Corporation., Mediatek Inc., National Instruments Corporation, Teledyne Technologies Incorporate. These major players have adopted various key development strategies such as business expansion, new product launches, and partnerships, which help to drive the growth of the computer vision industry globally.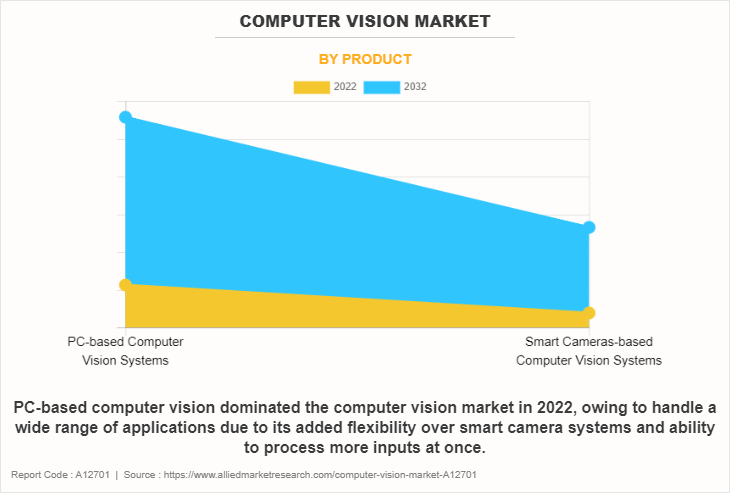 On the basis of product, PC-based computer vision systems segment dominated the computer vision market in 2022 and is expected to maintain its dominance in the upcoming years, owing to handle a wide range of applications due to its added flexibility over smart camera systems and ability to process more inputs at once propels the market growth significantly. However, the smart cameras-based computer vision systems segment is expected to witness the highest growth during the computer vision market forecast, owing to perform some predefined function/tasks and is designed according to the needs of that particular task.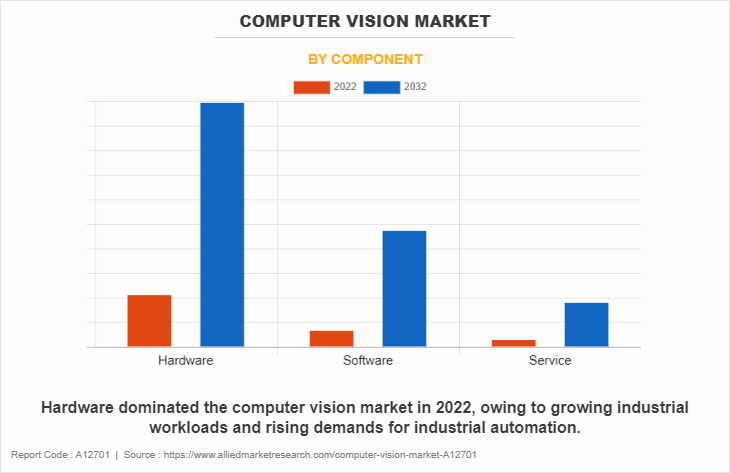 On the basis of component, hardware segment dominated the computer vision market in 2022 and is expected to maintain its dominance in the upcoming years owing to growing industrial workloads and rising demands for industrial automation propels the market growth significantly. However, the software segment is expected to witness the highest growth, owing to offer custom image processing applications such as facial detection, object identification, text recognition, color, and pattern recognition, and others. 
Top Impacting Factors
Faster processing and better accuracy
With the adoption of computer vision systems, organizations and businesses can have their simple repetitive tasks performed through an automated system, which otherwise can be time consuming when performed manually. For instance, as per a study published in IEEE Transactions on Intelligent Transportation Systems, computer vision powered traffic detection and monitoring system were  found to be over 91% more reliable than traditional human-powered systems. This gives computer vision systems a fair advantage, thereby influencing larger investments to develop more applications based on computer vision.
Moreover, computer vision powered systems are faster than their human counterparts, thereby resulting in high usage, specifically within the industrial sector. For instance, manufacturing plants can use high-speed cameras powered by computer vision to detect anomalies on the product line while processing more than hundreds of products and variables in just a few seconds. Thus, with such high performance factors, computer vision system is gaining a rapid progression, thereby boosting the market growth. 
Economic advantage of computer vision system
Computer vision and machine learning-powered systems are overall more economical than manual legacy systems. Moreover, computer vision systems can perform repetitive tasks with minimal error probability, while humans are more prone to commit mistakes that can cause complete system shutdown and have serious financial and social consequences for the organization or the business. As per a study conducted by AMR, machine learning can train with larger datasets and have over 90% more accuracy than human based systems. These factors promise computer vision systems market to grow as more applications develop based on them in the future.
Key Benefits For Stakeholders
This report provides a quantitative analysis of the computer vision market size, market segments, current trends, estimations, and dynamics of the computer vision market analysis from 2022 to 2032 to identify the prevailing computer vision market opportunities.
The market research is offered along with information related to key drivers, restraints, and opportunities.
Porter's five forces analysis highlights the potency of buyers and suppliers to enable stakeholders make profit-oriented business decisions and strengthen their supplier-buyer network.
In-depth analysis of the computer vision market segmentation assists to determine the prevailing market opportunities.
Major countries in each region are mapped according to their revenue contribution to the global market by computer vision market share.
Market player positioning facilitates benchmarking and provides a clear understanding of the present position of the market players.
The report includes the analysis of the regional as well as global computer vision market trends, key players, market segments, application areas, and computer vision market growth strategies.
 Computer Vision Market Report Highlights
Aspects
Details
Market Size By 2032
USD 82.1 billion
Growth Rate
CAGR of 18.7%
Forecast period
2022 - 2032
Report Pages
349
By Product

PC-based Computer Vision Systems
Smart Cameras-based Computer Vision Systems

By Application

Quality Assurance and Inspection
Positioning and Guidance
Measurement
Identification
Predictive Maintenance

By End User

Industrial
Non-industrial

By Component

Hardware
Software
Service

By Region

North America (U.S., Canada)
Europe (UK, Germany, France, Italy, Spain, Rest of Europe)
Asia-Pacific (China, Japan, India, Australia, South Korea, Rest of Asia-Pacific)
LAMEA (Latin America, Middle East, Africa)

Key Market Players
Texas Instruments Incorporated, KEYENCE CORPORATION, Sony Corporation, MediaTek Inc., Teledyne Technologies Incorporated, Cognex Corporation, National Instruments Corporation, Intel Corporation, BASLER AG, Omron Corporation.
Analyst Review
The market for computer vision is developing significantly and is anticipated to continue in the upcoming years. The adoption of computer vision technology, which enables machines to visually observe and understand the world, is rising in a number of different sectors, including manufacturing, healthcare, automotive, and retail. The increasing need for automation and efficiency in businesses, developments in AI and deep learning, and the accessibility of high-performance computing systems are some of the key drivers that are fueling the demand for computer vision. Moreover, the market is also growing as a result of the expanding usage of computer vision in tasks including object detection, image segmentation, and video analytics. Additionally, the main contributor to the computer vision market is the healthcare sector, which uses the technology for a variety of purposes, including patient monitoring, surgical robotics, and medical imaging and diagnostics. Computer vision is also used in the automobile sector for projects such as driverless vehicles and advanced driver assistance systems (ADAS). Furthermore, computer vision has wide use in the retail industry for cashierless checkout systems, customer analytics, and inventory management. Computer vision is increasingly deployed in the industrial sector for process optimization, defect detection, and quality control. For instance, in February 2023, KEYENCE CORPORATION enhanced its VS series for computer vision that delivers rapid machine vision solutions for a wide range of applications at any experience level.
For instance, in March 2023, Texas Instruments Incorporated enhanced its computer vision solutions and launched six Arm Cortex based vision processors that allow designers to add more vision and artificial intelligence (AI) processing at a lower cost, and with better energy efficiency, in applications such as video doorbells, machine vision and autonomous mobile robots.