Craft Beer Market Outlook-2026
A significant rise has been witnessed in the consumption of beer by people aged between 18 and 25 years. According to the United Nations, the global youth population is expected to rise by 7% to 1.3 million before 2030, which in turn is expected to drive the craft beer market. The trend of drinking has been gaining acceptance across the globe due to financial independence and an increase in social & professional gatherings, which acts as the key driver of the market. In recent years, the developing and developed countries across the globe are witnessing rapid urbanization and improvement in their financial conditions. These factors have led to the overall rise in disposable income of people. In addition, improvements in lifestyle and changes in consumer preferences, especially among youngsters in developed economies such as Europe and North America, toward craft beer from traditional beer are expected to boost the growth of the global market. The population is gradually inclining toward sophisticated, moderated, and premium beverages, such as sparkling wine, English gin, Irish, Japanese whiskey, and others. Thus, consumer preference for premium alcoholic beverages has in turn triggered demand for craft beer. Over the past couple of years, consumers prefer to spend quality time in various hotels, restaurants, and cafés, which has resulted in rise in a number of on-premise facilities. The expansion of on-premise distribution channels along with the rise in disposable income considerably contributes toward the growth of the global market.
The global craft beer market size was valued at $108,912 million in 2018 and is expected to reach $186,590 million by 2025, registering a CAGR of 8.0% from 2018 to 2025.
 Over the past couple of years, there has been a rise in demand for various traditional beers, which includes craft beer as well. Craft beer is one of the main types of beer which is processed with a traditional or non-mechanized procedure by small breweries. The American Brewer Association (ABA) defines craft brewery as 'small', 'independent' and 'traditional'. The Annual production of 6 million barrels of beer or less, refers to small craft brewery. Whereas in independent craft brewery, less than 25% of craft brewery is owned and controlled by a beverage alcohol industry member.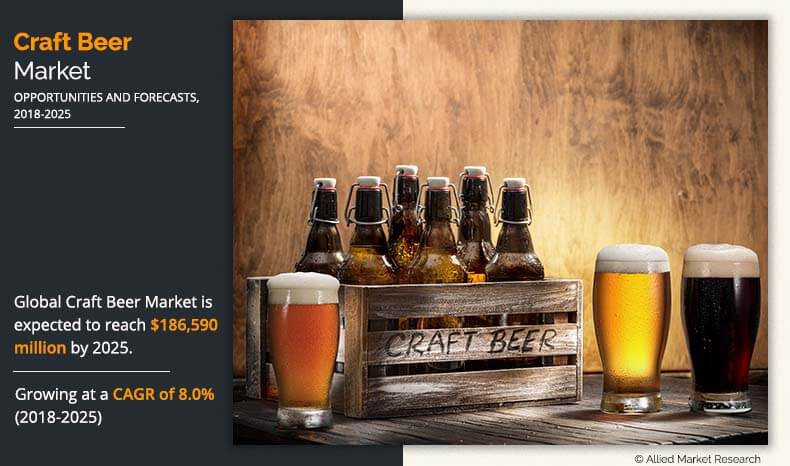 The surge in demand for more beer styles coupled with increase in per capita income among the target customers has triggered the demand for craft beer in some of the key beer consuming regions. Craft beer is typically more expensive than standard lager beers. As a result, consumers with higher income are the prime customers for the global craft beer market. Higher incomes not only stimulates an increase in the demand for more expensive products but also stimulates the demand for more variety. It is thus, not surprising that the craft beer market expanded as incomes increased substantially in industrialized countries in the decades.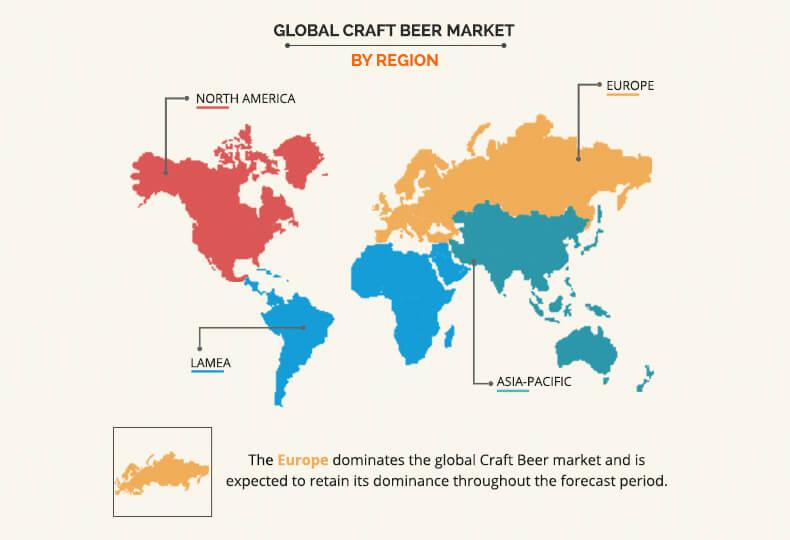 Beer in general has been the subject of many government regulations. Regulations serve several objectives such as enhancing government revenues through beer taxes, protecting consumer health, protecting society from alcohol abuse, reducing the price of bread grains, and constraining market power. Similarly, with the surge in demand for craft beers, governments have endured two-way interaction with rules and regulation. On one hand, regulations have stimulated, or constrained craft brewing compared to microbrewers. On the other hand, the growth of craft brewing has induced changes in regulations that have facilitated the subsequent entry of craft breweries.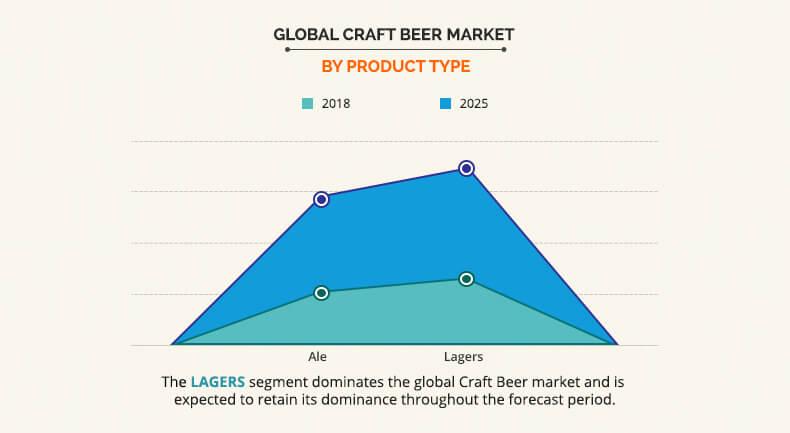 The global craft beer market is segmented on the basis of product type, distribution channel, age group, and region. By product type, it is divided into ale and lager. According to distribution channel, it is bifurcated into on-trade and off-trade. As per age group, it is divided into 21–35 Year Old, 40–54 Year Old, and above 55 Years old. Region-wise, it is analyzed across North America, Europe, Asia-Pacific, and LAMEA.
By product type, it is segmented into Ale and Lagers. Among these product types, ale accounted for a higher craft beer market share. The ale segment is further segmented into pale ale, brown ale, Scottish-style ale, porters, and stouts. Over the years, most of the beer consuming customers have developed a special preference for traditional beers such as pale ale, porters, and stout. This consumer perception has driven some of the key players in the global beer market to reinstate different types of traditional beers into the market. For instance, in 2019, Heineken launched a new line of craft beer for the UK market.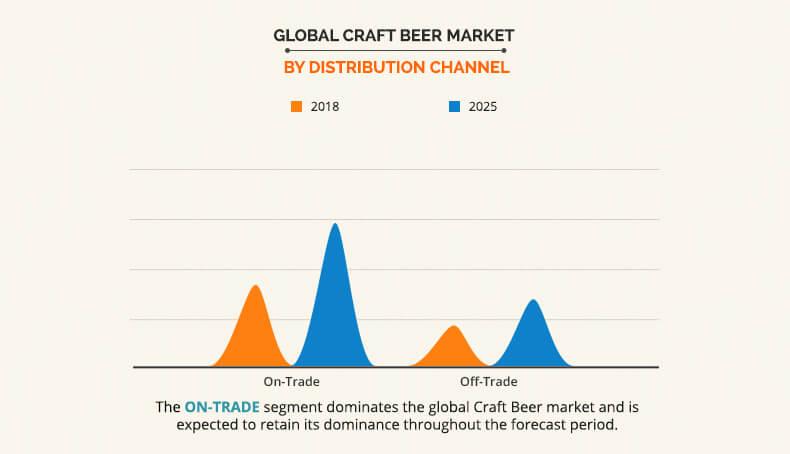 By distribution channel, it is bifurcated into on-trade and off-trade. The on-trade segment accounted for a higher market craft beer market share. The on-trade distribution segment includes outlets such as bars, restaurants, coffee shops, clubs, and hotels. The distribution and sales of products in the on-trade market differs completely from the approach and practice used in the off-trade market. In the on-trade segment, bar/restaurant owner/manager and the professionals working at any of trade outlet (bartenders and waiters) play an important role in the sales process. Consumers seek more comfortable and stylish experience in case of on-trade premises that include brewpubs, tasting rooms, and tiki bars. This factor drives the increase in the pub and bar culture among millennials. This, in turn, fosters the craft beer market growth.
By age group, it is divided into 21–35 year old, 40–54 year old, and 55 year and above. The people in the age group 21–35 years are referred to as millennials. They have been influential in the evolution of various industries, in terms of product offerings and services. When it comes to global craft beer market, millennials have been the prime customers. The craft beer brewers have been continuously strategizing on evolving its product offerings that cater to varying perception and preference of the millennial segment. Thus, rise in number of millennials is anticipated to provide lucrative opportunities for the global craft beer market forecast.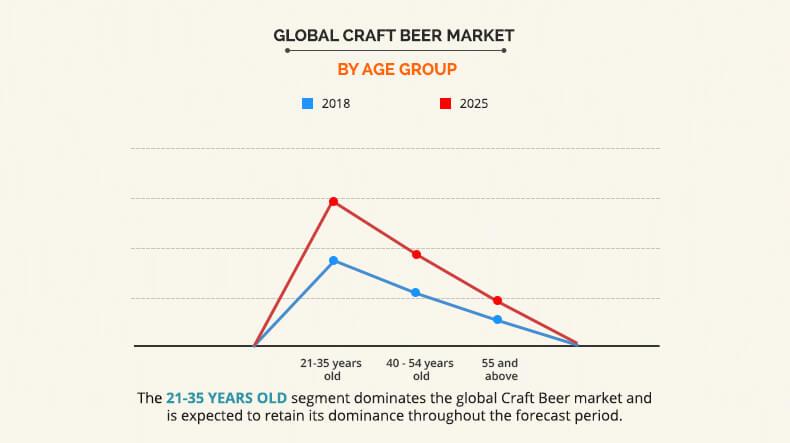 Region-wise, Europe dominates the craft beer market. The region has witnessed surge in the consumption rate for different type of craft beers. Due to rise in demand for these kinds of beers, Europe comprises both regional as well as international players that play a pivotal role in the growth of the craft beer market size, in terms of value.
Key players profiled in the craft beer industry include Anheuser-Busch InBev, Carlsberg Group, Diageo PLC, Heineken N.V., Erdinger Brewery, Lasco Brewery, Oettinger Brewery, Radeberger Brewery, and BAVARIA N.V.
Key Benefits for Craft Beer Market:
The report provides an extensive global craft beer market analysis with current and emerging market trends and opportunities.
The report provides detailed qualitative and quantitative analysis of the current craft beer market trends and future estimations that help in the evaluation of the prevailing market opportunities.
A comprehensive analysis of the factors that drive and restrict the market growth.
An extensive analysis of the market is conducted by following key product positioning and monitoring the top competitors within the market framework.
The report provides extensive qualitative insights on the potential craft beer segments or regions exhibiting favorable growth.
 Craft Beer Market Report Highlights
Aspects
Details
By Type

Ale

Pale Ale
Brown Ale
Strong Ale
Scottish Style Ale
Porters
Stouts

Lagers

Pale Lagers
Dark Lagers
Pilsners

By Distribution Channel
By Age Group

21–35 Years Old
40–54 Years Old
55 Years and Above

By Region

North America (U.S., Canada, Mexico)
Europe (Germany, UK, France, Italy, Russia, Spain, Rest of Europe)
Asia-Pacific (China, Japan, India, South Korea, Indonesia, Thailand, Australia, Rest of Asia-Pacific)
LAMEA (Brazil, South Africa, Nigeria, Rest of LAMEA)

Key Market Players
United Breweries Limited, Beijing Enterprises Holdings Limited (Beijing Yanjing Brewery Co., Ltd.), The Boston Beer Company, Inc., Sierra Nevada Brewing Co., Squatters Pub and Beers, Anheuser-Busch InBev, Dogfish Head Craft Brewery, Inc., Diageo PLC, Carlsberg Group, Heineken Holding NV.