The crunchy chocolate market size was valued at $16,867.1 million in 2020 and is estimated to reach $27,860.0 million by 2030, registering a CAGR of 5.1% from 2021 to 2030.          
Crunchy chocolate is made by coating a piece of wafer with a layer of chocolate. Nuts, fruits and cereals are also added along with a filling of delectable flavors such as honey, caramel and butterscotch to enhance its flavor.  Manufacturers are offering crunchy chocolates which are not only delicious but also cater to the needs and demands of a health-conscious consumer.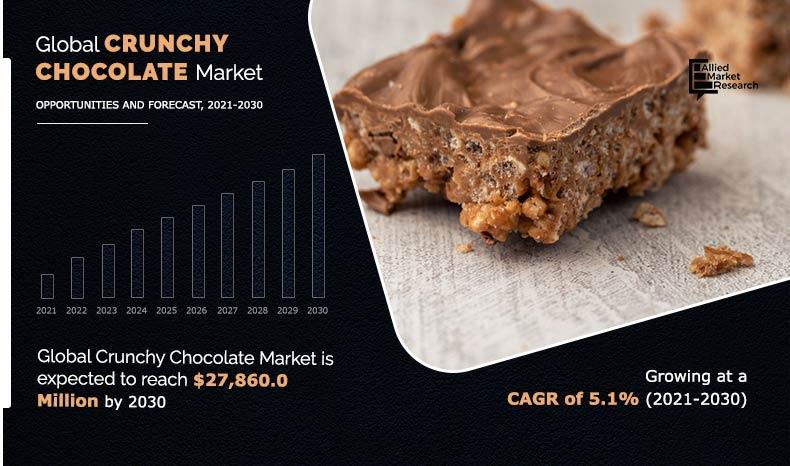 The confectionary industry is majorly driven by the increase in demand for chocolates including crunchy chocolate. The types of chocolates such as dark, milk, and white have gained traction over the years owing to the increase in their consumption rate. Moreover, wide spread availability of chocolate products coupled with the increase in consumer preferences towards confectionery items have fueled the demand for chocolates. 
The demand for cocoa in chocolate products has increased which has led manufacturers to blend superior quality products to meet the growing preferences of the consumers. Moreover, chocolates have been sourced as one of the excellent pressure suppressants and anti-aging confectionery items, which are likely to boost the demand for chocolate-based items. Furthermore, growing acceptance of milk flavored chocolate items and confectionery products are expected to increase the consumer's preference to such novelty products. For instance, crunchy chocolate is significantly used in milk shake and cold coffees. In addition, growing affordability of such confectionery products is increasing crunchy chocolate market demand, which is likely to create lucrative growth opportunities.
Outbreak of COVID-19 has negatively impacted the growth of the crunchy chocolate market size. This is attributed to the lockdown implemented across various countries, which has hampered chocolate processing industries.  One of the major factors that affected the crunchy chocolate market during the lockdown was the sales decline as a result of reduced gifting and impulse buying among consumers across the globe.
According to the crunchy chocolate market analysis, the crunchy chocolate market segmented into type, distribution channel, age group, price point and region. On the basis of type, the market is categorized into bar, toffee bites, truffles, balls and others. On the basis of distribution channel, the market is segmented into, supermarket/hypermarket, convenience stores, dollar stores, food services, duty-free outlets, e-commerce and others. By age group, market is categorized into, millennials, Gen A/Z and gen X/boomers. Region wise, it is analyzed across North America (the U.S., Canada, and Mexico), Europe (Germany, France, UK, Italy, Spain and Rest of Europe), Asia-Pacific (China, India, Japan, South Korea, Australia and Rest of Asia-Pacific), and LAMEA (Brazil, Saudi Arabia, South Africa, Turkey and Rest of LAMEA).
On the basis of type, the bar segment was the highest contributor to the crunchy chocolate market, with $8,363.70 million in 2020, and is estimated to reach $13,284.8 million by 2030, at a CAGR of 4.7% during the forecast period. Rising awareness regarding crunchy dark chocolate bar as a healthier confectionery product, which consists of antioxidants that protect the skin from harmful ultraviolet rays, is expected to promote the market growth over the next few years. Crunchy chocolate bars has been gaining significant popularity among the consumers owing to its crispiness and it adds a spot of fun to the snack. For instance, Nestlé company offer Crunch Bar which is a candy bar in the shape of a relativity flat square of milk chocolate, with its name "Nestlé Crunch" printed in molded chocolate on the front of the candy bar. The Crunch Bar is made with crisped rice embedded in it, a popular combination for chocolate treats.
According to the crunchy chocolate market trends, on the basis of distribution channel, the supermarket/hypermarket segment has highest share in global crunchy chocolate market. The growth of the supermarket/hypermarket segment in the crunchy chocolate market is attributed to increase in adoption of supermarket and hypermarket in both the mature and emerging markets. Moreover, the one-stop solution provided by these retail formats makes it a very popular option for shopping for consumers. These retail formats offer a wide range of products at a competitive price to customers and are usually located at easily accessible areas. Consumers are able to satisfy all their shopping needs at these destinations, further saving their time and adding to the attractiveness of this segment.
On the basis of age group, the millennial segments are expected to witness significant CAGRs of 6.1%, during the forecast period, and is estimated to reach $9,547.9 million by 2030. Chocolates, play a crucial role in several millennial-oriented celebrations globally. For most western millennial, chocolate forms a small but probably growing part of their diets. However, this trend is also becoming popular among millennial in other regions. In general, millennial prefer high concentration of sugar in a variety of foods and tend to reject bitter flavors. Thus, growing adoption of healthy life style is likely to accelerate the growth of crunchy chocolate market through millennial segment.  
On the basis of price point, the mainstream segment was the highest contributor to the crunchy chocolate market, with $10,082.5 million in 2020, and is estimated to reach $15,497.2million by 2030, at a CAGR of 4.4% during the forecast period. The mainstream segment comprises products that are considered affordable by larger masses of growing economies. Crunchy chocolate usually lie in the starting range of any product category and are also generally available with discounts. Confectionery products, especially chocolates & candies may be regarded as impulse purchase; however, they have become an everyday commodity among mass consumers. the disposable income is on the rise in developing as well as developed regions, a large portion of consumers still prefer the cheapest option. Therefore, majority of the confectionery products including crunchy chocolate cater to the large masses in the economy sector. Furthermore, price promotions are used as an effective tool to boost sales by reducing the price of products as well as to stimulate impulsive purchases.
According to the crunchy chocolate market opportunities. Region wise, Europe garnered a major share in product market in 2020, and is expected to maintain its dominance throughout the crunchy chocolate market forecast period.  Spanish crunchy chocolate manufacturers invest in research and innovation to introduce appealing products, which offer unique experiences to customers. New sugar substitutes and sugar-free products are emerging in European countries as consumers are concerned about the health effects association with high sugar consumption. In addition, innovation in terms of textures, flavors, shapes, and pack sizes supplements the crunchy chocolate market growth.
The players operating in the global crunchy chocolate industry have adopted various developmental strategies to expand their crunchy chocolate market share, increase profitability, and remain competitive in the market. The key players profiled in this report include Nestle SA, Mars Inc., Mondelez International, Ferrero Group, A. Loacker Spa, Lindt & Spruengli AG, Yıldız Holding, Pierre Hermé Paris, Maison Chaudun and Неrѕhеу'ѕ'.
Key Benefits For Stakeholders
The report provides a quantitative analysis of the current trends, estimations, and dynamics of the market size from 2020-2030 to identify the prevailing opportunities.
Porter's five forces analysis highlights the potency of buyers and suppliers to enable stakeholders to make profit-oriented business decisions and strengthen their supplier–buyer network.
In-depth analysis and the market size and segmentation assist to determine the prevailing market opportunities.
The major countries in each region are mapped according to their revenue contribution to the crunchy chocolate market share. 
The market player positioning segment facilitates benchmarking and provides a clear understanding of the present position of the market players in the crunchy chocolate industry.
Key Market Segments  
By Type
Bar
Toffee Bites
Truffles
Balls
Others 
By Distribution Channel
Supermarket/Hypermarket
Convenience stores
Dollar Stores
Food Services
Duty-free Outlets
E-Commerce
Others
By Age Group
Millennial
Gen A/Z
Gen X/Boomers
By Price Point
By Region
North America
Europe

Germany
France
UK
Italy
Spain
Rest of Europe

Asia-Pacific

China
India
Japan
South Korea
Australia
Rest of Asia-Pacific

LAMEA

Brazil
Saudi Arabia
South Africa
Turkey
Rest of LAMEA