The cultured meat market size was valued at $1.64 million in 2021, and is estimated to reach $2788.1 million by 2030, registering a CAGR of 95.8% from 2022 to 2030. 
Cultured meat, also known as in vitro meat, is a subtype of artificial meat and is produced by tissue engineering technology and cellular agriculture. Humans have been dependent on meat to meet their nutritional requirements, as meat serves as an ideal source of omega-3 fatty acids, vitamin B12, protein, and iron. The in vitro meat is grown in the laboratory by harvesting muscle cells from animal in the culture media for growth and proliferation.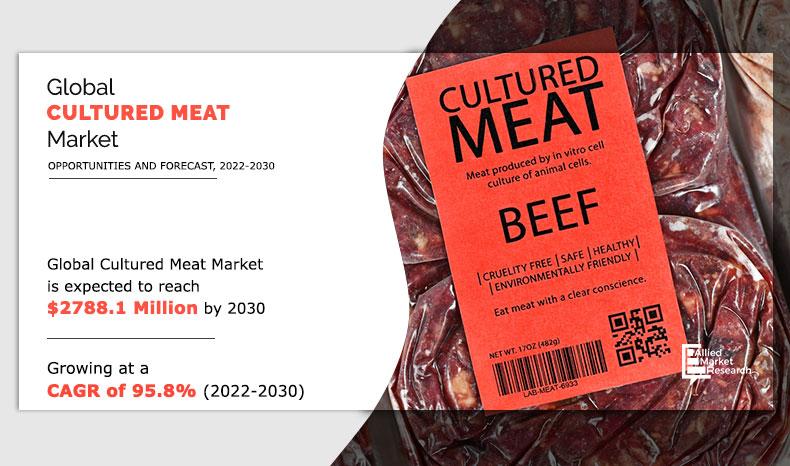 Multiple benefits associated with cultured meat, including low environmental impact, eliminating the need to raise animals, and decrease in public health risks boost the global cultured meat market growth. Cultured meat can be seen as alternative protein product. Consumers are shifting their focus toward adapting to a more nutritional diet that is aimed at greater sustainable lifestyle and has lesser dependency on animal proteins. In addition, individuals that are allergic to animal-based proteins are the major consumer base for alternative proteins. 
Thus, increase in number of such individuals acts as a major driver of the cultured meat market. Moreover, rise in concerns about animal welfare and environmental awareness is expected to boost the demand for lab-grown meat. Recently, the commercial production of cultured meat has met the growing demand for meat products and lowered down the stress on conventional meat sources., which is anticipated to support animal welfare. Although the product market is expected to exhibit substantial growth, high cost of production remains a key challenge for market players. In the process of production, the growth medium is used to stimulate cell growth. This step incurs additional costs, which limits the cultured meat production. 
On the contrary, scientists are actively working to reduce the cost of production. Future Meat Technology, a lab-grown meat start-up, is trying to get the price down to a commercial level, its timeline to meet this goal has changed from 2020 to more recently aiming for 2022. In 2013, the first cell-based burger was unveiled by Mosa Meat that costs almost around $400,000. It shows that the cost for production is high currently, but it may be lowered in future can this challenge can be solved by innovating cost reducing processes. 
Cultured Meat Market

---
By Type
Red Meat segment helds the major share of 91.5% in 2021
Region wise, Asia-Pacific dominated the cultured meat market in 2021, and is expected to sustain its dominance throughout the cultured meat market forecast period.  India and China have been identified as prominent countries to conduct consumer surveys on cultured meat. This is not only attributed to growing population but also rising economies, thereby increasing the meat consumption and consumer affordability for premium products. Various research surveys are being conducted to explore the consumer's acceptance for cultured meat. Furthermore, many countries approving production and selling of the lab grown meat in their countries which likely to escalate the growth of the cultured meat market during the forecast period. For instance, The Singapore Food Agency (SFA) granted Eat Just (US start-up) approval to begin selling its lab grown, cultured chicken as a food ingredient in Singapore. According to news reports, the cultured chicken will initially be sold in a single restaurant, with an intermediate scaling to about 15 restaurants planned in the near future. Eventually, Eat Just plans on moving into retail. 
According to cultured meat market analysis, the market is segmented on the basis of type, end user, and region. Depending on type, the market is divided into red meat, poultry, and seafood. By end user, it is bifurcated into household and food services. The report analyzes the market on regional basis into North America (U.S. and Rest of North America), Europe (UK, Switzerland, Germany, Italy, Belgium, The Netherlands and Rest of Europe), Asia (Singapore, Japan, China and Rest of Asia), and rest of the world (Israel, UAE and Others). 
Cultured Meat Market

---
By End User
Food Service segment helds the major share of 93.8% in 2021
​​​​​​
According to cultured meat market trends, depending on end user, The food service segment accounted for the around one-third half of the global cultured meat market share in 2021, and is expected to sustain its share during the forecast period. This is majorly attributed to rapid urbanization, upsurge in disposable income, and increase in trend of dining out. Furthermore, rise in number of food delivery apps has resulted in increased number of restaurants and hotels, globally, which promotes the food service industry growth.
The players operating in the global cultured meat market have adopted various developmental strategies to expand their market share, increase profitability, and remain competitive in the market. The key players profiled in this report include Aleph Farms Ltd., Cubiq Foods S.L., Future Meat Technologies, Meatable B.V., Memphis Meats , Mission Barns, Mosa Meat BV, Redefine Meat, and Vow Group Pty Ltd.
Cultured Meat Market

---
By Region
Asia Pacific region helds the higest market share of 62.8% in 2019
Key Benefits For Stakeholders
The report provides a quantitative analysis of the current market trends, estimations, and dynamics of the market size from 2019 to 2027 to identify the prevailing opportunities.
Porter's five forces analysis highlights the potency of buyers and suppliers to enable stakeholders to make profit-oriented business decisions and strengthen their supplier–buyer network.
In-depth analysis and the market size and segmentation assist to determine the prevailing cultured meat market opportunities.
The major countries in each region are mapped according to their revenue contribution to the market. 
The market player positioning segment facilitates benchmarking and provides a clear understanding of the present position of the market players in the cultured meat industry.
 Cultured Meat Market Report Highlights
Aspects
Details
BY TYPE
BY END USER
BY REGION

North America (U.S, Rest of North America)
Europe (UK, Switzerland, Germany, Italy, Belgium, The Netherlands, Rest of Europe)
Asia-Pacific (Singapore, Japan, China, Rest of Asia)
Rest of The World (Israel, UAE, Others)

Key Market Players
ALEPH FARMS LTD, CUBIQ FOODS S.L, EAT JUST, INC, FUTURE MEAT TECHNOLOGIES, MEATABLE B.V, MEMPHIS MEATS, MISSION BARNS, MOSA MEAT BV, REDEFINE MEAT LTD, VOW GROUP PTY LTD