The global current sensor market size is expected to reach from $1.65 billion in 2019 to $2.61 billion by 2027, growing at a CAGR of 6.3% from 2020 to 2027. 
The automotive segment impacted positively, due to COVID-19.
Current sensors, also commonly referred to as current transformers or CTs, are devices that measure current running through a wire by using magnetic field to detect the current and generate a proportional output. They are used with both AC and DC current. They are used in various applications such as motor driving circuits and inverter circuits. Current sensors are used in various industries such as automotive, consumer electronics, and telecommunication.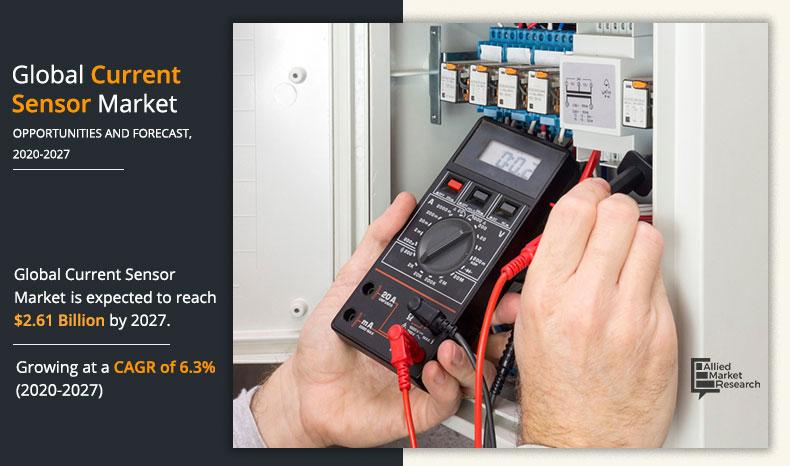 Rise in adoption of power management systems in data centers for improved efficiency & speed with reduced power expenditure fuels the market demand. Current sensors integrated with backup power systems such as inverters and UPS systems enable protection of battery at the stage of charge and offer efficiency, which increases their demand in data centers. Moreover, stringent government regulations in relation to control of data center power consumption is also one of the major factors that propels the current sensor market growth.
The COVID-19 outbreak has currently restrained research & development activities in the electronics & semiconductor industry and has led to shutdown of several manufacturing facilities globally. Shortage or unavailability of raw materials and components, owing to supply chain disruption hinders production capacity of sensor manufacturers. Further, decline in purchase capability among consumers, owing to uncertain economy and decrease in adoption of electric vehicles further hinder the market growth. However, by the end of 2020, the market demand is expected to boost development of autonomous technologies, such as industrial robots and autonomous electric cars, which would propels the market growth in coming years.
The global current sensor market is segmented on the basis of type, current sensing technology, end use, and region. On the basis of type, the market is bifurcated into open loop and closed loop. By current sensing technology, the market is classified into Hall effect, current transformer, flux gate, and Rogowski coil. On the basis of end use, it is divided into automotive, consumer electronics, industrial, telecommunication, and others. Region wise, the market is analyzed across North America, Europe, Asia-Pacific, and LAMEA.
Top Impacting Factors
Adoption of industrial robots and increase in trend of hybrid vehicles in the automotive industry drive the current sensor market growth. However, technical issues and high costs associated with current sensors across the globe hamper the market growth. On the contrary, rapid adoption of 5G technology increases demand for closed loop current sensors, which is expected to create lucrative opportunities for the current sensor market. 
Current Sensor Market

---
By Type
Open Loop segment generated the highest revenue in 2019.
Some major factors that impact the market growth include:
Growth in demand for Hall Effect technology in current sensors 
Development of hall-based technology has increased its demand such as in coreless technology. This provides manufacturers the benefit of reduced bill of material (BOM), design size, and provides a forward integration in other industry verticals as well. Hall effect technology provide benefits such as linearity, high accuracy, low power consumption, and wide frequency bandwidth. Key market players currently focus on BiCMOS architecture and galvanic isolation-based technology for advancements in hall effect technology. Advantages and further developments increase demand in the current sensor industry. 
Adoption of industrial robots 
Rise in implementation of latest developing technologies, such as industrial internet of things (IIoT) and cloud-computing has created high demand for industrial robots in manufacturing, particularly in countries such as China and South Korea, which, in turn, creates demand for the current sensor market. These industrial robots require current sensing applications for circuit, DC motors, and serves that measure accurate power requirement and functionality of robots. Therefore, growth in adoption of industrial robots increases the current sensor market demand. 
Current Sensor Market

---
By Current Sensing Technology
Hall Effect segment is expected to dominate the market during forecast period.
Increase in trend of hybrid vehicles in the automotive industry
Current sensors have several applications in advanced automotive such as battery management, overcurrent protection, converter control, and control of motor drives. Integration of advanced automotive system further propels growth of the market. These sensors are also experiencing high market opportunity from the electric & hybrid vehicle segment. These sensors efficiently monitor current consumption from battery and deliver real-time information about charging status and battery management. Rise in adoption of electric vehicles and hybrid electric vehicles (EVs/HEVs), owing to several countries focus on green energy initiatives and low fuel emission, which drive the market for current sensors in the automotive sector. 
Competition Analysis
The key players that have major global current sensor market share include Infineon Technologies, Honeywell International Inc., Texas Instruments, Allegro MicroSystems, LLC, Tamura Corp., TDK Corporation, LEM International SA, Pulse Electronics, Eaton Corporation PLC, and Sensitec GmbH, which are profiled in this report. The global current sensor industry key market players adopt various strategies such as product launch, product development, collaboration, partnership, and agreements to influence the market growth.
Current Sensor Market

---
By Region
Asia-Pacific region would exhibit the highest CAGR of 7.2% during 2020-2027
Key Benefits For Stakeholders
This study comprises analytical depiction of the global current sensor market size along with the current trends and future estimations to depict imminent investment pockets.
The overall current sensor market analysis is determined to understand the profitable trends to gain a stronger foothold.
The report presents information related to key drivers, restraints, and opportunities with a detailed impact analysis.
The current sensor market forecast is quantitatively analyzed from 2019 to 2027 to benchmark the financial competency.
Porter's five forces analysis illustrates the potency of the buyers and suppliers in the market.
 Current Sensor Market Report Highlights
Aspects
Details
By Type
By Current Sensing Technology

Hall Effect
Current Transformer
Flux Gate
Rogowski Coil

By End Use

Automotive
Consumer Electronics
Industrial
Telecommunication
Others

By Region

North America (U.S., Canada, Mexico)
Europe (Germany, UK, France, Italy, Rest of Europe)
Asia-Pacific (China, Japan, India, South Korea, Rest of Asia-Pacific)
LAMEA (Latin America, Middle East, Africa)

Key Market Players
ALLEGRO MICROSYSTEMS, INC., Eaton, Honeywell International Inc., Infineon Technologies AG, LEM Group, TAMURA CORPORATION, TDK Corporation, TEXAS INSTRUMENTS, Pulse Electronics, Sensitec GmbH