Cyber Security Market Statistics: 2030
The global cyber security market size was valued at $197.36 billion in 2020, and is projected to reach $478.68 billion by 2030, growing at a CAGR of 9.5% from 2021 to 2030. Safeguarding devices connected to the internet that protect from various threats in the cyberspace are referred to as cyber security. It entails safeguarding software, data, and hardware while also assisting in the prevention of fraudsters getting access to devices or networks. To protect their data, cash, and intellectual property, businesses require cyber security. Individuals require it for similar reasons, while intellectual property is less of a concern and the risk of losing vital information, such as family pictures, is greater. When it comes to public services or governmental entities, cyber security ensures that the public may continue to rely on their services.
Post COVID-19 emergence, cyber security software segment led the global cyber security market owing to the need for safeguarding business data and prevent loss from cyber-attacks, demand for strong authentication methods specially after rapid adoption of remote working technology, post COVID-19.
Rise in malware and phishing threats among enterprises and increase in adoption of IoT and BYOD trend are boosting the growth of the cyber security market. In addition, surge in demand for cloud-based cyber security solutions positively impacts the growth of the market. However, budget constraints among organizations and complexities of device security hamper the market growth. On the contrary, increase in adoption of mobile device applications and platforms, need for strong authentication methods, and transformation in traditional antivirus software industry are expected to offer remunerative opportunities for expansion of the market during the forecast period.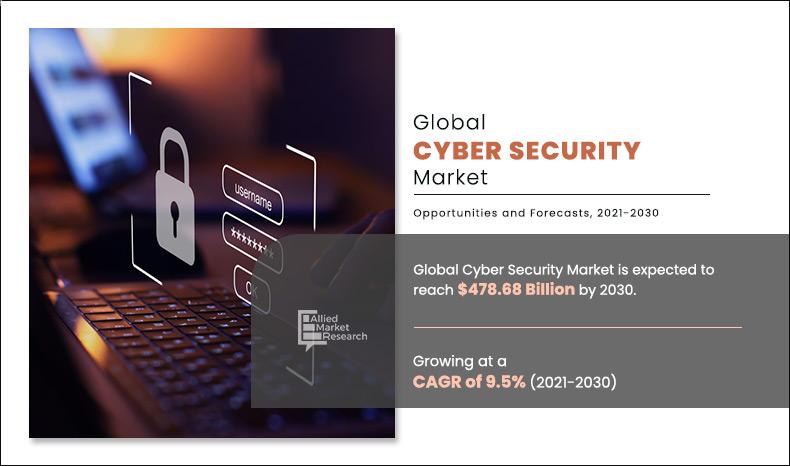 In terms of component, solution segment holds the largest share of the cyber security market. As a critical component of modern-day corporate IT infrastructure, software-based cyber security solutions assist organizations in controlling precise log-in network traffic roadmaps that specify what flows in and out of the network. However, the services segment is expected to grow at the highest rate during the forecast period, owing to rise in COVID-19 pandemic which increased the demand for aiding employees working remotely to be able to access their work network more securely and conveniently. 
Region wise, the cyber security market was dominated by North America in 2020 and is expected to retain its position during the forecast period, owing to abundance of cyber security solutions vendors such as Microsoft Corporation, Palo Alto Networks, Cisco Systems, Inc., and others, aiding the growth of the cyber security market. However, Asia-Pacific is expected to witness significant growth during the forecast period, owing to increase in technological investments in sectors such as cloud and digital technologies.
The report focuses on growth prospects, restraints, and analysis of the global cyber security market trends. The study provides Porter's five forces analysis to understand the impact of various factors, such as bargaining power of suppliers, competitive intensity of competitors, threat of new entrants, threat of substitutes, and bargaining power of buyers on the global cyber security market share.
Segment review
The global cyber security market is segmented on the basis of component, solution, deployment model, enterprise size, industry vertical, and region. Depending on component, the market is bifurcated into solution and services. On the basis of solution, the market is fragmented into identity & access management, infrastructure security, governance, risk, & compliance, unified vulnerability management service offering, data security & privacy service offering, and others. By deployment model, it is segregated into cloud and on-premises. As per enterprise size, it is classified into large enterprises and SMEs. In terms of industry vertical, it is differentiated into telecom, automotive, BFSI, public sector, retail, healthcare, IT, energy and utilities, manufacturing, and others. Region wise, it is analyzed across North America, Europe, Asia-Pacific, and LAMEA.
Some of the key players operating in the global cyber security market analysis include Accenture, Broadcom Inc., Capgemini, Cognizant, F5 Networks Inc., FireEye Inc., HCL Technologies Limited, IBM Corporation, Infosys Limited, L&T Technology Services Limited, PwC International Limited Broadcom Inc., Tata Consultancy Services, Tech Mahindra Limited, and Wipro Limited. These players have adopted various strategies to increase their market penetration and strengthen their position in the cyber security industry.
COVID-19 impact analysis
The outbreak of COVID-19 is anticipated to have a positive impact on the growth of cyber security industry. This is attributed to emergence of COVID-19; the use of cyber security services will enable enterprises to address security issues and facilitate secured information access while working remotely. In addition, owing to increase in internet traffic, the danger of cyber-attacks has grown significantly in numerous enterprises, necessitating the implementation of cyber security services. Innovations and advancements in cyber security solutions, such as cloud security and AI-integrated solutions as well as an increase in the number of cyber-attacks since the outbreak of the pandemic, have fueled market development. For instance, according to a report from Palo Alto Networks' Unit 42 security consulting group, the average ransomware payment climbed 82% to a record $570,000 in the first half of 2021 from $312,000 in 2020. Thus, increase in ransomware or cyber-attacks augments the demand for cyber security solution & services, thereby fueling the growth of the global cyber security market.
Cyber Security Market

---
By Component
Solution segment is projected as one of the most lucrative segments.
Top impacting factors
Rise in malware and phishing threats among enterprises
Malware, such as viruses and Trojans, has substantially expanded its ability to enter, control, and harm whole electronic information networks. Malware is frequently used by cyber criminals to obtain control of devices or equipment in order to make money. This is done so that the machine may be immediately used to undertake fraudulent transactions or criminal operations. 
Furthermore, because to the criticality of data created in these businesses, industries such as BFSI, healthcare, and government are particularly exposed to such assaults. As a result, an increase in the risk of malware and phishing attacks is a major element driving the cybersecurity market forward. Furthermore, during the COVID-19 pandemic, the incidence of malware attacks on major businesses' databases has increased, necessitating the need to tighten data base security, driving the worldwide cybersecurity industry. 
Cyber Security Market

---
By Industry Vertical
BFSI segment is projected as one of the most lucrative segments.
Furthermore, market vendors are coming up with innovative solutions to combat against such malware and phishing attacks, thereby driving growth of the global market. For instance, in March 2021, Tech Mahindra announced the launch of a new cloud security offering called 'CLOUDEFENDER.' It is a cloud-based attack mitigation service. The solution is powered by cybersecurity and application delivery solutions provider Radware and is an expansion of Tech Mahindra's global partnership with the company to provide a full suite of cloud-based cyber security services. 
Increase in adoption of IoT and BYOD trend
Devices and applications have become more vulnerable to advanced persistent threats (APTs) as a result of the growing IoT and BYOD trend among businesses. Furthermore, as the number of mobile devices within enterprises grows, IT staff will find it more challenging to control and trace data flow in diverse systems. As a result, businesses are using cybersecurity systems to secure sensitive data by monitoring, classifying, and resolving various types of threats, fueling market growth. For instance, according to a report in 2021, cyber criminals have manipulated the COVID-19 crisis to launch 667% more phishing attacks and are actively trying to take advantage of security vulnerabilities, which, in turn, augments the growth of the market. Moreover, over 15% of employees accessed sensitive data from non-work devices in 2020. In addition, many businesses are aware that BYOD's benefits in the workplace far outweigh any potential risks. Potential security threats can be neutralized in most situations. There are many benefits of having a BYOD policy, increased productivity, employee satisfaction and reduced company costs; thus, increasing the adoption of cybersecurity.
Cyber Security Market

---
By Region
Asia-Pacific would exhibit the highest CAGR of 11.0% during 2021-2030.
Key Benefits For Stakeholders     
The study provides an in-depth analysis of the global cyber security market forecast along with current & future trends to explain the imminent investment pockets.
Information about key drivers, restraints, & opportunities and their impact analysis on global cyber security market trends is provided in the report.
Porter's five forces analysis illustrates the potency of the buyers and suppliers operating in the industry.
The quantitative analysis of the market from 2021 to 2030 is provided to determine the market potential.
 Cyber Security Market Report Highlights
Aspects
Details
By Component
By Solution

Identity & Access Management
Infrastructure Security
Governance Risk & Compliance
Unified Vulnerability Management Service Offering
Data Security & Privacy Service Offering
Others

By Deployment Model
By Enterprise Size
By Industry Vertical

Telecom
Automotive
BFSI
Public Sector
Retail
Healthcare
IT
Energy & Utilities
Manufacturing
Others

By Region

North America (U.S., Canada)
Europe (UK, Germany, France, Russia, Italy, Rest of Europe)
Asia-Pacific (China, India, Japan, Australia, Rest of Asia-Pacific)
LAMEA (Latin America, Middle East, Africa)

By Key Market Players

Accenture
Broadcom Inc.
Capgemini
Cognizant
F5 Networks Inc.
FireEye Inc.
HCL Technologies Limited
IBM Corporation
Infosys Limited
L&T Technology Services Limited
PwC International Limited Broadcom Inc.
Tata Consultancy Services
Tech Mahindra Limited
Wipro Limited