Internet of Things (IoT) Market Statistics: 2030
The global IoT market size was valued at $ 740.47 billion in 2020, and is projected to reach $ 4,421.62 billion by 2030, growing at a CAGR of 19.67% from 2021 to 2030.
The current estimation of 2030 is projected to be higher than pre-COVID-19 estimates. This is attributed to rapid increase in the demand for cloud-based IoT solutions that supported the businesses to sustain during the pandemic. The internet of things solution playing a vital role in keeping the entire business processes efficiently operating and under control during COVID-19 pandemic. Internet of thing also maintain better connectivity between connected devices during lockdown. This was achieved through various features of internet of things solution such as remote access, digital data exchange, real-time data analytics, and real-time work floor control. In addition, the pandemic has forced businesses around the globe to shift their physical offices into the remote working setups, which has led to surge in demand for internet of things solution, thus fueling the growth of the market.
The IoT technology consists of web-connected smart devices that obtain, analyze, and process the data collected from their surroundings using embedded systems includes sensors, processors, and communication hardware. Organizations across a wide range of businesses are gradually shifting to IoT technology to enhance organizational performance and better understand consumers to provide better customer services, enhance decision-making, and boost the value of their businesses.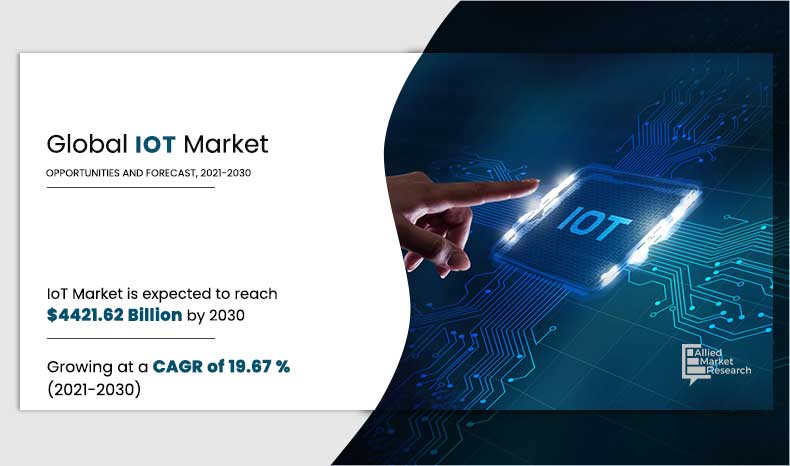 On the basis of organizational size, the large-scale enterprise segment dominated the overall IoT industry in 2020, and is expected to continue this trend throughout the forecast period. This is attributed to increase in adoption of IoT technology by business to gain strategic and a competitive advantage over their competitors. Customers use IoT to discover new insights on large-scale diverse data, including historical and recent data. This technology is suitable for collection of data and running algorithms and analysis across a large set of data to find relevant relationships, entities, and insights. Furthermore, IoT continues to become mainstream, as more large enterprises are considering the extraction capabilities for getting valuable insights from big data, which is opportunistic for the market. However, the small- & medium size enterprise (SMEs) segment is expected to exhibit the highest growth during the forecast period. This is attributed to the fact that SMEs are shifting their businesses to a digital platform, and are using IoT solutions, which is helping them to become more productive, smarter, and efficient.
Depending on the deployment model, the on-premise segment captured the largest share in 2020, and is expected to continue this trend during the forecast period. This is attributed to numerous advantages offered by on-premise deployment such as a high level of data security and safety. However, the cloud segment is expected to witness the highest growth in the upcoming years, owing to the fact that cloud deployment does not require investment in IT infrastructure, as all data is stored on cloud server, which increases the demand for IoT software across SMEs.
The report focuses on the growth prospects, restraints, and IoT market analysis. The study uses Porter's five forces analysis of the IoT industry to understand the impact of various factors such as bargaining power of suppliers, competitive intensity of competitors, the threat of new entrants, the threat of substitutes, and bargaining power of buyers on the IoT market trends.
Segment Review
The global IoT market is segmented into component, deployment, organization size, platform, technology, industry vertical, and region. By component, the market is divided into solution and service. Depending on deployment, it is segregated in to on-premise and cloud. On the basis of organization size, it is bifurcated into large enterprises and small & medium size enterprises. As per platform, it is fragmented into device management, application management, and network management. According to technology, it is differentiated radiofrequency identification, pressure sensors, network communications, data processing, and near-field communications. By industry vertical, it is categorized into retail, e-commerce, & consumer electronics; energy & utility; healthcare; transportation & logistics; IT & telecom; manufacturing; and others. Region wise, it is analyzed across North America, Europe, Asia-Pacific, and LAMEA.
Service segment is projected as one of the most lucrative segments.
Impact of COVID-19 on the IoT market trends
As per IoT market forecast the post COVID-19, the IoT market was valued at $ 878.49 billion in 2021, and is projected to reach $4,421.62 billion by 2030, growing at a CAGR of 19.67% from 2020 to 2030.
The IoT market witnessed significant growth in past few years; however, owing to the outbreak of the COVID-19 pandemic, organizations are rapidly shifting their business toward digital platform. This is attributed to lifting of lockdown and restriction for movement in public place by governments in majority of countries, and resuming travel & tourism along with required caution across the world to boost the local economy, which will help to drive the market growth. COVID-19 has disrupted normal life and has enforced a substantial change in the policies, priorities, and activities of individuals, organizations, and governments. These changes are proving to be a catalyst for technology and innovation. IoT platforms revenue will reach $66 billion in 2020, a 20% increase over last year's figure. Increase in revenue will indicate that use of IoT has overcome the negative impact on supply chain due to COVID-19 lockdown. Remote working has been the standard for many companies for the last few months and will continue to be so wherever possible. It offers more flexibility, companies to save on physical spaces, and to have teams working in different locations, and less time is wasted on homework trips.
IoT Market

---
By Deployment Mode
Cloud segment is projected as one of the most lucrative segments.
Top Impacting Factors  
Factors such as development of wireless networking technologies, increase in cloud platform adoption, and advent of advanced data analytics & data processing impact the IoT market growth globally. In addition, the IoT industry growth is affected by data security & privacy concerns and high implementation & maintenance cost of IoT devices. Furthermore, reduction in cost of connected devices and IoT traction among SMEs influences the market growth. However, each of these factors is anticipated to have a definite impact on the growth of the global IoT industry during the forecast period.
Advent of advanced data analytics and data processing
Emergence of various data analytics and data processing tools such as big data analytics, data science, Hadoop is driving the implementation of IoT. Big data consists of massive volume of heterogeneous data in structured, semi-structured, and unstructured forms. In case of IoT, connected devices are important components in IoT platform, which generate a massive amount of data that requires tracking in real-time. To achieve this goal, the use of data analytics and data processing has increased considerably. Moreover, big data analytics tools leverage IoT for easy functioning. When the complete IoT system acts as a data generated source, the role of big data in IoT becomes essential. Big data analytics is an emerging tool for analyzing data created by connected devices in IoT that assists to take the lead to improve decision-making. Furthermore, rise in awareness about real-time data and product lifecycle data in businesses is increasing, which is anticipated to boost the growth of the IoT market.
Asia-Pacific is projected as one of the most significant region.
Key Benefits For Stakeholders
The study provides an in-depth analysis of the IoT market share along with the current trends and future estimations to elucidate the imminent investment pockets.
Information about key drivers, restraints, and opportunities and their impact analysis on the IoT market size is provided.
Porter's five forces analysis illustrates the potency of buyers and suppliers operating in the Internet of Things Industry.
The quantitative analysis of the IoT market share from 2020 to 2030 is provided to determine the Internet of Things Industry potential.
 IoT Market Report Highlights
Aspects
Details
BY COMPONENT
BY DEPLOYMENT
BY ORGANIZATION SIZE
BY PLATFORM

Device Management
Application Management
Network Management

BY TECHNOLOGY

Radiofrequency Identification
Pressure Sensors
Network Communications
Data Processing
Near-field Communication

BY INDUSTRY VERTICAL

Retail, E-commerce, & Consumer Electronics
Energy & Utility
Healthcare
Transportation & Logistics
IT & Telecom
Manufacturing
Others

By Region

North America (U.S., Canada)
Europe (UK, Germany, France, Italy, Spain, Rest of Europe)
Asia-Pacific (China, Japan, India, South Korea, Australia, Rest of Asia-Pacific)
LAMEA (Latin America, Middle East, Africa)

Key Market Players
AMAZON WEB SERVICE., BOSCH SOFTWARE INNOVATION GMBH, CISCO SYSTEMS, INC., GOOGLE LLC, HEWLETT PACKARD ENTERPRISE, INTERNATIONAL BUSINESS MACHINE CORPORATION (IBM), INTEL CORPORATION, MICROSOFT CORPORATION, .ORACLE CORPORATION, SAP SE