Data Center Interconnect Market Research, 2031
The global data center interconnect market was valued at $8.2 billion in 2021, and is projected to reach $27.6 billion by 2031, growing at a CAGR of 13.1% from 2022 to 2031.
The data center interconnect market has been considerably disrupted by the COVID-19 outbreak. The result was a total stoppage of industry and manufacturing all across the world. This pandemic had a significant negative influence on the world economy, which created additional challenges for numerous industries and businesses around the world. Additionally, the data traffic has increased due to the pandemic. Growing need for storage space is a result of emerging technologies like the Internet of Things (IoT), big data, and artificial intelligence. The global investments in data center connection have been driven by this uptick, nevertheless.
The use of interconnect includes day-to-day operations, which enables data center operators to manage their resources and support key load balancing functions. Data center interconnect technology is critical to help enterprises scale their infrastructure as internet traffic grows and cloud migration becomes vital. Data center interconnect enables stronger encryption of traffic to make information sharing more secure. It also enables companies to apply quality of service (QoS) and other policies to ensure performance. Data center interconnect gives organizations more flexibility when they allocate workloads as the technology supports multiple connection types.
Increase in adoption cloud-based solutions and the increase in the utilization of cloud storage for driving the adoption are driving the growth of the market. In addition, the cost-efficient benefits of data center interconnect solutions in are fueling the growth of data center interconnect market. However, the significant upfront expenditure required to set data centers limit the growth of this market. Moreover, the escalating demands for business continuity and disaster recovery is expected to provide lucrative opportunities for the market growth during the forecast period.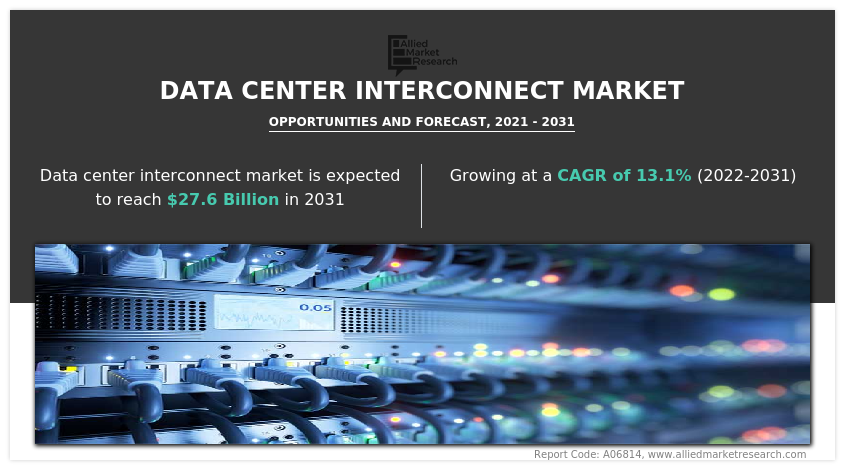 The data center interconnect market is segmented into Type, Application and End User.
The data center interconnect market is segmented on the basis of type, application, end user and region. On the basis of type, it is segregated into hardware, software and services. On the basis of application, it is bifurcated into workload (VM) and data (storage) mobility, real-time disaster recovery and business continuity, and shared data and resources/server high-availability clusters. On the basis end user, it is classified into BFSI, IT & telecom, healthcare, media and entertainment, retail, education and other. On the basis of region, it is analyzed across North America, Europe, Asia-Pacific, and LAMEA.
The key players operating in data center interconnect industry include Nokia Corporation, Ciena Corporation, Huawei Technologies Co., Ltd., Infinera Corporation, ADVA Optical Networking, Cisco Systems Inc., Extreme Networks, Inc, Fujitsu Ltd., Juniper Networks Inc., and Colt Technology Services Group Limited. Furthermore, it highlights the strategies of the key players to improve the data center interconnect industry share and sustain competition.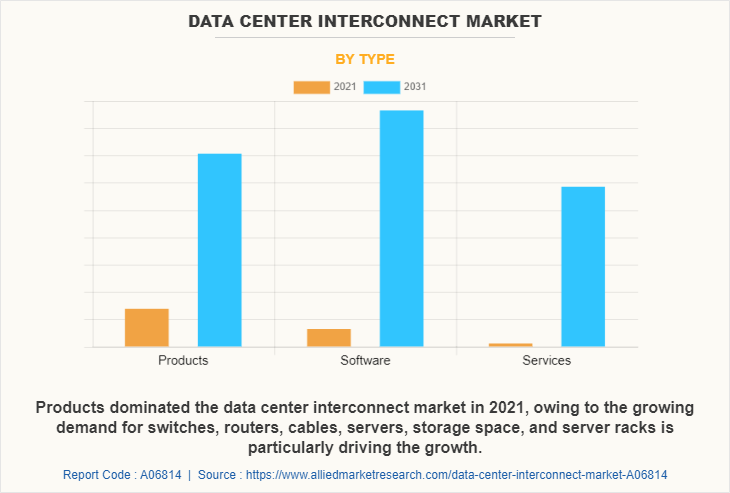 Depending on the type, the data center interconnect market size is dominated by product segment in 2021 and is expected to continue this trend during the forecast period, owing to its advantages such as high-bandwidth and low-latency connectivity, network segmentation and security, reliability and predictability and compliance and regulatory requirements for various organizations such as private and public businesses, government, etc. However, software is expected to witness significant growth during the forecast period, owing to surge in demand for the availability, dependability, and scalability of data center resources. DCI software enables the establishment of a hybrid cloud environment, to connect data centers with public cloud services. This allows the utilization of cloud-based resources while upholding security and compliance standards, such as processing power and storage.
Region wise, the data center interconnect market share was dominated by North America in 2021 and is expected to retain its position during the forecast period, owing to spread of 5G technologies worldwide and rise in demand for secured network service in U.S. and Canada. Moreover, North America data center interconnect market includes huge presence of leading data center interconnect providers and rapid expansion of the IT & telecom industry. However, Asia-Pacific is expected to witness significant growth during the forecast period, owing to surge in smart technologies, loT-powered devices, Big Data, Industry 4.0, 56, and cloud computing. Moreover, the region has a robust IT infrastructure and solid software and service offerings, as well as leadership positions in emerging fields including robotics, which provide lucrative growth opportunities for the data center interconnect market.
Top impacting factors
Increase in adoption cloud-based solutions  
The design of apps became so simple with the advent of web-based applications that hosting many apps on a single server became simple. Performance was not significantly affected during this process. However, shared hosting lost its effectiveness as the percentage of subscribers and the diversity of apps increased. Businesses moved their apps to devoted VPS hosting options, however these services quickly proved unsuitable and started to fail the users. 
Owners of businesses were forced to buy an entirely dedicated server. Businesses quickly understood, nevertheless, that the server's enormous cost was not justified. A sizable part of server resources was frequently left unused. In addition, dedicated server turned out to be a poor business choice because the firms were paying for the full server regardless of resource consumption. This prompted companies to choose cloud-based solutions. Therefore, the transition to the cloud makes it easier to set up applications that people may use in their browsers rather than download to their devices. This significantly drives the market growth.
Increase in the utilization of cloud storage   
The most practical and effective way to save data online nowadays is through cloud-based storage apps. In the world of cloud computing, there are numerous cloud-based solutions providers. Since this market is so big, every major tech company now has its own data center facility, which helps to increase user revenue significantly. Eventually the evolution to cloud-based solutions and the rise in organizational data traffic and big data analytics are also anticipated to flourish the growth of the data center interconnect market. There is a rising need for backup and storage as the amount of data generated increases.  
Data center interconnect tools facilitate communication and information exchange between their connected components and both internal and external networks of the data centers. Companies use these tools to create stable connections between data centers and their connected devices which facilitates fast and secure data transfer. Moreover, the usability and accessibility of cloud-based apps have further fueled the growth of the market.
Technological Trends:
Designed for operational simplicity, the DCI platform enables hassle-free, rapid scalability. With support for various interfaces, modulation schemes, and deployment scenarios, including the option to run over existing photonic lines, the simple operations and quick turn-up available with DCI helps streamline operations, business performance, and each customer's experience. It also offers openness and programmability for easy automation with back-office tools. In addition, common management interfaces and industry-standard APIs built into modern DCI solutions enables to automate labor-intensive manual tasks to reduce errors from repetitive operations. Furthermore, due to high capacity and seamless scalability to multiple terabits of capacity helps to meet traffic growth requirements for the foreseeable future without massive injections of capital expenditure (CAPEX) or network disruptions due to bandwidth exhaust. Key players in the market launched various data center interconnect solutions to strengthen their positions in the market. For instance, February 2021, AMS-IX launched a new data center interconnect service for its customers. The service enables customers to use the AMS-IX Amsterdam platform to privately move data from one AMS-IX point of presence (PoP) to another, allowing them to benefit from enhanced network performance and secure and reliable connections. Using the service, a customer can connect any of their AMS-IX Access connections, extend their internet infrastructure and reach other data centers, enabling them to buy or sell services there. Moreover, the service can be used to build a data center backbone and connect two or more existing data center locations to perform data back-ups and migrations. Such factors fueled the data center interconnect market growth.
Key Benefits For Stakeholders
This report provides a quantitative analysis of the market segments, current trends, estimations, and dynamics of the data center interconnect market analysis from 2021 to 2031 to identify the prevailing data center interconnect market opportunities.
The market research is offered along with information related to key drivers, restraints, and opportunities.
Porter's five forces analysis highlights the potency of buyers and suppliers to enable stakeholders make profit-oriented business decisions and strengthen their supplier-buyer network.
In-depth analysis of the data center interconnect market forecast to determine the prevailing market opportunities.
Major countries in each region are mapped according to their revenue contribution to the global market.
Market player positioning facilitates benchmarking and provides a clear understanding of the present position of the market players.
The report includes the analysis of the regional as well as global data center interconnect market trends, key players, market segments, application areas, and market growth strategies.
 Data Center Interconnect Market Report Highlights
Aspects
Details
Market Size By 2031
USD 27.6 billion
Growth Rate
CAGR of 13.1%
Forecast period
2021 - 2031
Report Pages
248
By Type

Products
Software
Services

By Application

Real-time Disaster Recovery and Business Continuity
Workload (VM) and Data Mobility
Shared Data and Resources

By End User

Communication Service Providers
Internet Content Providers
Government
Enterprises

By Region

North America (U.S., Canada)
Europe (UK, Germany, France, Italy, Spain, Rest of Europe)
Asia-Pacific (China, India, Japan, Australia, South Korea, Rest of Asia-Pacific)
LAMEA (Latin America, Middle East, Africa)

Key Market Players
Juniper Networks Inc., ADVA Optical Networking, Nokia Corporation, Fujitsu Ltd., Extreme Networks, Inc, Huawei Technologies Co., Ltd., Colt Technology Services Group Limited, Ciena Corporation, Cisco Systems Inc., Infinera Corporation