Dermocosmetics Market Research, 2030
The global dermocosmetics market size was valued at $51.10 billion in 2021, and is projected to reach $130.46 billion by 2030, growing at a CAGR of 11.1% from 2022 to 2030. Dermocosmetics is a combination of two medical branches i.e., cosmetics and dermatology. Dermocosmetics aids all beauty concerns such as oily skin, dry skin, skin conditions like pimples, acne, marks, blemishes, and others.  Evolving role of cosmetics in skin care is primarily due to scientific and technological advancements that have changed our understanding of normal skin physiology and how cosmetics modify the appearance of the skin.
Due to disruptions in import and export, supply chains, and raw material supplies brought on by the COVID-19 pandemic, the majority of manufacturing facilities had to close, delaying the production of numerous dermocosmetic goods.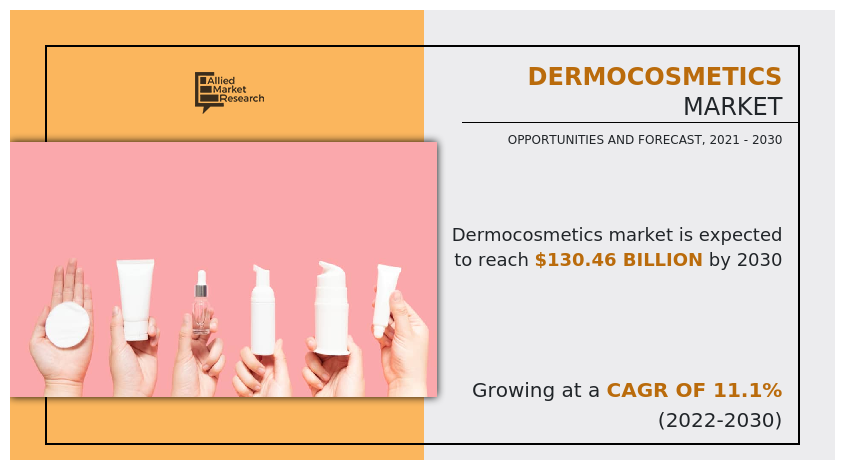 A skin care product must contain active substances whose effectiveness against a specific skin condition has been proven through extensive laboratory research to qualify as a skin dermocosmetics product. Dermocosmetic products are manufactured by key players operating in the market with the goal of restoring skin health. These products provide protection against several skin issues such as natural skin ageing, injury or damage of the skin integrity, skin dehydration, and others.
Awareness among customers towards spending on appearance and shift towards online shopping is boosting revenue growth of the dermocosmetics industry. Consumers nowadays are more concerned with their appearance as it boosts their self-confidence. As a result, they are increasingly preferring to invest more on protecting and brightening their skin by using dermocosmetic products to reduce the signs of aging, wrinkles, acne, and fine lines.
Additionally, customers' busy lifestyles and the most convenient way to buy items through the online shopping platforms is projected to have a significant impact on the performance of the dermocosmetics market over the course of the forecast period. Pollution and other external agents that cause skin damage are also considered as factors driving the dermocosmetics market growth. As consumer attitude is shifting towards healthy living and long-term skin care, demand for such products that claim to prevent this damage is predicted to increase. These factors are anticipated to propell the dermocosmetics market demand over the forecast period.
Lagging awareness among the people and harmful chemical ingredients risk to hinder revenue growth of the dermocosmetics market. Less awareness among the people regarding skin care products is projected to restrict revenue growth of the dermocosmetics market significantly. Also some dermocosmetics products contain dangerous and potentially cancer causing compounds that may be harmful to the users. This aspect is anticipated to negatively affect the use of dermocosmetics and hamper the revenue growth of the market.
Chemicals used as ingredients in cosmetic products tend to have several adverse side effects on the skin. Innovative strategies such as new product launches with natural ingredients and attractive packaging have been adopted by leading manufacturing companies in the market to increase sales of their cosmetics products.
The key players profiled in the dermocosmetics market report include Johnson & Johnson, Bausch Health Companies Inc., GALDERMA, Procter & Gamble, AbbVie, L'Oréal, Beiersdorf, Kanebo Cosmetics Inc., Estée Lauder Companies, Shiseido Company, and ZO Skin Health Inc.
The global dermocosmetics market is segmented based on product, treatment, distribution channel, end-user, and region. By product, it is classified into skincare and hair care. By treatment, it is classified into skin and hair. By distribution channel, it is classified into pharmacy & retail stores and online. By end-user, it is classified into clinics, medical spas & salons, hospitals, and at-home. By region, the market is analyzed across North America, Europe, Asia-Pacific, and LAMEA.
The dermocosmetics market is segmented into Product, Treatment, Distribution Channel and End-user.
By product, the skincare sub-segment dominated the market in 2021, owing to increasing skin issues such as aging, acne, hyperpigmentation, spots, wrinkles, and melisma. These are some major skin issues responsible to drive revenue growth of the skincare products in the dermocosmetics market. Also, new skin care product range now includes products designed to heal non-traditional body parts such as necks, elbows, and knees.
The hair care sub-segment is expected to account for the fastest growing sub-segment in the market during the forecast period. Increasing pollution, stressed lifestyle, unhealthy intake of food may cause hair fall, dandruff, and hair damage. Also, increasing application of hair transplant, hair color, and others are major factors responsible to drive revenue growth of the sub-segment in the market.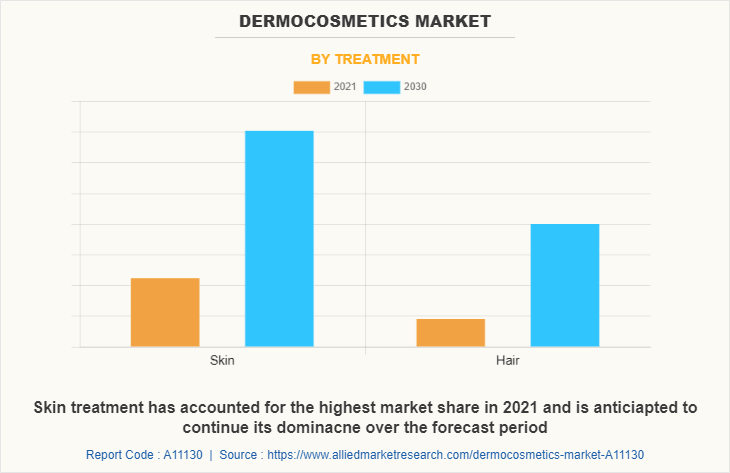 By treatment, the skin sub-segment has been accounted for the highest market size in the global market share in 2021. Owing to increasing awareness among the people regarding skin treatments to enhance their skin appearance, people are adopting skin treatments such as rejuvenation, laser treatment, chemical peels, and dermal fillers. Rising adoption of such skin treatments in the dermocosmetics market is expected to drive revenue growth of the sub-segment during the forecast period.
The hair sub-segment is anticipated to be the fastest growing sub-segment in the market in the forecast period. This growth is majorly owing to rising prevalence of hair disorders due to rising pollution and change in lifestyle & eating habits. Rising demand for customized hair care products and heavy investment in by various cosmetological and pharmaceutical companies in development of hair care solutions is expected to act as a driving factor for the revenue growth of the sub-segment during the review time.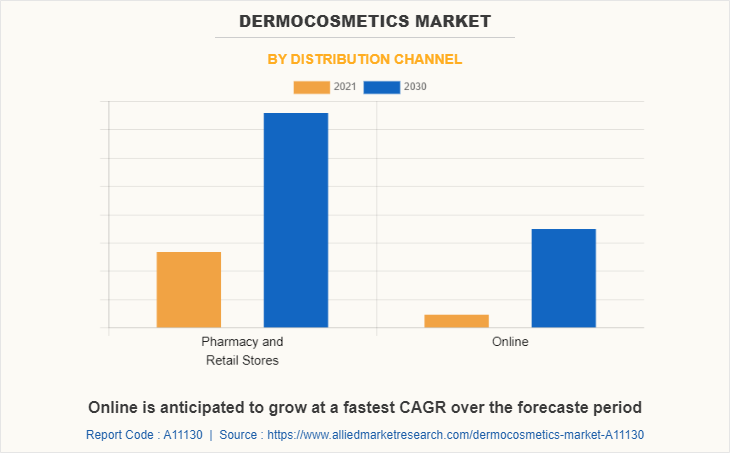 By distribution channel, the pharmacy & retail stores sub-segment is fastest-growing global market share in 2021. Retailers and offline pharmacy stores execute different marketing strategies that enable each customer to purchase a variety of services and products, driving the revenue growth of the sub-segment. Additionally, unlike online retailers, pharmacies and retail stores allows customers to see what they are purchasing closely and offers them to use instantly.
The online sub-segment is expected to be the dominating in the market during the forecast period. The world is changing from the time when medicines were accessible to designated pharmacy owners in to the time where medicines are commonly available in the online market with delivery at door step. In modern times, buying prescription medicines and products online has become a trend since the COVID-19 pandemic when people avoiding getting out of house. The development of technology has actually eased buying products online. Buying online allows users to compare different brands and cost of products. These factors are predicted to drive the sub-segment revenue growth in the forecast years.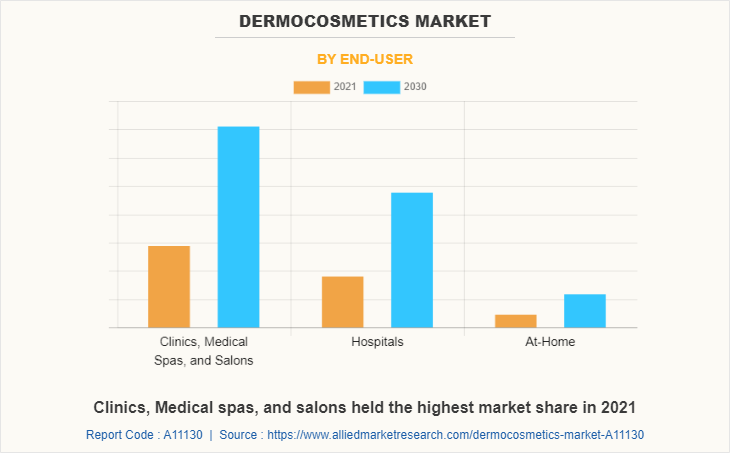 By end-user, hospitals sub-segment is projected to remain the fastest growing sub-segment in the dermocosmetics market share in 2021. Hospitals offers various advanced treatments to the patients at attractive prices and offers to increase its customer base.
The clinics and medical spas & salon sub-segments are anticipated to dominate the market due to the widespread use of dermocosmetic products in clinics and salons around the world. Due to rising popularity of online appointment booking and demand for skin and hair care treatments, medical spas and salons also using advanced technology to allow easy accessibility to the customers. These factors are expected to drive market expansion throughout the forecast period.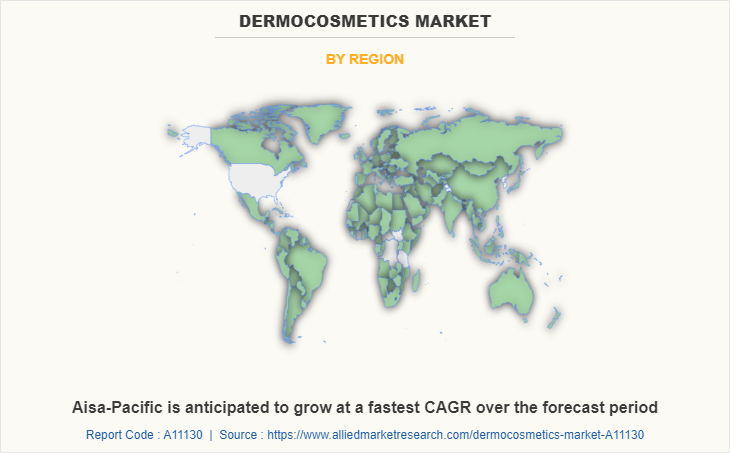 By region, Asia-Pacific dominated the global dermocosmetics market in 2021 and is projected to remain the fastest-growing region during the forecast period. The skincare products demand in countries such as China and India attributed to rising prevalence of skin diseases. Also, increasing population in this region is the major contributing factor driving revenue growth of the dermocosmetics market.
North America and Europe region are expected to be the fastest growing in the market due to increase in skin and personal care sales, high disposable income of people, and increasing occurrence of skin diseases. Rising awareness and sale of organic products is also predicted to drive revenue growth of the market in the region during the forecast time.
COVID-19 Impact on Dermocosmetics Market Industry
Due to the COVID-19 pandemic most of the manufacturing units were closed down due to disruption in import & export, supply chain, and raw material supply, resulting in delay in production of various dermocosmetics products

Dermocosmetics had a minor increase in demand as it was one of the most effective ways to maintain a healthy skin routine during the pandemic. People found it impossible to continue their therapy sessions due to the lockdown in various countries across the globe. As a result, dermocosmetics became a feasible option for them to continue their skincare practice.

Furthermore, dermotologists began offering online sessions due to travel restrictions. During the pandemic, however, market expansion was limited by the high cost of dermocosmetics products and a shift in consumer preferences.
Key Benefits For Stakeholders
This report provides a quantitative analysis of the democosmetics market demand, segments, current trends, estimations, and dynamics of the dermocosmetics market analysis from 2021 to 2030 to identify the prevailing dermocosmetics market opportunities.
The report provides exclusive and comprehensive analysis of the global dermocosmetics market trends along with the dermocosmetics market forecast
The market research is offered along with information related to key drivers, restraints, and opportunities.
Porter's five forces analysis highlights the potency of buyers and suppliers to enable stakeholders make profit-oriented business decisions and strengthen their supplier-buyer network.
In-depth analysis of the dermocosmetics market segmentation assists to determine the prevailing market opportunities.
Major countries in each region are mapped according to their revenue contribution to the global market.
Market player positioning facilitates benchmarking and provides a clear understanding of the present position of the market players.
The report includes the analysis of the regional as well as global dermocosmetics market trends, key players, market segments, application areas, and market growth strategies.
 Dermocosmetics Market Report Highlights
Aspects
Details
By Product
By Treatment
By Distribution Channel

Pharmacy and Retail Stores
Online

By End-user

Clinics, Medical Spas, and Salons
Hospitals
At-Home

By Region

North America (U.S., Canada, Mexico)
Europe (Germany, France, Italy, Spain, United Kingdom, Rest of Europe)
Asia-Pacific (China, Japan, India, South Korea, Australia, Rest of Asia-Pacific)
LAMEA (Brazil, Saudi Arabia, United Arab Emirates, South Africa, Rest of Latin America)

Key Market Players
Procter & Gamble, Shiseido Company, johnson & johnson, inc., L'Oréal S.A, Allergan plc, Bausch Health Companies Inc., beiersdorf, galderma, Estee Lauder Companies Inc., Kanebo Cosmetics Inc.
Other Players
Revive, Shiseido Group, Amorepacific Corporation, Allergan plc, PCA Skin