Global Diabetes Therapeutics Market, 2030
The global diabetes therapeutics market was valued at $118,063.3 million in 2020 and is projected to reach $317,915 million by 2030, growing at a CAGR of 10.4% from 2021 to 2030. Diabetes is a chronic, metabolic disease characterized by elevated levels of blood glucose that cause serious damage to the heart, blood vessels, eyes, kidneys, and nerves. Diabetes therapeutics are medications used for the treatment of diabetes. They include human insulin analogs and oral-antidiabetic drugs (OAD). 
The COVID-19 outbreak is anticipated to have a negative impact on the growth of the diabetes therapeutics market. There was implementation of lockdown to control spread of COVID-19. Many hospitals were converted into COVID 19 centers due to which diabetics faced delays in treatment. For instance, according to the World Health Organization (WHO) report, as of December 19, 2021, over 273 million cases and over 5.3 million deaths have been reported globally. Furthermore, entire healthcare sector's focus shifted toward COVID-19. Thus, COVID-19 adversely affected the growth of the diabetes therapeutics market.
The global diabetes therapeutics market size is majorly driven by the increase in the prevalence of diabetes, an increase in sedentary lifestyles, and a rise in the prevalence of other chronic diseases such as hypertension. For instance, according to the International Diabetes Federation (IDF), was reported that approximately 537 million adults (20-79 years) are living with diabetes, and the number of diabetic patients is projected to rise to 643 million by 2030 and 783 million by 2045. As a result, the increase in the prevalence of diabetes in the population contributes to the diabetes therapeutics market growth. Furthermore, diabetes can be inherited and is linked to patients' family history and genetics. It is not necessarily inherited by everyone, but people with a family history are likely to develop diabetes. In addition, growth in awareness among the population about self-management of diabetes contributes to market growth. Moreover, the development of affordable and effective diabetes therapeutics such as oral hypoglycemic agents and government initiatives to provide diabetes care facilities drive the growth of the market.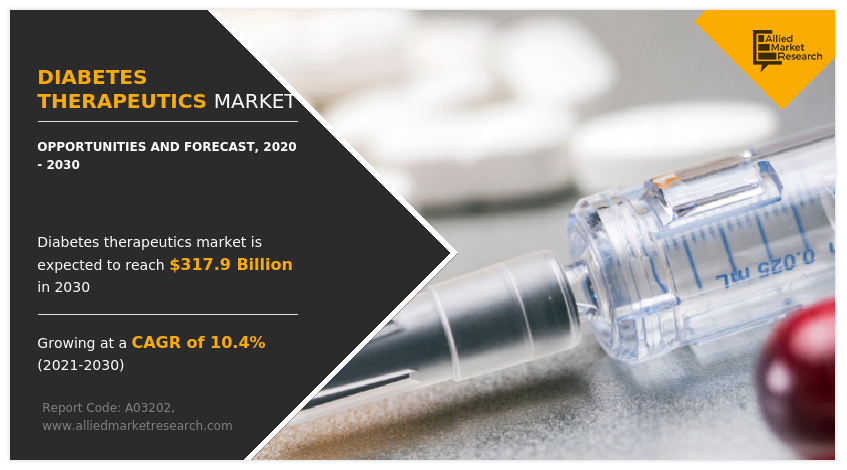 For instance, Centers for Disease Control and Prevention (CDC) in the U.S. announced the launch of National Diabetes Prevention Program (National DPP), along with the partnership of public and private organizations. The program aims to prevent or delay type 2 diabetes. Furthermore, increase in number of diabetes centers globally contributes to the market growth. Diabetes centers provide diabetes care facilities to the patients. Furthermore, increase in geriatric population drives the growth of market. Older people are more prone to diabetes. For instance, according to Center for Aging Better, in 2021, there are almost 12 million people aged 65 and over in the UK, with 3.2 million aged 80 and over. Thus, presence of diabetes centers and increase in number of geriatric patients drive the growth of market. In addition, increase in diabetes causing factors such as family history, environmental factors, diet, obesity, and geography surge the growth of the market. Obesity is one of the major risk factors for developing diabetes. According to the World Population Review report, the U.S. has 36.20% obese adult population in 2022. Moreover, environmental factors such as polluted air, soil, water, vitamin-D deficiency, exposure to enteroviruses, and damage to immune cells are responsible for diabetes.
In addition, an excessive sugar diet leads to the incidence of diabetes. Moreover, advancements in diabetes diagnosis devices such as portable glucometers are driving the growth of the diabetes diagnostics market. A glucometer is a small, portable machine that is used to measure blood glucose levels and is mainly used by diabetes patients. For instance, in February 2022, Ascensia Diabetes Care, a global diabetes care company, received U.S. Food and Drug Administration (FDA) approval for its implantable, next-generation Eversense E3 continuous glucose monitoring (CGM) system. These standards and continuous glucose monitoring (CGM)  devices assist in the diagnosis and therapy of diabetes. Hence, the availability of such advanced glucose monitoring devices contributes to the growth of the market. Furthermore, an increase in R&D activities for the development of novel diabetes treatments and new product approvals in the market contributes to the growth of the diabetes market share of the company. For instance, in July 2021, the U.S. Food and Drug Administration (FDA) approved Semglee (insulin glargine-yfgn) which is biosimilar to a reference product Lantus (insulin glargine), a long-acting insulin analog. Semglee is the first interchangeable biosimilar insulin product indicated to improve glycemic control in adults and pediatric patients with type 1 diabetes mellitus and in adults with type 2 diabetes mellitus. However, side effects associated with the long-term use of anti-diabetes drugs impede the growth of this market.
Diabetes Therapeutics Market Segmentation
The diabetes therapeutics market is segmented on the basis of product and region. By product, the market is categorized into injectables and oral-antidiabetic drugs (OAD). By region, the market is analyzed across North America (U.S., Canada, and Mexico), Europe (Germany, France, the UK, Italy, Spain, and the rest of Europe), Asia-Pacific (Japan, China, Australia, India, South Korea, and rest of Asia-Pacific), and LAMEA (Brazil, South Arabia, South Africa, and LAMEA).
Segment Review
Depending on the product, the injectables segment dominated the market in 2020, and this trend is expected to continue during the forecast period, owing to the rise in the prevalence of diabetes. However, the oral-antidiabetic drugs (OAD) segment is expected to witness considerable growth during the forecast period due to a high prevalence of type-2 diabetes and the affordability of oral-antidiabetic drugs (OAD) medication.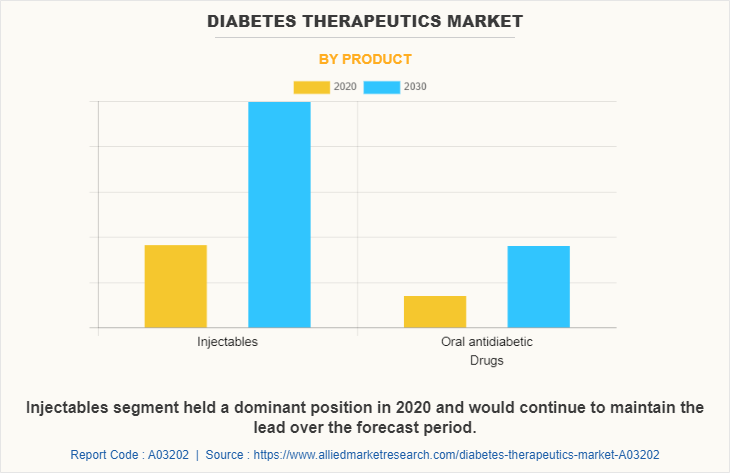 Depending on the region, North America garnered the major diabetes therapeutics market share in 2020 and is expected to dominate the diabetes therapeutics market forecast period, owing to the rise in prevalence of diabetes, sedentary lifestyle, and well-established healthcare infrastructure such as the presence of diabetes care centers in the region. However, Asia-Pacific is anticipated to witness lucrative growth, due to an increase in a number of geriatric population, an increase in the prevalence of diabetes, and a large population base.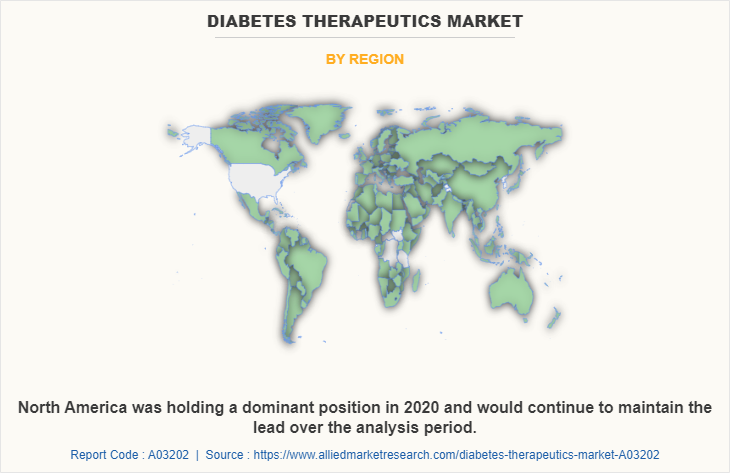 The top diabetes therapeutics key players operating in the global diabetes therapeutics market include Astrazeneca Plc., Boehringer Ingelheim GmbH, Eli Lilly and Company, Glaxosmithkline Plc., Johnson & Johnson, Merck & Co., Inc., Novartis Ag, Novo Nordisk, Sanofi S.A., and Takeda Pharmaceutical Company Limited.
Key Benefits For Stakeholders
This report provides a quantitative analysis of the market segments, current trends, estimations, and dynamics of the diabetes therapeutics market analysis from 2020 to 2030 to identify the prevailing diabetes therapeutics market opportunity.
The market research is offered along with information related to key drivers, restraints, and opportunities.
Porter's five forces analysis highlights the potency of buyers and suppliers to enable stakeholders to make profit-oriented business decisions and strengthen their supplier-buyer network.
In-depth analysis of the diabetes therapeutics market segmentation assists to determine the prevailing market opportunities.
Major countries in each region are mapped according to their revenue contribution to the global market.
Market player positioning facilitates benchmarking and provides a clear understanding of the present position of the market players.
The report includes an analysis of the regional as well as global diabetes therapeutics market trends, key players, market segments, application areas, and market growth strategies.
 Diabetes Therapeutics Market Report Highlights
Aspects
Details
Market Size By 2030
USD 317.9 billion
Growth Rate
CAGR of 10.4%
Forecast period
2020 - 2030
Report Pages
160
By Product

Injectables
Oral antidiabetic Drugs

By Region

North America (U.S., Canada, Mexico)
Europe (Germany, France, United Kingdom, Italy, Spain, Rest of Europe)
Asia-Pacific (China, Japan, India, Australia, Rest Of Asia Pacific)
LAMEA (Brazil, Saudi Arabia, South Africa, Rest of LAMEA)

Key Market Players
MERCK and CO., INC., ELI LILLY AND COMPANY, ASTRAZENECA PLC, johnson and johnson md&d, SANOFI S.A., BOEHRINGER INGELHEIM GMBH, NOVARTIS AG, TAKEDA PHARMACEUTICAL COMPANY LIMITED, GLAXOSMITHKLINE PLC, NOVO NORDISK