Diabetic Nephropathy Market Research, 2031
The global diabetic nephropathy market was valued at $1.9 billion in 2021, and is projected to reach $3.3 billion by 2031, growing at a CAGR of 6% from 2022 to 2031.
Diabetic nephropathy is a long-term kidney disease that can affect people with diabetes. It occurs when high blood glucose levels damages kidney functions. It can occur in people with type-2 diabetes. Diabetic nephropathy is caused by damage to the tiniest blood vessels. When small blood vessels begin to develop damage, both kidneys begin to leak proteins into the urine. As damage to the blood vessels continues, the kidneys gradually lose their ability to remove waste products from the blood. It occurs when high blood glucose levels damage kidney function. Up to 40% of people with type-1 diabetes eventually develop significant kidney diseases, which sometimes requires dialysis or a kidney transplant. Only 4 to 6 % of all type-2 diabetes patients end up requiring dialysis, although about 20–30% of people with type-2 diabetes develop at least some kidney damage. About 40% of all people who need to start dialysis have kidney failure from type-1 or type-2 diabetes.
The diabetic nephropathy is diagnosed by different test such as urinary albumin test, albumin/creatinine ratio, and glomerular filtration rate (GFR), and other special tests includes imaging tests (CT scanning, MRI) and Kidney biopsy.
The COVID-19 outbreak is anticipated to have a negative impact on the diabetic nephropathy Market, as huge number of medical college and hospitals across the globe were restructured to increase the hospital capacity for patients diagnosed with COVID-19. The COVID-19 epidemic had a negative impact on the diabetic nephropathy market because priority is given to COVID-19 patient for treatment. Discovery and development of diabetic nephropathy medicine is slowing down during pandemic but did not stop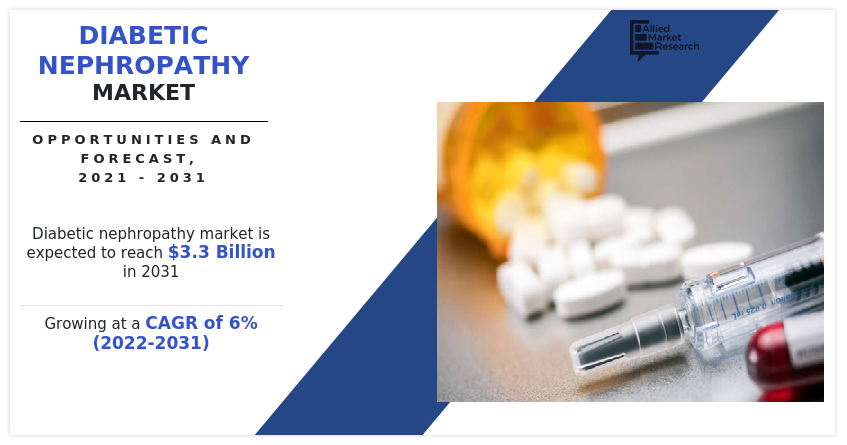 Get more information on this report : Request Sample Pages
The major factors that drive the diabetic nephropathy market is surge in number of geriatric populations suffering from diabetic nephropathy, continuous increase in range of conditions that can be treated by diabetic nephropathy medicine and rise in demand of anti-diabetic medicine. This market also increased due to rise in incidence rates of various kidney diseases and rise in testing, which are expected to offer lucrative opportunities for market expansion.
Diabetic nephropathy can be controlled by taking medication, low protein diet, adopt healthy lifestyle, exercise and proper checkup that are preventing from kidney failure. Furthermore, diabetic nephropathy medicine work by controlling the blood glucose level, lowering cholesterol level and lowering to high blood pressure (hypertension). Due to wide application of diabetic nephropathy medicine and increasing the diagnostic tests of diabetic nephropathy are led to the growth of diabetic nephropathy market share. Moreover, increase in initiatives by governments & non-governmental organizations to promote awareness about diabetic nephropathy significantly contributes toward the growth of the industry.
However, the sales of diabetic nephropathy medicine have witnessed hindrances, owing to lack of skilled professionals for treatment of diabetic nephropathy in emerging and less developed countries, poor planning of diabetic nephropathy treatment in low-income countries are the key factors restraining the market. Strict regulatory rules regarding selling and lengthy approval time for drugs for diabetic nephropathy are also hamper the market growth. Due to these factors, the sales of premium diabetic nephropathy product are minimum. Conversely, the introduction of new medicine of diabetic nephropathy into developing nations is anticipated to offer remunerative opportunities for the expansion of the global market during the forecast period.
Furthermore, the healthcare business in developing nations is predicted to grow significantly as a result of various reasons, including increased investment in both the public and private sectors, rise in chronic diseases, surge in number of diabetes cases, and population expansion. Furthermore, an increase in healthcare spending is expected to promote the expansion of the healthcare business, which, in turn, is expected to fuel product demand.
The significant reduction in clinical trials due to strict government guidelines against COVID-19. Dialysis and transplant of kidney operation in diabetic nephropathy patient were postponed and home care setting care was preferred. Furthermore, the lockdown led to the disruption of manufacturing and transportation of healthcare essentials. According to FDA data that was published in 2019, approximately 40% pharmaceutical manufacturing unit established in India and China for the active pharmaceutical ingredient. Therefore, it has severely impacted to the supply chain of drugs.
The diabetic nephropathy market is segmented into Drugs Class, Type and Distribution Channel.
 On the basis of drug class, the market is classified into angiotensin-converting enzyme inhibitors, angiotensin receptor blockers, calcium channel blocker, diuretics, renin inhibitor and others. By type, the market is segregated into type-1 diabetes, & type-2 diabetes. Depending on distribution channel, it is fragmented into hospital pharmacy, online providers, and drug & retail pharmacy.
Region wise, the market is analyzed across North America (the U.S., Canada, and Mexico), Europe (Germany, France, UK, Italy, Spain, and rest of Europe), Asia-Pacific (Japan, China, Australia, India, South Korea, and rest of Asia-Pacific), and LAMEA (Brazil, South Africa, Saudi Arabia, and rest of LAMEA)
Segment Review
Depending on drug class, in diabetic nephropathy market size, the angiotensin-converting enzyme inhibitors segment was the highest revenue contributor in the global market in 2021, owing to rise in number of temporary as well as permanent chronic heart disease, heart attack, hypertension and diabetic nephropathy. The diuretics segment is expected to witness highest CAGR of 7.4% during the forecast period owing to rise in awareness and surge in cases of oedema, hypertension, kidney stones and diabetic nephropathy.
On the basis of type of diabetic nephropathy, the type-2 diabetes segment generated maximum revenue in 2021, owing to surge in diabetes cases and increase in awareness and diagnosis of diabetic nephropathy. The type-2 diabetes segment is also expected to witness highest CAGR during the diabetic nephropathy market forecast period.
On the basis of distribution channel, in diabetic nephropathy market size, the drug stores & retail pharmacy segment was the highest revenue contributor to the market in 2021. The online providers segment is expected to witness highest CAGR during the forecast period, owing to increase in population suffering from diabetes and geriatric population.
Depending on region, the North America generated maximum revenue in 2021, owing to increase in the number of patient admissions, and chronic kidney diseases. Asia-Pacific is expected to witness highest CAGR during the forecast period, owing to surge in number of diabetic nephropathy cases, chronic heart disease cases, and increase in prevalence of hypertension.
The key players operating in the diabetic nephropathy industry are Abbott Laboratories, AbbVie Inc., AstraZeneca Plc, Bayer Ag, Eli Lilly and Company, Merck & Co, Inc., Novartis Ag, Pfizer Inc., Reata Pharmaceuticals, Inc., and Sanofi
Key Benefits For Stakeholders
This report provides a quantitative analysis of the market segments, current trends, estimations, and dynamics of the diabetic nephropathy market analysis from 2021 to 2031 to identify the prevailing diabetic nephropathy market opportunity.
The market research is offered along with information related to key drivers, restraints, and opportunities.
Porter's five forces analysis highlights the potency of buyers and suppliers to enable stakeholders make profit-oriented business decisions and strengthen their supplier-buyer network.
In-depth analysis of the diabetic nephropathy market segmentation assists to determine the prevailing market opportunities.
Major countries in each region are mapped according to their revenue contribution to the global market.
Market player positioning facilitates benchmarking and provides a clear understanding of the present position of the market players.
The report includes the analysis of the regional as well as global diabetic nephropathy market trends, key players, market segments, application areas, and diabetic nephropathy market growth strategies.
 Key Market Segments
By Drugs Class

Angiotensin-converting Enzyme Inhibitors
Angiotensin Receptor Blockers
Calcium Channel Blocker
Diuretics
Renin Inhibitor
Others



By Type

Type-1 Diabetes
Type-2 Diabetes



By Distribution Channel

Hospital Pharmacy
Online Providers
Drug Stores and Retail Pharmacy



By Region

North America
Europe

Germany
France
U.K.
Italy
Spain
Rest of Europe

Asia-Pacific

Japan
China
Australia
India
South Korea
Rest of Asia-Pacific

LAMEA

Brazil
Saudi Arabia
South Africa
Rest of LAMEA



 Key Market Players
AbbVie Inc.
Abbott Laboratories
Bayer AG
Eli Lilly and Company
Merck & Co
Astrazenica Plc
Novartis AG
Pfizer Inc.
Reata Pharmaceuticals
Sanofi