Digital Map Market Outlook:2023
The digital map also called as cartography is an electronic map, which operation is based on a combination of graphic elements assigned to it in the form of electronic information. It is based on naturally harvested and processed into digital cartographic data. Digital mapping is a process of collection and compilation of data to form a virtual image. The compiled data is used to produce digital maps that exactly represent a particular geographical area or feature, including major rivers, roads, and important landmarks such as hospitals, airports, and so on. Digital mapping technology can also be used to calculate the distance between different places. The digital map market size was valued at $1,804 million in 2017, and is projected to reach $3,679 million by 2023, growing at a CAGR of 12.61% from 2017 to 2023.
Increase in the usage of 3D platforms & advanced technologies for surveying and making digital maps drives the growth of the global digital map market. However, growth in adoption of free crowdsourcing digital maps, stringent regulations, and legal challenges restricts the growth of the market. Rise in adoption of real-time digital maps offers a strong opportunity for the digital map.
The report includes the study of the digital map market focusing on various growth prospects and restraints, based on the regional analysis. The study highlights Porter's Five Forces analysis for the market that comprises the impact of suppliers, competitors, new entrants, substitutes, and buyers.
The digital map market is dominated by key players that includes Apple Inc., Google Inc, HERE, Micello, Inc., TomTom International BV, MiTAC International Corporation, ARC Aerial Imaging Limited, Esri, Nearmap Ltd. and MAPQUEST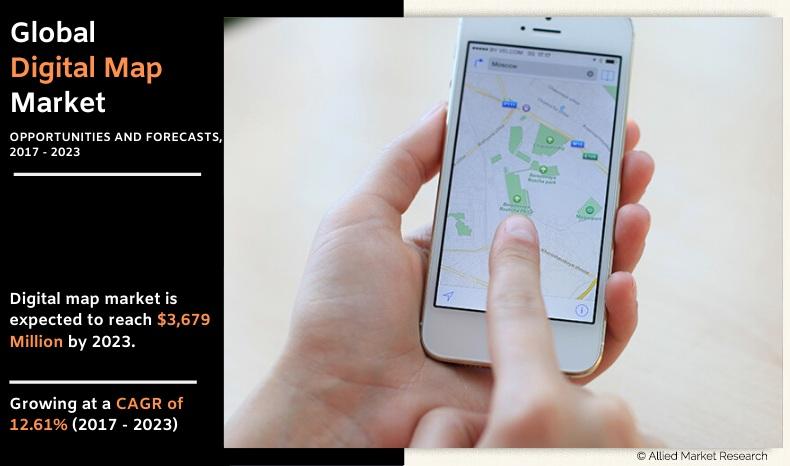 Segment Overview
The global digital map market is segmented on the basis of usage, functionality, and region. Usage covered in this study include indoor and outdoor applications. By indoor applications, the market is classified into airports, malls, and departmental stores. By outdoor applications, the market is divided into automotive navigation, mobile & the internet, public sector agencies, and enterprises. Based on the functionality, the market categorized into computerized, scientific, and GPS navigation. Based on the regional study, the digital map market is analyzed across North America, Europe, Asia-Pacific, and LAMEA.
Digital Map Market Segmentation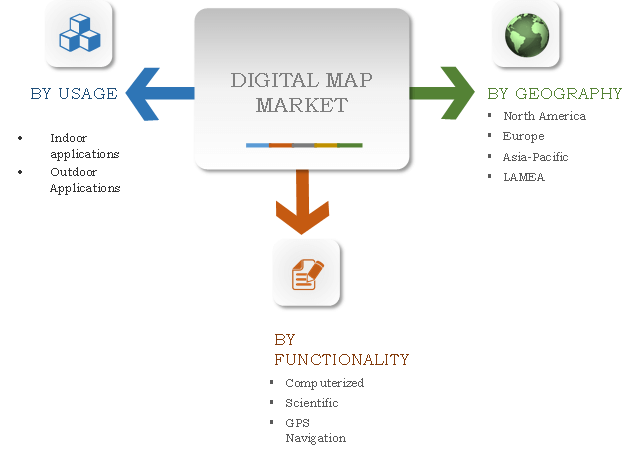 Top Impacting Factors in Digital Map Market:
Increase in the Use of Geospatial Information
Geo-spatial information is experiencing a boom in recent years as it is used in a wide range of applications covering a spectrum of sectors and businesses such as risk and emergency management, infrastructure management, marketing, urban planning, resource management (oil, gas, mining, etc.), business planning, logistics, and more. Geo-information is also a foundation of future applications as it makes it possible to establish location, which is one of the key dimensions of context. For instance, Atos SE use geographic information system (GIS) platforms with location-based services (LBS) to offer services to businesses involved in supply chain management, data centers, infrastructure development, urban planning, risk and emergency management, navigation, and healthcare. Also, technologies based on augmented reality utilize GIS information and 3D platforms to provide virtual information about users and their surroundings. This information helps enterprises understand the needs of users and send targeted advertisements to them.
Increase in Use of Smartphones
Over the last few years, the use of smartphones has increased significantly. According to global overview report from We Are Social and Hootsuite reveals that more than half of the world's population now uses the smartphone. Most of the smartphones include a radio chip, which allows user to access online mapping applications and positional information directly from their smartphones by receiving signals from satellite navigation systems and determining their location. For instance, consumers rely on the mapping applications such as Google Maps and City mapper for locations and directions or for finding places such as restaurants, banks, ATMs, or gas stations.
User Friendly Technological Advancements
There are a lot of technological advancements in digital maps such as traffic updates, road blocks, updated places of interest, landmarks, and others that make the digital maps more user-friendly. In addition, the increase in competition among the providers of digital map technology is prompting the vendors to increase their product portfolios and to enhance their technology to offer more user-friendly maps to the customers. For instance, Snapchat has launched a new user-friendly feature called "Snap Map", which allows users to see location of their friends and when they post their most recent snaps.
Key Benefits for Digital Map Market:
The study provides an in-depth analysis of the digital map market, with current and future trends to elucidate the imminent investment pockets.
The quantitative analysis of the digital map industry from 2016 to 2023 is provided to elaborate the digital map market potential.
Information regarding key drivers, restraints, and opportunities coupled with their impact analysis is provided.
Porter's Five Forces analysis illustrates the potency of buyers and suppliers participating in the market.
 Digital Map Market Report Highlights
Aspects
Details
By Usage

Indoor Applications
Outdoor Applications

By Functionality

Computerized
Scientific
GPS Navigation

By Geography

North America
Europe

UK
France
Germany
Russia
Rest of Europe

Asia-Pacific

China
India
Japan
Australia
Rest of Asia-Pacific

LAMEA

Latin America
Middle East
Africa

Key Market Players
APPLE INC., ARC AERIAL IMAGING LIMITED, ESRI, GOOGLE INC., HERE, MAPQUEST, MICELLO, INC., MITAC INTERNATIONAL CORPORATION, NEARMAP LTD., TOMTOM INTERNATIONAL BV