Digital Multimeter Market Research, 2031
The global digital multimeter market was valued at $0.61 billion in 2021, and is projected to reach $1.1 billion by 2031, growing at a CAGR of 6.7% from 2022 to 2031.
Digital multimeters are a type of multimeters which are used to measure quantities such as capacitance, wattage, current, voltage and resistance. The various types of these instruments such as mini digital multimeters and automotive multimeter show the measured values on a digital display on the device, so that they can be easily read by first-time users, hobbyists as well as professionals. These instruments fall under the category of test and measurement instruments, and can be used to check the working condition of equipment such as electric circuits, fuses, automotive battery, HVAC units, semiconductors, and printed circuit boards. In some digital multimeters, the measurement range needs to be selected manually, and in others, this range is selected automatically. The latter type of digital multimeters can be used easily by hobbyists and beginners, while the former type is more suited to professionals.
The digital multimeter industry is expected to witness growth during the forecast period, owing to their higher precision in comparison to analog testers. This high precision means the ability of digital multimeter to accommodate higher resolutions because its digital display is capable of showing more digits. Digital multimeters are considerably less susceptible to reading errors on account-of its easy-to-read digital displays. On the other hand, there is a higher possibility of people making mistakes while reading values from analog testers, because those devices indicate values using a needle, which a person may read properly. Such errors, called reading errors, are avoided on digital multimeters.
The digital multimeter market has witnessed mixed impact of the outbreak of the COVID-19 pandemic. With governments of several nations imposing and extending lockdowns, production and manufacturing facilities across the globe have been shut down, leading to crisis and unavailability of workforce. Considering the inputs from various industry experts belonging to various stages of the value chain, such as OEMs, suppliers, integrators, end users, and distributors, and the financial release of various companies in the digital multimeter ecosystem, it is calculated that the market has experienced a decline during 2019–2020. Furthermore, the outbreak of the pandemic has disrupted the global supply chain, thereby creating significant gap in supply chain. Economic impact of the pandemic has been disruptive. Key players operating in the digital multimeter industry temporarily witnessed a slowdown, owing to lack of availability of raw materials, which has led to decline in revenues for the financial year 2020 to 2021. However, it is expected that the market started recovering from 2021 and will remain in the growth stage during the forecast period. The measures taken by the major players in the temperature detection screen market to counter the negative effects of covid-19 include making moderate cuts to R&D budgets and focusing on next-generation products.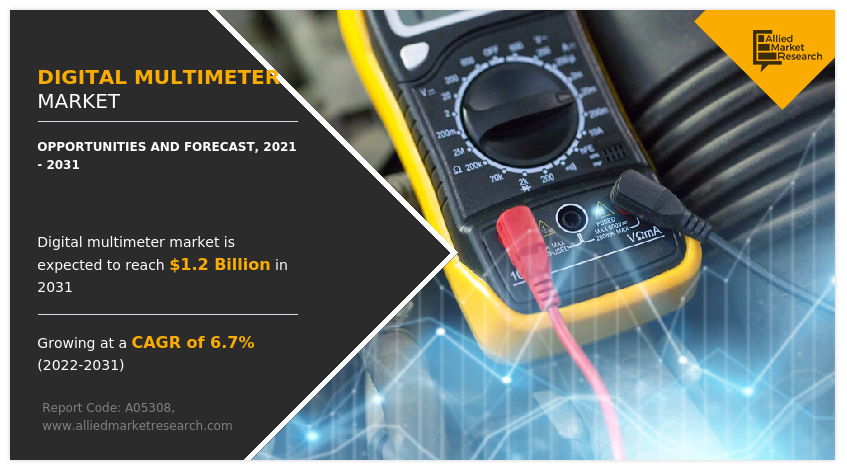 The digital multimeter market is segmented into Product Type, Ranging Type and Industry Vertical.
Further, adoption of technology is increasing considerably in various industries. Particularly, automation and process control equipment are making strides at a rapid pace in industries. This has led to the expanding use of existing electronics such as passive components and electromechanical components in existing products. For instance, the automobile industry has witnessed an increasing level of automation in manufacturing as well as the product itself. This technology adoption is also an important driver of the digital multimeter industry. Meanwhile, the digital multimeter market growth is facing a challenge from small manufacturers. These players manufacture the device at lower costs by reducing its quality. Small manufacturers have found the market barrier to be low due to digital multimeters being a long-established technology and the minimum complexity in the product's design. On a positive note, according to digital multimeter market analysis, the increasing adoption of Industry 4.0 and Internet of Things (IoT) is expected to lead to a digital multimeter market opportunity during the forecast period. The Internet of Things (IoT) consists of web-connected smart devices which collect and analyze data from their surroundings using embedded systems such as processors, sensors and communication hardware. Whereas, Industry 4.0 is revolutionizing the manufacturing industry by bringing robotic technology, automation, and Internet of Things (IoT) to the production facilities. The maintenance and testing of all these electronic systems is expected to boost the demand for digital multimeters and positively affect the digital multimeter market outlook.
Segmentation Overview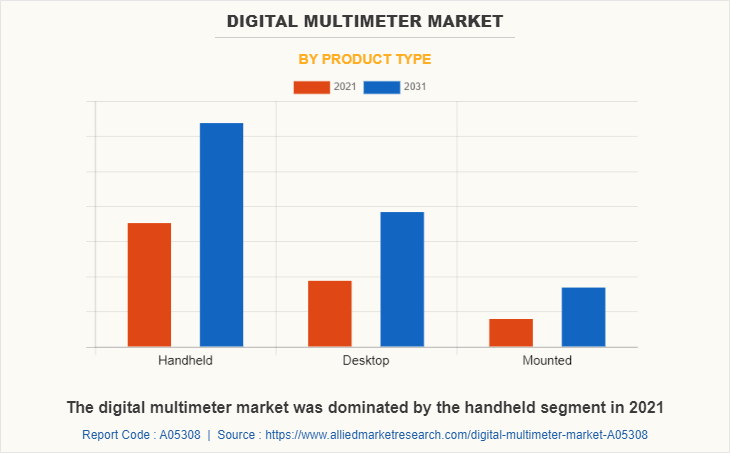 On the basis of product type, the digital multimeter market size is segmented into handheld, desktop and mounted. The handheld/portable segment dominated the market in terms of revenue in 2021. However, the mounted segment is expected to expand at a higher growth rate during the digital multimeter market forecast. Handheld digital multimeters can be used in more locations and scenarios which is a major driving factor for their usage. They are typically used when the measurements need to be taken in field operations, or of hazardous systems, and when mobility is an important factor in the work.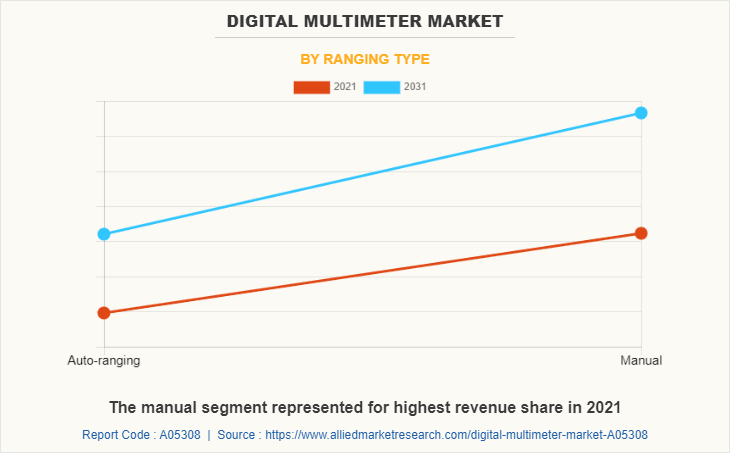 On the basis of ranging type, the digital multimeter market share is segmented into auto-ranging and manual. The manual segment dominated the market in 2021, whereas the auto-ranging segment is likely to expand at a faster rate during the forecast period. Manual digital multimeters provide many benefits to professionals in various industries such as electronics, electricals, technology, and scientific research. To use a manual digital multimeter, a person needs to have considerable knowledge, including which range the value fall under. But it also allows professionals to put the digital multimeter to considerable use and gain many types of readings, as compared to amateurs. Hence, the sales of manual digital multimeters are high and driven by professionals.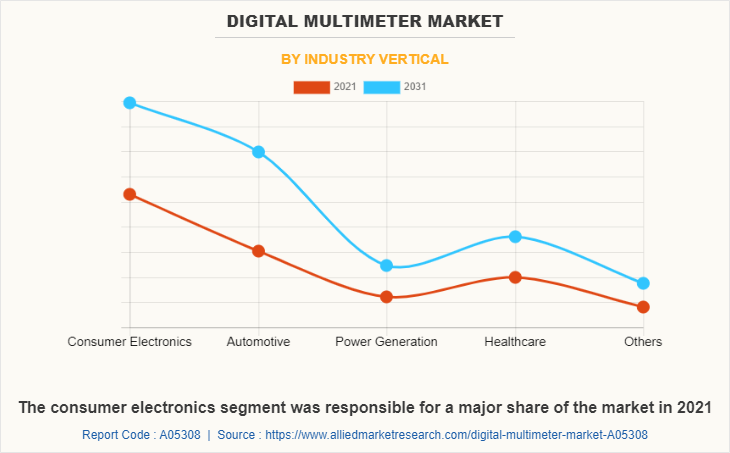 In terms of industry vertical, the market is segmented into consumer electronics, automotive, power generation, healthcare, and others. The consumer electronics segment dominated the market in 2021, whereas the automotive segment is likely to expand at a faster rate during the forecast period. The rising sales of consumer electronics on account-of the improving living standards of population is a major driver of the segment. Whereas the increasing adoption of technology in the automotive industry, including the introduction and fast-rising sales of electric vehicles is likely to boost the sales of digital multimeters in the forecast period.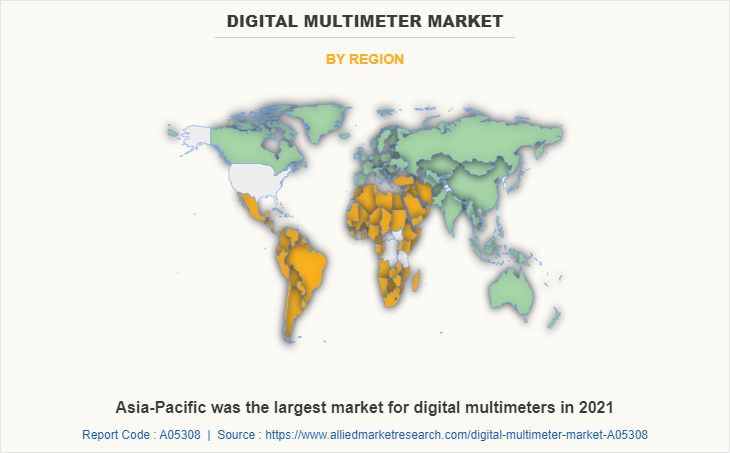 In terms of region, the market is analyzed across North America, Europe, Asia-Pacific, and LAMEA. Asia-Pacific dominated the market with the largest share in 2021 and it is also expected to witness the highest growth rate during the forecast period. Several of the major companies in the market are located in Asia-Pacific region. This presents a significant opportunity for them to expand their product line-up and geographic reach in the market. Furthermore, this region also has several of the world's largest semiconductor and electronics firms such as Taiwan Semiconductor Manufacturing Company and LG Electronics, which are major consumers of digital multimeters. The combination of these and other factors are responsible for the high sales of digital multimeters in Asia-Pacific.
Competitive Analysis
Competitive analysis and profiles of the major digital multimeter market players that have been provided in the report include National Instruments Corporation, Keysight Technologies, Gossen Metrawatt GmbH, Fluke Corporation, FLIR Systems, Inc., Tektronix, Inc., Yokogawa Electric Corporation, Rohde & Schwarz GmbH & Co KG, Hioki E.E. Corporation, and Sanwa Electric Instrument Co., Ltd. These key players adopt several strategies such as new product launch and development, acquisition, partnership and collaboration and business expansion to increase their market share in the global digital multimeter market during the forecast period.
Top Impacting Factors
Some of the significant factors impacting the global digital multimeter market include that they provide more precision as compared to analog testers, have an expanding use in different end-user industries, are versatile in nature, and face competition from small manufacturers selling cheap versions of the product. The increasing demand from various industries for incorporation of technology is a major influencer of the demand for digital multimeters. However, the sale of low quality and cheap digital multimeters by local manufacturers is expected to restrain growth of the market. Meanwhile, increasing number of applications due to the adoption of Internet of Things (IoT) and Industry 4.0 provide an opportunity to market players during the forecast period.
Historical Data & Information
The digital multimeter market is fairly competitive, owing to the strong presence of existing vendors. Market vendors are expected to gain a competitive advantage over their competitors because they can cater to market demands with a wide range of products. The competitive environment in this market is expected to increase as technological innovations, product extensions, and different strategies are adopted by key vendors.
Key Developments/Strategies
Keysight Technologies, FLIR Systems Inc., Fluke Corporation, and Tektronix Inc. are among the top companies which hold a prime share in the digital multimeter market. Top market players have adopted various strategies such as product launches, contracts, and others to expand their foothold in the digital multimeter market.
In July 2021, Fluke launched Fluke IRR1-SOL it has been designed from the ground up to simplify the installation, commissioning, and troubleshooting of photovoltaic arrays by measuring irradiance, temperature, inclination, and direction of the solar array with a single handheld tool.
In May 2021, Teledyne Technologies, Inc. completed the acquisition of FLIR Systems, in a cash-and-stock deal worth approximately $8.2 billion. By acquiring FLIR Systems, Teledyne not only expanded its imaging sensor and meters portfolio in terms of volumes, but the deal also helped it gaining production efficiency.
In September 2020, Gossen Metrawatt developed, DAkkS-calibrated multimeter generation, adding a device for the automotive sector. The new METRAHIT IM E DRIVE is an all-in-one solution combining all relevant test and measurement functions for maintenance, service, and diagnostics of electric machines, drives, and systems.
In December 2022, HIOKI launched the DC Hipot tester ST5680 for the safety inspection process of battery modules. The DC Hipot test is one of the electrical safety tests in the module production of LIBs (lithium-ion batteries). The required test conditions depend on the standards required for each battery. The DC Hipot tester ST5680 has the specifications to comply with a wide range of international standards.
Key Benefits For Stakeholders
This report provides a quantitative analysis of the market segments, current trends, estimations, and dynamics of the digital multimeter market analysis from 2021 to 2031 to identify the prevailing digital multimeter market opportunities.
The market research is offered along with information related to key drivers, restraints, and opportunities.
Porter's five forces analysis highlights the potency of buyers and suppliers to enable stakeholders make profit-oriented business decisions and strengthen their supplier-buyer network.
In-depth analysis of the digital multimeter market segmentation assists to determine the prevailing market opportunities.
Major countries in each region are mapped according to their revenue contribution to the global market.
Market player positioning facilitates benchmarking and provides a clear understanding of the present position of the market players.
The report includes the analysis of the regional as well as global digital multimeter market trends, key players, market segments, application areas, and market growth strategies.
 Digital Multimeter Market Report Highlights
Aspects
Details
Market Size By 2031
USD 1.2 billion
Growth Rate
CAGR of 6.7%
Forecast period
2021 - 2031
Report Pages
213
By Product Type
By Ranging Type
By Industry Vertical

Consumer Electronics
Automotive
Power Generation
Healthcare
Others

By Region

North America (U.S., Canada, Mexico)
Europe (UK, Germany, France, Italy, Spain, Rest of Europe)
Asia-Pacific (China, Japan, India, South Korea, Rest of Asia-Pacific)
LAMEA (Latin America, Middle East, Africa)

Key Market Players
Rohde & Schwarz GmbH & Co KG, Keysight Technologies, HIOKI E.E. CORPORATION, Sanwa Electric Instrument Co., Ltd., National Instruments Corporation, Yokogawa Electric Corporation, TEKTRONIX, INC., Fluke Corporation, Gossen Metrawatt GmbH, FLIR Systems, Inc.