Digital Rights Management Market Statistics: 2030
The global digital rights management market size was valued at $3.60 billion in 2020, and is estimated to reach a value of $24.63 billion by 2030, registering a CAGR of 21.4% from 2021 to 2030. Digital rights management in today's digital world have now become especially critical, not only for digital content creators but also for businesses and people that use digital assets either licensed or purchased from third-party providers who just want to enjoy digital content comfortably.
The COVID-19 pandemic has had a favorable effect on the digital rights management industry, owing to a significant shift toward the use of digital platforms during the lockdown phases of the pandemic, resulting in increased demand for digital content that can be enjoyed at the home inconvenience, rather than more traditional tropes of the entertainment industry.
According to a survey published by AMR, more than 82% of the surveyed people admitted to having downloaded digital content illegally. The vast majority of these illegal downloads are movies, music albums, video games, and premium software applications.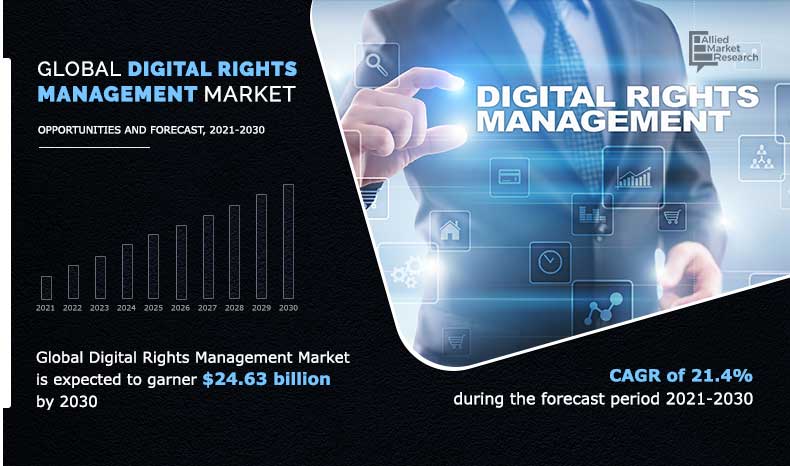 When a competent digital rights management system is in place, it may assist publishers and artists in preventing such widespread unauthorized use of their intellectual property, and hence, the market for digital rights management systems has depicted a decent growth trend in the past few years and is expected to witness further growth during the forecast period.
In 2020, the global digital rights management market share was dominated by video-on-demand segment and is expected to maintain its dominance in upcoming years. It protects video content while ensuring smooth delivery and playback. It also prohibits the use of portable media devices to view these videos. This feature of safeguarding of videos is driving the adoption of DRM solutions.
 
The mobile content segment also plays a significant role in the market, With the increasing use of smart phones, huge amounts of sensitive data containing sensitive information is being generated. As a result, many data security vulnerabilities arise. Mobile content is protected from cyber-attacks using the Digital Rights Management (DRM) system.
In 2019, North America gained a dominant position in the global digital rights management market and is expected to continue its dominance over the forecast period. This is due to the increasing adoption of IPTV, OTT and IoT technologies by consumers.  Advances in mobile devices and the explosion of Internet content have provoked a global revolution in the way consumers interact and access online content. The growing demand for a better viewing experience has led to the adoption of digital rights management solutions in North America. In addition, factors leading to the growth of the North American market include the adoption of well-established social media platforms such as Facebook, Instagram, YouTube, and its security solutions in large organizations adopting pre-existing security solutions on social media sites.
The report focuses on the growth prospects, restraints, and computer vision market analysis. The study provides Porter's five forces analysis of the digital rights management industry to understand impact of various factors such as bargaining power of suppliers, competitive intensity of competitors, threat of new entrants, threat of substitutes, and bargaining power of buyers on the computer vision market trends.
Segment Review
Global digital rights management market is primarily categorized on the basis of application, enterprise size, industry vertical and region. Based on application, the market is segmented into mobile content, mobile gaming, video-on-demand and others. Based on enterprise size, the market is segmented into small and medium enterprise and large enterprise. Based on industry vertical, the market is segmented into BFSI healthcare, printing and publication education, television and film and others. Major regions considered within the market study are North America, Europe, Asia-Pacific and LAMEA.
Covid Impact Analysis
Post COVID-19, the size of the global digital rights management market forecast is estimated to be $5,128 million in 2020, and is projected to reach $24,636 million by 2030. As a result of various home quarantine rules and laws enacted by various countries and municipal authorities during the COVID-19 pandemic, there was an inclination toward remaining at home. This new trend resulted in a significant shift in the online activity of individuals who were confined to their houses. According to a Statistics Canada survey, Canadians over the age of 15 increased their online time by more than 75% in the first few months of 2021. Similar patterns were observed in other regions of the world, as the fear of COVID-19 affected many countries. This prompted content creators and publishers to expand their digital content libraries and employ a variety of digital rights management methods during the forecast period. 
Digital Rights Management Market

---
By Application
Video on Demand segment accounted for the highest market share in 2020
Top Impacting Factors    
Factors such as growing need for copyright protection policies for digital intellectual properties coupled with rising corporate need to protect their data stands out as one of the major factors that is driving the digital rights management market growth. However, limited control over the customer data and complexities associated with digital rights management is mainly restraining the market growth. Moreover, increasing penetration of digital devices that has led to growing data volume and rising demand for OTT content delivery is anticipated to have a lucrative effect on the market.
Rising Demand For Ott Content Delivery:
The over-the-top content delivery model has become the biggest trend in the modern entertainment industry. With more than 500 hours' worth of videos being uploaded on YouTube every minute and with more than 2 billion monthly users, YouTube has become an important platform in the entertainment industry to reach and maintain their audiences. Moreover, paid OTT media platforms such as Netflix, Amazon Prime, Disney Plus, Hulu and others, are enabling their users to enjoy big-budget content they like at the convenience of their homes. This is empowering the growth of OTT platforms, which enable various digital rights management policies to safeguard and monetize their content, hence adding to the growth of the digital rights management industry. 
Digital Rights Management Market

---
By Enterprise Size
Large Enterprise segment is projected as one of the most lucrative segments.
Corporate Needs To Protect Their Data
Corporations can use digital rights management solutions to limit access to sensitive information. Companies can utilize these digital rights management solutions to limit access to their sensitive data while yet allowing it to be safely shared within the organization and with concerned stakeholders. Moreover, having digital rights management technology also makes it easier for auditors to analyze and discover data breaches or leakages. In a commercial environment, digital rights management may be referred to as information rights management or enterprise rights management. 
DRM is used by healthcare organizations and financial services firms to ensure compliance with data privacy/protection standards such as HIPAA (Health Insurance Portability and Accountability) and Gramm-Leach-Bliley Act (GLB Act or GLBA).
Digital Rights Management Market

---
By Region
Asia-Pacific would exhibit the highest CAGR of 23.9% during 2021-2030
Key Benefits For Stakeholders
The study provides an in-depth analysis of the digital rights management market along with the current trends and future estimations to elucidate imminent investment pockets.
Information about key drivers, restraints, and opportunities and their impact analysis on the digital rights management market size is provided in the report.
Porter's five forces analysis illustrates the potency of buyers and suppliers operating in the digital rights management industry.
The quantitative analysis of digital rights management market for the period 2020–2030 is provided to determine the market potential.
 Digital Rights Management Market Report Highlights
Aspects
Details
By Application

Mobile Content
Mobile Gaming
Video-on-demand
Others

By Enterprise Size
By Industry Vertical

BFSI
Healthcare
Printing and Publication Educational
Television and Film
Others

BY REGION

North America (U.S., Canada)
Europe (UK, Germany, France, Spain, Italy, Rest of Europe)
Asia-Pacific (China, India, Japan, India, Australia, Singapore, Rest of Asia-Pacific)
LAMEA (Latin America, Middle East, Africa)

By Key Market Players

Adobe
Apple Inc.
Dell Inc.
DivX, LLC.
Fasoo
International Business Machines Corporation
Microsoft Corporation
NEXTLABS INC.
Oracle Corporation
Sony Corporation