IPTV Market Research, 2031
The global iptv market was valued at $59.7 billion in 2021, and is projected to reach $146.2 billion by 2031, growing at a CAGR of 9.5% from 2022 to 2031.
The COVID-19 outbreak had positive impact on the growth of the IPTV market owing to, the rising trend of internet usage in households due to the implementation of 'work-from-home' practices has further resulted in the higher internet consumption. The need to subscribe for better internet packages with faster speeds and provision offered by service providers to adhere to add-on facilities such as IPTV services at minimal prices is further providing an impetus to the industry growth.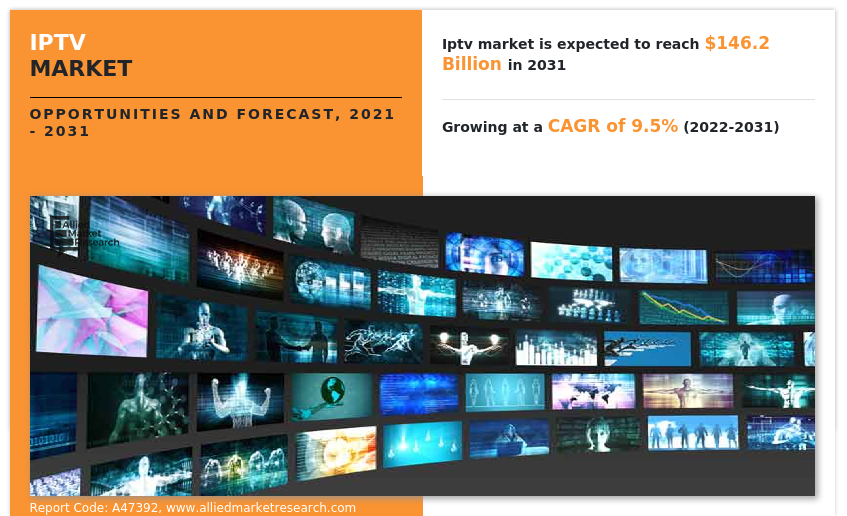 IPTV is a platform that delivers television content over IP protocol to the desktop and television simultaneously. In addition, it delivers a video stream encoded as a series of IP packets. Moreover, IPTV is different from satellite television, cable, and conventional terrestrial formats. It delivers either stored video, video-on-demand, and high definition (HD) channels.  
Growing preference for video-on-demand and high-definition channels and increase in demand for alternative investment boost the growth of the internet protocol television market. In addition, increase in use of digital transformation technology and growing popularity of mobile devices positively impact the growth of the market. However, the Stringent regulatory norms and lack of awareness and high infrastructure cost hampers the IPTV market growth. On the contrary, the rise in adoption of 5G technology is expected to offer remunerative opportunities for expansion during the IPTV market forecast. 
In terms of component, the hardware segment holds the highest IPTV market share as it provides stream IPTV services on television and improves the scalability, speed, reliability, and connectivity. However, the service segment is expected to grow at the highest rate during the forecast period growing demand for high-definition channels, Increase in internet video advertising, and rising internet penetration. 
Region-wise, the IPTV market size was dominated by North America in 2021 and is expected to retain its position during the forecast period, owing to increasing in deployment of streaming and video-on-demand services are highly effective by most organizations and verticals. However, Asia-Pacific is expected to witness significant growth during the forecast period, owing to increasing digitalization and rising demand for centrally managed systems. 
Segment review 
The IPTV market is segmented on the basis of by component, application type, industry vertical, and region. On the basis of the component, the market is categorized into hardware, software, and services. On the basis of application type, the market is bifurcated into non-linear television, and linear television. By device type, it is divided into smart phones & tablets, smart TVs, and desktops & laptops. By transmission type, it is classified into wireless, and wired. By industry vertical, it is classified into advertising & marketing, media & entertainment, IT & Telecom, healthcare, and others. By region, the market is analyzed across North America, Europe, Asia-Pacific, and LAMEA.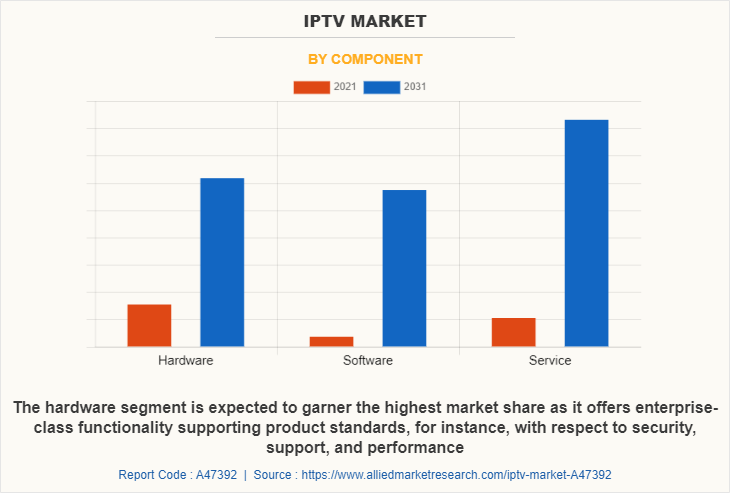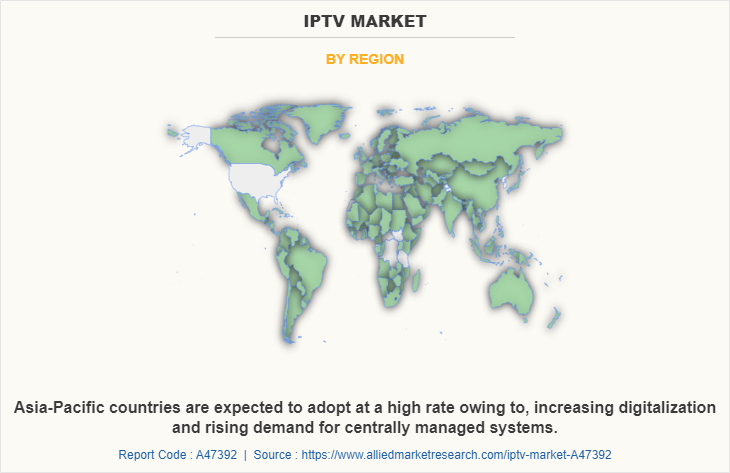 The key players that operate in the IPTV industry are Akamai Technologies, AT&T Inc., Cisco Systems Inc, Ericsson, Huawei Technologies Co., Ltd, Verizon Communications Inc., Broadcom Inc., Airtel India., TRIPLEPLAY SERVICES LTD, and Deutsche Telekom AG. These players have adopted various strategies to increase their market penetration and strengthen their position in the industry. 
Digital Capabilities: 
IPTV refers to Internet-based Protocol Television where internet is used to deliver TV programs & videos that are either live or on demand. IPTV industry is a system where digital television service is delivered to the subscriber through Internet protocol technology by the medium of broadband or internet connection. Moreover, there are two primary forms of IPTV architecture that can be taken into consideration for IPTV deployment centralized and distributed. This depends on the network architecture of the service provider, although distributed design provides advantages in bandwidth utilization and built-in system management tools that are necessary for managing a bigger server network, it is not more scalable than the centralized model. To improve the efficient delivery of multimedia materials by the network of the service provider, distributed architecture demands intelligent and sophisticated content distribution systems. 
The centralized architectural paradigm is an effective and manageable approach. It does not need a complex content distribution infrastructure because all media content is stored on centralized servers. A network that deploys relatively few VOD services, has sufficient core and edge bandwidth, and has an effective content delivery network typically benefits from centralized architecture (CDN). 
Key Benefits: 
The IPTV is the technology that allows users to transmitting a number of TV channels, IPTV provides services such as video on demand, near video on demand, time-shifted TV, TV on demand (TVoD), live television, and others. IPTV deployments and network security ensure a professional experience, creating a stimulating business environment for content providers and advertisers alike. Internet Protocol TV either uses the public internet, private local area networks, or wide area networks (WANs). Moreover, internet protocol television industry is a secured and reliable model for streaming entertainment video, live streams, and related services across an IP data network. Encoded streams, broadcast TV, VOD, and interactive TV services are securely delivered across a network, using the IP protocol to transmit the audio, video, and control signals on smart TVs, set-top boxes, thin clients, and smart mobile devices, such as smartphones & laptops. 
In addition, the internet protocol television market would witness significant strategic approaches, such as expansion, collaboration, mergers & acquisitions, and advanced technology integration. Leading industry players are investing strategically in driving research and development activities and fostering their expansion plans. 
In addition, with further growth in investment across the world and the rise in demand for IPTV, various companies have expanded their current product portfolio with increased diversification among customers. For instance, on March 02, 2022, Blonder Tongue Laboratories, Inc., a leading designer and manufacturer of video telecommunications, cable, and fiber transmission technologies in the Americas, and TiVo, a leading provider of entertainment solutions and a wholly-owned subsidiary of Xperi Holding Corporation, launched advanced OTT to linear broadcast conversion technology for video service providers with the NXG edge platform. For instance, in March 2021, Spark New Zealand added new features to its Cisco-powered IoT Control Center platform, which is expected to help businesses enhance service dependability and lower operational costs by leveraging artificial intelligence and machine learning. 
Moreover, with further growth in demand across the world and the rise in adoption of IPTV, various companies have partnered to increase diversification among customers. For instance, in May 2022, Ericsson and Intel, two of the most innovative businesses in the world of technology have combined their R&D expertise to build high-performing Cloud RAN solutions.  
Government Regulations: 
All well-governed IT industries should be able to demonstrate due diligence to ensure regulatory compliance in applicable fields, including IT. Organizations are adopting IPTV to manage, store, and extract relevant and useful information from the data stored and it is logistical and legal challenges along with the expected benefits of using social collaboration tools. Kingston Communications, a regional telecommunications operator in the UK, launched Kingston Interactive Television (KIT), an IPTV over digital subscriber line (DSL) service. Governments of many countries help to safeguard data privacy and copyright infringement. For instance, The UK introduced the Digital Economy Act, which created tougher punishments for anyone found guilty of copyright infringement. For instance, in January 2020, the government of California launched Consumer Privacy Act, and additional governments across the world formalized requirements for how businesses can collect data from visitors on their digital products. As a result, marketers are having to do more personalization with less personal data. In addition, federal and state governments are improving their track plans for various privacy laws, which are applicable for data that participate in their operations. For instance, California's Online Protection Privacy Act provides explicit privacy rights and allows users to know how their information will be used in the future. Furthermore, the cloud security regulations are strongly adhered by all AI service providers to operate as global service providers, for instance, the U.S. security regulation is mandatory to be adhered by majority of players located in this country. 
Top Impacting Factors 
Growing preference for video-on-demand and high-definition channels   
The demand for value-added services such as high definition (HD) and video-on-demand (VoD) is driving the growth of IPTV market. In addition, VoD is one of the innovative features that internet protocol TV offers and provides consumers a range of available videos to choose from. The videos are transmitted by the real time streaming protocol. In recent years VoD has gained tremendous popularity. For instance, Netflix inc services offers VoD streaming services to offer wide range of movies, TV shows, documentaries, and others also several VoD platforms includes YouTube premium offered by Alphabet Inc., Amazon Prime by Amazon.com, Inc., and Apple, TV+ by Apple, Inc., In addition, to this Verizon Communication Inc., provides Pay-Per-View (PPV) and subscription or fee-based content VoD services. Moreover, increase in demand for HD content globally, IPTV providers are enhancing their HD offering to increase their market presence. For instance, IPTV service providers such as AT&T, Verizon, along with the cable video service providers such as Comcast, and cablevision in the U.S. are in a high race to increase their customer base. These are the expected to drive the growth of the IPTV market. 
Increase in demand for alternative investment   
Alternative investments are an ever-evolving industry, and opportunities emerge regularly. The industry is expected to see new opportunities for several investment as well as new types of alternatives to invest in. In addition, service providers are making significant investments in delivering and marketing triple-play services by offering triple-play bundled package services, including voice, video, and data, in one single access subscription, that has resulted in attracting a large customer base. Furthermore, customers are trying to create a customized package as per requirements, as the customers are not impressed with the current deals the providers are offering. Therefore, service providers such as MatrixStream Technologies, Inc., and AT&T, Inc. are offering customized solutions after reviewing the customer requirements, thereby helping them increase their subscriber portfolio, For instance, in February 2022, Allente launched Next-Gen android TV service by satellite, IPTV, and OTT streaming with collaboration between Allente, KAONMEDIA, NAGRA, Broadcom, 3SS and Google. Google created its standardized Common Broadcast Stack (CBS) to help more TV viewers get the next-generation app-rich services they crave, enabled by the Android TV operating system (OS). Adopting CBS means easier and faster integration for hybrid Android TV OS devices, accelerated time-to-market, simplified upgrades and reduced overall total cost of ownership (TCO), which in turn is driving the growth of the market. 
KEY BENEFITS FOR STAKEHOLDERS  
Information about key drivers, restraints, & opportunities and their impact analysis on global IPTV market trends is provided in the report. 

The Porter's five forces analysis illustrates the potency of the buyers and suppliers operating in the industry. 

The IPTV market analysis from 2022 to 2031 is provided to determine the market potential. 
 IPTV Market Report Highlights
Aspects
Details
Market Size By 2031
USD 146.2 billion
Growth Rate
CAGR of 9.5%
Forecast period
2021 - 2031
Report Pages
390
By Industry Vertical

Media and Entertainment
Advertising and Marketing
IT and Telecom
Healthcare
Others

By Component

Hardware
Software
Service

By Application
By Device Type

Smart Phones and Tablets
Smart TV
Desktops and Laptops

By Transmission Type
By Region

North America (U.S., Canada)
Europe (UK, Germany, France, Spain, Italy, Rest of Europe)
Asia-Pacific (China, Japan, South Korea, India, Australia, Rest of Asia-Pacific)
LAMEA (Latin America, Middle East, Africa)

Key Market Players
Cisco Systems Inc., AT&T Inc., Deutsche Telekom AG, Broadcom Inc., Ericsson, Airtel India., Huawei Technologies Co., Ltd., Verizon Communications Inc., Akamai Technologies, TRIPLEPLAY SERVICES LTD.