Video On Demand Market Research, 2032
The global video on demand market was valued at $84.6 billion in 2022, and is projected to reach $387.5 billion by 2032, growing at a CAGR of 16.7% from 2023 to 2032.
Video on Demand (VOD) is a digital entertainment distribution system that enables users to access and stream video content at their convenience. Unlike traditional television broadcasts or scheduled programming, it allows viewers to select and watch movies, TV shows, and other video content whenever they desire. Video on demand services, such as Netflix, Hulu, or Amazon Prime Video, offer a vast library of content that be accessed on various devices, including smartphones, tablets, smart TVs, and computers. This flexibility and accessibility have revolutionized the way people consume media, as it empowers them to pause, rewind, fast-forward, and choose from a wide array of options, making it a highly convenient and personalized entertainment experience. Users typically pay a subscription fee or rent/purchase individual titles, giving them control over what they watch and when they watch it. Most of the cable and telephone company-based television providers offer video on demand streaming, whereby a user selects a video program that begins to play immediately, or downloading to the cloud storage, which is provider, or to a PC or to a portable device for deferred viewing.
Moreover, YouTube, another internet-based video on demand system, uses an advertising-funded model in which users access most of its video content free of cost but must pay a subscription fee for premium content. Some airlines offer video on demand services as in-flight entertainment to passengers through video screens embedded in seats or externally provided portable media players.
In addition, the VOD market is expected to witness notable growth owing to rise in use of smart devices and mobile data subscriptions, increase in popularity of live streaming and rise in number of streaming services. Moreover, surge in penetration of smartphones is expected to provide lucrative opportunity for the growth of the market during the forecast period. On the contrary, availability of open-source video platforms limits video on demand market growth. 
The COVID-19 pandemic had a significant impact on the video on demand (VOD) industry. With lockdowns and social distancing measures in place, people worldwide turned to video on demand services as their primary source of entertainment. This led to a substantial surge in demand for video on demand content, resulting in increased subscriptions and viewership across platforms like Netflix, Disney+, and Amazon Prime Video. These platforms adapted by accelerating content production and securing exclusive deals to cater to the growing audience. However, the pandemic also disrupted content production schedules and cinema releases, prompting studios to release films directly on video on demand platforms, accelerating the trend of day-and-date releases.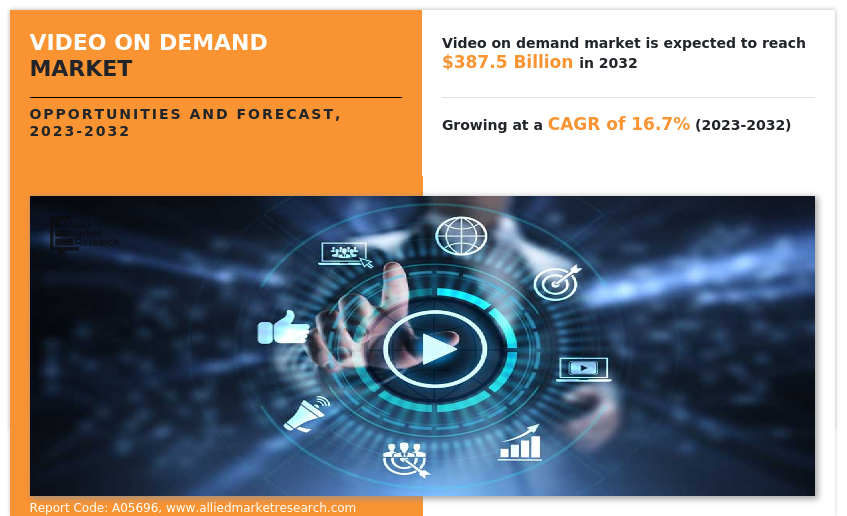 The video on demand market is segmented on the basis of component, monetization models, end user, and region. On the basis of component, it is bifurcated into solution and services. On the basis of monetization models, it is divided into subscription-based, advertising-based, and transaction-based. On the basis of end user, it is fragmented into media, entertainment, & gaming, travel & hospitality, education, and others. On the basis of region, it is analyzed across North America, Europe, Asia-Pacific, and LAMEA.
The report focuses on growth prospects, restraints, and analysis of the global VOD market trend. The study provides Porter's five forces analysis to understand the impact of various factors, such as bargaining power of suppliers, competitive intensity of competitors, the threat of new entrants, threat of substitutes, and bargaining power of buyers on the global video on demand market share.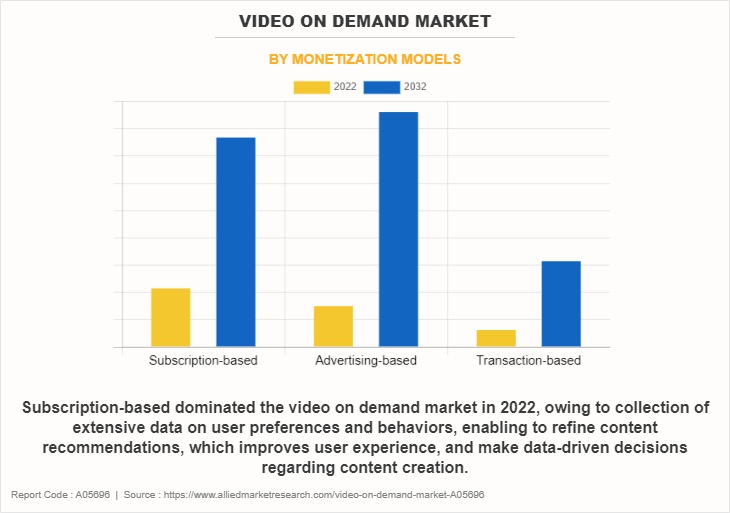 On the basis of monetization models subscription-based dominated the video on demand market share in 2022, owing to services accessible on multiple devices, offering personalized features, and often has user-friendly interfaces to improve user experience, and make data-driven decisions regarding content creation. However, advertising-based  segment is expected to witness the fastest growth, owing to provide customized advertisements by utilizing data analytics and insights into user behaviour, which improves the efficiency of marketing efforts.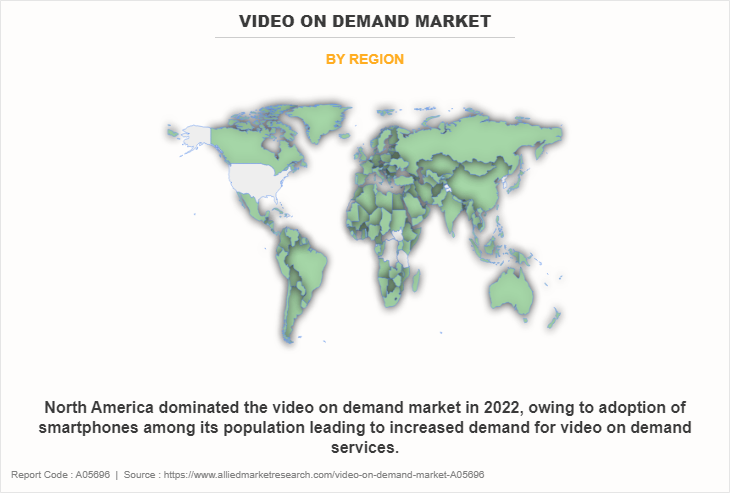 Region-wise North America dominated the video on demand market size in 2022, owing to adoption of smartphones among population, the potential consumer for movies and TV shows, leading to increased demand for video on demand services. In addition, the widespread availability of high-speed internet and the growing prevalence of mobile data plans make it more convenient for people to access video on demand services. However, Asia-Pacific segment is expected to witness the fastest growth, owing to diverse range of cultures, languages, and demographics which leading to the creation of region-specific or culturally relevant content and shows. In addition, companies in the Asia-Pacific region offer affordable subscription plans, making it cost-effective for users to stream content.
Competition Analysis
Competitive analysis and profiles of the major players in the video on demand industry include Google LLC, Cisco Systems, Inc., Fujitsu, Netflix, Inc., Amazon.com, Inc., YouTube, Comcast, Apple, Inc., Disney, and Hulu LLC. Major players have adopted product launch, partnership, collaborations, and acquisition as key developmental strategies to improve the product portfolio and gain strong foothold in the video on demand industry.
Recent Partnership in the Video on Demand Market
On September 2023, Cisco partnered with Link Net and Qwilt, to deploy their Content Delivery Network (CDN) solution, elevating the quality and delivery capacity of Link Net's streaming applications to more than 3 million homes across Indonesia.
On July 2022, Netflix partnered with Microsoft to develop ad tools and sales to bring advertisements to the platform. It was to launch a new advertising-based plan, titled the Basic Standard Premium plan. The new plan aimed to bring new subscriptions from various regions and countries where people sometimes pay for premium subscriptions.
Recent Upgrade/Product Launch in the Video on Demand Market
On October 2023, YouTube announced the launch of artificial intelligence (AI) powered advertising products designed to help brands connect with relevant audiences and optimize campaign performance on the platform.
On September 2023, Google video platform YouTube announced two new initiatives for healthcare content creators, AI-enabled Aloud, which dubs videos in various languages, and THE-IQ Creator Program, which expands upon the Tackling Health Equity Through Information Quality program.
On May 2023, Comcast launched NOW TV a new streaming platform offering 40+ live channels from A+E Networks, AMC, Hallmark and Warner Bros. Discovery, plus 20+ integrated FAST channels from NBC, Sky and Xumo Play, and a subscription to Peacock Premium at no additional cost.
Recent Collaboration in the Video on Demand Market
On August 2023, Fujitsu collaborated with ISID and DIPRO in the area of engineering chains to deliver product life cycle management (hereinafter PLM) systems for customers in the Japanese manufacturing industry.
Recent Agreement in the Video on Demand Market
On March 2023, MultiChoice Group, entered into an agreement with US-based media conglomerate Comcast to create a pan-Africa video-streaming platform. This agreement is done so that  MultiChoice Group penetrate deeper with Showmax due to competition from Netflix, Amazon's streaming service, and Disney.
On May 2022, Amazon Prime Video announced the signing of a multi-film licensing deal with production house Nadiadwala Grandson Entertainment (NGE). As part of the agreement, the streaming service hosted NGE's upcoming schedule of films shortly after their theatrical release. Furthermore, the films are available to all Prime members on Amazon Prime Video following their theatrical release.
Top Impacting Factors
Rise in use of smart devices and mobile data subscriptions
People now watch media more easily owing to the rise in popularity of smart gadgets like laptops, tablets, and smartphones. Additionally, customers want to always have access to a wide range of thrilling entertainment alternatives and locations. Aside from that, the increased cost, accessibility, and use of high-speed internet connections and services have led to a growth in the video-on-demand business on a global scale. The introduction of cutting-edge features in smartphones and tablets, growing mobile data subscriptions, and increased use of high-speed data networks are some significant factors expected to propel the global video on demand market CAGR throughout the forecast period.
Today's streaming service providers offer video on demand, which lets customers select videos from their library and watch them whenever they like. Users also feel free as there are no contractual commitments associated with video on demand. In addition, there are many subscription levels available to customers who opt for video on demand.
Increase in popularity of live streaming
Video on demand is now an essential part of marketers' and businesses' strategic business plans for swaying consumers' purchasing decisions. The use of live video streaming has further become the norm among brand owners. Live streaming describes broadcasts that happen in real time over the internet. Innovative video projects and campaigns that live stream have become a viable choice for B2C and B2B communication. Live streaming services have received significant investment from a number of social media platforms, including Facebook, YouTube, Snapchat, and Twitter. Live streaming speed up how quickly videos stream over the internet. More than 80% of all internet traffic was derived from video streaming by 2021.
Key Benefits For Stakeholders
This report provides a quantitative analysis of the market segments, current trends, estimations, and dynamics of the video on demand market analysis from 2022 to 2032 to identify the prevailing video on demand market opportunities.
The market research is offered along with information related to key drivers, restraints, and opportunities.
Porter's five forces analysis highlights the potency of buyers and suppliers to enable stakeholders make profit-oriented business decisions and strengthen their supplier-buyer network.
In-depth analysis of the video on demand market forecast to determine the prevailing market opportunities.
Major countries in each region are mapped according to their revenue contribution to the global market.
Market player positioning facilitates benchmarking and provides a clear understanding of the present position of the market players.
The report includes the analysis of the regional as well as global video on demand market trends, key players, market segments, application areas, and market growth strategies.
 Video On Demand Market Report Highlights
Aspects
Details
Market Size By 2032
USD 387.5 billion
Growth Rate
CAGR of 16.7%
Forecast period
2022 - 2032
Report Pages
358
By Component
By Monetization Models

Subscription-based
Advertising-based
Transaction-based

By End User

Media, Entertainment, and Gaming
Travel and Hospitality
Education
Others

By Region

North America (U.S., Canada)
Europe (UK, Germany, France, Italy, Spain, Rest of Europe)
Asia-Pacific (China, Japan, India, Australia, South Korea, Rest of Asia-Pacific)
LAMEA (Latin America, Middle East, Africa)

Key Market Players
Netflix, Inc., Comcast, Fujitsu, Google LLC, Amazon.com, Inc., Cisco Systems, Inc., Apple, Inc., YouTube, Hulu LLC, Disney
Analyst Review
The video on demand (VOD) industry is experiencing a dynamic transformation driven by the strategic focus on original content by streaming platforms continues to be a winning formula. The heavy investment in producing exclusive shows and movies not only attracts subscribers but also strengthens brand loyalty. The success of platforms like Netflix, which have acquired critical acclaim and awards for their original content. In addition, Ad-supported VOD (AVOD) services have witnessed a resurgence, offering a compelling alternative to subscription-based models. By providing free content in exchange for advertising revenue, these platforms attract budget-conscious viewers and offer advertisers an extensive reach. The diversification into live streaming events capitalizes on real-time user engagement and interactive experiences, making VOD platforms even more versatile.
The importance of mobile-first experiences is consistent with consumers' increasing use of smartphones for content consumption. The development of short-form and vertical video content specifically for mobile devices reflects this trend and enables video on demand providers to adapt to evolving consumer preferences. As the demand for higher video quality and faster load times increases, video on demand platforms must invest in infrastructure to ensure a seamless streaming experience, even in areas with less reliable internet connections. The multi-platform accessibility trend is making content available on various devices, catering to the diverse preferences of users.