Digital Video Advertising Market Research, 2031
The global digital video advertising market was valued at $53.2 billion in 2021, and is projected to reach $712.6 billion by 2031, growing at a CAGR of 29.6% from 2021 to 2031.
"The COVID-19 outbreak had positive impact on the growth of the digital video advertising market owing to, high penetration of latest thechnology in the market during the pandemic has created a huge oppurtunities for the advertisers to advertise making the use of digital video advertising technology".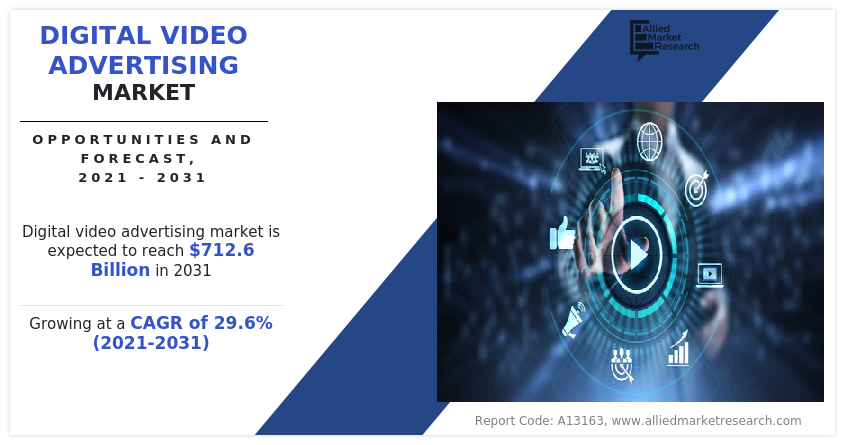 The digital video advertising market is segmented into Type and Industry Vertical.
Digital video advertising, which is also known as online video advertising, is a strategy of advertising a particular product or service in a video format. The video is broadcast on various social media platforms such as Facebook, and Instagram, or on news websites, mobile applications, and games. Moreover, digital video advertising encompasses online display advertisements within an application or website; it occurs before, during and/ or after a video stream on the internet. 
Increase in usage of digital media and growing adoption from e-commerce sector is boosting the growth of the digital video advertising market. In addition, the increase in global penetration of smartphones and internet usage  impacts the growth of the digital video advertising market. However, the risk of security incidents on networks and the high costs of digital video advertising   is hampering the digital video advertising market growth. On the contrary, rising innovations in the digital advertising Industry   is expected to offer remunerative opportunities for the expansion of the digital video advertising market during the forecast period.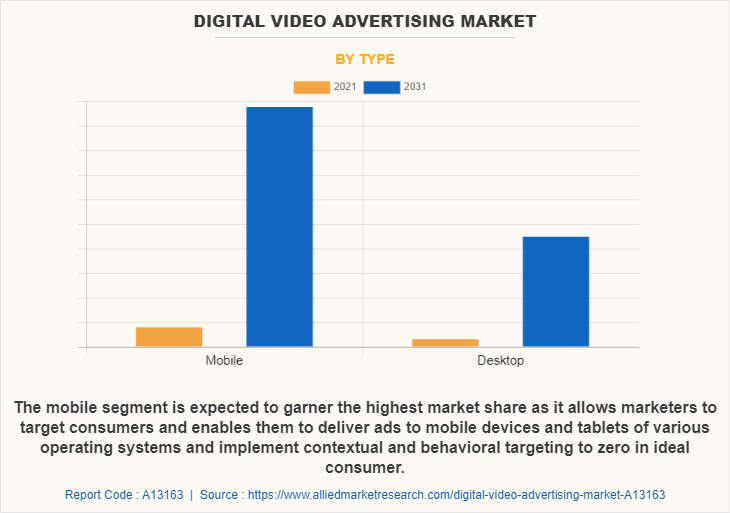 In terms of type, the desktop segment holds the highest digital video advertising market share, owing to better viewing experience is promoting advertisers to adopt desktop as a preferred channel to indulge in advertising practices. However, the mobile segment is expected to grow at the highest rate during the forecast period, owing to, high penetration rate of affordable smartphones and an increasing trend amongst people to gain access to content according to their convenience.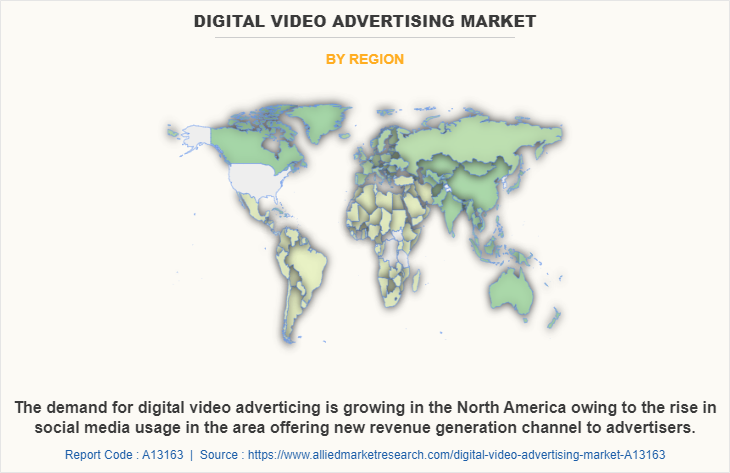 Region-wise, the digital video advertising market size was dominated by North America in 2021. The region is expected to retain its position during the forecast period, owing to the high penetration rate of smartphones in the region. This is expected to drive the market for digital video advertising technology within the region during the forecast period. Asia-Pacific is also expected to witness significant growth during the forecast period, owing to the rise in social media usage in the area offering new revenue generation channel to advertisers. 
Segment Review 
Digital video advertising industry is segmented on the basis of type, industry vertical, and region. By type, it is classified into desktop, and mobile. By industry vertical, it is divided into IT & telecom, retail, media & entertainment, automotive, financial services, consumer goods & electronics, and others. By region, the market is analyzed across North America, Europe, Asia-Pacific, and LAMEA. 
The key players that operate in the digital video advertising market are Advertise.com, Conversant Solutions, LLC., Tremor International Ltd, SpotX Inc, Viant Technology LLC, Legacy Pro Co LLC, MultiVisionDigital, PubMatic, Inc., WebFX, and Levitate Media, LLC. These players have adopted various strategies to increase their market penetration and strengthen their position in the digital video advertising industry. 
Digital Capabilities: 
Digital video advertising entails delivering promotional video content to a target audience using various online channels. The service has taken the world by storm and is increasingly getting popular as more people are now preferring to use digital video advertising. In addition, the development of new methods such as vertical filming and 360° digital videos has given rise to significant opportunities for the growth of the market for digital video advertising. These modern techniques of videography offer a different perception of the subject being advertised, as compared to traditional methods, that attract new customers. Furthermore, these methods provide advertisers with the ability to conceptualize and create more successful advertising campaigns and help in promoting brands to leverage digital video advertising methods. Advancements in video filming technology have also led to newer and better-recording equipment, which enables videographers to capture high quality and detailed videos of smaller durations, which are more effective in delivering brands' messages to audiences.  
Key Benefits: 
Advertisers are increasingly turning to digital video advertising as a result of technological improvements and changing customer behavior. Individuals are increasingly adopting visual media by venues other than traditional cable and satellite TVs. Non-traditional platforms, such as computers, mobile phones, OTT media platforms, and social media applications, are allowing advertisers to improve their service delivery techniques and open new revenue streams for marketers and broadcasters. 
End-user Adoption: 
With an increase in competition, major market players have started partnering with companies to expand their market penetration and reach. For instance, in July 2022 Nexstar Digital, the digital division of Nexstar Media Inc partnered with Teads, the global media platform, to deliver Teads' flagship ad format inRead advertising technology to Nexstar Digital's 125 websites and 239 mobile apps. 
Due to technological advancements across the world and the rise in demand for digital video advertising, various companies have expanded their current product portfolios and innovations with increased diversification among customers. In June 2021, Clinch and DeepIntent teamed up to deliver targeted digital pharma ads to patients. Pharma marketers will be able to test customized messages across numerous digital channels including a display, online video, and CTV, and make real time adjustments. Therefore, by this teaming up, DeepIntent can constitute 20 times increase in its CTV spending. For instance, in August 2022, Criteo has announced the launch of video advertising solution in India. Criteo's video advertising solution helps to achieve measurable outcomes with a unique audience, premium online video publishers with full funnel management, and full-service support.  
Growing investment from digital technology drives demand in the digital video advertising market. For instance, in October 2021, Kantar launched Digital Video AI, a fully AI-powered creative effectiveness tool that predicts the performance of digital video advertising. 
Moreover, with an increase in competition, major market players have started acquiring with companies to expand their market penetration and reach. For instance, in January 202, Verve Group, a global brand performance ad platform acquired Nexstar Inc.'s digital video advertising technology platform, formerly known as LKQD to add new technologies, top talent, and scale its business lines through organic means. For instance, in December 2021, Microsoft acquired XandrOpens in new window from AT&T to provide a data-enabled technology platform with tools that help power a diverse ecosystem connecting marketers and media owners through first-party, data-led advertising solutions across its network. 
Government Regulations:  
All well-governed industries should be able to demonstrate due diligence to ensure regulatory compliance in applicable fields, including IT. Organizations are increasing adoption of advanced electronics heavily influenced by COVID-19. In addition, federal and state governments are improving their track plans for various privacy laws, which are applicable for data that are involved in their operations. For instance, in November 2022, the federal trade commission (FTC) is flouting Congress and its own rules with an advanced notice of proposed rulemaking (ANPR) that could severely restrict the use of consumer data for every sector of the economy, including digital advertising, argues the interactive advertising bureau (IAB) in public comments the trade association filed with the agency. For instance, in March 2022, the U.S. and European Commission announce New Trans-Atlantic Data Privacy framework to put in place new safeguards to ensure that signals surveillance activities are necessary and proportionate in the pursuit of defined national security objectives. Furthermore, the GDPR act imposed by the European Government mitigates the risk of cyber security and any potential data breaches. Emerging countries of Asia-Pacific are developing stringent regulations, which comprise privacy, government regulatory environment, and intellectual property protection. 
Top Impacting Factors 
Increase in usage of digital media   
Rising usage of digital media has been acting as one of the major driving factors towards the high growth of digital video advertising market. Since the growing penetration of internet connectivity, the global population has been increasingly shifting toward social media platforms such as Facebook, Twitter, Instagram and many others for entertainment, online communication, and many others. Moreover, rising growth of OTT platforms such as Netflix, Amazon prime and many others for entertainment are highly driving the growth of digital video advertising market. This rising growth towards digital media platforms mostly by youth population has created higher spending on digital advertisements by the organizations. One of the major growing platforms, YouTube, which is used for various applications such as entertainment, education purpose, and many others makes use of various digital video ads in between the videos to gain more audience on the platform. Certain specific YouTube videos are marked with various digital ads which have to be watched in order to finish the entire video content on the platform.  These factors help the advertising companies to generate large amounts of revenue as the digital media customer base has been steadily rising over the years. 
Growing adoption from E-commerce sector   
The rising adoption of digital video advertising from the E-commerce industry has been acting as one of the major driving factors for the market growth. Rising technological advancements have caused the E-commerce sector to highly spend on digital video advertising to attract and gain more customers and improve its business productivity. Usage of digital video advertising helps to provide a positive impact towards the business marketing and sales as there are certain ads while visiting ecommerce sites. Moreover, major growing ecommerce industry such as Amazon, Flipkart and many others have been creating major sales through their online advertising across social media platforms, gaming platforms, television and many others have been helping them to sell their products more efficiently. High quality digital video presentation of content helps in increasing investments of consumers towards the ecommerce products shown on various platforms by seeking their attention within short time intervals. Recently, YouTube announced a new direct response ad format that will make the advertisements more shoppable by addition of browsable product images below the ads, thus driving the user traffic directly towards product pages. This introduction was made to help advertisers capture consumers' rising interest towards e-commerce shopping due to the surging pandemic. Such rising developments towards e-commerce sector can further propel the demands for digital video advertising market in the near future. 
KEY BENEFITS FOR STAKEHOLDERS  
The study provides an in-depth analysis of digital video advertising market forecast along with current trends and future estimations to explain the imminent investment pockets. 

Information about key drivers, restraints, and opportunities and their impact analysis on digital video advertising market trends is provided in the report. 
Porter's five forces analysis illustrates the potency of the buyers and suppliers operating in the industry. 

The digital video advertising market analysis from 2022 to 2031 is provided to determine the market potential. 
 Digital Video Advertising Market Report Highlights
Aspects
Details
Market Size By 2031
USD 712.6 billion
Growth Rate
CAGR of 29.6%
Forecast period
2021 - 2031
Report Pages
303
By Type
By Industry Vertical

Retail
IT and Telecom
Media and Entertainment
Automotive
Financial Services
Consumer Goods and Electronics
Others

By Region

North America (U.S., Canada)
Europe (UK, Germany, France, Spain, Italy, Rest of Europe)
Asia-Pacific (China, Japan, South Korea, India, Australia, Rest of Asia-Pacific)
LAMEA (Latin America, Middle East, Africa)

Key Market Players
MultiVisionDigital, SpotX Inc, Conversant Solutions, LLC., Advertise.com, Tremor International Ltd, Legacy Pro Co LLC, Levitate Media, LLC, Viant Technology LLC, PubMatic, Inc., WebFX