The domestic tourism market size was valued at $1,226.1 billion in 2020 and is estimated to reach $6,736.1 billion by 2030, registering a CAGR of 13.4 from 2021 to 2030.          
Domestic tourism refers to travelling of residents of a country within their own country. Domestic tourism is closely related to visiting relatives & friends and religious pilgrimages.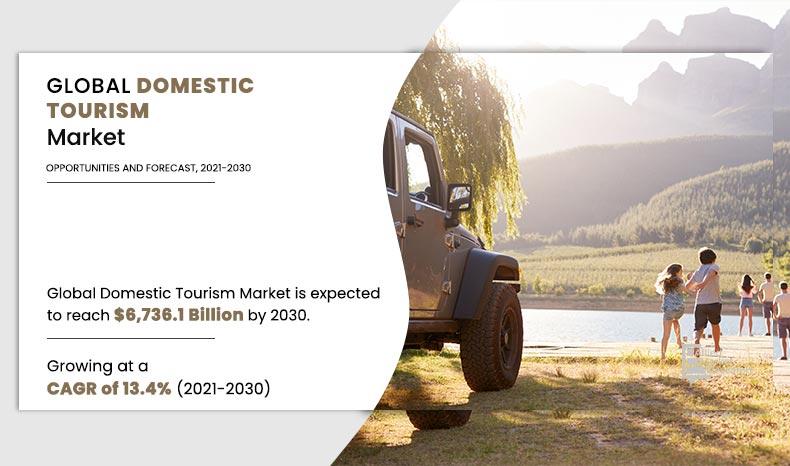 Technology has become basic prerequisite to ensure multiple operations are being carried out immaculately. Technology has always been a supporting factor for the domestic tourism industry. Technology is disrupting the established market with the advent of web-based booking and use of AI and IoT in operation optimizations. Use of such technology  provide seamless customer experience while booking there tourism package is accelerating the growth of the market during the forecast period. 
Natural disasters and outbreak of life threatening diseases severely affect the growth of the domestic tourism market. This is attributed to the fact that natural disasters such as hurricane, earthquake, and tsunami affect the number of people travelling, as these natural calamities damage the public transportation systems as well as disrupt the natural beauty, culture, and economy for either a short or an extended period.
The outbreak of COVID19 has largely curbed the temptation to travel abroad. This is attributed to the lockdown implemented across various countries, which has hampered national and international travel.
The pandemic is having a profound impact on the world, and is still affecting many parts of the world. It is unlikely that the global tourism industry will recover any time soon. It is likely to take two to three years to rebuild the global tourism industry; thus, countries that have been traditional tourist destinations must take appropriate measures to cope with the global health crisis.
During the pandemic, Southeast Asian countries were particularly cautious in opening their borders to foreign travelers, which has led to decline in international tourism. The economic and social consequences are serious. For instance, according to Tourism Authority of Thailand, Thailand is  a country where tourism accounts for 11–12% of the GDP, the number of international tourists dropped by 83% in 2020. This facts signifies that decline in international tourism is likely to offer lucrative opportunities for domestic tourism services providers, which further accelerates the domestic tourism market growth. 
According to the domestic tourism market analysis, the domestic tourism market segmented into location, mode of booking, tour type, age group, and region. On the basis of location, the market is categorized into local or regional travel and interstate travel. By mode of booking, it is bifurcated into online travel agency (OTA) and direct booking. Depending on tour type, it is segregated into conferences/meetings, weekend getaways, adventures tours, organized tours, holidays trip, and others. As per purpose, it is fragmented into below 30 years, 30-41 years, 42-49 years, 50 years, and above. Region wise, it is analyzed across North America (the U.S., Canada, and Mexico), Europe (Germany, the UK, France, Russia, Italy, Spain, Sweden, Switzerland, and rest of Europe), Asia-Pacific (China, India, Japan, Australia, New Zealand, South Korea, Thailand, Malaysia, Philippines, Indonesia, and rest of Asia-Pacific), and LAMEA (Brazil, Argentina, South Africa, Saudi Arabia, United Arab Emirates, Turkey, and rest of LAMEA).
On the basis of location, the interstate travel segment was the highest contributor to the domestic tourism market share. Interstate travelling involves tour of the places that are limited to country border. Interstate travel has gained high traction, as people tend to travel to new places rather than visiting same places, thus, they try to explore best places in the country border. Furthermore, owing to long-term lockdown and ban on international tourism, people have time and chance to explore the places near their cities or famous destinations in their country itself. Thus, all these factors collectively drive the growth of the domestic tourism market 
According to the domestic tourism market trends, on the basis of mode of booking, the OTA platform segment was valued at $695.6 billion in 2020, and is expected to grow to $3,516.5 billion by 2030, registering a CAGR of 13.1%. This is attributed to the fact that the OTA platform provides access to huge trips and travel packages. Quick and convenient flight and hotel bookings, rise in customers' trust in online payment, and ability to compare various available travel options are encouraging people to book their travel packages through OTA platforms.  In addition, OTAs provide market intelligence and tools to locate travelers, protect & process reservations, communicate with guests, and manage reviews, thereby enhancing personalized experiences.
Depending on tour type, the weekend getaways segment accounted for $126.7 billion in 2020, and is estimated to reach $807.6 billion by 2030, exhibiting a CAGR of 15.8%. This is attributed to the fact that weekend getaways do not require detailed planning or large budgets, and can be organized for larger groups. 
By age group, the 30-41 years and below 30 years segments collectively accounted for around 62.8% market share in 2020, with the former constituting around 35.2% share in global domestic tourism market during the forecast period. Travelers between the age group of 30-41 are moderate spending groups, but at least 95% of frequent travelers have travel plans once a year. This age group people make up the largest generation, and take the highest number of trips annually. In addition, they prefer spending on unique experiences. Below 30 years age group people are significantly contributing for the growth of the domestic tourism market, as these below 30 years people are budget-conscious and seek for immersive travel experiences. According to the World Tourism Organization, in 2019, nearly 85% of below 30 years travelers get trip planning inspiration from online social networks such as Facebook, Instagram, and Snapchat. They are highly influenced and are often inspired to travel due to social media. Thus, below 30 years age group people are likely to contribute significant share in domestic tourism market during the forecast period.
According to the domestic tourism market opportunities. Region wise, Asia-Pacific garnered the major share in domestic tourism market in 2020, and is expected to maintain its dominance throughout the domestic tourism market forecast period.  Asian countries encourage domestic tourism through subsidy programs, travel discounts, and marketing support. In 2019, domestic tourists reached 80 million in Vietnam, while foreign tourists were 15 million in the same year. India accounts for major share in the Asia-Pacific tourism industry, and is the preferred destination for tourists from the region. 
The players operating in the global domestic tourism market have adopted various developmental strategies to expand their market share, increase profitability, and remain competitive in the market. The key players profiled in this report include Abercrombie & Kent USA LLC, Butterfield & Robinson, Cox & Kings Ltd., Kensington Tours, Micato Safari, Scott Dunn Ltd., Tauck, Inc., Thomas Cook India Ltd., Travcoa Corporation, TUI Group, American Express Travel, Carlson Wagonlit Travel, Expedia Group, Inc., JTB Americas, Ltd., Priceline, Travel Leaders Group, and World Travel, Inc..  
Key Benefits For Stakeholders
The report provides a quantitative analysis of the current trends, estimations, and dynamics of the market size from 2020-2030 to identify the prevailing opportunities.
Porter's five forces analysis highlights the potency of buyers and suppliers to enable stakeholders to make profit-oriented business decisions and strengthen their supplier–buyer network.
In-depth analysis and the market size and segmentation assist to determine the prevailing market opportunities.
The major countries in each region are mapped according to their revenue contribution to the domestic tourism market. 
The market player positioning segment facilitates benchmarking and provides a clear understanding of the present position of the market players in the domestic tourism industry.
Key Market Segments  
By Location
Local or Regional Travel
Interstate Travel 
By Mode of Booking
OTA Platform
Direct Booking 
By Tour Type 
Conferences/Meetings
Weekend Getaways
Adventures Tours
Organized Tours
Holidays Trip 
Others
By Age Group 
Below 30 years
30-41 Years
42-49 Years
50 Years & Above
By Region
North America
Europe

Germany
France
UK
Italy
Spain
Russia
Sweden
Switzerland
Rest of Europe

Asia-Pacific

China
India
Japan
Australia
South Korea
New Zealand
Thailand
Malaysia
Philippines
Indonesia
Rest of Asia-Pacific

LAMEA

Brazil
Argentina
South Africa
Saudi Arabia
United Arab Emirates
Turkey
Rest of LAMEA