Drinking Yogurt Market Research, 2031
The global drinking yogurt market was valued at $34 billion in 2021, and is projected to reach $62.8 billion by 2031, growing at a CAGR of 6.4% from 2022 to 2031.
Increase in the consumption of foods that help build immunity and supplement health is on the rise. Consumers are looking to avoid contracting diseases and to increase the intake of nutrients via healthy sources, leading to the increase in consumption of  drinking yogurt. Furthermore, increase in the manufacture of organic drinking yogurts have increased in order to provide consumers with purer and healthier products.
Yogurt drinks are made by blending yogurt into a liquid consistency, either on its own or with very small amount of water. Such drinks can range in consistency from highly viscous to very thin. Most yogurt drink manufacturers in the Drinking Yogurt Industry produce both flavored and unflavored yogurt drinks in order to provide consumers with a variety of options. Yogurt drinks are distinct from kefir and buttermilk as the fermentation process of kefir differs slightly from that of yogurt, and buttermilk is produced during the butter extraction process from milk. In addition, lassi is included in the scope of study as it is made from curd, which is the same as yogurt and has the same properties as yogurt drinks.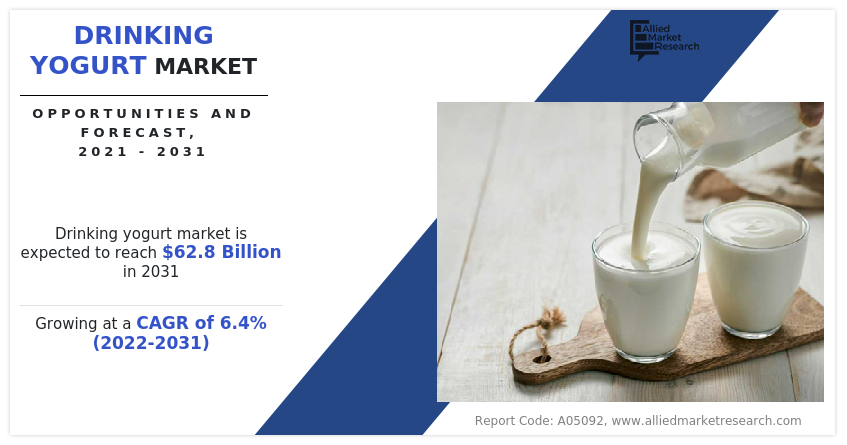 Drinking yogurt is most often consumed as a recreational nutritious drink or as a snack to replace highly sugary or calorically dense foods and desserts. Yogurt drinks offer a nutritious and healthy snacking option for health-conscious consumers looking for healthier foods and beverages to increase their intake of important nutrients. Drinking yogurt is frequently used as a nutritional supplement to improve health and prevent various diseases as yogurt drinks can help improve immunity.  In the Asia-Pacific region, there is a significant presence of the Drinking Yogurt Market as most of the countries in the region have their own version and iteration of yogurt drinks. These drinks are widely consumed on a daily basis in many parts of the world due to the health benefits they provide as well as the cooling effects they have on the body, which is beneficial in regions with hotter climatic conditions, which helps expand the Drinking Yogurt Market Size. 
Yogurt drinks are considered to be a good dietary beverage for losing weight and for increased protein requirement for workouts & exercises as they contain a wide range of nutrients and proteins that the body requires, without high amount of fats. They are high in calcium, vitamins, and trace minerals such as magnesium, potassium, and phosphorus. Another important feature is the protein content of yogurt drinks, which is approximately 12 grams per 200 grams. Furthermore, probiotics, which are found in the majority of yogurt drinks, may benefit digestive health by alleviating symptoms of common gastrointestinal diseases such as bloating, diarrhea, and constipation. Probiotics, vitamins, and minerals are examples of nutrients that help prevent illness, strengthen the immune system, and focus on promoting bone health by lowering the risk of osteoporosis. Yogurt drinks also help to control blood pressure and raise HDL cholesterol, both of which are beneficial to the heart. During the forecast period, the Drinking Yogurt Market is expected to be driven by the aforementioned major health benefits. 
Dangerous chemicals and additives are frequently added during the manufacturing process to yogurt drinks, which are produced in massive quantities. These additives could be added to the drinks to preserve them, improve their flavor & aroma, stabilize them, or make them more uniform. These include dimethylpolysiloxane, an anti-defoamer preserved by formaldehyde that encourages oxidative stress and raises the risk of immune diseases & cancer; HFCS-90, a toxic additive that may cause high blood pressure, coronary artery disease, diabetes, or cancer; carrageenan, a substance that can cause intestinal lesions, ulcerations, and even malignant tumors; and neo sugar, a highly processed form of sugar. This impacts the image of drinking yogurts and restricts the Drinking Yogurt Market Opportunity for growth.
Organic goods and foods have gained popularity among consumers in recent years. Preservatives and flavoring additives are just two of the numerous chemicals found in the majority of packaged foods and beverages in the market. Some preservatives are linked to negative side effects, such as unpleasant reactions in consumers who are sensitive to a specific preservative or an increased risk of cancer. Consumers are increasingly avoiding chemical-based foods, functional foods, proteins, and healthy beverages. Organic yogurt drinks have grown in popularity and are becoming a major part of the Drinking Yogurt Market Share due to their lack of harmful additives and ingredients such as genetically modified ingredients (GMO), growth hormone medications, and herbicides and pesticides, which can help the Drinking Yogurt Industry grow. 
The drinking yogurt market is segmented into Type, Flavor, Packaging and Distribution Channel. By type, the drinking yogurt market is classified into dairy based and non-dairy based. Depending on the flavor, the market is categorized into flavored and plain. By packaging, the Drinking Yogurt Market is divided into bottles and tetra packs. By distribution channel, the Drinking Yogurt Market is fragmented into supermarkets & hypermarkets, convenience stores, specialty stores, online stores, and others. 
Drinking Yogurt Market

---
By Type
Dairy Based segment dominated drinking yougrts in 2021 and the Non Dairy Based Segment is expected to show the highest growth during the forecast period
Dairy based drinking beverages are the most commonly consumed type of drinking yogurts in the Drinking Yogurt Market in 2021. Because yogurt drinks are made primarily by fermenting milk, the beverages made with yogurt drinks are also milk-based. Yogurt drinks can be made with a variety of milk, including fat-free milk, lactose-free milk, skimmed milk, and others. Dairy-based yogurt drinks are high in protein and contain a high concentration of amino acids, which aid in the improvement of the consumer's immune health. The Drinking Yogurt Market Growthof dairy-based yogurt drinks is being driven by rapidly increasing consumer consumption of healthy foods and increased awareness of the health benefits of yogurt drinks. Yogurt drinks made from non-dairy raw materials have also become increasingly popular in recent years. Vegans are the most frequent consumers of non-dairy yogurt drinks, and the increase in consumers with lactose intolerance and conditions like GERD (Gastroesophageal reflux disease) will also lead to an increase in consumption of nondairy-based drinking yogurt. 
Drinking Yogurt Market

---
By Flavor
Flavored yogurt drinks was the major segment in 2021 and is expected to have a steady growth throughout the forecast period
Most of the consumers of drinking yogurt are more attracted towards drinking yogurts that are flavored. The majority of flavored drinking yogurt drinks are sweet, which makes them enjoyable to drink and helps to eliminate the sourness of the yogurt drinks, which may not be appealing to consumers and help increase the Drinking Yogurt Market Size. Flavored yogurt drinks are aimed at consumers of all ages, but a greater emphasis is placed on children because they can encourage children to begin consuming healthy beverages at a younger age and help improve their health. Plain yogurt drinks have a bland, slightly sour, acidic flavor. Plain yogurt drinks are preferred by older consumers and are extremely popular in Asia-Pacific and the Middle East due to their cooling effect and sour flavor. Plain yogurt drinks can sometimes be made with the addition of a small amount of sugar to improve the taste and add a sweeter flavor to the yogurt drinks. Because plain yogurt drinks have a low calorific content, they are popular among fitness enthusiasts and consumers looking to lose weight and can help the segment grow during the Drinking Yogurt Market Forecast period. 
Drinking Yogurt Market

---
By Packaging
Bottles were the most common means of conumption of drinking yogurt in 2021 and Tetra Packs are expected o have decent growth during the forecast period
Bottles are the primary means of packaging for drinking yogurts in the year 2021. Plastic, glass, and other types of bottles are environmentally friendly because they can be reused and stored in a variety of ways. However, due to rising environmental concerns about the use and disposal of such bottles, the plastic bottle market is expected to grow slowly, whereas glass and paper bottles are expected to grow at a faster rate due to their reusability and recyclability. The use of bottles for packaging yogurt drinks is growing due to their ease of storage and utility; however, the use of plastic bottles poses environmental risks and is expected to decline, being replaced by glass or paper bottles. Tetra packs are food containers that provide a packaging option that is easy for customers to open and handle, lightweight, and environmentally friendly. The shelf life of items packaged in tetra packs is extended, and product scent loss is reduced. It protects yogurt drinks from bacteria, viruses, pathogens, and other potentially harmful natural degradation agents, preserving their quality and freshness and extending their shelf life. As a result, this packaging form is gaining popularity among commodity suppliers and manufacturers. 
Drinking Yogurt Market

---
By Distribution Channel
Supermarkets and Hypermarkets were the most popular means of purchase of yogurt drinks in 2021 and are expected to remain the largest segment by size during the forecast period
Supermarkets and hypermarkets are the most popular methods of purchase of drinking yogurts. Growing urbanization, a rise in the world's working population, and affordable pricing all contribute to the worldwide appeal of such super and hypermarkets. Because convenience stores are typically open 24/7, customers frequently rely on convenience stores for their regular shopping. Convenience stores are placed in areas that are convenient for customers that live in the suburbs or remote neighborhoods. Specialist dairy farms and dairy outlets are the specialty retailers of yogurt beverages. To cater to a wide spectrum of clients, these businesses provide sipping yogurt drinks from a number of brands in addition to their own at various pricing points. Yogurt drink sales on online marketplaces are gradually gaining popularity. Customers can purchase a number of yogurt drink brands in plain, flavored, dairy, and dairy-free variations from numerous online and e-commerce merchants for a range of prices. Yogurt beverages can also be purchased through mom-and-pop shops, concession stands, little-known brick-and-mortar establishments, and other outlets. These sales channels for yogurt drinks are becoming more and more well-liked as more businesses plead to stock and offer nutritious foods and drinks for their patrons. 
Drinking Yogurt Market

---
By Region
Asia-Pacific region was the largest consumer of drinking yogurt in 2021 and is expected toretain its dominance during the forecast period
Asia-Pacific has the largest Drinking Yogurt Market Demand in 2021, followed by Europe. Since most of the countries in the Asia-Pacific area have their own variations and versions of yogurt drinks, their presence there is very noticeable. Due to the numerous health advantages of yogurt drinks, they are also referred to as curd drinks in several parts of the world. Several nations in the European region are major producers of yogurt drinks. Greek yogurt drinks are among the most widely consumed yogurt drink variants worldwide, and Mediterranean countries of the area, particularly Greece, are major producers of yogurt drinks. The demand for yogurt drinks, particularly flavored yogurt drinks, has considerably expanded in North America as yogurt drinks can offer good gut bacteria and aid in weight loss. The majority of the LAMEA region's countries have extremely hot weather. Yogurt drinks are very popular in the area since they can assist lower body temperature and have a cooling effect on the body. 
Some of the major players analyzed in this report are Again Drinks, Arla Foods Amba, Chobani, Llc, Dana Dairy Group, Danone, General Mills, Gujarat Cooperative Milk Marketing Federation (Amul), Juhayna Food Industries, Lactalis Corporation, Marmum Dairy, Meiji Holdings Co., Ltd., National Dairy Development Board, Nestle S.A., Royal FrieslandCampina, and Schreiber Foods Inc. 
Key Benefits For Stakeholders
This report provides a quantitative analysis of the market segments, current trends, estimations, and dynamics of the drinking yogurt market analysis from 2021 to 2031 to identify the prevailing drinking yogurt market opportunities.
The market research is offered along with information related to key drivers, restraints, and opportunities.
Porter's five forces analysis highlights the potency of buyers and suppliers to enable stakeholders make profit-oriented business decisions and strengthen their supplier-buyer network.
In-depth analysis of the drinking yogurt market segmentation assists to determine the prevailing market opportunities.
Major countries in each region are mapped according to their revenue contribution to the global market.
Market player positioning facilitates benchmarking and provides a clear understanding of the present position of the market players.
The report includes the analysis of the regional as well as global drinking yogurt market trends, key players, market segments, application areas, and market growth strategies.
 Drinking Yogurt Market Report Highlights
Aspects
Details
Market Size By 2031
USD 62.8 billion
Growth Rate
CAGR of 6.4%
Forecast period
2021 - 2031
Report Pages
283
Type

Dairy Based
Non Dairy Based

Flavor

Flavored

Type

Chocolate
Vanilla
Berries
Mango
Others

Plain

Packaging
Distribution Channel

Supermarkets and Hypermarkets
Convenience Stores
Specialty Stores
Online Stores
Others

By Region

North America (U.S., Canada, Mexico)
Europe (UK, Germany, France, Italy, Spain, Netherlands, Rest of Europe)
Asia-Pacific (China, India, Japan, South Korea, Australia, Indonesia, Rest of Asia-Pacific)
LAMEA (Brazil, Saudi Arabia, South Africa, Turkey, Rest of LAMEA)

Key Market Players
Meiji Holdings Co., Ltd., Arla Foods amba, Again Drinks, Danone Inc., Gujarat Cooperative Milk Marketing Federation Ltd., Schreiber Foods Inc., Lactalis Group, Nestle S.A., Marmum Dairy Farm LLC, Chobani Global Holdings, LLC, Royal FrieslandCampina N.V., National Dairy Development Board., Juhayna Food Industries, Dana Dairy Group, General Mills, Inc.