The global driving simulator market size was valued at $2 billion in 2022, and is projected to reach $4 billion by 2032, growing at a CAGR of 7.4% from 2023 to 2032.
Report Key Highlighters:
The driving simulator market study covers 14 countries. The research includes regional and segment analysis of each country in terms of value ($million) for the projected period 2023-2032.

The study integrated high-quality data, professional opinions and analysis, and critical independent perspectives. The research approach is intended to provide a balanced view of global markets and to assist stakeholders in making educated decisions in order to achieve their most ambitious growth objectives.

Over 3,700 product literature, annual reports, industry statements, and other comparable materials from major industry participants were reviewed to gain a better understanding of the market.

The driving simulator market share is moderately fragmented among several players including Cruden, Tecknotrove, Hottinger Brel & Kjr (HBK), AVSimulation, CXC Simulations, Thales, Arotech Corporation, Exail Technologies (former GROUPE GORGE), Moog Inc., and AB Dynamics PLC

.
A driving simulator refers to a tool or setup that mimics the feeling of driving a vehicle in a digital space. It presents a simulated perspective from the driver's seat and enables individuals to control the simulated vehicle using tangible input devices like steering wheels and pedals. The intentions behind using a driving simulator can encompass a range of purposes, including evaluation, exploration, training, and amusement.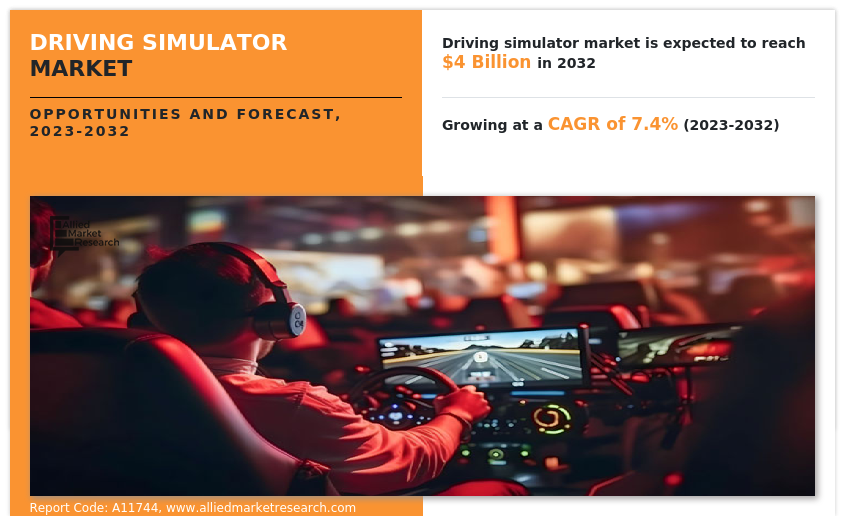 The driving simulator market is segmented into Application, Vehicle Type and Simulator Type.
The driving simulator market is driven by factors such as surge in demand for testing and development of autonomous vehicle, cost effective training solution over traditional method, and integration of AI and IoT in driving simulators. However, high initial cost of simulators and the lack of real-world experience are anticipated to hinder market growth. Further, adoption of virtual reality (VR) and augmented reality (AR) and development of Driver-in-the-Loop (DIL) simulators are some of the factors that are expected to offer lucrative opportunities for market growth.
Assessment of the vehicle's overall performance necessitates research and testing. There are numerous companies that provide testing simulators to evaluate the varied capabilities of vehicle. Testing simulations are offered by companies such as TUV SUD. By generating scenarios and conditions with the use of software and mathematical algorithms, the simulation system tests the performance of the vehicle. There are many companies that provide simulation testing and research data for autonomous vehicles, including MORAI, a company that builds simulation platforms and offers simulators to businesses to test the reliability and safety of autonomous driving systems.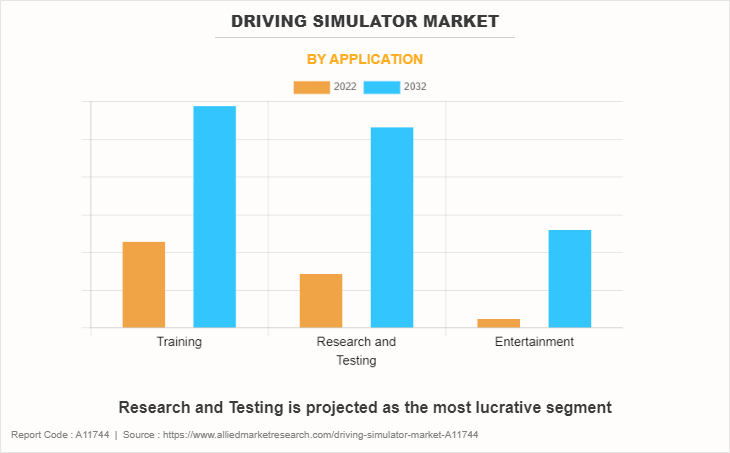 Furthermore, different driving simulation video games are available for entertainment. Dirt, Euro Truck Simulator, and Forza Motorsport are all featured in the video game. The driving simulator for entertainment also includes a real-world cabin setup with a steering wheel, gear shifters, and pedals that is connected to a screen where any of the abovementioned simulation video games may be played for enjoyable experiences.
The global driving simulator market is segmented into simulator type, application, vehicle type, and region. Depending on application, it is fragmented into training, research & testing, and entertainment. By vehicle type, it is categorized into car simulators and truck & bus simulators. On the basis of simulator type, the market is segregated into training simulator and advanced driving simulator. Region wise, the market is analyzed across North America, Europe, Asia-Pacific, and LAMEA.  
North America is a one of the major regions in the driving simulator market, comprising the U.S., Canada, and Mexico. Virtual Reality (VR) tools, a combination of high-definition displays, realistic graphics, and haptic feedback systems, improve the immersive driving experience of the driver while also ensuring the authenticity of driving simulations that increases precision through involving users in a 360-degree virtual space & more authentic driving experience. For instance, CXC simulation in 2022 launched Tactical Driving Simulator and it is designed to enable tactical driving and pursuit training for federal law enforcement. Furthermore, to address challenges such as road accidents and advance training facility to driver, various private players and governments promote some training initiatives and advance training facilities like use of driver simulators and other measures. Simulators provide a platform for learners to be exposed to a variety of scenarios, road conditions, and problems, boosting their overall preparation.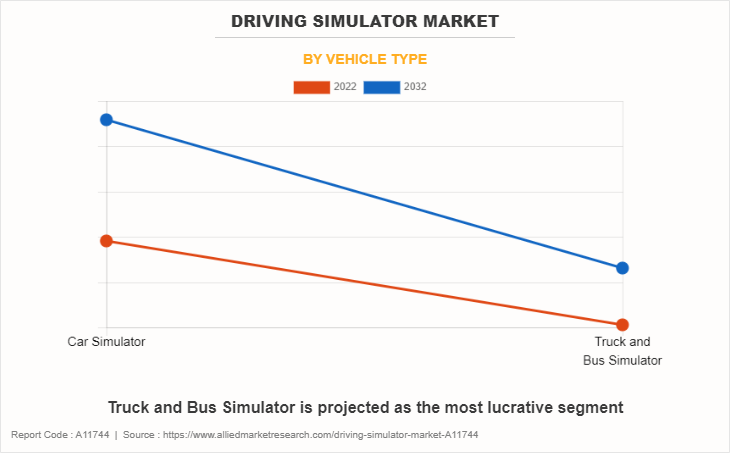 The key players profiled in the driving simulator market report include Cruden, Tecknotrove, Hottinger Brel & Kjr (HBK), AVSimulation, CXC Simulations, Thales, Arotech Corporation, Exail Technologies (former GROUPE GORGE), Moog Inc., and AB Dynamics PLC.
Key Developments
The leading companies adopt strategies such as product launch, partnership, acquisition, expansion, and collaboration to strengthen their market position.
For instance, in July 2023, Ansible Motion, a pioneer in Driver-in-the-Loop (DIL) technology, formed a strategic partnership with Guangzhou Zeer Testing Technology Co., Ltd. (Zeer), a prominent player in the Chinese automotive industry. This partnership aims to introduce state-of-the-art driving simulators to China, contributing to the advancement of testing and development capabilities in the automotive sector of country.

In April 2022, CXC SIMULATIONS launched Tactical Driving Simulator. It is designed to enable tactical driving and pursuit training for federal law enforcement. The Tactical Driving Simulator uses software developed by CXC Simulations for training of tactical driving.

In September 2022, AB Dynamics PLC acquired Ansible Motion Limited & part of AB Dynamics' simulation portfolio supplying advanced simulation products and services to the automotive and motorsport industries.
Surge in demand of testing and development of autonomous vehicle
Autonomous vehicles must undergo rigorous testing and validation before they can be deployed on public roads. Safety is a paramount concern, and driving simulators offer a controlled and repeatable environment to evaluate the performance of self-driving systems. These simulators can recreate various real-world scenarios, including hazardous conditions, to ensure that the autonomous vehicle responds appropriately and safely.
Driving simulators play a crucial role in the early stages of autonomous vehicle development when physical prototypes may not be available. They allow researchers and engineers to experiment with various sensor configurations, control algorithms, and software components in a safe and virtual environment.
Autonomous vehicle simulation provider presented its advanced simulator at the major tech event. For instance, in June 2022, MORAI, a prominent developer of full-stack autonomous vehicle simulation technology in Korea, showcased innovative product, MORAI SIM Drive, at CommunicAsia 2022. This advanced simulator accurately replicates the driving experience of autonomous vehicles and offers realistic virtual environments, sensor simulations, and vehicle models identical to the real world. Utilizing high-definition maps and a powerful 3D graphic engine (Unity), MORAI SIM Drive automates the creation of virtual environments, providing an immersive and authentic network representation for thorough validation of autonomous vehicles.
Moreover, researcher working on autonomous vehicle simulation have launched advanced driving simulation solution. For instance, in June 2022, MIT scientists introduced the first open-source simulation engine that may create lifelike environments for training and testing autonomous vehicles. This breakthrough technology allows for the development of realistic virtual scenarios to enhance the training and validation of self-driving cars.
Hence, surge in demand for autonomous vehicle coupled with increased focus on development and testing through driving simulator propel the growth of the driving simulator market.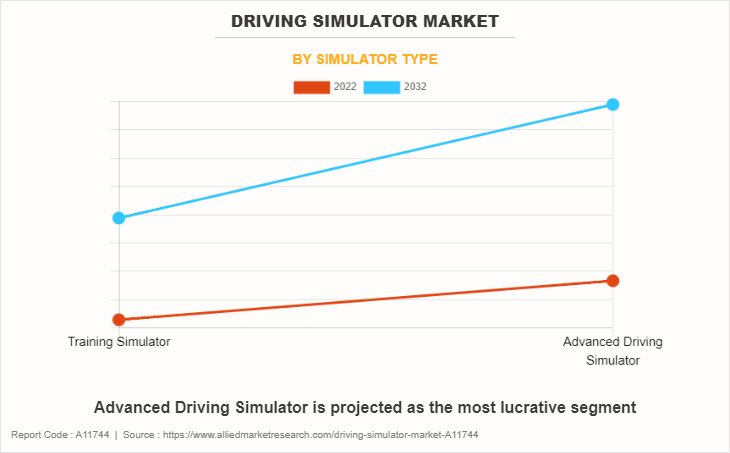 Cost effective training solution over traditional method
Driving simulators have emerged as a revolutionary tool in the realm of driver training and automotive research and development. Traditional driving training often entails a fleet of physical vehicles, incurring substantial expenses in procurement, maintenance, and insurance. In contrast, driving simulators eliminate the need for a large number of physical cars by virtually replicating various vehicle models, leading to significant cost reductions in training programs. Driving simulators provide a safe and controlled environment where learners can practice without endangering themselves or others. This enhanced safety aspect of driving simulators translates to substantial cost savings for driving schools and insurance providers.
Moreover, traditional driver training also incurs fuel expenses and vehicle wear and tear, contributing to additional operating costs for training centres. Driving simulators, in contrast, operate on electricity and require minimal maintenance. As a result, training centres experience lower operating costs, further amplifying the cost-saving benefits of these advanced training tools.
Driving simulators have far-reaching applications beyond driver education. They play a crucial role in the automotive industry, particularly in performance testing of autonomous vehicles and system evaluations. As the automotive industry ventures into developing autonomous vehicles, driving simulators serve as a cost-effective solution for testing and validating the performance of autonomous driving systems. This cost-effective testing approach can lead to significant savings in the overall development process, accelerating the deployment of autonomous vehicles. Early identification of potential issues during the development process allows for timely adjustments, thus saving valuable time and reducing costs associated with physical prototyping and testing.
Therefore, driving simulators revolutionize driver training and automotive research, saving costs, enhancing safety, and accelerating the development of autonomous vehicles.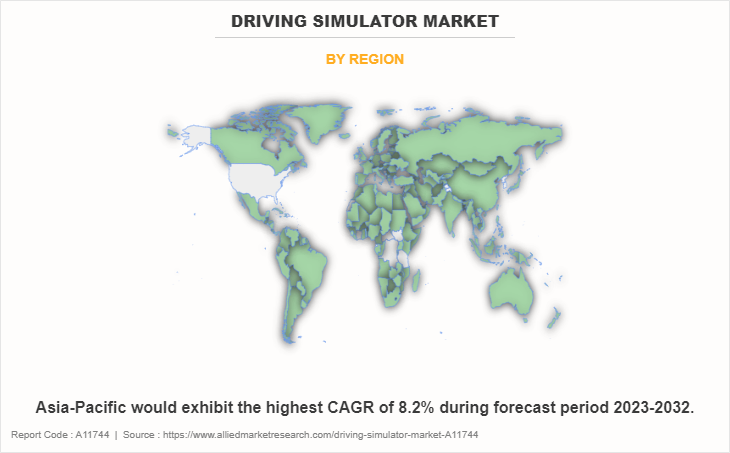 Integration of AI and IoT in driving simulators
The integration of Artificial Intelligence (AI) and the Internet of Things (IoT) in driving simulators is a significant driver of the Driving Simulator Market.
AI algorithms enable driving simulators to create more realistic and dynamic driving scenarios. These simulators can adapt to individual user behaviors and skill levels, providing a personalized training experience. AI-powered simulators can simulate a wide range of driving conditions, weather patterns, traffic situations, and even human driving behavior, making the training environment more immersive and effective.
In addition, IoT integration in driving simulators allows for continuous data collection during training sessions. Sensors embedded in the simulators can capture various data points such as speed, acceleration, braking patterns, and steering behavior. This data is then analyzed in real-time using AI algorithms, providing valuable insights into the performance of the learner. Instructors and learners can use this data to identify areas for improvement and track progress over time.
Moreover, driving school utilized the AI for monitoring the driver during ride. For instance, in November 2021, new artificial intelligence-based driving hub launched in Dubai to enhance driver skills and reduce accident risks. This private driving institute will utilize AI technology to evaluate and improve performance of drivers.
The prolonged confrontation between Russia and Ukraine has caused instability to propagate throughout the geopolitical, economic, and industrial landscapes. The driving simulator market has not escaped the effects of this conflict as tensions grow and possible implications change. The driving simulator industry has been significantly impacted by the interaction of geopolitical circumstances, economic sanctions, supply chain interruptions, and shifting objectives. The conflict between Russia and Ukraine has added a layer of geopolitical uncertainty that could have an impact on market confidence and investment choices. Businesses in a variety of industries, including the market for driving simulators, are closely monitoring the situation, which may cause them to be cautious when making investments and spending money. Stakeholders may adopt a wait-and-see attitude as geopolitical tensions rise, postponing purchasing decisions and new projects. Existing orders may support new car sales in the short run. However, the market is likely to be affected by the combined effects of inflation, supply chain disruptions, and consumer confidence difficulties in the long run, which might result in a decline in new car sales. Furthermore, the ongoing war's increased need for army vehicles drives up the demand for professional drivers, which in turn fuels the expansion of the market for driving simulators. Manufacturers and dealers are hoping that these issues may be resolved quickly in order to save what at first glance appeared to be an encouraging year for the driving simulator company.
Key Benefits For Stakeholders
This report provides a quantitative analysis of the market segments, current trends, estimations, and dynamics of the driving simulator market analysis from 2022 to 2032 to identify the prevailing driving simulator market opportunities.
The market research is offered along with information related to key drivers, restraints, and opportunities.
Porter's five forces analysis highlights the potency of buyers and suppliers to enable stakeholders make profit-oriented business decisions and strengthen their supplier-buyer network.
In-depth analysis of the driving simulator market segmentation assists to determine the prevailing market opportunities.
Major countries in each region are mapped according to their revenue contribution to the global market.
Market player positioning facilitates benchmarking and provides a clear understanding of the present position of the market players.
The report includes the analysis of the regional as well as global driving simulator market trends, key players, market segments, application areas, and market growth strategies.
 Driving Simulator Market Report Highlights
Aspects
Details
Market Size By 2032
USD 4 billion
Growth Rate
CAGR of 7.4%
Forecast period
2022 - 2032
Report Pages
234
By Application

Training
Research and Testing
Entertainment

By Vehicle Type

Car Simulator
Truck and Bus Simulator

By Simulator Type

Training Simulator
Advanced Driving Simulator

By Region

North America (U.S., Canada, Mexico)
Europe (Germany, France, Italy, UK, Rest of Europe)
Asia-Pacific (China, Japan, India, South Korea, Rest of Asia-Pacific)
LAMEA (Latin America, Middle East, Africa)

Key Market Players
Cruden, Exail Technologies (former GROUPE GORGE), Arotech Corporation, AB Dynamics PLC, Tecknotrove, AVSimulation, Hottinger Brel & Kjr (HBK), Thales, Moog Inc., CXC SIMULATIONS