The global e-health market was valued at $74,476.4 million in 2019, and is projected to reach $2,30,640.4 million by 2027 at a CAGR of 14.5% from 2020 to 2027. 
E-health is broadly defined as the use of information and communication technology (ICT) in health. ICT has been widely used in the form of medical health records, medical apps, and telemedicine. With the help of e-health, it is possible to electronically store the data related to patients, staff, and finance of hospitals. This has resulted in transformation in the means of storing healthcare data. Initially, data was recorded manually by the healthcare staff. On the other hand, currently, single unique identification number is required to be entered and all the data of patients is available within seconds. E-health offers multiple advantages over conventional methods of clinical data management such as it prevents the use of manual records and facilitates timely access to patient data. Furthermore, automated and interoperable healthcare information systems are anticipated to improve medical care, reduce healthcare costs, increase efficiency, reduce error, and enhance patient satisfaction, while optimizing reimbursement for ambulatory and inpatient healthcare providers.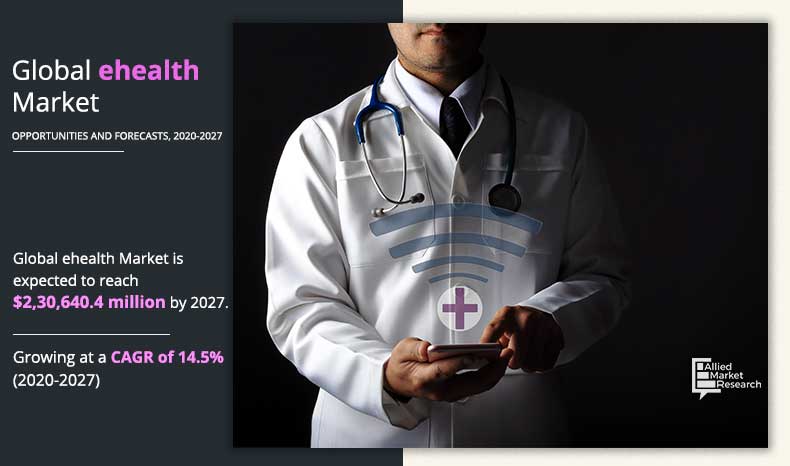 Almost every nation is dealing with the outbreak. Most markets are dropping down as COVID-19 outbreak has negatively affected various healthcare-related markets. This pandemic is expected to present growth opportunities for E-health market in the future. E-health market includes major suppliers such as Cerner Corporation, GE Healthcare, and Allscripts. These suppliers have their manufacturing facilities spread across various countries across North America, Asia-Pacific, Europe, South America, and RoW. COVID-19 has impacted their businesses as well. For instance, In April 2020, GE Healthcare extended its longtime collaboration with Microsoft to launch a cloud-based COVID-19 patient monitoring software for health systems, which will further boost the e-health market growth. In addition, e-health providers has undertaken the task of providing a global overview of the e-health solutions available for COVID-19. Solution providers, consultants advising the healthcare system, and healthcare professionals have been prompted on the internet to contribute with solutions for COVID-19. 
The growth of the global e-health market is majorly driven by increase in government initiatives supporting the use of e-health solutions and services, surge in need to manage regulatory compliance through use of e-health solutions, and dearth of healthcare professionals. However, reluctance among medical professionals to adopt advanced e-health solutions and high cost of deployment and maintenance of e-health solutions hinder the market growth. Conversely, increase in opportunities in emerging nations; expansion of mHealth, telehealth, and remote patient monitoring markets; and rise in use of e-health solutions in outpatient care facilities are expected to provide lucrative growth opportunities for the market growth.
The global e-health market is segmented on the basis of type, end user, and region. By type, the market is segregated into electronic health records (HER); vendor neutral archive (VNA), picture archiving, & communications systems (PACS); laboratory information systems (LIS); telehealth; prescribing solutions; medical apps; clinical decision support systems (CDSS); pharmacy information systems; and others. Depending on end user, it is fragmented into healthcare providers, payers, healthcare consumers, and others. Region wise, it is analyzed across North America, Europe, Asia-Pacific, and LAMEA.
Medical Apps is projected as one of the most lucrative segment.
Segmental review
By product, the medical apps segment is anticipated to grow with the largest share throughout the forecast period. This is attributed to rise in demand for quality healthcare services & solutions, increase in acceptance of mHealth practices, surge in demand for improved patient safety and patient care, and increase in government initiatives to promote e-health. Moreover, surge in adoption of smartphones, tablets, and other mobile platforms is driving the growth of the market. 
On the basis of end user, the healthcare provider solution held the largest market share, due to rise in adoption of electronic health records (EHR) and other hospital information systems by healthcare providers. 
E-health Market

---
By End User
Healthcare Providers holds a dominant position in 2019 and would continue to maintain the lead over the forecast period.
North America accounted for the largest share of revenue in 2019, and is anticipated to maintain its dominance from 2020 to 2027, due to favorable regulatory scenario toward e-health, surge in adoption of e-health solutions to curtail soaring healthcare costs, regulatory requirements regarding patient safety, and presence of a large number of e-health companies, such as Allscripts Healthcare Solutions, Cerner Corporation, GE Healthcare, and McKesson Corporation, and Infor, Inc.
Some of the key players operating in the market include Allscripts Healthcare Solutions, Inc., Athenahealth, Inc., Cisco Systems, Inc., InTouch Health, International Business Machines Corporation (IBM), General Electric Company (GE Healthcare), Medtronic plc., UnitedHealth Group (Optum), Koninklijke Philips N.V., and Siemens Healthineers.
E-health Market

---
By Region
Asia-Pacific region would exhibit the highest CAGR of 17.2% during 2020-2027.
Key Benefits For Stakeholders
This report entails a detailed quantitative analysis along with the current global e-health market trends from 2020 to 2027 to identify the prevailing opportunities along with the strategic assessment.
The market forecast is studied from 2020 to 2027.
The e-health market size and estimations are based on a comprehensive analysis of key developments in the industry.
A qualitative analysis based on innovative products facilitates strategic business planning.
The development strategies adopted by the key market players are enlisted to understand the competitive scenario of the e-health market.
Key players are profiled and their strategies are analyzed thoroughly to understand the competitive outlook of the market.
 E-health Market Report Highlights
Aspects
Details
BY TYPE

Electronic Health Records (EHR)
Vendor Neutral Archive (VNA) and Picture Archiving & Communications Systems(PACS)
Laboratory Information Systems (LIS)
Telehealth
Prescribing Solutions
Medical Apps
Clinical Decision Support Systems (CDSS)
Pharmacy Information Systems
Others

BY END USER

Healthcare Providers
Payers
Healthcare Consumers
Others

BY REGION

North America (U.S, Canada, Mexico)
Europe (Germany, UK, France, Italy, Spain, Rest of Europe)
Asia-Pacific (China, Japan, Australia, India, Rest of Asia-Pacific)
LAMEA (Latin America, Middle East and Africa)

Key Market Players
ALLSCRIPTS HEALTHCARE SOLUTIONS, INC, ATHENAHEALTH, INC, CISCO SYSTEMS INC, GENERAL ELECTRIC COMPANY, INTERNATIONAL BUSINESS MANAGEMENT CORPORATION (IBM), KONINKLIJKE PHILIPS N.V, MEDTRONIC PLC, SIEMENS AG (SIEMENS HEALTHINEERS), TELADOC HEALTH, INC. (INTOUCH TECHNOLOGIES, INC.), UNITEDHEALTH GROUP (OPTUM)