The global electric powertrain market was valued at $83.66 billion in 2021, and is projected to reach $1,078.18 billion by 2031, growing at a CAGR of 29.1% from 2022 to 2031.
A powertrain is a set of components that generate power to move the vehicle. The electric powertrain encompasses the battery & electric motor and offers transmission of power, which is used to produce the power that is further utilized to drive or move the vehicle. The electric powertrain of a vehicle is defined by its performance, comfort, and safety. As a result of this, the powertrain systems and components manufacturers have been adopting electric powertrains to reduce fuel usage in vehicles. The engine and transmission are the major components of powertrain, and other key components include the clutch or torque converter, drive shaft or propeller shaft, differential, and axles. It widely finds its application in the battery electric vehicles (BEV), powered by 100% of electric energy. It is applicable in the plug-in-hybrid electric vehicles (PHEVs) and hybrid-electric vehicles (HEVs).
The electric powertrain market has also not escaped from the disruption and remains susceptible, owing to its dependence on the global supply chains for its core technology services. Various companies operating in the automotive industry are stepping up by reconfiguring their supply chain, production, and services for delivery of critical medical supplies. For instance, India's largest automaker, Maruti Suzuki collaborated with Nigen Equipment Pvt Ltd and SAM Gas Projects Pvt Ltd to produce more oxygen to meet the demand. Bajaj Auto, market leader in the three-wheeler market came out to assist their employees who lost their battle in COVID-19 by paying them two year's salary. In addition, Mahindra & Mahindra started using their bolero trucks for oxygen cylinder deliveries. As per the Society of Electric Vehicle Manufacturers (SMEV), registration of all-electric vehicles in India during FY21 declined by 20% against the units sold in FY20.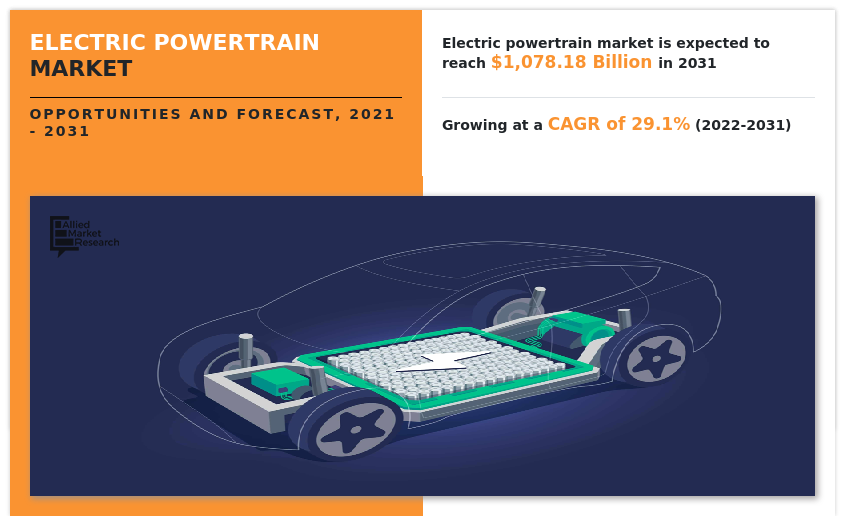 At present, the increase in demand for enhanced driving experience, adoption of light-weighted driving shaft, and technological innovation in the battery production technology have transformed electric vehicles into more competitive over conventional internal combustion engine (ICE) vehicles. For instance, in January 2022, Magna International Inc. unveiled the EtelligentForce, a battery electric 4WD powertrain system for pickup trucks and light commercial vehicles. The system had fewer moving parts than a traditional ICE powertrain, thereby requiring less maintenance.
The factors such as growth in trend of downsized engines, increased sales of electric vehicles, and stringent vehicular emission norms & regulations propel the demand for electric powertrain market. However, high manufacturing costs, range anxiety, and serviceability are the factors expected to hamper the market growth. In addition, rocketing infrastructural developments of EV infrastructure and advancement in technology are some of the factors that create lucrative opportunities for electric powertrain industry during the forecast period.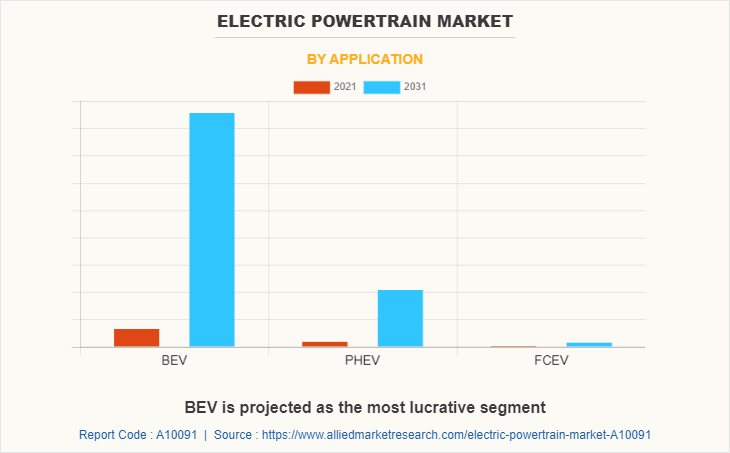 The electric powertrain market is segmented into component, vehicle type, vehicle class, vehicle drive type, application, and region. By component, the market is categorized into battery, power electronic controller, motor/generator, convertor, transmission, and on-board charger. By vehicle type, the market is fragmented into passenger car and commercial vehicle. By vehicle class, the market is divided into mid-priced and luxury. By vehicle drive type, the market is further classified into front wheel drive, rear wheel drive, and all-wheel drive. By application, the market is categorized into battery electric vehicle (BEV), plug-in hybrid electric vehicle (PHEV), and fuel cell electric vehicle (FCEV). By region, the market has been studied across North America, Europe, Asia-Pacific, and LAMEA.
The key players operating in the electric powertrain market are BorgWarner, Robert Bosch GmbH, Continental AG, Dana Incorporated, Denso, Hitachi, Magna International Inc., Magneti Marelli Ck Holdings, Mitsubishi Electric Corp., Nidec Corporation, Panasonic, Schaeffler AG, Toyota Industries Corporation, Valeo, ZF Friedrichshafen AG, Brusa Electronik (Key Innovator) and Kelly Controls, Inc. (Key Innovators).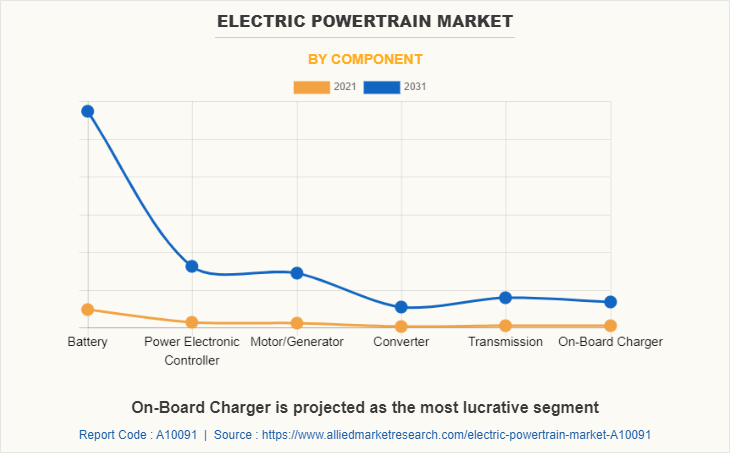 Growing trend of downsized engines
The downsizing of an engine is a practice of improving fuel efficiency in an internal combustion engine (ICE) to utilize smaller combustion engines over larger ones of the same power capacity when manufacturing vehicles. Hence, engine designers are finding better ways to extract more power from smaller amounts of fuel. For instance, in September 2021, Hitachi Ltd. and and Hitachi Astemo, Ltd. announced the development a compact, lightweight direct-drive system for the EV segment. This system combined the motor, inverter, and brake into a single unit which allowed for installation of the entire system into the wheel. This allowed for the elimination of drive shafts and other indirect mechanisms which allows motor power to be applied directly to EV operation thereby reducing energy loss by up to 30%. Moreover, as compared to naturally charged atmospheric pressure engines, automotive turbochargers are more efficient and eco-friendlier as they offer increased engine power without increasing piston displacement. Hence, by reducing the frictional loss and weight while turbocharging is used to maintain the peak power from an engine. In addition, the downsizing of the engine can help in reducing fuel consumption and emissions inside the engine. Hence, the increasing trend for the downsizing of the engine has rapidly increased the demand for the electric powertrain testing market all across the globe.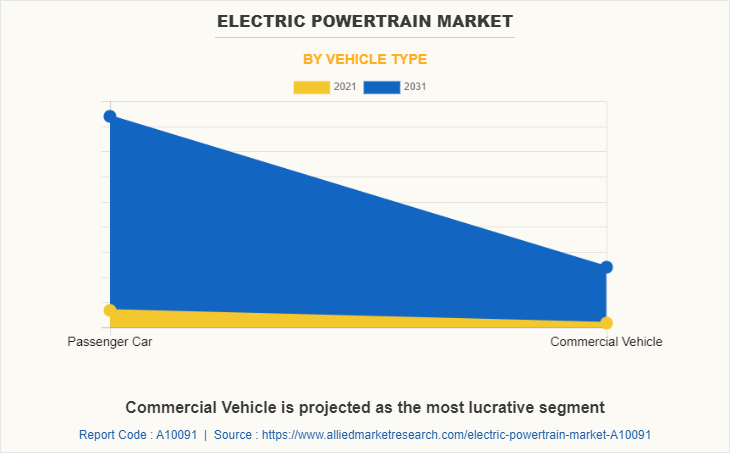 Increasing sales of electric vehicles
Electric vehicles (EVs) are experiencing a rise in popularity over the past few years as the technology has matured & costs have declined, and support for clean transportation has promoted awareness, increased charging opportunities, and facilitated EV adoption. Furthermore, growing vehicle emission concerns and depletion of non-renewable energy resources have attracted the attention of several governments to invest in electric vehicles. The European countries are among the frontrunners in adopting electric mobility. According to European Environment Agency, in 2020, electric car registrations surged, accounting for 11% of newly registered passenger cars in which battery electric vehicles (BEVs) accounted for 6% of total new car registrations, while plug-in hybrid electric vehicles (PHEVs) represented 5%. Also, the production and sales of electric vehicles globally have been growing at a high rate, owing to positive regulatory environment, such as subsidies and tax exemptions for both the industry and consumers in the European and Asia-Pacific region. Major automakers have also increased their investments in the development of electric vehicles to cater to the anticipated growth in demand for such vehicles in the coming decade. Volvo Motors announced that starting from 2020, the company will develop and manufacture only hybrid and electric cars. Hence, the increasing adoption of EVs around the world is expected to drive the growth of electric powertrain industry in the forecast period.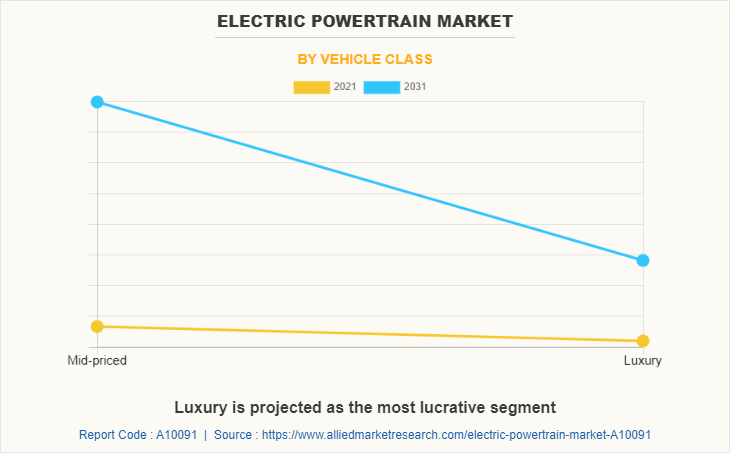 High manufacturing cost
Electric vehicles are advantageous over conventional vehicles; however, their cost is higher than traditional vehicles. Also, the electric powertrain market is expected to face challenges in the form of procurement of rare earth metals used in permanent magnets for synchronous motors, as the metals used in these motors are subject to export restrictions and supply risks. In addition, purchase of e-powertrain vehicles is expected to cost around twice the cost of traditional gasoline-powered vehicles. This large price difference between internal combustion and electric vehicles has made many fleet owners about making investment as there are lot of unknown variables present in determining total cost of ownership of electric vehicles. Thus, high initial cost of electric vehicles hinders growth of the electric powertrain market. According to a report on Forbes by energy innovation, the manufacturing cost of an electric vehicle is much higher currently compared to diesel or petrol trucks, but by 2030, it will be 50% cheaper compared to diesel and petrol variants with falling battery prices. Thus, high cost of electric vehicles challenging growth of the electric powertrain market.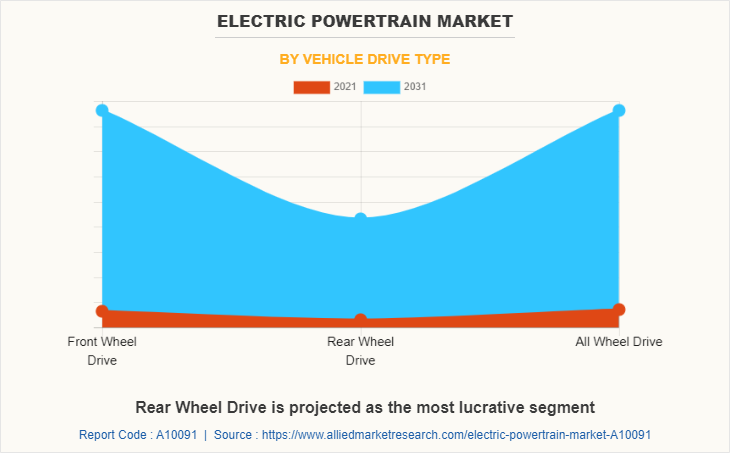 Rocketing infrastructural developments for EV stations
Creating charging infrastructure can be daunting and expensive. It involves disrupting already congested travel corridors and finding suitable charging spaces and substantial outlays to achieve a decent EV charging infrastructure network. This needs to be supplemented with alternate solutions such as installing charging points within residential complexes, housing societies (including for visiting parking slots), shopping malls, parking lots, railway stations, offices, and small shops. Meanwhile, governments worldwide are focusing on infrastructural development for the EV landscape and thereby promoting EV use. Due to the heavy investment made by governments, public charging stations are installed in every possible public place. For instance, in April 2022, automobile manufacturer BYD India partnered with Chargezone, Volttic, and Indipro to set up charging infrastructure for EVs in India. This tie-up addresses the charging needs of the company's electric multipurpose vehicles across multiple cities and major highways in the country. Also, in June 2021, the Canadian government announced an investment of about USD 2.35 million to install EV fast chargers in the country. Additionally, few governments like the government of China and France are subsidizing the construction of public charging stations, further expanding the electric powertrain systems market. Thus, the rising investments made by countries in developing EV charging infrastructure will create an opportunity for electric powertrain industry growth in the forecast period.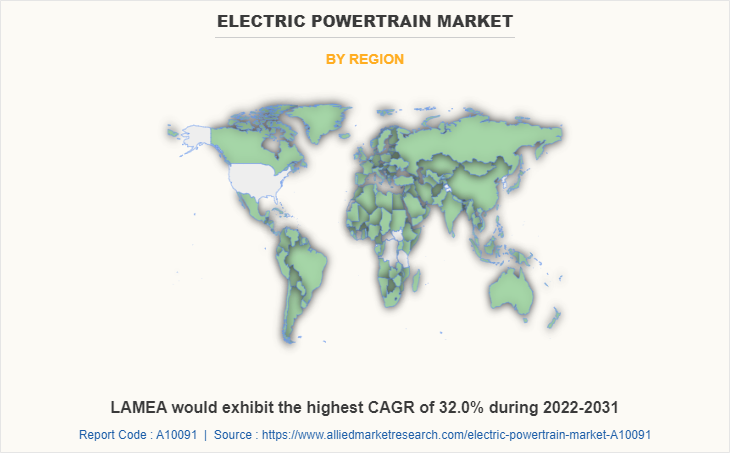 Key Benefits For Stakeholders
This study presents analytical depiction of the global electric powertrain market analysis along with current trends and future estimations to depict imminent investment pockets.

The overall electric powertrain market opportunity is determined by understanding profitable trends to gain a stronger foothold.

The report presents information related to the key drivers, restraints, and opportunities of

the global electric powertrain market with a detailed impact analysis.

The current Electric Powertrain market is quantitatively analyzed from 2022 to 2031 to benchmark the financial competency.

Porter's five forces analysis illustrates the potency of the buyers and suppliers in the industry.
 Electric Powertrain Market Report Highlights
Aspects
Details
By Application
By Component

Battery
Power Electronic Controller
Motor/Generator
Converter
Transmission
On-Board Charger

By Vehicle Type

Passenger Car
Commercial Vehicle

By Vehicle Class
By Vehicle Drive Type

Front Wheel Drive
Rear Wheel Drive
All Wheel Drive

By Region

North America (U.S., Canada, Mexico)
Europe (France, Netherlands, Norway, Rest of Asia-Pacific, U.K., Germany)
Asia-Pacific (China, Japan, India, Singapore, South Korea, Rest of Asia-Pacific)
LAMEA (Latin America, Middle East, Africa)

Key Market Players
Schaeffler AG, Magna International Inc., Brusa Electronik (Key Innovator), BorgWarner, Toyota Industries Corporation, Magneti Marelli Ck Holdings , Cc Power Electronics (Key Innovator), Nidec Corporation, Continental AG, Mitsubishi Electric Corp, Denso, Panasonic, ZF Friedrichshafen AG, Valeo, Hitachi, Dana Incorporated, Bosch Limited