Electronic Skin Market Outlook - 2025
Electronic skin is a thin and flexible electronic material, which mimics the property and functionalities of human skin. It consists of flexible printed electronics that senses the temperature and pressure. The Electronic skin market size was valued at $464.04 million in 2020, and is projected to reach at $1,719.38 million by 2025, growing at a CAGR of 38.7% from 2021 to 2025.
The growth of the electronic skin market is driven by surge in demand for superior & periodic health monitoring systems, rise in expenditure on advanced wearable devices, and increase in investment on robotics technology. However, complex designing & material degradation and high initial costs are the major restraining factors of the market. On the contrary, increase in R&D activities to enhance its durability is anticipated to provide potential opportunities for market expansion.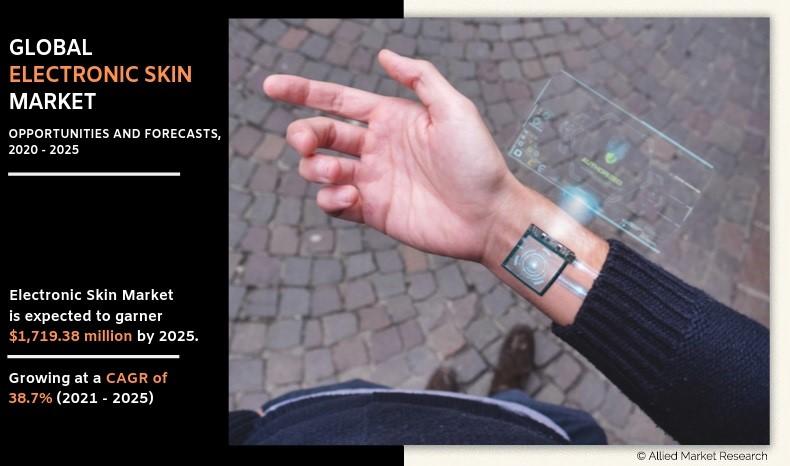 The key players operating in the electronic skin market include MC10, Xensio, Rotex Inc. Intelesens ltd, Immageryworks Pty Ltd, Dialog Devices Limited, SmartLifeinc Limited, Xenoma Inc., Plastic electronic GmbH, and VivaLnK, Inc.
Segment Overview
The report segments the electronic skin market on the basis of application and geography. By application, the market is divided into personal healthcare monitoring, wearable technology, and others. Geographically, it is analyzed across North America, Europe, Asia-Pacific, and LAMEA.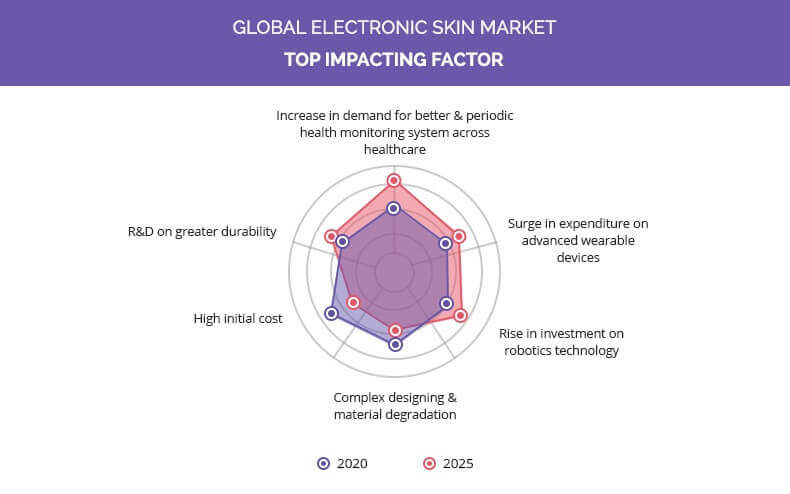 Increase in Demand for Superior & Periodic Health Monitoring System Across the Healthcare Sector
Rise in global environmental issues & pollutants in the atmosphere, increase in concern over health-related issues influence the quality of life, nature of expenses, and healthcare monitoring systems. These factors lead to increase in need for improved & periodic health monitoring systems, thus fueling the demand for electronic skins in the market.
Surge in Expenditure on Advanced Wearable Devices
The features such as lightweight and ease of use & connectivity with the smart devices have driven the demand for wearable devise in the market. The benefits such as regular health monitoring, hands free monitoring, longer battery, and other add advantage to it and ultimately drives investment. Moreover, rise in disposable income boosts the growth of the global market.
Complex Designing & Material Degradation
For appropriate functioning of electronic skin, manufacturers use multiple components in a paper-sized dielectric material foil, which increases its complexity in designing. This in turn limits the adoption of electronic skins, thereby hampering the market growth. Moreover, the impact of external factors, such as moisture and others, degrade the electronic skin, which limits their adoption, thereby hampering the market growth.
Key Benefits for Stakeholders
This report provides an extensive analysis of the current and emerging market trends and dynamics in the electronic skin market.
In-depth analysis is conducted by constructing market estimations for the key market segments between 2020 and 2025.
Extensive analysis of the market is conducted by following key product positioning and monitoring the top competitors within the market framework.
Key players are profiled and their strategies are analyzed thoroughly to understand the competitive outlook of the global electronic skin market.
 Electronic Skin Market Report Highlights
Aspects
Details
By Application

PERSONAL HEALTHCARE MONITORING
Wearable Technology
Others

By Region

North America (U.S., Canada, Mexico)
Europe (UK, Germany, France, Italy, Rest of Europe)
Asia-Pacific (China, India, Japan, Australia, Rest of Asia-Pacific)
LAMEA (Latin America, Middle East, Africa)

Key Market Players
MC10, INC., DIALOG DEVICES LIMITED ( PBB DEVICES LTD ), IMAGERYWORKS PTY LTD, INTELESENSE LTD, PLASTIC ELECTRONIC GMBH, ROTEX INC., SMARTLIFEINC LIMITED, VIVALNK, INC., XENOMA, INC., XENSIO