The global electronic stability control market was valued at $8.4 billion in 2021, and is projected to reach $18.3 billion by 2031, growing at a CAGR of 8.3% from 2022 to 2031.
Electronic stability control (ESC) assists in management of driving dynamics and supports stabilization of vehicles under extreme driving conditions. ESC enables control of unpredictable road and traffic situations to avoid accidents. It operates by comparing the driver's request with the driving state to recognize deviation and generate braking pressure. The brakes are applied in a targeted manner for prevention of vehicle oversteering or understeering.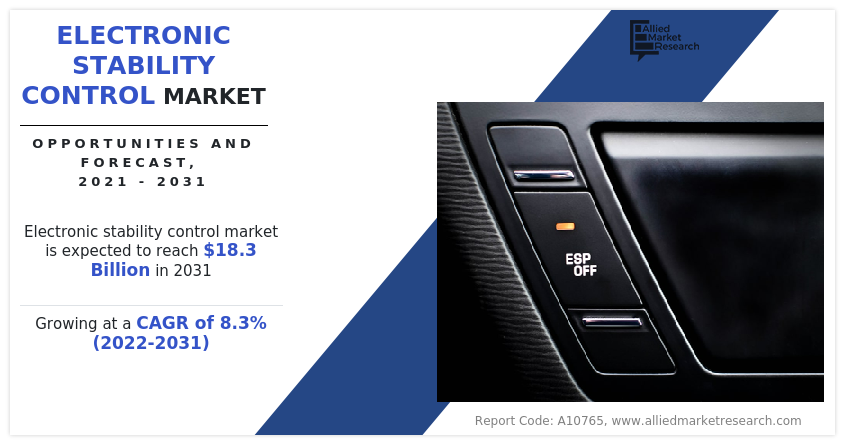 The growth of the global electronic stability control market is driven by rise in concern associated with road safety, greater adoption of driver assistance systems, high demand for vehicles equipped with safety features, and implementation of stringent safety rules and regulations by governments across the world. However, increase in vehicle cost due to integration of ESC, and unavailability of raw materials are factors hampering the growth of the market. Furthermore, technological advancements, surge in adoption of autonomous vehicles, and greater demand from emerging countries are factors expected to offer growth opportunities during the forecast period.
The electronic stability control market is segmented on the basis of component, vehicle type, vehicle propulsion, and region. By component, it is classified into hydraulic unit, sensors, and Engine control unit (ECU). By vehicle type, it is fragmented into passenger cars, light commercial vehicles, and heavy commercial vehicles. By vehicle propulsion, it is categorized into internal combustion engine (ICE) vehicles, and electric and hybrid vehicles. By region, the report is analyzed across North America, Europe, Asia-Pacific, and LAMEA.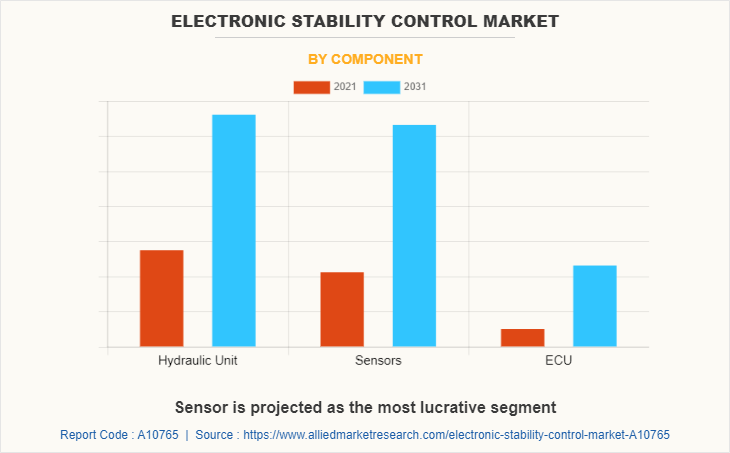 Europe includes countries such as UK, Germany, France, Italy, and rest of Europe. Rest of Europe includes Spain, Netherlands, Sweden, Poland, and others. The European electronic stability control market is anticipated to grow during the forecast period, owing to presence of leading players, increase in sales of vehicles, and demand for integration of enhanced safety systems in vehicles. The adoption of ADAS along with electronic stability control systems has increased with the rise in popularity of autonomous driving. In addition, presence of supportive legislations fuels the use of safety systems in cars to improve safety and comfort. Moreover, automotive manufacturers in the region have focused on reducing road fatalities by adopting various safety ensuring programs such as eSafety Aware and other informative campaigns.
In July 2009, the EU Regulation enforced ESC systems on all new vehicle types beginning on November 1, 2011, and this technology is now required on all new vehicles sold in the EU. It is estimated to save 3,000 lives and 50,000 injuries in the EU each year while stabilizing vehicles and preventing sliding in all driving scenarios by active brake intervention on one or more wheels and adaptive engine torque control.
According to Society of Motor Manufacturers and Traders, UK car sales increased by 28% in the month of January 2022 since June 2021, owing to increase in demand for electric vehicles. This increase in car sales is expected to drive the demand for electronic stability control systems. In addition, introduction of new rules & regulations by the UK's Driver and Vehicle Standards Agency (DVSA) which focuses on implementation of electronic stability control system in vehicles, further contributes toward the growth of the market in UK.
In France, automobile companies are introducing new electric vehicles equipped with electronic stability control system in the market, which fuels the growth of the electronic stability control market in France. For instance, in July 2022, Switch Mobility Ltd, a commercial vehicle manufacturing company, introduced its new fourth generation SWITCH e1 bus at the European Mobility Expo in Paris. The SWITCH e1 is an electric bus comprises 389 kWh battery, ZF hub motors, and passenger carrying capacity up to 93 passengers. It also comprises latest driver aids and safety features such as electronic stability control and electronic braking system along with blind spot monitoring, collision detection, and lane departure system.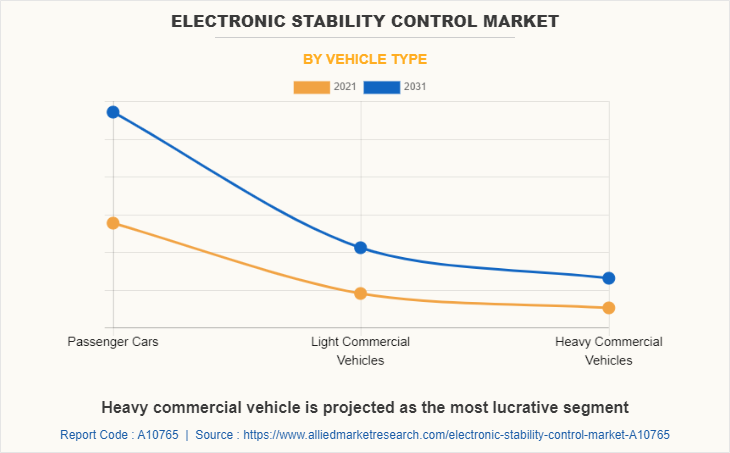 Some leading companies profiled in the electronic stability control market report include Robert Bosch GmbH, Continental AG, Hitachi Ltd, Denso Corporation, Johnson Electric Group, ZF Friedrichshafen AG, Aisin Corporation, Murata Manufacturing Co., Ltd., Knorr-Bremse AG, and Mando Corp.
Rise in concern associated with road safety
The demand for electronic stability control has increased over the years due to surge in number of road accidents around the world. Vehicles equipped with electronic stability control can control vehicles in case of critical conditions. Rise in concern regarding road accidents globally, fuels the demand for better safety features in vehicles, increasing the adoption of ESC. Electronic stability control is an active safety system that maintains wheel trajectory and enhances vehicle stability. Further, as per World Health Organization's published data in June 2021, nearly 1.3 million people die in road traffic accidents each year that comprises a significant portion owing to improper safety system in vehicle.
To address safety concerns, the UN General Assembly has declared a decade of Road Safety targets. It includes meeting high-quality safety standards such as the recommended priority UN Regulations, Global Technical Regulations, or equivalent recognized national performance requirements in 100% of new and used vehicles fleet by 2030. Use of ESC decreases fatal and serious injuries, and may also be expected to reduce damage-only collisions and reduce congestion costs due to collisions being avoided. It also reduces crash-related travel delays and property damage.
Greater adoption of driver assistance systems
Advance driver assistance systems are intelligent systems which are installed in the vehicle to assist the driver with safe and comfortable driving experience. These systems are used to provide vital information such as traffic congestion level, suggested routes, blockage & closure of roads ahead, and others. In addition, ADAS is also used to analyze the fatigue and distraction of human driver and make precautionary alerts to make suggestions regarding same and alert the driver about potentially dangerous situation. Furthermore, these systems take over the control from the human driver if required and also allows short range communication with the other vehicles.
Advanced driver assistance systems (ADAS) are electronic components in vehicles that provide the driver with an intelligent driving experience. These systems comprise unique sensors such as ultrasonic sensor, image sensor, radar, LiDAR, infrared sensor, laser, and others. Deployment of ADAS in vehicles to enhance comfort and ensure safety on road are anticipated to be one of the major trends being witnessed in the automotive industry. Moreover, factors such as adoption of autonomous and semi-autonomous vehicles, high demand for safety features, and increased requirement for comfort drive the demand for advanced driver assistance systems.
High demand for vehicles equipped with safety features
The demand for safety features, such as parking assistance, collision avoidance systems, lane departure warnings, traction control, electronic stability control, tire pressure monitors, airbags, and telematics is in demand due to increase in number of road accidents across the globe. Vehicles with installed ESC stabilize vehicles according to the road conditions. In addition, these systems can also automatically decelerate and apply brakes to the vehicle. Furthermore, it is observed that there is a tremendous increase in the death rates due to road accidents.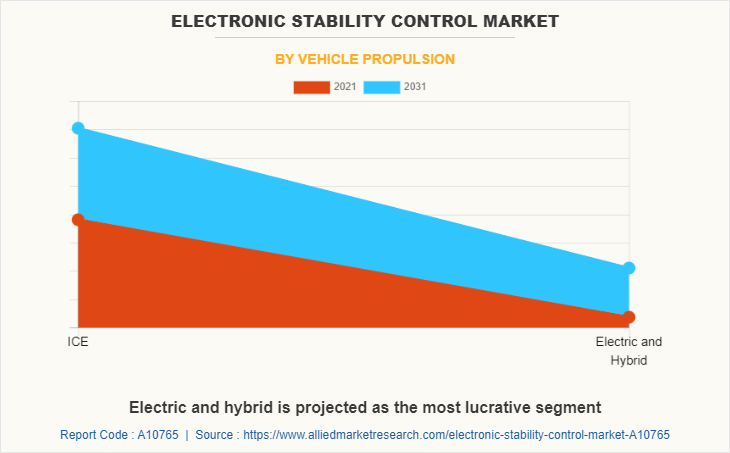 Moreover, road traffic injuries leading to death are higher among teenagers. These factors are leading to the growing demand for safety features in vehicles. Automobile companies are developing and introducing safety features to meet the needs of the customers. Thus, high demand for safety features drives the growth of the electronic stability control market.
Stringent safety rules and regulations
Countries have implemented laws and regulations for vehicles to install safety systems such as blind spot detection system, lane departure warning system, electronic stability control, and tire pressure monitoring system in vehicles within a stipulated time period. For instance, the Indian government has made amendments to the motor vehicle act, to mandate the use of advanced brake systems in all new models of commercial vehicles starting from April 2022. Technologies such as drowsiness monitoring system, lane departure system, driver monitoring system along with the presence of airbags in vehicles, wearing of seat belts by the passengers, child safety system, pedestrian safety system, and others are made mandatory by countries to be installed in the vehicles.
In 2017, the UN General Assembly adopted a series of road safety performance targets, one of which includes the objective to ensure that 100% of vehicles are equipped with ESC in 2030. The absence of a uniform ESC regulation means that sub-standard vehicles are currently being produced, sold and exported, contributing to the substantial number of global road traffic casualties.
Moreover, automobile manufactures need to obtain safety ratings from organizations such as the Insurance Institute of Highway Safety (IIHS), New Car Assessment Program (NCAP), and International Centre for Automotive Technology (ICAT) to access the sales license of vehicles in the market. Thus, all these safety rules and regulations made by the government is expected to boost the growth of the electronic stability control market in the coming years.
Increase in vehicle cost due to integration of ESC
The adoption of advanced technology-based systems and equipment in the electronic stability controls increases the initial cost of the vehicles. The systems and components used in the electronic stability control must be compatible and offer high performance to ensure safety of vehicles.
The cost associated with installing ESC, along with other safety and ADAS features in vehicles increases the overall cost of the vehicle. The prospect of providing premium features in vehicles incurs additional expenses to consumers in the form of hardware, applications, and telecom service charges, which eventually hampers the growth of the market. Moreover, the serviceability of the vehicle is difficult, and requires skilled workers due to several electronic components and sensors.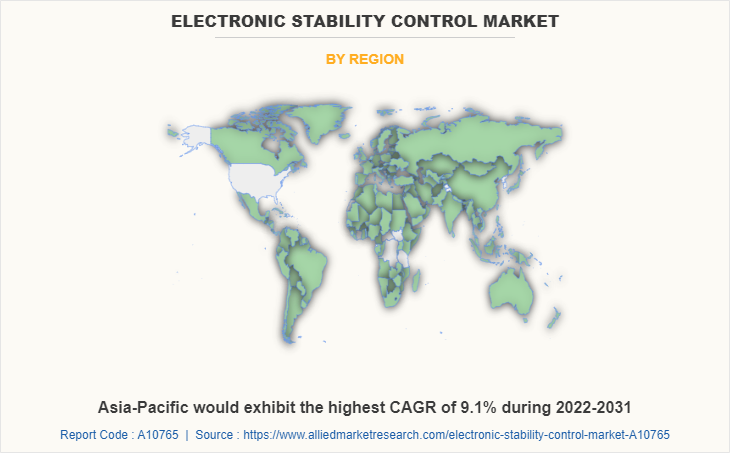 Although, the automotive industry has struggled during the pandemic due to decline in vehicle sale and shortage of electronic components, the electronic stability control market is expected to experience growth in the coming years due to rising integration of ESC in commercial vehicles. Developing countries are introducing regulations and mandates for integration of ESC in passenger vehicles for improved safety.
Key Benefits For Stakeholders
This report provides a quantitative analysis of the market segments, current trends, estimations, and dynamics of the electronic stability control market analysis from 2021 to 2031 to identify the prevailing electronic stability control market opportunities.
The market research is offered along with information related to key drivers, restraints, and opportunities.
Porter's five forces analysis highlights the potency of buyers and suppliers to enable stakeholders make profit-oriented business decisions and strengthen their supplier-buyer network.
In-depth analysis of the electronic stability control market segmentation assists to determine the prevailing market opportunities.
Major countries in each region are mapped according to their revenue contribution to the global market.
Market player positioning facilitates benchmarking and provides a clear understanding of the present position of the market players.
The report includes the analysis of the regional as well as global electronic stability control market trends, key players, market segments, application areas, and market growth strategies.
 Electronic Stability Control Market Report Highlights
Aspects
Details
Market Size By 2031
USD 18.3 billion
Growth Rate
CAGR of 8.3%
Forecast period
2021 - 2031
Report Pages
250
By Component

Hydraulic Unit
Sensors
ECU

By Vehicle Type

Passenger Cars
Light Commercial Vehicles
Heavy Commercial Vehicles

By Vehicle Propulsion
By Region

North America (U.S., Canada, Mexico)
Europe (Germany, UK, France, Italy, Rest of Europe)
Asia-Pacific (China, India, Japan, South Korea, Rest of Asia-Pacific)
LAMEA (Latin America, Middle East, Africa)

Key Market Players
Mando Corp., ZF Friedrichshafen AG, Denso Corporation, Robert Bosch GmbH, Knorr-Bremse AG, Continental AG, Hitachi, Ltd., Johnson Electric Group, Murata Manufacturing Co., Ltd., Aisin Corporation