Embedded Processor Market Outlook – 2028 
The global embedded processor market size was valued at $19.36 billion in 2019, and is projected to reach $32.53 billion by 2028, registering a CAGR of 8.2% during 2021 to 2028. An embedded processor is especially designed for embedded systems and can handle multiple processor in real time. It handles all the computational and logical operations of a computer. They are in a form of computer chips that are embedded in various microcontrollers and microprocessors to control various electrical and mechanical systems. These processors also offer features such as storing and retrieving data from the memory.
 
The microprocessor segment was the largest revenue contributor in 2019, and is expected to grow at a CAGR of 6.4% from 2021 to 2028. The embedded microprocessor systems are computer chips that find its applications under residential, industrial units, and manufacturing. For instance, embedded microprocessors are used in lightning systems, home appliances, and industrial equipment. These processors are used in signal processing, general computing, and real-time data computing.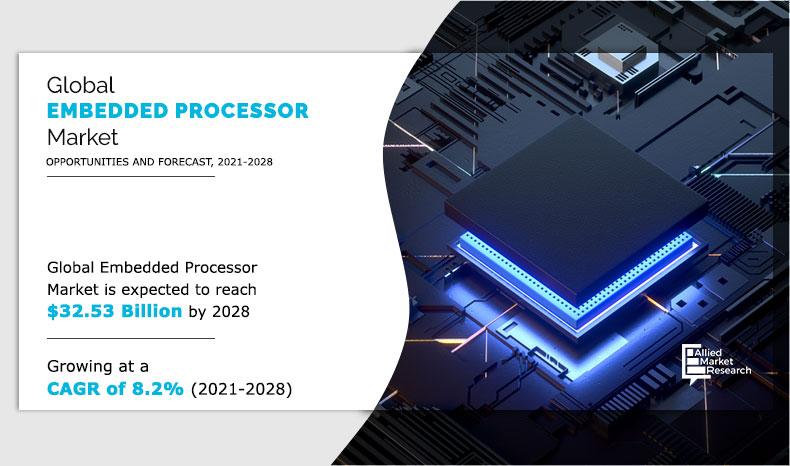 Microprocessors are used to control various parameters in devices and equipment such as temperature, speed, moisture, and pressure. All these factors make microprocessor a necessary component in computing devices and is expected to drive the growth of the embedded processors market globally. By application, consumer electronics is the leading largest contributor of revenue in 2019, as embedded processor is a microchip, which is used in many electronic devices such as digital watches, digital cameras, MP3 players, and other home appliances for processing the data at high speed. It helps in performing the system operations efficiently for continuous and repetitive operations.
Embedded Processor Market

---
By Application
Consumer Electronics segment is expected to secure the leading position during 2021 - 2028
Segment Overview
The global embedded processor market share is analyzed by type, application, and region. Based on type, the market is analyzed across microprocessor, microcontrollers, digital signal processor, embedded FPGA, and others. On the basis of application, the market is divided into consumer electronics, automotive & transportation, industrial, healthcare, IT & telecom, aerospace & defense, and others.
Embedded Processor Market

---
By Type
Microprocessor segment will dominate the market during the forecast period
Region wise, the embedded processor market trends are analyzed across North America (the U.S., Canada, and Mexico), Europe (the UK, Germany, France, and rest of Europe), Asia-Pacific (China, Japan, India, and rest of Asia-Pacific), and LAMEA (Latin America, the Middle East, and Africa). Asia-Pacific is leading the embedded processor market and is expected to be the fastest growing regional segment in the near future, with the highest CAGR. With an increase in demand for high voltage operating devices, organizations across verticals are realizing the importance of embedded processors to ensure efficient power management.
Embedded Processor Market

---
By Region
Asia-Pacific region would exhibit the highest CAGR of 9.9% during 2021 - 2028
Leading embedded processor manufacturers such as NXP Semiconductors, Broadcom Corporation, STMicroelectronics, Intel Corporation, and Infineon Technologies AG are focusing their investment on technologically advanced and cost-effective products. For instance, in November 2020, Advanced Micro Devices (AMD) launched new high-performance AMD Ryzen Embedded V2000 Series processor. With this launch, the company aims to give a competition to its rival Intel. 
In addition, in November 2018, Renesas Electronics launched the latest version of microcontroller that will be integrated in automotive to deliver high performance operation. Such companies aim for business expansion through mergers & acquisitions, partnerships, and product launches to prevent the new entrants from capturing/entering the market.
Top Impacting Factors
Factors such as rise in space constraints in semiconductors wafers, increase in demand for smart consumer electronics, and emerging usage of embedded processors in the automotive industry boost the global embedded processor market growth. However, high implementation cost of embedded processors in different applications act as a major restraint hampering the embedded processor industry. Furthermore, increase in popularity of IoT, rise in trend toward electric vehicles, and increase in usage of embedded processors in the biomedical sectors offer lucrative opportunities for the market globally.
Competitive Analysis
Competitive analysis and profiles of the major embedded processor market players such as NXP Semiconductors, Broadcom Corporation, STMicroelectronics, Intel Corporation, Infineon Technologies AG, Analog Devices Inc., Renesas Electronics, Microchip Technology Inc., Texas Instruments, and ON Semiconductor. These key players have adopted various strategies, such as product portfolio expansion, mergers & acquisitions, agreements, geographical expansion, and collaborations, to increase their market penetration and strengthen their foothold in the industry.
COVID-19 Impact Analysis
Global embedded processor market has been significantly impacted by the COVID-19 outbreak. The production facilities of the electronics and semiconductors have been halted, owing to the slowdown and unavailability of the workforce across the globe. COVID-19 outbreak has caused a significant and protracted drop in manufacturing utilization, and travel bans & facility closures kept workers out of their factories, which led to slowdown in the growth of the market in 2020. 
The Asian and European countries under lockdowns have suffered in major loss of business and revenue, due to the shutdown of manufacturing units in the region. The operations of the production and manufacturing industries have been heavily impacted by the outbreak of the COVID-19 disease; thereby, leading to slowdown in the growth of the embedded processor market in 2020.  
However, the negative impact of COVID-19 on the embedded processor market is expected to be there for a short period of time, and by early 2021 the market is anticipated to observe robust recovery rate along with the extensive demand for embedded processor in post-pandemic. For instance, the need for ventilator along with the other advanced medical equipment has rapidly increased across the world. This is anticipated to positively impact the embedded processor market as a number of embedded hardware components are used in the manufacture of advanced ventilators as well as other medical equipment such as medical robots.
Key Benefits For Stakeholders
This study comprises analytical depiction of the global embedded processor market size along with the current trends and future estimations to depict the imminent investment pockets.
The overall embedded processor market analysis is determined to understand the profitable trends to gain a stronger foothold.
The report presents information related to key drivers, restraints, and opportunities with a detailed impact analysis.
The current embedded processor market forecast is quantitatively analyzed from 2019 to 2028 to benchmark the financial competency.
Porter's five forces analysis illustrates the potency of the buyers and the embedded processor market share of key vendors.
The report includes the market trends and the market share of key vendors.r
 Embedded Processor Market Report Highlights
Aspects
Details
By Type

Microprocessor
Microcontrollers
Digital Signal Processor
Embedded FPGA
Others

By Application

Consumer Electronics
Automotive & Transportation
Industrial
Healthcare
IT & Telecom
Aerospace & Defense
Others

By Region

North America (U.S., Canada, Mexico)
Europe (UK, Germany, France, Russia, Rest of Europe)
Asia-Pacific (China, Japan, India, South Korea, Rest of Asia-Pacific)
LAMEA (Latin America, Middle East, Africa)

Key Market Players
ANALOG DEVICES, INC., BROADCOM CORPORATION (BROADCOM INC.), INFINEON TECHNOLOGIES AG, INTEL CORPORATION, MICROCHIP TECHNOLOGY INC, NXP SEMICONDUCTORS N.V., ON SEMICONDUCTOR CORPORATION, RENESAS ELECTRONICS CORPORATION, STMICROELECTRONICS N.V., TEXAS INSTRUMENTS INC.