Emulsifiers Market Research, 2031
The global emulsifiers market size was valued at $8.9 billion in 2021, and is projected to reach $15.1 billion by 2031, growing at a CAGR of 5.5% from 2022 to 2031.
The outbreak of the COVID-19 pandemic had a negative impact on emulsifiers market. The emulsifier production and processing have declined, due to disruption in the distribution channel causing difficulties in obtaining production inputs such as plant & animal raw materials from which emulsifiers are extracted. Other challenges were seasonal such as border-crossing restrictions and limited access to professional services and labor. As a result of these concerns, there was a drop in raw material supply and processing capacity, which led to worsening of sales conditions, thus delaying the production and market activities.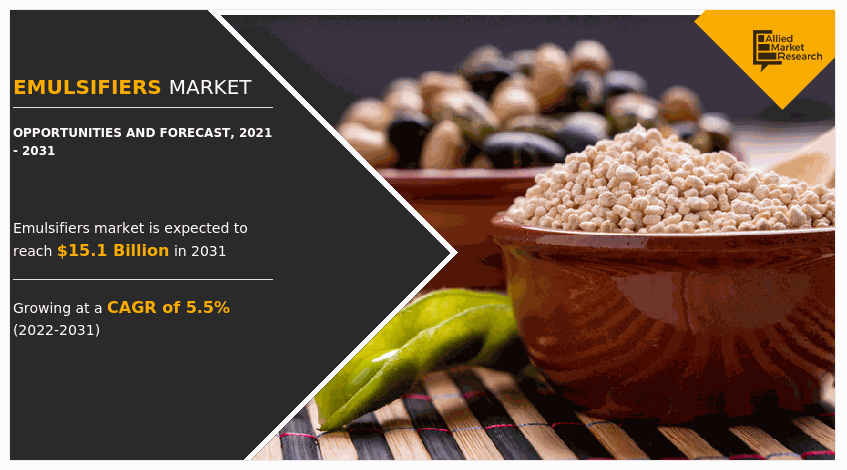 Emulsifier is a surface-active chemical that functions to keep the mixture of two immiscible liquids stable. Emulsifier molecules have hydrophilic and hydrophobic ends, with the former connecting with water and the latter bonding with air. Natural, synthetic, and semisynthetic emulsifiers are classed depending on their chemical structure. Owing of their ability to keep product texture for a longer amount of time, natural emulsifiers are increasingly being used in culinary items such as biscuits, extruded snacks, cakes, soft drinks, toffees, frozen desserts, bread, margarine, coffee whitener, and caramels.
With the evolution of technology, industrial businesses are adopting new sources of emulsifiers to improve product quality, boost efficiency, and minimize processing time. For decades, emulsion technology has been used in the food industry to produce a wide range of products such as homogenized milk, creams, dips, dressings, sauces, desserts, and toppings. Significant advances in emulsion science, on the other hand, have lately resulted in revolutionary approaches for improving food quality and usability. Silica particles, wheat protein microgels, pea protein microgels, and other new advancements in emulsion technologies are assisting producers to bind the chemicals effectively, lowering the time required to complete the process.  The introduction of such innovation is expected to fuel the emulsifiers market growth.
The production of emulsifiers is a complicated procedure that must adhere to the severe requirements imposed by the governments. National and international scientific expert bodies rigorously examine emulsifiers and food additives. The worldwide Joint FAO/WHO Expert Committee on Food Additives (JECFA), the European Food Safety Authority (EFSA), and state agencies are among the independent bodies. In Europe, the European Food Safety Authority (EFSA) is in charge of checking emulsifiers at each stage of manufacturing and has published rules on how much emulsifiers can be used in food & beverages. In addition, the Food and Drug Administration has recommended a list of emulsifiers that are acceptable for use within their respective constraints. Thus, the implantation of stringent government regulations on the use of emulsifiers has declined the development pace of the emulsifiers market.
Synthetic emulsifiers damage consumer health by diminishing the diversity of gut flora, increasing the risk of obesity and chronic illnesses such as inflammatory bowel disease. Natural emulsifiers, on the other hand, have no harmful impact on health; nonetheless, the emulsion process takes longer than with commercial emulsifiers. Natural emulsifiers are difficult to extract, which makes the extraction technique costly, and hence the finished product more expensive than other types of emulsifiers. As a consequence, the usage of semi-synthetic emulsifiers will help to reduce total emulsion time and emulsifier costs. The availability of semi-synthetic emulsifiers is expected to boost product sales, providing lucrative prospects for the advancement of the worldwide emulsifiers industry during the forecast period.
The emulsifiers market is segmented into source, application, and region. On the basis of source, the market is categorized into the plant, animal, and synthetic. Depending on application, it is segregated into food & beverages, personal care & cosmetics, pharmaceuticals, and others. Region wise, it is analyzed across North America (the U.S., Canada, and Mexico), Europe (Germany, UK, France, Italy, Spain, and the rest of Europe), Asia-Pacific (China, India, Japan, Australia, South Korea, and rest of Asia-Pacific), and LAMEA (Brazil, Turkey, South Africa, Argentina, and Rest of LAMEA).
According to emulsifiers market trend, on the basis of source, the animal segment garnered a major share in the global market in 2021, and is expected to sustain its market share during the emulsifiers market forecast period. This is attributed to the fact that animal is the most common source from which emulsifiers are made as they cost less time period to extract and are easily available
Emulsifiers Market

---
By Source
Animal segment dominates the Emulsifiers in 2021, and is expected to retain its dominance throughout the forecast period.
By application, the food & beverages segment dominated the global market, and is estimated to register a CAGR of 4.4%. The others segment accounted for approximately 35% of the global emulsifiers market share in 2021, and is expected to sustain its share during the forecast period.
Emulsifiers Market

---
By Application
Food and Beverages segment dominates the Emulsifiers in 2021, and is expected to retain its dominance throughout the forecast period.
According to emulsifiers market analysis, region wise, North America dominated the global market in 2021, and is expected to be dominant during the forecast period. This is attributed to strong presence of food & beverages, cosmetics, pharmaceutical, and paints & oils companies in North America, which increases the demand for emulsifiers.
Emulsifiers Market

---
By Region
North America dominates the Emulsifiers in 2021, and is expected to retain its dominance throughout the forecast period.
The players operating in the global emulsifiers market have adopted various developmental strategies to expand their emulsifiers market size, increase profitability, and remain competitive in the market. The key players profiled in this report include Archer Daniels Midland, AkzoNobel N.V., BASF SE, Cargill, Inc., Clariant AG, DuPont, Evonik Industries, Kerry Group, Koninklijke DSM N.V., and Solvay S.A.
Key Benefits For Stakeholders
This report provides a quantitative analysis of the market segments, current trends, estimations, and dynamics of the emulsifiers market analysis from 2021 to 2031 to identify the prevailing emulsifiers market opportunity.
The market research is offered along with information related to key drivers, restraints, and opportunities.
Porter's five forces analysis highlights the potency of buyers and suppliers to enable stakeholders make profit-oriented business decisions and strengthen their supplier-buyer network.
In-depth analysis of the emulsifiers market segmentation assists to determine the prevailing market opportunities.
Major countries in each region are mapped according to their revenue contribution to the emulsifiers industry.
Market player positioning facilitates benchmarking and provides a clear understanding of the present position of the market players.
The report includes the analysis of the regional as well as global emulsifiers market trends, key players, market segments, application areas, and market growth strategies.
 Emulsifiers Market Report Highlights
Aspects
Details
By Source
By Application

Food and Beverages
Personal care and Cosmetics
Pharmaceuticals
Others

By Region

North America (U.S., Canada, Mexico)
Europe (Germany, U.K., France, Italy, Spain, Rest of Europe)
Asia-Pacific (China, India, Japan, Australia, South Korea, Rest of Asia-Pacific)
LAMEA (Brazil, Turkey, South Africa, Argentina, Rest of LAMEA)

Key Market Players
Cargill Incorporated, Dow DuPont, Clariant AG, Evonik Industries AG, Solvay S.A., Archer Daniels Midland, Akzonobel N.V., Koninklijke DSM N.V., BASF SE, Kerry Group